Last Updated on 16th September 2022 by Pauline Loughlin
Chowder is something we all love, and if it happens to be clam chowder, then I would say, talk less, and eat more!
Chowder is known as a rich and thick creamy textured soup, and just like any other stew or soup, it also contains vegetables or meats. It typically contains potatoes which gives it a thick consistency. What makes chowder different from soup is that, unlike soup, it always has a creamy texture as it is made with milk or cream.
One of the famous chowders you can have is clam chowder, which contains clams. It's comforting flavor would leave an impression on you if you tasted it for the first time.
Therefore, I am here to share the best Manhattan clam chowder recipe with you, which can surely amaze you, but first, let us know a little about its history and dont forget our soups and salads recipes.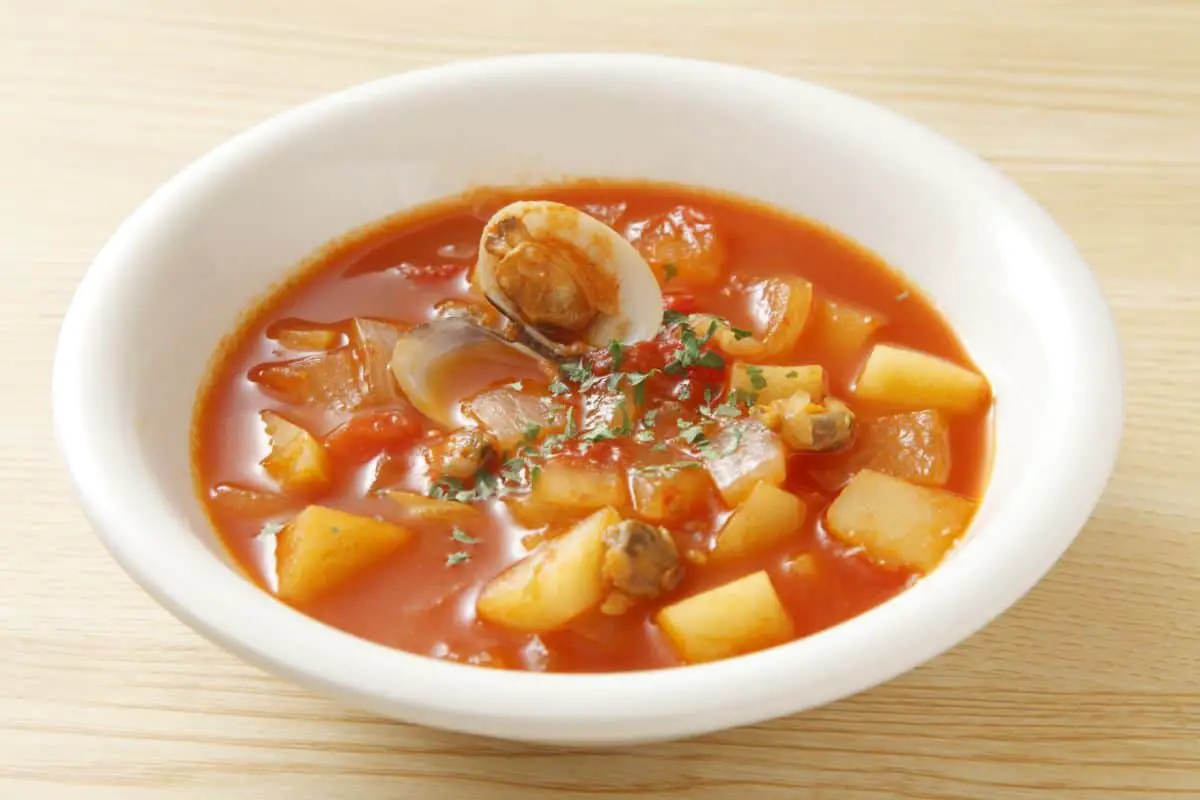 History Of Clam Chowder
Behind the name, clam chowder is a soup or stew which is made up of seafood (clams or fish). It is believed that clam chowder was introduced in the 1700s, and since then, it has gained popularity. There are quite a few types of clam chowder, one is the Manhattan clam chowder, and another is New England clam chowder or Rhode Island clam chowder.
Manhattan Clam Chowder Recipe
I would choose Manhattan clam chowder every time. It is the best clam chowder ever! The first time I learned this recipe was from one of my friends. When I decided to host a gathering at my house, I did not know what to make. My friend taught it to me later, and surprisingly it was so easy to make!
Manhattan clam chowder is made with tomatoes, so it has a red colored texture rather than a creamy white. It has more vegetables. So without further adieu, let us read the recipe!
Ingredients
Cherrystone clams

(if you want something fresh, then I would recommend this type of clam). Rinse it well.

Unsalted butter

Celery ribs cut in a dice

Green pepper, diced

Spanish onion, diced

Salt pork or diced bacon

Peeled and diced carrot

Chili flakes(to taste)

Potatoes(Yukon gold is preferred)

Sprigs thyme( for essence)

Parsley, chopped

Black pepper (freshly ground)
Instructions
Preparation of clams

Please take all the clams and put them in a casserole, and add some water. Keep the flame at medium-high heat. Cook it till you notice that the clam is open, which takes at least 10 to 15 minutes. Now take the clams and drain the water and remove the meat from the shells.

Note: if you find any clams which did not open after 15 minutes, you should discard them.

Use the same pot. If you want, rinse it and keep it above the stove. Put some unsalted butter and add bacon, pork and sometimes stir until you find the textured brown. With the help of a spoon, please take out the bacon and pork and keep them aside.

Now add some onion, celery, garlic, green pepper, potatoes, and carrots as mentioned above in the ingredients. Stir it with the help of a spoon until it gets cooked for 10 to 15 minutes. Make sure they are not brown but soft enough. Add the broth of the clams and rest for another minute, then add the bay leaves and spring thyme. It helps to release the flavor.

Crush one or two potatoes so that the starch gets mixed in with the broth, which will make it thicker. Keep simmering for 10 to 15 minutes.

Now take the clams and chop them just like you diced the bacon.

Notice that the potatoes are soft enough and add the clams and the bacon, combine them all. Sprinkle some black pepper and chili flakes to taste. Keep it aside for sometimes then remove the thyme and bay leaves.
Notes
Keep one thing in mind. It would help if you kept the chowder cool to sit the broth. While serving, reheat it, and then serve with some oyster crackers if you want to!
Keep one thing in mind. It would help if you kept the chowder cool to sit the broth. While serving, reheat it, and then serve with some oyster crackers if you want to!
Rhode Island Clam Chowder
Other than the best recipe for Manhattan clam chowder, the Rhode Island clam chowder recipe also didn't fail to amaze me. It is easy to make and can be prepared quickly, so let's get started.
Rhode Island Clam Chowder Recipe
Ingredients
Clams

Diced bacon, or scrubbed

Unsalted butter

Onion,

diced

Celery stalks, thinly sliced

Worcestershire sauce

White pepper,

freshly ground

Fresh parsley for garnishing

Potato (preferably Yukon gold)
Instructions
Preparation of clams

Wash the clams thoroughly and then put them in a dutch oven. Bring it to a simmer and maintain a medium heat. Cook until you notice the clams open. Remove the clams from the shell and keep them in an airtight container that prevents the clam from drying out.

Note: keep the broth aside. It will be required for later steps

Take a pan, add the bacon, stir it, and put it in some water. Boil it for 10 minutes at a medium heat flame. After 10 minutes, drain the water and put the bacon back in the pan. Add some unsalted butter, then onion and celery, stir for 5 minutes. Now put the bacon back in the broth and clean the pan so that no oil remains.

Add the onion, celery broth mixture and put the potato (Yukon gold) in the casserole. Simmer on medium heat and cook it until you notice the potatoes are tender enough. Now add some Worcestershire sauce to it and stir for a minute, then add some white pepper.

Take the clams and chop them like you chopped the bacon and add them to the entire mixture. Keep the chowder for another 10 minutes on the stove.

After turning off the stove, keep it aside to sit and before serving, reheat the broth and garnish it with some chopped parsley. Now you are ready to eat and get lost in its flavor!
Conclusion
I am sure these recipes will remind you of your childhood. So what are you waiting for? Follow the instructions, and make the best Manhattan clam chowder soup recipe. Do let us know how it goes!
I'm Pauline, a retired patisserie chef, mother of four and now a full time food blogger! When i'm not cooking i love long walks, reading thriller novels and spending time with my grandkids. Head to my about me page to learn more about the woman behind the food! You can find my Facebook here