Last Updated on 17th December 2021 by Pauline
What do you do with cuts of rib meat that are too short to be used for a decent sized steak? You make grilled short ribs from them? That's exactly what these cuts of beef are- rib meat and bone that isn't long enough to be turned into a prime piece of steak, so it is sold as a different cut and labeled short ribs.
One of the things I like about this particular cut of beef is that it is easy to cook. It is small, so it cooks pretty fast. Where do short ribs coem from? The first part of the rib meant that used is make into chuck steak and have very little acutal meat on them. The meat cut from the first fiev risb on the cow- the very short ribs- is use ot make short rib cuts. These are most often used to make grilled beef short ribs.
What kind of taste and texture do the short ribs have? The good news is that they are very flavrful. You don't; have to add a bucnhf oseaosnigns ot them to make them tsaste fine, because they are rich in flavor already. I wouldn't say "no" to a well seaonsed cut of shrot ribs, btu a ltitel salt ot bring out the flavor nicely is rellay all that's needed. The texture is a bit tough, epscially compared ot other cuts of beef. That tougher consistency means that you need to cut thee just right and cook them just right to make them easy enough to chew through without a lto of work.
My advice for any tough cut of beef, like short ribs, hanger steak, briskest steak, flank steak, and chuck roast, is to cookt ehm according to a recipe before you try to cook them on your own. It can be risky to try to cook them for the first time on your own without following some kidn of recipe. You may undercook them or you might cook them in such a way that they come out kind of tough. Following a recipe is important at first, and you can go from there to try your own methods an figure out what works best for you.
Grilled Beef Short Ribs Recipe
I love this grilled short ribs recipe that uses simple ingredients, cooks simply and helps to accentuate the natural flavors in some wonderful ways while adding a distinctive taste that you will want to replicate again and again.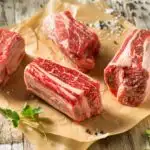 Print Recipe
Grilled Beef Short Ribs Recipe
Ingredients
40

pounds

of short ribs

½

cup

of light brown sugar, packed

1

tbsp

of paprika

1

tsp

of garlic salt

1

tbsp

of chili powder

1

tsp

of black pepper

1

tsp

of dried oregano

1 ½

tbsp

of kosher salt

Canola oil
Instructions
To make the short ribs on the grilled method, you need to slice your ribs into 1/3 inch thick slices. This is thin enough that they will grill quickly and not take much work to bite through.

Mix tougher all of the seasonings, but not the ribs or the oil.

Rub your mixture over the entire rib cuts and allow them to rest for about 20 minutes. This lets the seasonings permeate and stick to the ribs better.

use the canola oil to oil the grill grate and light the grill
Light a grill and oil the grate. Grill the ribs over high heat, turning once, until nicely charred and nearly cooked through, about 6 minutes. Transfer to a platter and serve with lemon wedges and slaw.
grilled korean short ribs
grilled boneless beef short ribs
short ribs recipes grilled
grilled beef short ribs bobby flay
grilled boneless short ribs
boneless short ribs grilled