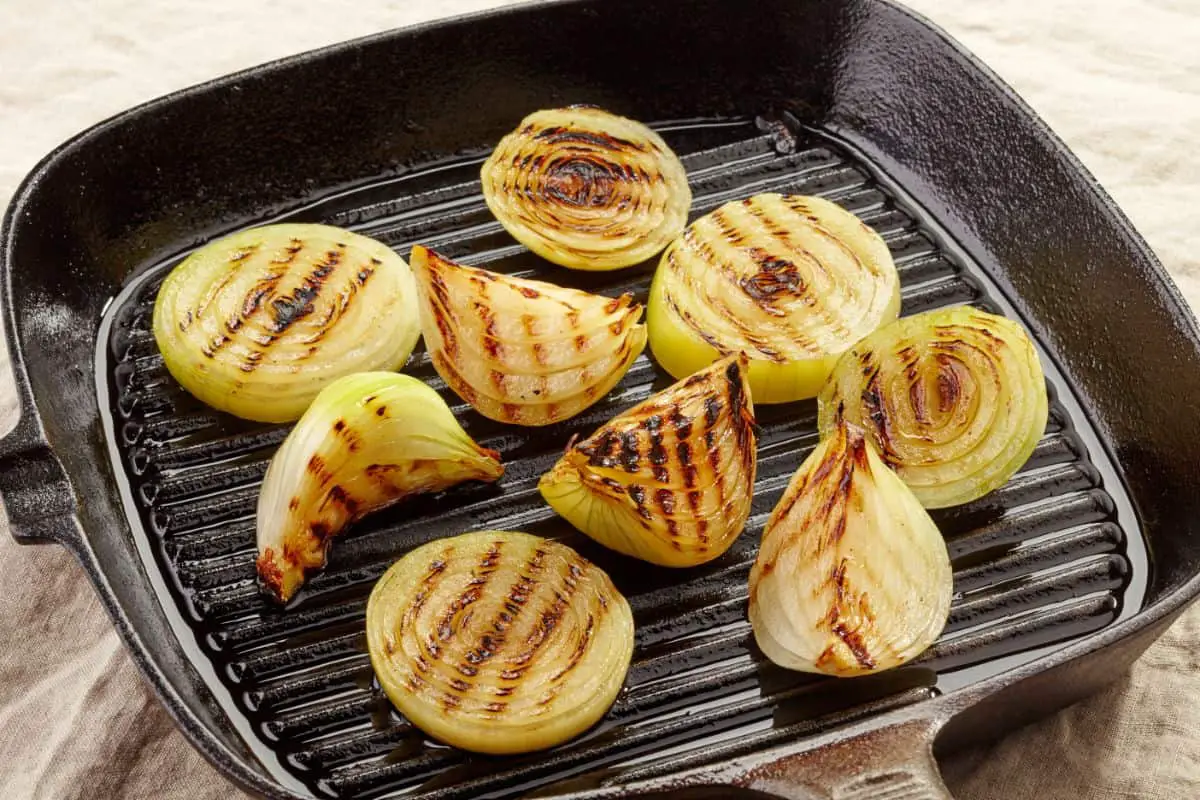 There is a saying that if you make food without onions, it is not worth eating. We are not sure of that, but we know that grilled onions are superb!
Grilled onions are suitable for salad, steaks, and burgers. But apart from these, grilled onions can add flavor to almost any dish.
Onion has excellent health benefits as it has a lot of antioxidants. Eating an onion a day can reduce the risk of cancer and boost your bone density and digestive health.
There are many simple methods to Grill onions. Chop them, cover them and grill them are three simple steps to prepare grilled onions.
On its own, onion is not a favorite for many people. They say that it tastes bitter and makes them pucker. But once you grill them, it leads to savory-sweet perfection. So, let's learn how to make grilled onions.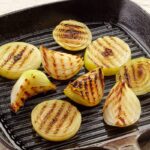 Print Recipe
How To Make The Best Grilled Onions
Its preparation time is 10 minutes, while its cooking time is 10 minutes. Here is a perfect way on how to make the best grilled onions.
Ingredients
2

large sweet onion

1

tbsp

oil

(olive or avocado)

1

tbsp

kitchen salt

Dhaniya or cilantro
Instructions
First of all, remove the ends of onions and peel off the dark-colored outer layer. Chop them off in rings. It should be half to three-fourth-inch rings. For example: in 1 large onion, there will be approximately four rings.

On each onion slice, pour a little oil, and rub the oil on both sides. Now the onion is fully covered with oil on both sides.

You can set the temperature to 400 degrees F for a grill. Place the onions on the grill once your oven reaches that temperature. Just remember to place it carefully so that the rings don't come apart.

Close the lid. Cook it for 5 minutes on one side and then flip it and cook it for 4 to 7 minutes.

You can quickly cook the thinner or smaller slices. It would help if you were careful while flipping the onion so that it doesn't fall apart.

So these are our grilled onions. You can sprinkle them with salt and garnish them with celery according to your taste and serve it.
Notes
Tips:
Be careful while cutting the onion into slices.
It should not be too thin as it will fall apart.
Onion slices should not be too thick as they would not grill properly.
If you fear them from falling, you can use a toothpick on one side to hold them.
How To Make Grilled Onions On the Stove
Ingredients
2

sweet onions

1

tbsp

olive oil

1

tbsp

salt

ground pepper
Instructions
First, heat the grill for 5 to 10 minutes, then you can lower the burner and cook the onions on it.

Remember to flip the onions on every 10 minutes till it becomes golden brown.

It will take about 25 to 40 minutes. Once done, it will look tender and Golden. Season it with salt and pepper according to your taste.
Notes
Pepper will add flavor to the grilled onions. And they are also an excellent source of vitamin A and C, Folic acid, and fiber.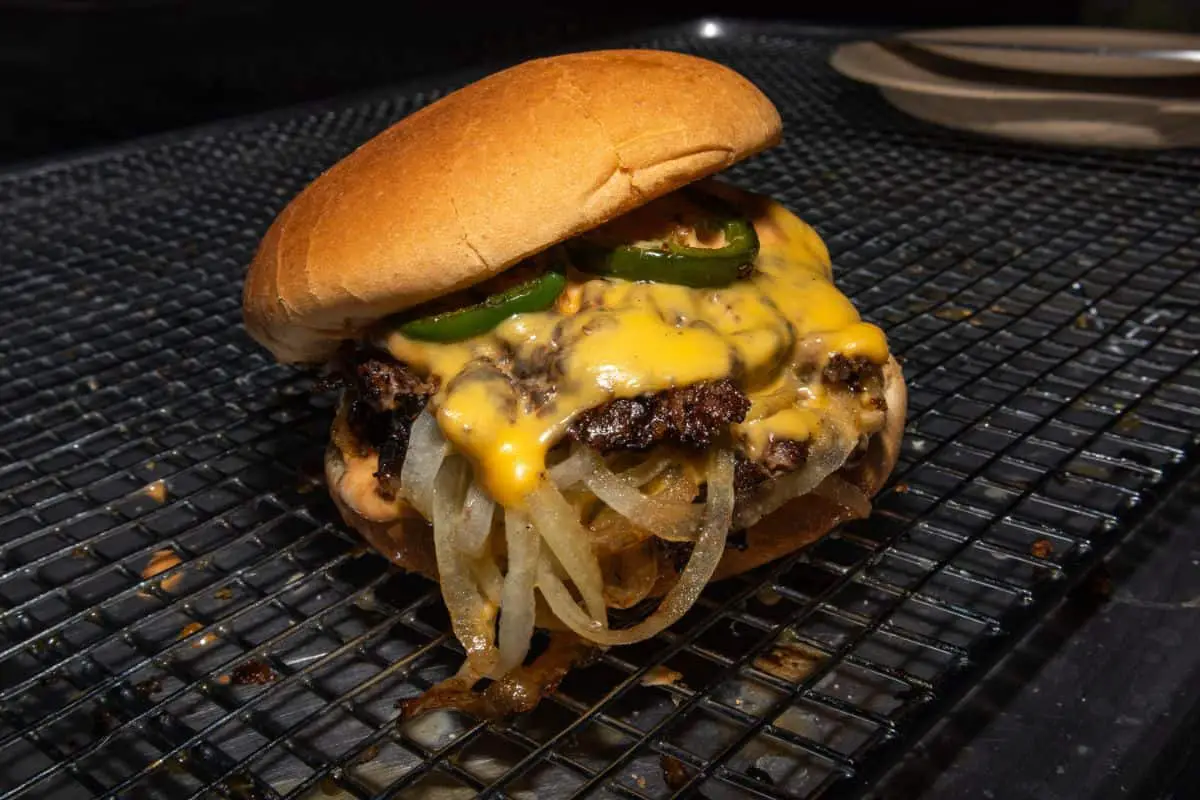 Print Recipe
How To Make Grilled Onions For Burgers and Hamburgers
Here is a method on how to make grilled onions for burgers. This method is also suitable for people looking for information on how to make grilled onions for hamburgers.
Ingredients
1

lb

lean ground beef

(for hamburgers)

1

small yellow onion

2

hamburger buns

2

burger buns

2

slices of American cheese

some seasoning salt and steak seasoning

¼

tsp

garlic powder

1

tsp

butter

3

dashes

of Worcestershire sauce
Instructions
First, we will grill the onions by chopping them into small pieces. Then add a tablespoon of butter to it and melt it. After that, you can add seasoning salt to it.

Caramelize the onions. For hamburgers generally, we used caramelized onions. It adds flavor. You can prepare caramelized onions in low to medium heat. It takes about an hour to caramelize till the onions brown.

To prepare the buns, you need to butter them and put them under the broiler and heat it until it starts looking brown. Once the Buns are ready, remove them from the oven. For the hamburger buns, use the same method. 

You can make any party of your choice for the burgers, be it potato, paneer, or chicken.

For hamburgers, you'll have to take the lean ground beef and put some Worcestershire sauce in it along with some garlic powder and seasonings and mix them well and make them in the form of patties. You can grill them in any iron utensil and add cheese to it as per your wish.

When all three are prepared, you can put the patty between the buns and sprinkle the grilled or caramelized onions on the patty.
Notes
Here, you are ready with your YUMMY BURGER.
How To Make Grilled Onions For Hot Dogs
Ingredients
1

tbsp

vegetable oil

6

onions

1

tbsp

wholegrain mustard

Hot dogs

Hot dog rolls

1

tbsp

caster sugar

Butter
Instructions
First, you'll have to put the butter or oil in a pan and heat it in a medium flame.

Put thinly sliced onions into the pan and fry them for 20 minutes.

Add some sugar and mustard to it, increase the heat, and stir and cook it for 5 minutes.

You can also sprinkle some salt and black pepper. It will add flavor to the onion.

Now your caramelized onions are ready.

Then you can prepare the hot dog.

Once ready, you can cut the rolls and put the hot dogs in them. Put some toppings of onion and cheese in it.
Notes
It will just take 10minutes to prepare and 25min to cook.
Now, this delicious hot dog is ready to serve.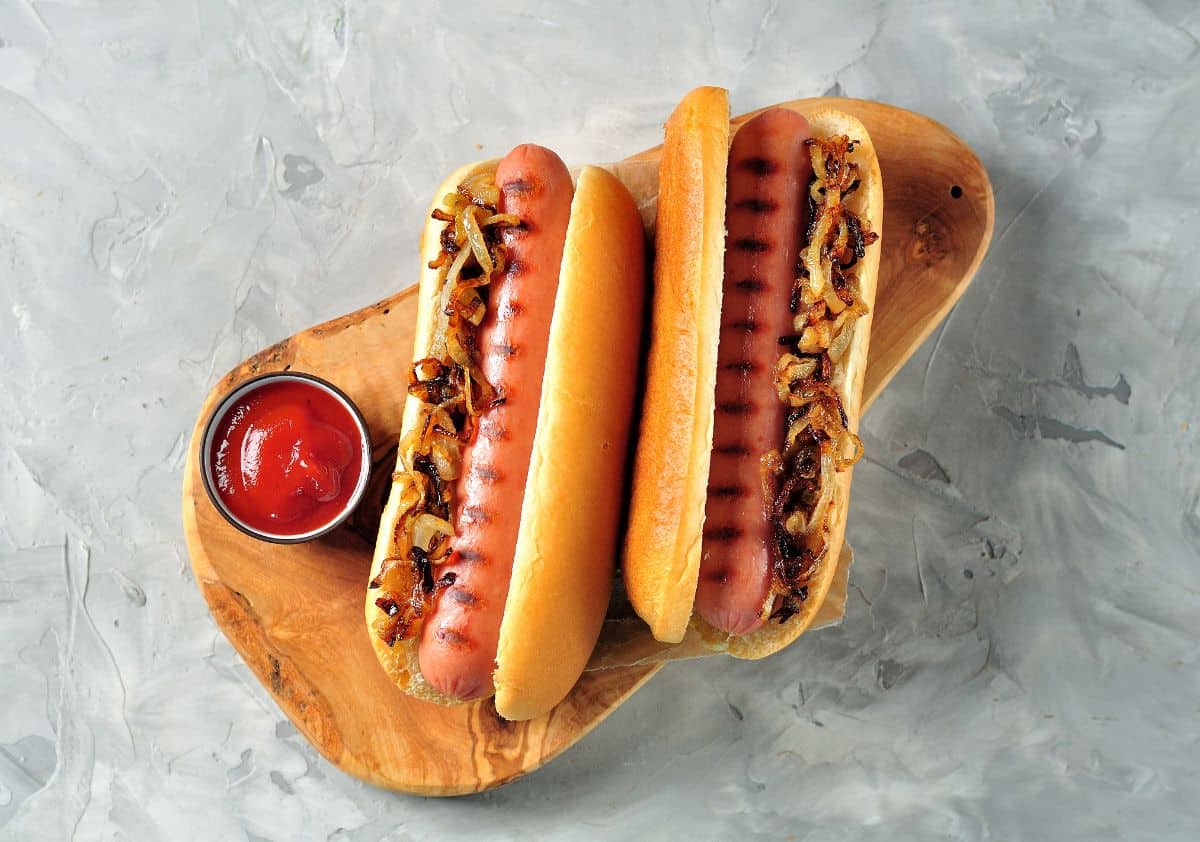 How To Make Grilled Onions Like In N Out
Ingredients
1

large

large onion 

1

tbsp

olive oil 

4-5

tbsp

cold water 

¼

tbsp

 salt

¼

tbsp

pepper
Instructions
First, you have to chop the onion to the dice size for in and out grilled onions.

Put some oil in the pan on a medium to high flame.

Now add some onions, salt, and pepper to it and stir it for 3 to 5 minutes.

Decrease the flame to medium and cook the onions until they look dry. Once they look dry, pour 1 tbsp of cold water and stir it. 

Every time it looks dry, repeat it. Continue this procedure four times. It will add moisture to it. At the end of this procedure, the onions will look dark and soft. It will taste sweet.
So that's it, go ahead and enjoy grilled onions with your favorite dishes. And do let us know how they turned out!
Happy cooking!