What a delight to pour hot fudge over cold ice cream or to smother a brownie in warm, gooey fudge sauce. I know buying fudge from the store is a perfectly fine way to get fudge sauce for your baking and desserts, but it's not a difficult food to make. I'll show you how to make hot fudge in your own kitchen with just a few ingredients.
Cuisinart ICE-70 Electronic Ice Cream Maker, Brushed Chrome, Ice Cream Maker with Countdown Timer, With Countdown Timer
At the touch of one button, you can create two quarts of delicious frozen treats with the Cool Creations Ice Cream Maker in just 20 minutes. Making homemade ice cream, gelato, frozen yogurt, and sorbet of any type in any flavor couldn't be easier with one-button operation for ice cream, gelato, and sorbet, convenient digital LCD time programming, and auto shutoff.
We earn a commission if you click this link and make a purchase at no additional cost to you.
This is better than what's in the store, and you get to control what goes into it, how sweet it is and how it turns out, so why not give it a shot? Knowing how to make hot fudge sundaes all on your own is amazing, and you can have them whenever you want and not have to make a trip to the grocery for the fudge sauce.
I have always loved hot fudge, and knowing how to make hot fudge sauce myself filled me with a sense of accomplishment the first time I tried to make it. I was especially pleased with how well it turned out. Knowing that I know how to make homemade hot fudge that was as good as or better than what was in stores was one of those eye-opening kitchen experiences. It made me think that I could make just about anything on my own with the right recipe. I want to share that recipe with you so that you can have that same experience and see how good the homemade hot fudge tastes. You just might not go back to the store-bought fudge any longer after trying this. It really is that good.
Cook N Home Tri-Ply Clad Stainless Steel Stockpot with Lid, 8 Quart, silver
Tri-ply Clad metal construction is a combination of 18/10 stainless steel with an aluminium core creating a permanent bond of metal allowing heat to pass through the whole pan-along the bottom and up The sidewall-giving you a maximum cooking performance
We earn a commission if you click this link and make a purchase at no additional cost to you.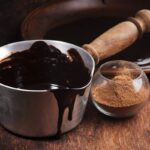 Print Recipe
Hot Fudge Recipe
Ingredients
2

cups

of dark cocoa powder

2

cups

of sugar

2

cups

of heavy cream

1

cup

(or two sticks) of salted butter
Instructions
Mix together the butter, cocoa, cream, and sugar in a small pot.

Place the pot on the stove and warm on medium heat, stirring until everything has been combined and the butter has melted. This should take a few minutes.

Take the contents of the pot and put it into a mason jar. Store the jar in the fridge. Your fudge will get harder as it starts to cool, so when you want to use it again, just put the desired amount in a saucepan and heat on a medium to low heat.
This is how to make hot fudge topping simply and perfectly every time. There is really nothing to it. Now you know how to make hot fudge sundae topping all on your own and don't have to wait for a trip to the grocery to get it next time you need some.
How to Make Hot Fudge with Chocolate Syrup
You can look and look for how to make a hot fudge recipe at home using chocolate syrup rather than cocoa powder, and you won't find any recipes for it online, I don't think. The chocolate syrup just isn't going to substitute in well for cocoa powder. You can warm up chocolate syrup and try to use that for hot fudge, and you can even mix that with some cocoa powder to thicken it into more of a fudge-like substance. You can also melt chocolate chips into chocolate syrup to make it thicker.
BetterBody Foods Organic Cacao Powder
Chocolate is a staple in most households, but it can make people feel guilty because it is often associated with candy and sugary treats. Our Organic Cacao Powder provides you with a more nutritious alternative to regular chocolate. Our chocolate has the same great flavor as ordinary cocoa with the added benefits of organic cacao and less guilt.
We earn a commission if you click this link and make a purchase at no additional cost to you.
Still, the chocolate syrup is not ideal for how to make hot fudge for ice cream. You're better off just making hot fudge from cocoa powder rather than trying to use chocolate syrup as a shortcut or an alternative. You might not care for the results.
How to Make Hot Fudge Cake
Let's take the recipe a step further and see how to make homemade hot fudge sauce cake. If you can make the sauce, you can make the cake, though you won't actually make up the sauce beforehand for this recipe. Now that you know how hot fudge sauce is made using basic ingredients, you can apply that to this recipe and make the entire thing from scratch. How neat is that? I like to have hot fudge brownie or hot fudge cake with my vanilla ice cream. This is a superb combination- the meeting of hot and cold and sweet on sweet is simply incredible. If you have had that before, you already know how amazing the combination is, so I don't need to sell you on it.
Springform Pan for Baking Set
This set contains 3 pieces of non-stick and leakproof pans, designed for making cheesecakes and tortes, the springform pans have sides that spring free from the base, releasing desserts without breakage. Springform clamp opens sides of pan and releases food easily.
We earn a commission if you click this link and make a purchase at no additional cost to you.
We learned how to make hot fudge with cocoa powder and now let's move on to making a delicious hot fudge cake.
Print Recipe
How to Make Hot Fudge Cake
Ingredients
¾

cup

of sugar

2

tsp

of baking powder

2

tbsp

of baking cocoa

1

cup

of flour

¼

tsp

of salt

1

tsp

of vanilla extract

½

cup

of milk

1

cup

of packed brown sugar

2

tbsp

of canola oil

1

cup

of hot water
Instructions
Preheat your oven to 350 degrees Fahrenheit

Whisk together the baking powder, flour, sugar, salt, and two tablespoons of cocoa in a bowl.

Combine milk, vanilla, and oil in another bowl until they blend together.

Combine the wet and dry ingredients and mix together.

Pour mixture into an ungreased baking pan (about 9 inches will do).

Mix together the rest of the cocoa and your brown sugar. Sprinkle that over the contents of the baking pan.

Pour hot water over the entire pan but do not mix it in.

Bake the cake batter for 35-40 minutes and serve it hot.
You can use hot fudge in the recipe, but it's better to make it this way, with all of your separate ingredients, if you want the authentic hot fudge cake flavour and texture.
If you use chocolate chips in your hot fudge or in hot fudge cake, you can make the food even sweeter and richer. Consider using different kinds of cocoa powder or different kids of chocolate chips for a varied flavour and texture. You can also make the recipes listed here in different ways, so don't be discouraged if you go to your cupboard to find the ingredients listed in these recipes and find that you have something slightly different. There are variations you can make and substitutions you can use. Just look for a recipe online using the ingredients you have on hand, and the internet might surprise you with its resourcefulness.