Last Updated on 17th December 2021 by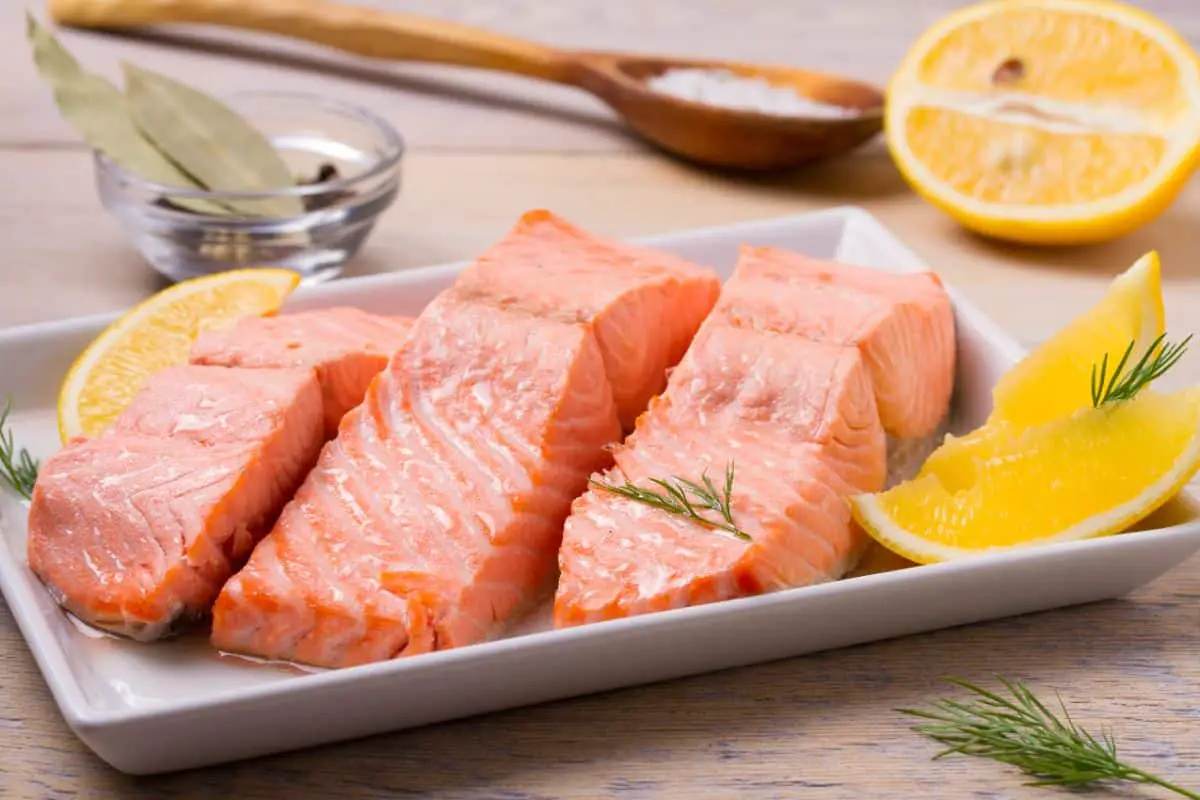 Using salmon as a source of food dates back to 25000 years. The term salmon originates from the Latin word salire, meaning "to leap."
Poached salmon is one of the simplest ways of cooking salmon that doesn't require you to be an expert in cooking. Poaching is cooking meat or other food by submerging them in a liquid over a low temperature. This slow cooking leaves you with tender and juicy meat.
If done correctly, poached salmon is one of the easiest and flavorful ways you can cook salmon. The best part is, the whole process of cooking takes just about 15 minutes. Whether you are in a hurry or you have to feed a crowd, this dish will be ready in a jiffy.
If you like to serve a drink with your poached salmon, you can go with Lambrusco or White pinot noir wines. The rich taste of salmon balances perfectly with white wines.
Many easy side dishes go well with the poached salmon and are easy enough to prepare while cooking. You can serve it with potato salad, sauteed beans, or grilled broccoli.
If you are not sure what to make for dinner tonight, let me tell you how to poach salmon in the easiest way.
How To Poach Salmon?
Ingredients
4

(6-oz.)

Salmon fillets (Skinless or without skin)

1

cup

dry white wine

1

cup

of water

Some sprigs of fresh dill if available (save some for serving) or dried dill

1

fresh parsley sprig

Thinly sliced shallots or onion if shallots not available

3-5

smashed garlic cloves

Kosher salt

Freshly ground black pepper

Lemon slices for serving
Instructions
Start by seasoning the salmon well on both sides with some salt and grounded pepper.

Prepare the poaching liquid. Add the white wine and water to a pan or skillet and place it on a stove. Add the garlic cloves, dill, parsley, shallot slices to the liquid and bring it to a simmer.

Place the salmon into the poaching liquid. If using salmon with skin on, then place it skin side down on the pan. Make sure it is completely submerged in the liquid to absorb the flavour better.

For the perfect poaching, it is important to keep the temperature just below boiling. Cook the salmon for 8 to 10 minutes, depending on the thickness of the fillet or how you like it. Do not overcook.

Shut off the flame and carefully remove the salmon with a spatula or large spoon. Sprinkle some pepper and dill and serve with the lemon slices.
Tips For Making Poached Salmon Great
The recipe for poached salmon is simple and very basic. If you like your meals elaborate, you can make an easy dill sauce that goes well with the poached salmon. Add yogurt, minced dill, minced shallots, lemon juice, olive oil, salt, and some pepper to a bowl. Whisk all of these together, and your yogurt dill sauce is done. Serve on top of the poached salmon. Rest all steps will remain the same.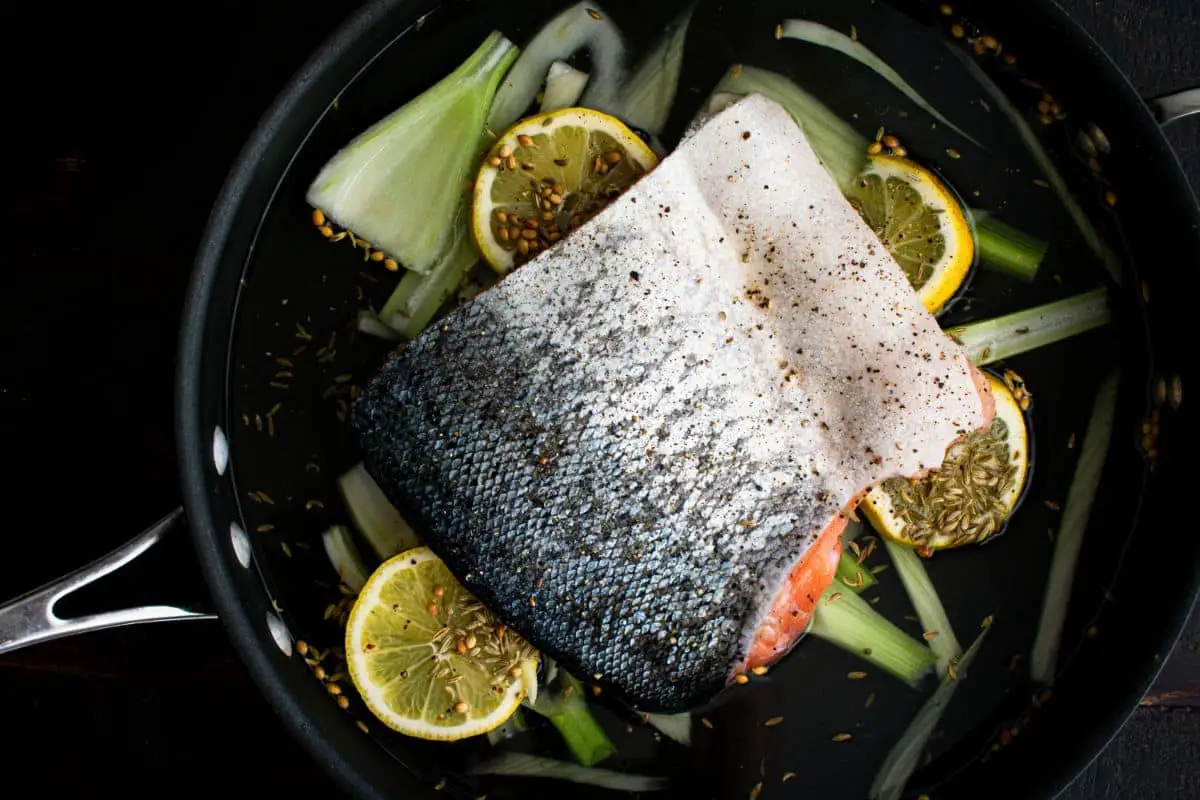 Serving the poached salmon with different sauces is a great way to make this recipe even more delicious. One such sauce that you can serve is watercress mayonnaise. Finely chop the watercress and mix it gently with mayonnaise and yogurt with some salt and pepper. Once the salmon is poached, place it into a serving plate and top it with the watercress mayonnaise and serve with a side of roasted potatoes.
Poached Salmon Whole
For feeding a large crowd, you would need a whole salmon. Place a whole salmon into a fish kettle or a dish large enough to fit the salmon. Add enough water and wine mixture to submerge the fish completely. Add the rest other ingredients like dill, shallots, salt, pepper, parsley, and garlic to the liquid. Cover with a lid or a foil and bring the liquid to a boil.
Once the liquid starts boiling, turn off the heat and let it cool down completely. Remove the salmon carefully and place it onto a wooden board. Remove the shin and place the salmon on a serving dish large enough to hold it. Sprinkle some dill and pepper and serve with lemon wedges.
Poached Salmon Without Wine
If you don't wish to use wine in the poaching liquid, you can easily go for a citrus poached salmon. All the steps would remain the same as the original recipe. The only change that you would need to do would be in the preparation of the poaching liquid. Add 2 cups of water, some slices of oranges, lemons, limes, onions slices, carrots, some peppercorns, dill, and parsley to a pan.
You can also add ginger, lemongrass, and soy sauce to the poaching liquid for an Asian flavour.
Poached Salmon In Oven
If you don't wish to poach your salmon on a gas top, you can easily make it in an oven. Preheat the oven to 425 degrees Fahrenheit. Grease a baking tray with oil. Place the salmon skin-side down. Sprinkle some wine on the salmon.
Season the salmon with salt and pepper. Add the sliced shallots on top of the salmon and cover it with a foil. Bake for 15-20 minutes, depending upon the thickness of the salmon. Once done, transfer the salmon into serving plates, and pour any remaining liquid on top. Sprinkle some minced dill and serve with lemon slices.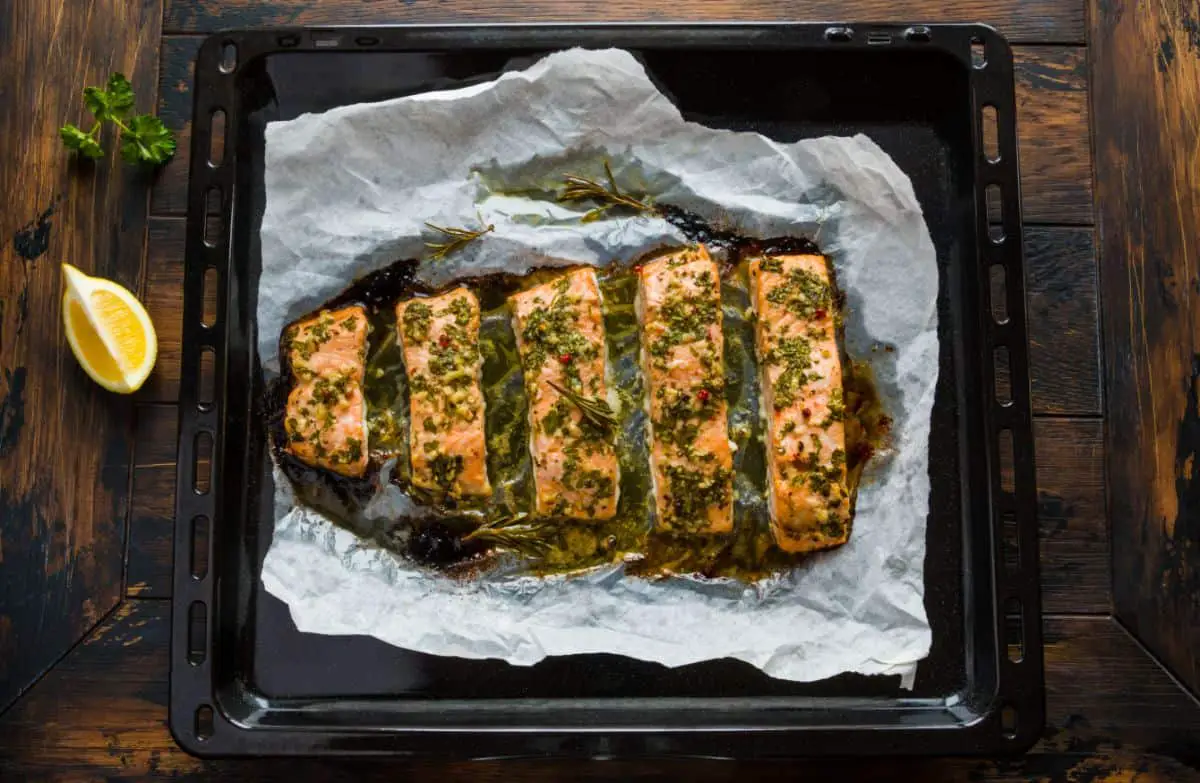 Poached Salmon In Water
Poaching salmon in flavored water is the simplest way you can make this recipe. Add 2 cups of water to a pan and place it on a stove. Add two carrots, cut into 1-inch pieces to the water. To this, add one celery stalk, one small onion halved, salt, and half lemon. Bring the water to a boil and lower down the flame. Cover and cook for eight to ten minutes.
Season the salmon with salt and pepper and place it in the pan. Cover and cook for five to ten minutes or until completely done. Remove the salmon from the liquid and serve with lemon slices and dill.
I'm Pauline, a retired patisserie chef, mother of four and now a full time food blogger! When i'm not cooking i love long walks, reading thriller novels and spending time with my grandkids. Head to my about me page to learn more about the woman behind the food! You can find my Facebook here