The Duo Crisp is a multicooker that doubles as both an air fryer and a pressure cooker. Its versatility means that it can cook a large variety of foods. It also includes broiling and dehydrating options, thanks to the included accessory trays.
I like how this air fryer is made with dishwasher safe, stainless steel parts and there's a lot of great features included. It's really good for cooking foods easily, safely, and healthily, cutting down on how much oil you use. It also cuts down on the prep time and reduces the mess by allowing you to cook everything in one place and in one pot.
I would like to share with you some Instant Pot Duo Crisp recipes that you can use if you have one of these. I find that it's very useful, but it's only going to be useful to you if you know how to use it in it.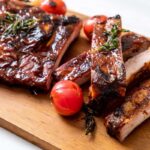 Print Recipe
Duo Crisp Barbecue Spare Ribs
You only need a few ingredients to make some of the best recipes for Instant Pot Duo Crisp. I'm going to share with you my spare rib recipe that ensures they come out really tender and juicy.
Ingredients
1

rack

of spare ribs

2

tbsp

of apple cider vinegar

½

cup

of barbecue sauce

1

tsp

of garlic powder

1

tsp

of onion powder

1

cup

of cold water

Black pepper

Kosher salt
Instructions
You can start by marinating the ribs. Combine onion powder, garlic powder, and apple cider vinegar. Take this marinade and brush it over the ribs to ensure you get full coverage. Use salt and pepper to season the ribs generously, and then marinate for at least 30 minutes, storing your ribs in the fridge. If they can marinate for an hour or two, that would be even better.

Put the steamer rack into the Instant Pot as well as a cup of cold water and then place your marinated ribs on the rack. Close the lid on the pot and set to the Sealing position. Cook on high pressure or 20 minutes or you can cook for 25 minutes if you want your ribs to be very tender.

Use the natural release to let out the pressure for 15 minutes and open the lid. Take out the ribs and cover them generously with barbecue sauce.
Duo Crisp Twice Baked Potatoes
If you want incredible baked potatoes, this recipe for twice baked potatoes may hit the spot. It offers tons of flavor and simple ingredients but requires some extra work compared to regular baked potatoes. I think this is one of the most delicious Instant Pot Duo Crisp air fryer recipes you can make.
Ingredients
4

large

potatoes,

poked, scrubbed, and dried

Kosher salt

Black pepper

¼

cup

of milk

2

green onions,

sliced

½

cup

of sour cream

1

cup

of grated cheese

Bacon bits

¼

cup

of butter
Instructions
Add a cup of cold water to the Instant Pot and place the air fryer basket or trivet into the pot as well. Put your potatoes onto the trivet.

Close the lid on the pot and set to Sealing. Cook at high pressure for 35 minutes and then use the natural release for 10 minutes. When opening the lid, be careful about the escaping steam.

Allow the potatoes to cool down and then open up the top of them with a knife. Scoop out the inside of the potatoes with a spoon, leaving around 1/4 of an inch a potato flesh still attached. Place your potato fillings into a mixing bowl.

Mix together ¼ cup of butter with the potatoes and use a potato masher on your potato fillings. Mix in a ½ cup of sour cream.

Mix together cheese, onions, and bacon bits. Then add 1/4 cup of milk and mix together. Season with salt and pepper as needed. Take your mashed potatoes and fill the inside of the hollowed out potatoes.

Place your potatoes into the instant pot again and close the air fryer lid. Set to air fry with the temperature set to 400 degrees Fahrenheit and cook for 8 minutes.
Print Recipe
Duo Crisp Chicken Thighs
Here is one of the simplest Instant Pot Duo Crisp chicken thigh recipes that give you a flavorful way to cook up this part of the chicken and ensure that it cooks to perfection.
Ingredients
4

chicken thighs

1

tbsp

of cornstarch

1

cup

of water

1

tbsp

of olive oil

1

tsp

of minced garlic

1

tsp

of salt

½

tsp

of black pepper

1

tbsp

of butter

1

tsp

of paprika

1

tsp

of dried oregano
Instructions
Take the excess fat and skin off of the chicken thighs. Then, season them using paprika, salt, pepper, and oregano.

Place the stainless steel insert into the Instant Pot Duo Crisp. Set to sauté.

Allow the pot to heat up for about two minutes, and then add in butter and oil to the stainless steel insert. Once they start to sizzle and the butter is melted, add your garlic and stir.

Add in the chicken with the skin side facing down and allowed to brown in the pot for about two or three minutes. Don't let it burn and be sure to flip the chicken over to cook for a minute on the other side.

Turn off the Instant Pot and set the chicken to the side. Add water to the pot and scrape off the brown parts from the sides and bottom of the insert.

Put your trivet into the pot and set the chicken thighs on the top. Close the lid of the pot and set to Sealing. Press "Manual" and time for 12 minutes.

Once the food is finished cooking, turn off the pot and allow the pressure to release naturally. Open the lid carefully and put the chicken to rest on a plate.

Take the trivet out of the pot add mix together cornstarch and 1/4 cup of water in a separate bowl. Mix until smooth and all clumps have been removed and then add this slurry to the bottom of the pot. Stir until it becomes thick and you may want to sauté for a few minutes to thicken this gravy. You can serve the chicken with the gravy you've made and any excess liquid can be used to make soup.
Duo Crisp Stromboli
I want to share one of my favorite Instant Pot Duo Crisp air fryer Stromboli recipes. A lot of people don't realize that you can use the Instant Pot to make bread and to cook dough. I'm sharing with you one of the better Instant Pot Duo Crisp air fryer recipes for making Stromboli where the Instant Pot cooks both the meat and bread for you.
Ingredients
8

slices

of pepperoni

8

slices

of salami

½

tsp

of honey

1

egg

¾

cup

of pizza sauce

½

tsp

of olive oil

1 ⅙

cup

of water

3

tbsp

of parmesan cheese

2 ½

tsp

of instant yeast or active dry yeast

¾

tsp

of kosher salt

2 ½

cups

of flour

2

cups

of grated mozzarella cheese
Instructions
Prepare your pizza dough by placing water and honey into a mixer. Sprinkle the yeast in and allow it to start filming for a few minutes. Add in a cup of flour, kosher salt, and olive oil.

Mix all of this together and add in the rest of the flour and mix again. When the dough begins to pull from the sides of the bowl, you can stop mixing. It may be necessary to add a little bit more flour to achieve that.

Use nonstick cooking spray to spray down the instant pot liner. Form a ball with the dough and put it into the Instant Pot then press the pot's yogurt button and set it to the LESS setting. That should give you 24 minutes on the display. Cover your pot using a towel or a plate and allow the dough to rise for half an hour.

Remove the dough and roll it out flat and then place it on a baking sheet lined with parchment paper. Spread pizza sauce onto your dough, leaving a border on both edges. Sprinkle half of your mozzarella and then add in the salami and pepperoni. Cover the meat with the rest of the cheese.

Fold your dough down and pinch the seam and then brush the stromboli with egg wash. Make a few slits to vent and sprinkle with parmesan cheese. Bake for eight to 10 minutes at 500 degrees Fahrenheit, and then reduced to 375 degrees and bake for 10 more minutes.