Last Updated on 23rd April 2022 by Pauline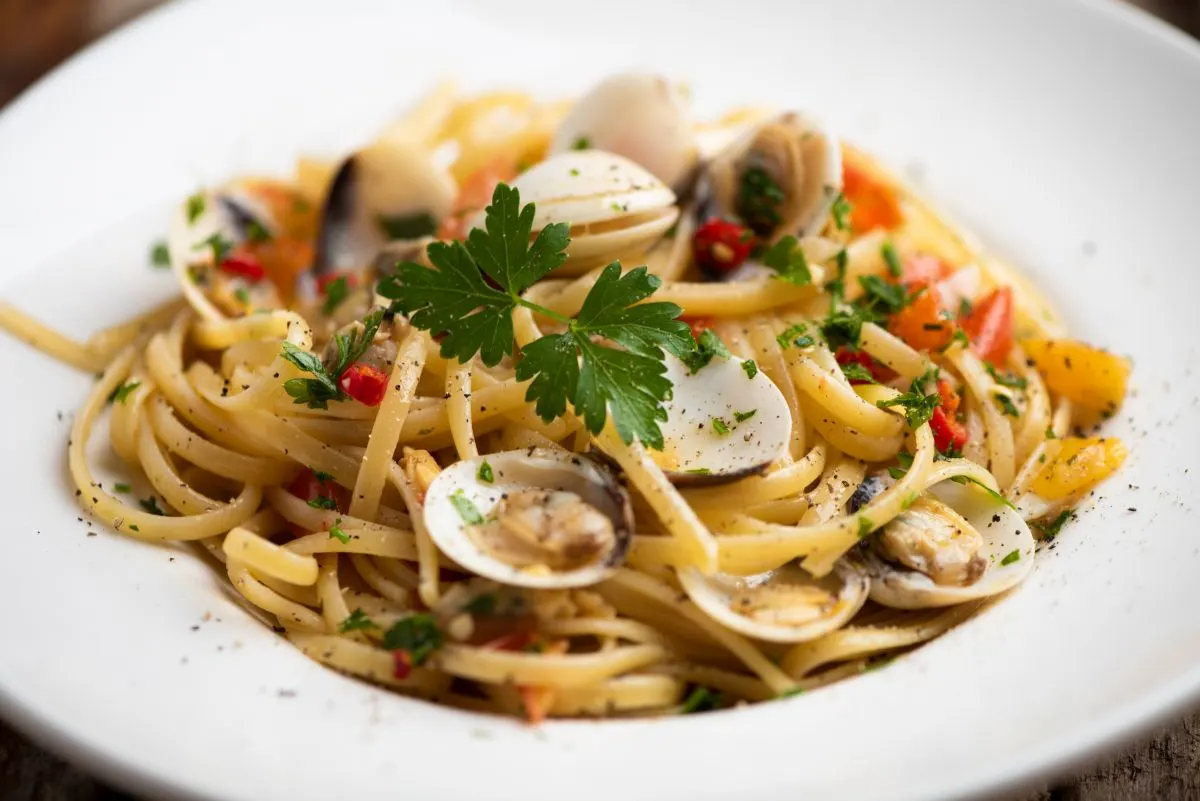 This classic Italian pasta dish is famous for being easy to make, looking fancy in front of the guest, and giving them an illusion that you spend all your day preparing this, while it only took you 30 minutes!
Clam sauce with pasta can be your last-minute dinner option if you are the kind of person who doesn't think about food until the last minute because all the ingredients are from your pantry. Even if you plan your every meal with a lot of effort, this is a great option because it is one of the tastiest dishes in Italian cuisine.
Next time you see the words "linguine alle vongole" at an Italian restaurant (hoping you are not Italian), it means pasta with clam sauce.
The recipe can be very easily modified according to your taste and still get all the nutritional benefits from the clams. Recommended, if you are trying to get your picky kids to eat seafood, just use minced canned clams.
Pasta With Clam Sauce Recipe
This recipe is for pasta with white clam sauce and serves for two and takes up a maximum of 30 minutes, including the preparations. You can increase/decrease the ingredients according to the no. of servings to want to prepare.
Ingredients
½

pounds

(8 ounces) spaghetti

2

tbsp

olive oil

1(10 ounces)

minced clams,

do not drain the liquid/ fresh closed clams

2

tbsp

white wine

½

cup

finely chopped onions

2

garlic cloves,

chopped

Freshly chopped parsley

Freshly crushed black pepper

Salt to taste

Grated/powdered parmesan cheese

(optional)
Instructions
Preparations: Make sure to do these preparations before you switch on the stove to save time. It is very easy to mess up spaghetti; timing is everything.
Please read the instruction on the pasta package to avoid overcooking it.

Gather all the ingredients to avoid panic while you cannot find something, and meanwhile, the sauce burns.

Drain the canned clams in a mesh strainer and keep the liquid for sauce.

Mince the clams if the canned clams are whole.

If you are using some fresh clams, do make sure to check all the clams are closed(alive).

Keep the fresh clams in cold water for 20 minutes so that all the sand settle down.

Rinse all the clams thoroughly to remove all the remaining sand and remove any open(dead) clams.
Instructions
Keep the spaghetti to boil, with a good amount of salt, and in a large pot, cook the spaghetti till al dente( slightly soft but not completely cooked).

TIP: Emphasis on the large pot so that it can have enough water to let the pasta move and expand on its own. Linguini takes 7-8 minutes to cook till al dente.

Take olive oil in an open pan and let it heat up. Not too hot that the pan starts fuming.

Add the chopped onions and garlic and cook until golden brown or till onions become translucent.

Add 2 cups of clam juice (liquid from the can) into the pan and boil it to half the volume.

Add chopped parsley and cook it for a few minutes.

Now add canned minced clams to the sauce along with two tablespoons of preferred white wine and cook it till the sauce thickens.

TIPS: When using fresh clams, add the closed clams after parsley along with white wine. Cover the pan till the clams open up. Throw away any closed clams.

NOTE: White wine will evaporate, leaving the only flavor behind. Therefore, this is appropriate for kids too. White wine will enhance the saltiness of the clams.

Strain out the spaghetti and keep ¼ cup of the pasta water for later use.

After the clams are cooked, add freshly crushed black pepper and salt to taste.

Add the spaghetti and spaghetti water and toss till the sauce covers all the pasta.

Cook till pasta absorbs all the sauce and the sauce is thickened enough.
Notes
TIPS: For fresh clams, you can keep the sauce aside after you did the seasonings. Add the sauce and clams on top of the spaghetti.
Serve hot and garnish it with parmesan cheese and a slice of lemon and butter if you like. Your pasta with white clam sauce is ready!
TIPS: This dish is preferred to be eaten hot, and you cannot store it in the refrigerator for more than two days. If you do have leftovers, store them in the refrigerator in a closed vessel and reheat in the pan along with some water or chicken broth.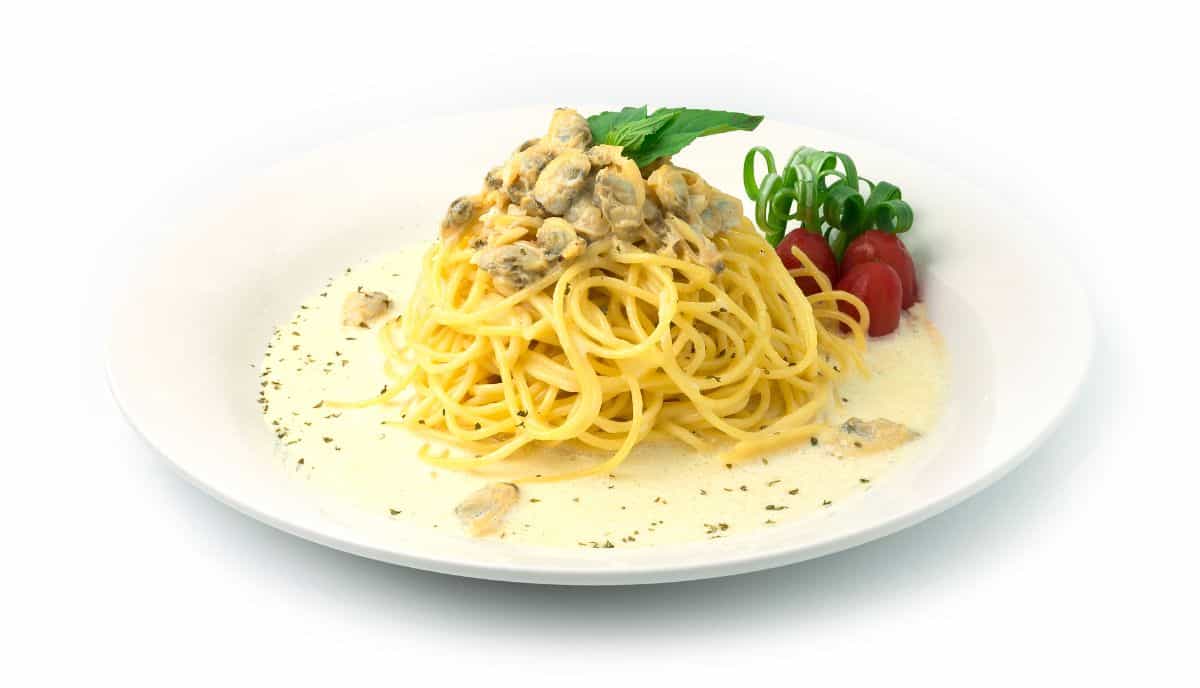 Tips To Elevate Pasta With Clam Sauce Recipe
Instructions
You can make this healthier by using margarine in place of butter or olive oil. Margarine is butter made of vegetable oil and hence has good cholesterol in it.

You can also replace olive oil with vegetable oil if you have some allergies or ran out of olive oil.

You can add fresh basil with parsley for freshness.

You can serve this along with the same White wine you used for cooking it.

You can also add a slice or two or toasted crusty bread along with pasta with white clam sauce.

Originally, small neck clams are preferred, but it is difficult to get these in the USA; here some fresh clams alternatives you can use for your clam sauce with pasta.

-Pacific Razon

-Surf

-Atlantic hard shell

-Manilla

-Atlantic Jackknife

-Pacific Geoduck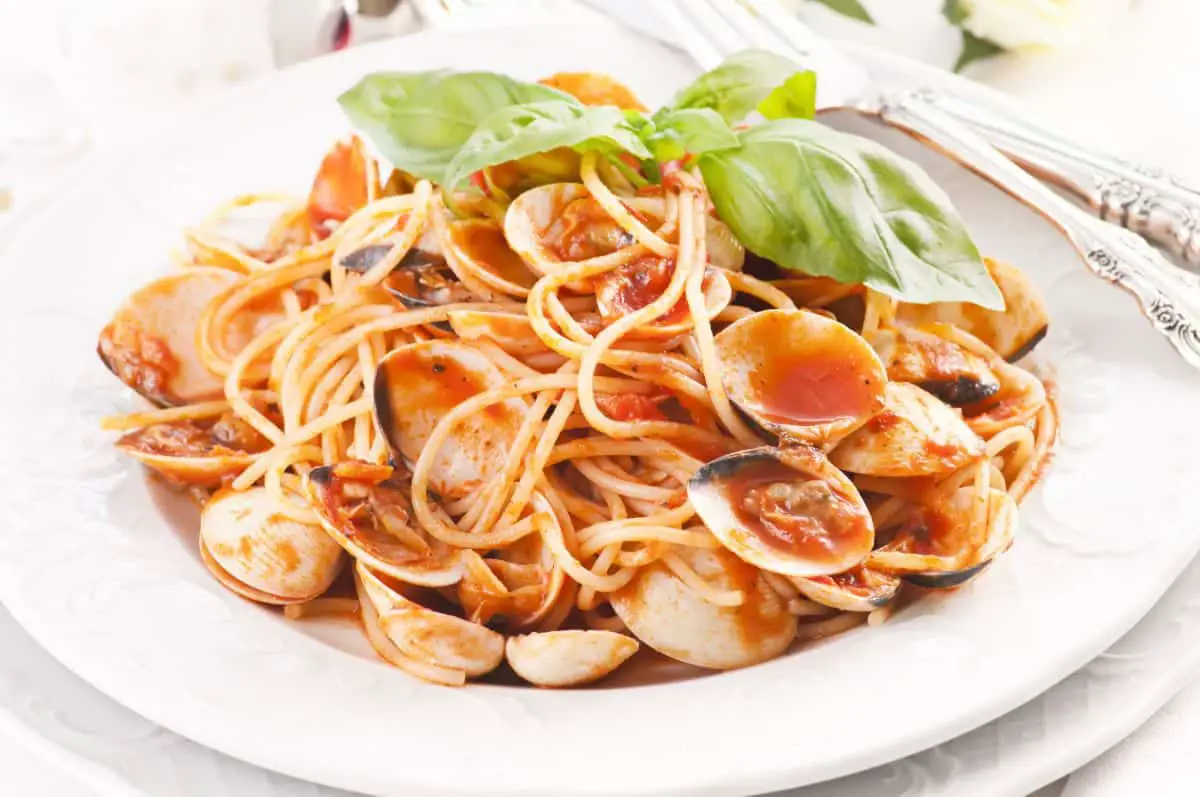 Alternative Pasta With Clam Sauce Recipe
Instructions
Another famous variation of this recipe originated from Southern Italy, namely, pasta with red clam sauce.

You will just have to add finely chopped tomatoes, after onions, and cook till the tomatoes start being soft and release juice for the red sauce.

You can completely ignore the White wine and make your own twist with different seasonings.