Flu bomb and cold bomb recipes are essential during the colder months of the year!
Every winter as the cold creeps in, so do the stuffy noses and sniffles. My kids come home all bunged up and I know that soon enough the whole house will be plagued with another cold.
This year I decided to concoct my own flu bomb recipe. Partly to soothe the poorly kids and partly to prevent it spreading to us!
Making your own flu bombs at home is fairly easy, and there's a good chance that you already have most of the ingredients in your pantry. If you find that you're missing an item and you're feeling too under the weather to head to a store, feel free to swap things out!
Flu Bomb and Cold Bomb Recipes 
Learn to craft the perfect cold bomb with the following easy recipe!  
S.O.S Flu Bomb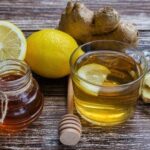 This health elixir is designed to nip cold and flu symptoms in the bud.
1 knob ginger (grated)
two cloves garlic (crushed)
1/2 tsp turmeric
1/2 tsp cayenne powder
2 tbsp apple cider vinegar
1 pinch chilli flakes (to taste)
1 sprinkle black pepper
1 bunch fresh spearmint leaves
2 tbsp raw honey
1 cup hot green tea
Grate ginger and crush garlic cloves

Add ginger and garlic to green tea to brew and infuse

Stir in honey

Stir in cayenne powder until fully dissolved

Add black pepper, chilli flakes, and fresh spearmint leaves

Leave to brew for up to five minutes

Feel free to strain out any remaining pulp
This recipe can be a little intimidating to some. Crushing up garlic and ginger with honey isn't always a winning combination.
If you or your little tykes are reluctant to try out my S.O.S flu bomb, I've made up a sweet and a savory version, too!
With so many self-proclaimed 'health gurus' promoting their essential oils and supplements, it can be tough to determine what your body is actually in need of when you're feeling rough. I thought I'd include a little list of the health benefits of my ingredients list.
Flu-Fighting Ingredients and Their Benefits
These handy cold bomb ingredients will enhance your health and help to fight off winter flu. But what are the benefits? 
Green Tea – full of antioxidants that help to fight off viral infections, soothes sore throats, gives an energy boost
Garlic – full of antioxidants to stimulate immune system to work harder, can reduce cholesterol and improve heart health
Ginger – anti-inflammatory benefits to reduce cold and flu symptoms
Stock broth – soothes sore throats, high in sodium to draw fluids into the body
Turmeric – antioxidant and anti-inflammatory effects
Cayenne – lowers body temperature by stimulating sweat glands and reduces congestion by stimulating mucous membranes of the nose and sinuses
Lemon – naturally high in vitamin C (did you know garlic is all high in vitamin c?!) and eases sore throat symptoms
Apple cider vinegar – probiotic with an immune boosting effect and acidic enough to thin mucous in the throat
Honey – soothes the throat and has antibacterial properties
Spearmint – rich in antioxidants and can loosen congestion
When Do You Need a Flu Bomb or Cold Bomb? 
A flu bomb or cold bomb is helpful when you feel the symptoms of flu might be coming on. Make sure you're aware of flu symptoms so you can spot it early when it reaches your kids or you! 
People who catch the flu may only experience some of the symptoms above, or you may have a mixture of pains and fatigue. 
Starbucks Flu Bomb: Winter Warrior or Waste of Money?
For some, the idea of making a flu bomb at home derives from hearing about the Starbucks version. Starbucks originally had their flu remedy as an item on the secret menu, but it was so popular that they made it permanent. You might have heard people refer to it as the 'Cold Buster' or the 'Medicine Ball'.
The Starbucks flu bomb is made up of hot water, steamed lemonade, Teavana jade citrus mint tea, peach tranquility herbal tea, honey and optional peppermint syrup. I'd avoid the optional syrup when making your cold bomb.
This Starbucks version of the flu bomb isn't all bad; the honey and green tea are included in my own recipe after all. However, the steamed lemonade and peppermint syrup are potentially going to do you more harm than good. If you're feeling particularly low energy, you might benefit from from the glucose boost.
Personally, I won't be heading out to pick up a Starbucks flu bomb any time soon. There's nothing particularly diabolical about their recipe, but I don't see it staving off a tough flu.
If you're experiencing cold symptoms like sore throat, this might line your throat with a little sugar and help you to speak. However, if your house is plagued with a really nasty virus, you're going to need a ton of antioxidants that just aren't found in steamed lemonade.
Flu Prevention Checklist 
1) Flu bombs cold bombs
Of course, flu bombs and cold bombs should be near the top of your list for preventing and soothing flu symptoms. 
2) Take time to rest
Taking some time off school or work is essential when you have the flu – it's important to allow your body to rest. 
3) Keep easing congestion 
When you're trying to rest and recover from the flu, congestion can make it hard to sleep or relax. 
If you don't want to take a decongestant, hot liquids such as soup and tea may help to clear your head. 
The Bottom Line 
Cold and flu season is usually pretty rotten, especially in families with lots of kids passing viral infections on to one another. The best way to combat your symptoms is with plenty of rest and lots of fluids. My flu bomb recipe will help to ease some symptoms, and is probably good at preventing sickness spreading. It might not be as tasty as the Starbucks rendition of the flu bomb, but the natural ingredients of my cold bomb will be better for you in the long run.
Don't miss my guide to surviving winter here – featuring the best winter warmers and healthy dishes, to winter treats to lift your mood!