Last Updated on 6th July 2023 by
Britain is known for drizzly days and chilly winters, so when it comes to traditional British food and drink, it's no surprise that many British meals are warm and delicious comfort foods.
From homemade shepherd's pie and big bowls of scouse, to the hearty Full English breakfast, I've rounded up the very best meals for dining in true British style.
Of course, we're also known for loving a cup of tea – and with tea comes tasty biscuits! So if, like me, you have a sweet tooth, you'll love some of the tasty treats I've listed below.
Whether you're visiting the UK soon and getting excited for sampling food and drink, or you're simply looking for cooking inspiration, I hope you enjoy reading my guide to British food and snacks!
British Food, British Snacks & British Desserts
1) Toad in the Hole
The first on my list is a traditional British food that dates back to the 1700s.
The name is said to have been coined as early as 1762 – the dish was created for poorer households to enjoy as it was a practical way to stretch out meat.
This hearty British food consists of sausages served in a Yorkshire pudding batter, usually accompanied by a generous helping of onion gravy and vegetables.
2) Shepherd's Pie
Although historically an Irish speciality, shepherd's pie has been fondly adopted over the years as a traditional British food.
This savoury dish is filled with meat (traditionally lamb) and is topped with mashed potato crust. The pie can also be topped with melted cheese for an indulgent twist.
3) Yorkshire Pudding
Renowned as one of the best traditional British foods, the humble Yorkshire pudding dates back to the 1700s! The puddings were served with thick gravy as a hearty first course, followed by a main meal of meat and veg.
However, families who couldn't afford the main course were reliant on Yorkshire puddings served with gravy as the main course. Today, Yorkshire puddings are an essential part of a Sunday roast or Christmas dinner.
4) Fish and Chips
Fish and chips, which remains a firm favourite today can be traced back to as early as the 1860s. The tasty treat should definitely be on your to-try list if you're visiting the UK.
The origins of this classic dish have been debated over the years – Londoners claim that the dish belongs Joseph Malin, while Northerners say John Lees in Mossley was the proud pioneer.
5) Bubble and Squeak
One of the most traditional British foods, bubble and squeak has become a go-to dish for using up left over veg after a roast dinner or Christmas dinner, with leftovers including potato, cabbage, carrots, peas and sprouts, for example.
Back in the day, however, bubble and squeak was a popular Sunday morning breakfast in the North of the country, originally including the simple recipe of boiled potatoes and cabbage.
6) Scouse
It should come as no surprise that scouse originates from Liverpool – the home of the Fab Four and this delicious winter warmer!
Scouse is a simple lamb or beef stew with vegetables that typically include potatoes, carrots and onions. A bowl of scouse is best complemented by pickled beetroot, red cabbage and a thick slice of bread.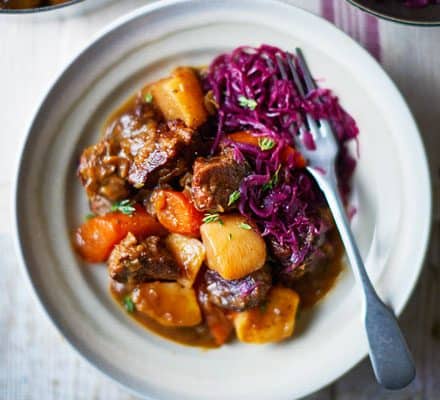 7) Full English Breakfast
Traditionally, a full English breakfast is made up of bacon, eggs (fried, poached or scrambled), fried or grilled tomatoes, fried mushrooms, sausages, baked beans, black pudding and buttered toast.
In modern day Britain, additional items on the plate of a full English may include hashed browns, as well as healthier additions such as avocado or vegetarian sausages.
8) Eccles Cakes
Named after the English town of Eccles (once considered part of Lancashire but now in the city of Salford), eccles cakes are a popular British snack.
Eccles cakes are small round-shaped cakes made with pastry, butter and filled with currants. The first person known to have sold Eccles cakes commercially was James Birch, who owned a shop in the town centre of Eccles. However, the origins of the recipe are unknown.
9) Cucumber sandwiches
British finger food is ideal if you have a group of friends or family coming round and you want to offer a selection of yummy bites to eat.
One of the most timeless British foods is finger sandwiches, the foundation of traditional afternoon tea. Cucumber sandwiches are a true British classic!
10) Scotch Egg
Best-loved as the ultimate British picnic food, scotch eggs consist of a soft or hard boiled egg, which is wrapped in sausage meat and coated in bread crumbs. Scotch eggs are then baked or deep-fried.
Miniature versions of scotch eggs are also popular when choosing British finger food for a buffet or party.
11) Chip Butties
If fish and chips doesn't fulfil your comfort food needs, then the humble chip butty is sure to hit the spot! This delicious treat is simply made with a buttered bread roll or sliced bread and filled with thick chips.
Another popular take on the chip butty is the 'chip barm' or 'barm cake', which varies across different areas in the North of the country. Additions to the chip butty often include malt vinegar, mayonnaise, brown sauce or ketchup.
12) Bangers and Mash
Bangers and mash (also known as sausage and mash) is often found in British pubs and is classed as traditional British 'pub grub'.
The hearty dish consists of sausages with mashed potatoes – accompaniments include onion gravy, peas and fried onions. The perfect winter warmer.
13) Steak and Kidney Pie
Made of diced beef, diced kidney, fried onion and completed with brown gravy, steak and kidney pie is a timeless British food dish, and another pub favourite!
14) Beans on Toast
Filling, comforting and delicious, never underestimate the humble British food combination of baked beans on toast.
Many Brits also top this go-to meal with cheese to make cheesy beans on toast.
15) Crumpets
British breakfast doesn't always mean preparing a full fry up, with buttered crumpets a strong favourite for a morning snack.
Crumpets are often bought in British supermarkets and toasted, however they can also be cooked in a pan until they are warm enough to eat.
16) Scones
One of the most famous British baked goods, scones are a personal favourite of mine when it comes to British food!
17) Cocktail Sausages
It wouldn't be a British party without cocktail sausages on the table!
This classic British finger food is a go-to for putting together a buffet that everyone will enjoy.
18) Sticky Toffee Pudding
Originating from Britain's beautiful Lake District, sticky toffee pudding is one of the very best British desserts.
This timeless British food staple is essentially a moist sponge cake, drizzled in delicious toffee sauce and usually served with a refreshing vanilla custard or ice-cream. Yum!
19) Beef Wellington
Another fish to originate from the British isles is beef wellington, a firm favourite when it comes to British food and classic pub grub.
So, what is beef wellington? This fairly simple dish is fillet steak coated with pâté and duxelles. This tasty filling is then wrapped in parma ham and puff pastry and is left to bake.
20) Lancashire Hotpot
The next dish on my list of traditional British food is the humble Lancashire hotpot. This hearty stew is a main course, consisting of lamb or mutton with onion.
This is then topped with sliced potatoes and baked on a low heat in a pot.
21) Butter Pie
If you're ever visiting Lancashire, don't miss out on trying one of the most delicious yet simple British foods.
This savoury pie is made up of potatoes and onions. It's also a tradition in Lancashire to serve butter pie on a barm cake, so if you're a self-confessed foodie, why not give this a go?!
22) Trifle
Trifle is a sweet addition to our list of British foods – the popular British dessert has truly stood the test of time, with the earliest trifle recipe dating back to 1585. As most recipes do, trifle evolved over the years and is enjoyed today as a layered dessert, consisting of fruit, a thin layer of sponge fingers (soaked in sherry) and custard.
Fruit-flavoured jelly is often used to keep the layers of fruit and sponge elevated, while whipped cream is usually the top layer of the trifle. Delicious!
23) Shortbread
Originating from Scotland, shortbread is a popular British snack and one of our best-loved biscuits. The traditional biscuit is made using the simple recipe of flour and butter.
You can also add to the original recipe with a helping of salt and by splitting the sugar into granulated and icing sugar.
24) Bakewell Tart
With its earliest recipe originating from the Derbyshire Dales, Bakewell tarts are another go-to British snack and one of the very best British desserts.
The popular dessert consists of layers of jam, frangipane and flaked almonds, sitting on a shortcrust pastry.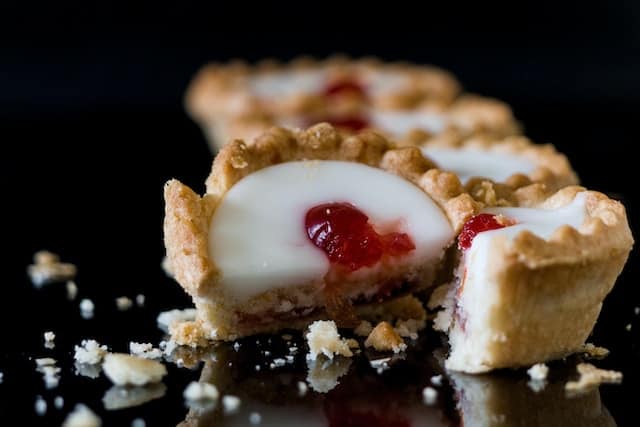 26) Banoffee Pie
The next of British desserts on my list is banoffee pie, one of the most classic British food dessert recipes that you'll find. This is such a loved dessert, with its invention thought to have come from East Sussex in 1971.
A wonderful dessert for parties, banoffee pie consists of bananas, cream and toffee. These key ingredients sit on a buttery or crumbly biscuit base.
27) Angel Delight
Arguably one of the most simple British food desserts is Angel Delight, which was first released by the Bird's company in 1967. The instant powdered dessert is made by mixing and whisking it with milk, to create a sweet and tasty mousse.
The first flavour of Angel Delight was strawberries and cream, but today foodies can pick from a wider range, including banana, chocolate and butterscotch.
28) Apple Crumble
Apple crumble, also known as apple crisp, has become one of the best-loved British dishes over the years, especially throughout autumn.
It consists of chopped apples that are baked and topped with a crisp streusel crust.
29) Carrot Cake
Carrot cake is quite literally a cake that has this tasty vegetable mixed into the cake batter. The cake is then given an even tastier twist with white cream cheese frosting.
An interesting British food fact...
Rationing during the Second World War saw this unique dessert reach a new level of popularity.
30) Eton Mess
Eton Mess, created at Eton College, is quite literally an Eton mess, as this traditional dessert is a messy mixture of strawberries, whipped cream and meringue.
One of the oldest British desserts, Eton mess dates back to 1893. The dessert is still served at the college today at annual cricket matches against Harrow School.
31) Mince Pie
When the mince pies are out, you know it's beginning to look a lot like Christmas! This traditional treat originates from Britain and is a sweet mixture of dried fruits and spices.
The sweet pie is a Christmas staple to have in any British household and a party favourite throughout the festive season.
32) Black Pudding
With its origins traced back to the UK and Ireland, black pudding is a particularly popular British delicacy in locations such as Lancashire and Yorkshire.
Made up of pork blood, fat and oats or barley, this classic British food dish can be grilled, fried, baked, boiled or even consumed while it's cold.
33) Angel Cake
One of my favourite British desserts, angel cake is a sweet layered sponge cake, made with eggs, butter, caster sugar, vanilla extract, self-raising flour, baking powder and red and yellow food colouring.
The layers of this delicious treat are usually coloured white, pink or yellow with a layer of white cream completing the recipe.
34) Jaffa Cakes
If you're visiting England and you want to try one of the most popular British snacks, look no further than Jaffa cakes.
A sweet combination of sponge cake, orange-flavoured jam and a layer of chocolate makes this biscuity cake is one of the best selling British snacks for . reason!
34) Sausage Rolls
British food has a great mixture of savoury foods, and it goes without saying that sausage rolls are an all-time favourite! One of the most popular British snacks, you'll find sausage rolls in supermarkets and bakeries wherever you are in the country.
A sausage roll is essentially sausage meat wrapped in sheets of pastry that are then glazed with egg or milk, before being left to bake. Vegetarian and vegan sausage rolls are also popular in Britain, with meat substitutes going down a treat.
36) Pink Wafers
Pink wafers are another timeless favourite amongst British snacks. Originally made in the UK, pink wafers consist of dyed wafers sandwiched around crème.
37) Madeira Cake
One of the most simple yet tasty British desserts is Madeira cake. It's a common misconception that this dessert would originate from the Madeira Islands, however the cake was actually named after Madeira wine, a popular drink in England in the 1800s.
The traditional flavour of madeira cake is lemon, giving the simple sponge a sweet twist. This tasty dessert is usually enjoyed with a cup of tea in true British fashion.
38) Victoria Sponge
Though sponge cake is thought to have originated from Spain, the British recipe, Victoria Sponge dates back to Victorian times. Alfred Bird, an English food manufacturer invented baking powder in 1843, which allowed sponge to rise to the height used for Victoria Sponge today.
The traditional British dessert was named after Queen Victoria, who enjoyed the cake herself with a cup of tea. This tasty British snack usually consists of a strawberry jam filling and cream sandwiched between two layers of sponge. The top of the cake is simply dusted with a sprinkle of icing sugar or caster sugar.
39) Fish Fingers
The recipe for this British food was first referenced in 1900 and increased in popularity during World War II due to food restrictions.
Fish fingers are simply made using a whitefish which is then battered or breaded to form a tasty British snack or quick meal.
40) Mini Sausage Rolls
Miniature versions of British snacks are a go-to choice when it comes to putting together a selection of British finger foods.
One of the most popular finger foods you'll find on a British buffet table is miniature sausage rolls! A must-have if you're throwing a British themed party.
41) Christmas Pudding
The festive season is one of my favourite times for food and drink! And Christmas wouldn't be complete without Christmas pudding, a traditional British food for Christmas dinner.
This dish is made up of ingredients including dried fruits, brandy, egg, cinnamon, nutmeg, ginger and other spices.
42) Roast Potatoes
Roast potatoes are one of the most popular British side dishes and an essential component of a British roast dinner.
Brits like roasties to have crispy skins and fluffy insides for the perfect texture.
43) Cornish Pasty
Aside from its sandy beaches and crystal blue waters, Britain's best-loved seaside destination is also famed for the humble Cornish pasty.
the A traditional Cornish pasty is a baked pastry filled with beef, sliced or diced potato, swede and onion. A delicious savoury treat.
44) Caterpillar Cake
The next on my list of British snacks and finger foods is Marks & Spencer's famous Colin the Caterpillar cake. A must-have for British parties and celebrations.
The chocolate sponge roll cake is filled with soft chocolate buttercream and completed with a milk chocolate shell. The cake is so popular that Marks & Spencer have even branched out to creating wedding-themed caterpillar cakes.
45) Crisp Sandwich
It's safe to say that British food is far from pretentious, and next our list is as British as it gets…the crisp sandwich!
A sandwich filled with crisps (known as potato chips in the US) and whatever else you may like to add to it, this simple lunch may not be to everybody's taste, but it's a firm favourite in the British isles. You'll even stumble upon crisp sandwich shops in some locations such as West Yorkshire!
46) Cheese and Pineapple
One of the most retro British finger foods is the cheese and pineapple hedgehog! This simple British snack is a party favourite that you would have seen on many party tables in the 70s and 80s.
This British finger food is simple to make, you can use a large orange or melon wrapped in tin foil to make the body of your hedgehog, then simply add cheese, pineapple chunks, cherries or any other fruit you like to cocktail sticks and stick them into the foiled fruit!
47) Spotted Dick
This traditional British pudding was first referenced in 1849 and has become a British food staple.
The classic ingredients for this recipe are dried fruit and suet, and it is often served with custard.
48) Ploughman's Lunch
There's nothing better after a busy morning than sitting down with a ploughman's lunch. One of the best-loved British lunches, a ploughman's is usually served on a board, with a selection of bread, cheese, chutney, apple, butter and pickles.
Often enjoyed with a beer or glass of wine, this is a popular choice for a pub lunch and is one of the very best options for British finger foods.
49) Cumberland Sausage
Originating in Cumberland (now part of Cumbria, England), the Cumberland sausage is a long form of pork sausage that is rolled in a circular coil or in long and curved lengths.
This particular British food has been a local speciality for approximately 500 years.
50) Cadbury Chocolate
For those with a sweet tooth, Cadbury's chocolate is without a doubt one of the best British snacks. I don't know whether it's just me, but chocolate when I'm away on holiday just doesn't taste as good as at home!
From Dairy Milk bars to Creme Eggs, Cadbury's is known for its delicious brands of chocolate, not forgetting it produces some of the most tasty British desserts available in supermarkets.
51) Prawn Cocktail
This nostalgic starter was the most popular appetiser in Great Britain from the 1960s right up until the late 1980s! The once 'on trend' dish is now served with a degree of irony as a novelty party dish, but it is still just as tasty as ever.
The simplistic recipe consists of shelled, cooked prawns accompanied by cocktail sauce. This seafood served in a glass.
52) Digestives
Digestive biscuits are one of the best-loved British snacks, perfect for dunking into a good old fashioned cup of tea!
These tasty snacks were originally created by two Scottish doctors – the biscuits were designed to help with digestion.
53) Hobnobs
Another firm favourite when it comes to British biscuits to snack on, Hobnobs were first launched in 1985.
The crumbly British snack is made with rolled oats and jumble oats to create a biscuity-flapjack texture. Yum!
54) Hot Cross Buns
This traditional British food is truly timeless!
These tasty British snacks are spiced sweet buns, made from currants or raisins and marked with a cross.
The buns were first made to mark the end of Lent, with the cross representing the crucifixion of Jesus. It's tradition in Britain to eat hot cross buns on Good Friday.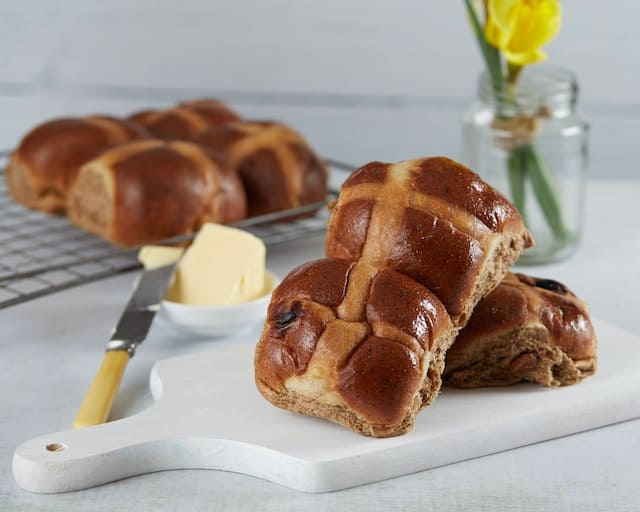 55) Penguin Biscuits
Anyone who grew up in Britain will remember penguin biscuits, most likely for the penguin themed packaging and the hidden joke or funny fact tucked away beneath the wrapper.
These chocolatey British snacks are biscuit bars filled with delicious chocolate cream. The perfect quick snack for kids.
56) Prawn Cocktail Crisps
One of the most weird but wonderful British snacks is prawn cocktail crisps.
If you're from the UK, you might be surprised that prawn cocktail crisps aren't a typical snack abroad, and Americans in particular aren't often familiar with the much loved flavour.
57) Weetabix
When you're in need of a quick and easy breakfast or nutritious snack, Weetabix are a go-to cereal in the UK.
High in fibre and made of whole grain wheat, this yummy cereal has been made in the UK since 1932, and is still one of the most popular and healthier British snacks to enjoy in the morning.
58) Tunnock's Teacakes
Tunnock's Teacakes are one of the most tasty sweet treats to choose from out of British snacks and biscuits.
The consistency is a small shortbread biscuit, which is then layered with Italian meringue and a marshmallow-style topping. The biscuit is then encased in chocolate .
History Food Fact
Tunnock's teacakes was a popular ration snack amongst V bomber flight crews. The biscuits expanded when the crew were at high altitude, however one time, an unwrapped biscuit exploded on the instrumental panel!
59) Brown Sauce
A popular condiment to add to traditional British food and snacks, you need to give brown sauce a go if you're paying a visit to the UK!
Ingredients of brown sauce usually include tomatoes, dates, apples, spices, molasses and vinegar. This is a popular addition to full English breakfasts.
If you love breakfast as much as I do, don't miss my guide to savoury breakfast
60) Battenberg Cake
Fans of colourful cakes will love the traditional British battenberg cake.
One of my favourite cakes to make at home, this light and fluffy sponge cake is made with marizpan, jam and flour.
Arguably one of the most timeless British snacks, Battenberg cake was first baked to celebrate Prince Louis of Battenberg's marriage to princess Victoria!
61) Mini Cheddars
Mini cheddars were first launched back in 1984 – however, the cheddar-cheese flavoured crackers are just as popular today!
Mini cheddars are a baked wheat based snack made with real cheese. They are a popular choice for British school lunchboxes.
62) Flapjack
A delicious treat that was first made in the UK, flapjacks are made from butter, rolled oats, brown sugar and golden syrup for a sweet twist.
In my opinion, they are best when they are home baked, however they can be bought pre-packaged in supermarkets around the UK – perfect if you're in search of a quick and handy British snack!
63) Custard Creams
Custard creams are a popular type of biscuit in the UK, consisting o fa creamy centre sandwiched between flat biscuit layers.
The custard flavouring of the creamy centre makes this British snack truly delicious! This is another favourite to dunk into a cup of tea.
64) Bourbon Biscuit
My list of British foods and snacks wouldn't be complete without the bourbon biscuit! Similarly to custard creams, this chocolatey biscuit has a creamy centre.
This very traditional British snack dates back to 1910! The middle of bourbons is chocolate buttercream flavour, ideal for foodies who love chocolate as much as I do.
65) Party Rings
First made in 1983, party rings were a go-to choice for British finger foods and party buffets in the 80s. The colourful biscuits were a novelty, as chemical food dye creating such bold colours was relatively new.
This nostalgic British snack will be still be found on party buffet tables today, however its colouring has shifted towards a more soft and pastel theme to keep up with modern day trends.
I hope you have enjoyed my guide to traditional British food, snacks and finger foods! I'll be adding to my list again soon, so please check back soon for more British food inspiration!
I'm Pauline, a retired patisserie chef, mother of four and now a full time food blogger! When i'm not cooking i love long walks, reading thriller novels and spending time with my grandkids. Head to my about me page to learn more about the woman behind the food! You can find my Facebook here