Last Updated on 27th August 2022 by Cal Bannerman
Humans have put a lot of time and effort (several hundred thousand years, to be precise) into taste-testing the world's plants. What they've come up with is an incredible pantry of dried and ground spices which we today use to give our food flavor, complexity, and depth.
in this ultimate guide to cooking spices, we'll take a brief look at the history and recommended usage of 9 different spices and 9 different spice mixes.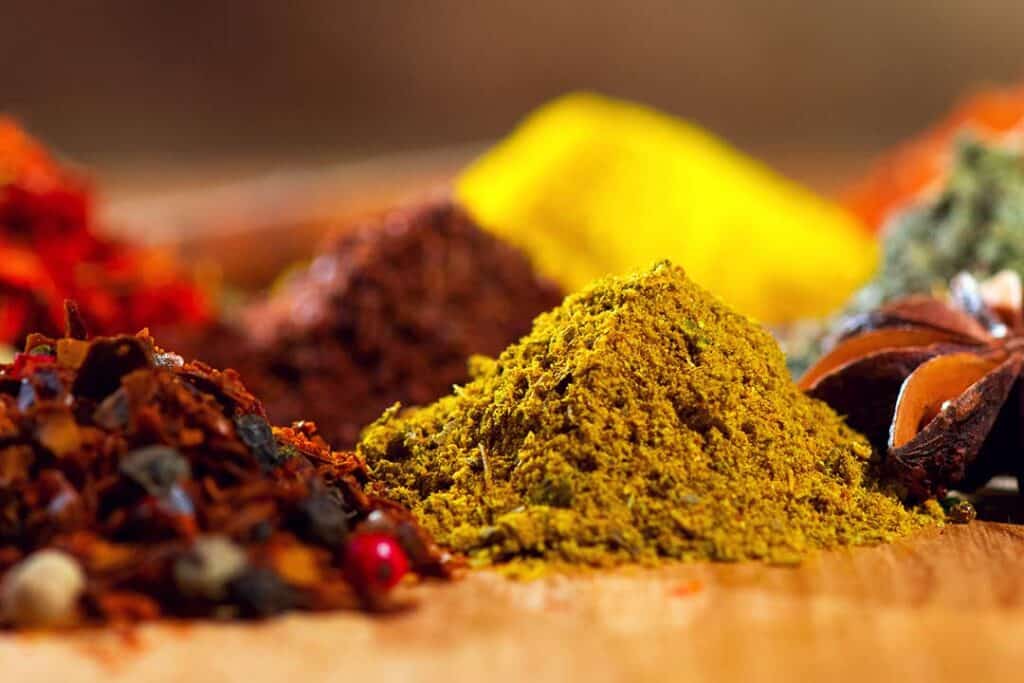 What's the difference between a spice and a herb?
Herbs are equally important in cooking, but are not the same thing as spices. Whereas spices are typically derived from the roots, seeds, bark and flowers of a plant – which are ground and dried – herbs come from the actual leaves of a plant, and are best enjoyed fresh. Common herbs include basil, oregano, mint, rosemary and thyme.
A guide to the 9 most useful spices from around the world
There are many dozens of different spices out there, and in this short guide we touch on but a few. Hopefully, however, this selection of the 9 most useful and beloved spices will give you a solid introduction to the world of spices; enough that you may now embark upon your very own spice journey!
Allspice
Origin: Pimenta dioica tree berries, West Indies and Central America
History: Took its name from European colonists who believed its taste was somewhere between nutmeg, cloves and cinnamon.
Use: Allspice gives off a warm, spicy flavor which is best applied in rubs and marinades, especially in Jamaican jerk cooking, or in stews, soups and curries from the Caribbean.
Black Pepper
Origin: Dried fruit of flowering vine Piper nigrum, Malabar Coast of India
History: Like cinnamon, black pepper once ruled the waves for Europe's imperialist nations, driving merchant vessel after merchant vessel round the southern tip and then the Horn of Africa, all the way to India. It has been used in Indian cooking since at least 2000 BCE, and was an important trade resource with the Roman Empire, Ancient Egypt and Mesopotamia, as well as Yemen and the Levant. "Black gold" peppercorns once decorated the nose of mummified Ramesses II, though today are more commonly ground as 'seasoning' to bring out the complex flavors of any dish you can think of.
Use: Black pepper is incredibly diverse, but its use as a spice (rather than as seasoning) has long been overlooked. Nevertheless, it remains an integral ingredient in almost all world cuisines.
Cardamom
Origin: Seeds of the herbaceous ginger-relative, Elettaria cardamomum, southwest India
History: Cardamom first appears in the written record thanks to the Ayudervic (medicinal healing) texts of ancient India, and those of the ancient Sumerians.
Use: There are two types of cardamom seeds: black and green. Both feature heavily in Indian cooking (both sweet and savory), especially recognisable as the base spice in chai tea. Cardamom is used in Scandinavian baking, and in the Middle East it's used in mostly sweet dishes.
Chiles
Origin: Chile peppers are actually the fruits of Capsicum plants, originally from Bolivia, now cultivated all over the world
History: Humans have been eating wild chile peppers for almost 10,000 years, and started cultivating (farming) them in Mexico around 4000 BCE. They were introduced to Eurasia after Christopher Columbus' first voyage to the Americas.
Use: Chilis are often used fresh, in any variety of dishes and cuisines which require levels of heat and spice complexity. Their seeds and flakes can also be dried, or the whole fruit dried and crushed to make chili powder. Aleppo chili pepper features heavily in Middle Eastern dishes, whilst chipotle and ancho chiles give Mexican cuisine much of its signature taste. On the other side of the world, chili flakes give Korean gochujang paste its phenomenal heat.
Cinnamon
Origin: Strips of inner bark from trees in the genus Cinnamomum, India, Sri Lanka, Bangladesh and Myanmar, as well as China.
History: For a long time, cinnamon effectively ruled the world economy, being worth more than gold and more valuable than almost any other commodity. It was used by the ancient Egyptians as far back as 2000 BCE, and was considered a gift fit for a king (or pharaoh!). During the Age of Exploration, cinnamon was the motivator for many expeditions to India and 'the Indies'.
Use: Cinnamon has a delicious floral flavor commonly associated with the festive season in many Western countries. It compliments sugar extremely well, and so can be found in cakes and desserts around the world, but equally it adds complexity to stews and meat dishes, such as Mexican carnitas, Chinese stir fry, and Moroccan tagines.
Coriander (seeds)
Origin: Both a herb and a spice, coriander seeds come from the coriander plant, Southern Europe, Northern Africa, Southwestern Asia
History: Coriander may be one of the most widely-used and oldest of all spices, with trace amounts of it having been found in cookware of neolithic peoples from 8,000 years ago.
Use: Coriander seeds can be used when green and fresh, or dried out and brown. They impart a distinctly fresh, cumin-like, floral and citrusy taste which is integral to Mexican and Moroccan cooking, as well as to Zuni cuisine in North Africa, sausage-making in Germany, pickling in Asia and baking in Russia and Central Europe.
Cumin
Origin: Dried seeds of flowering cumin plant in the family Apiaceae, Irano-Turanian Middle East and western Asia
History: Like coriander, pepper and cinnamon, cumin has played an integral role in the culinary evolution of Central Asia, Southwestern Asia and the Eastern Mediterranean. They have been found in use as far back as 5000 BCE.
Use: In Ancient Egypt, cumin was actually used as a preservative in mummification! Today, however, it remains an integral part of Greek and North African cuisine, especially in Morocco where cumin is used at the dinner table like Europeans use peppercorns. From Mexico and India to China, Creole and Cajun cooking in the USA and cheese-making in France, it would be impossible to list all the ways and all the cuisines in which cumin is relied upon for its earthy, warm, aromatic character.
Ginger
Origin: Rhizome (root-stalk) of the flowering ginger plant, Maritime Southeast Asia
History: Ginger has long been used as both a spice and a medicine, and continues to hold both roles to this day. It was probably first domesticated by the Austronesians, who took it with them on their migration south and southwest, spreading it throughout the Indo-Pacific around 3000 BCE.
Use: Ginger is used in cooking and medicine worldwide, though can most recognisably be found in Southeast and East Asian (Japanese, Korean, Vietnamese and Chinese) cooking, as well as in some Indian dishes. Tangy, a little "spicy", with an incredibly fresh taste, it is also used to make tea, pickles, ginger beer, candy or wine.
Turmeric
Origin: Rhizome (root-stalk) of the flowering plant Curcuma longa, India and Southeast Asia
History: Before it was valued as a spice for cooking, the root-stalks of Curcuma longa were heralded as medicinal all-cures in Ayudervic, Siddha, traditional Chinese, Unani and Austronesian folk medicine. One of the oldest records of turmeric use comes from a merchant's tomb in Megiddo, Israel, from around 2000 BCE, but it has probably been in use for much, much longer.
Use: Aside from its purported medicinal benefits, turmeric is used in most Asian dishes for the earthy, mustard-like, pungent and slightly bitter flavor it imparts. It also has a bright yellow coloring for which it is sometimes specifically used (such as in baking).
You'll find turmeric forms the backbone of Indian daal, Vietnamese bánh xèo, Cambodian Kroeung, Indonesian curries (such as rendang), and for satay, among many other international dishes.
Useful spice blends for cooking, seasoning and marinating
Quatre épices
Nutmeg, cloves, cinnamon and black pepper
Garam Masala
Coriander, cardamom, black pepper, mace, cumin, cinnamon and cloves
Za'atar
Oregano, thyme, sumac, marjoram and sesame
Chinese Five Spice
Cinnamon, cloves, star anise, fennel and Szechuan (or black) pepper
Japanese Curry Powder
Cumin, turmeric, coriander, cinnamon, black pepper, cardamom, fenugreek, nigella, bay leaves, oregano, ginger, cloves, cayenne pepper, sage, mace and Szechuan pepper
Dukkah
Coriander, cumin, sesame and hazelnuts
Ras el Hanout
Fenugreek, cloves, cumin, coriander, cinnamon, cardamom, chili powder and mace
Jamaican Jerk
Nutmeg, thyme, cayenne, black pepper, allspice, paprike, salt, garlic, sugar and ginger
Cajun Seasoning
Paprika, garlic, mustard powder, onion, oregano, black pepper, red pepper flakes, cayenne pepper, cumin, caraway, thyme, bay leaves and celery seeds
Conclusion
Without spices, one could argue, human beings would not have founded civilizations, explored the world, colonized and been colonized, created beautiful art and won the affections of lovers. Our drive to explore taste – in all its weird and wonderful facets – drove us to eat bark, roots, and seeds until we found the ones we could combine into intoxicatingly delicious meals. Our drive to
Frequently Asked Questions About Spices
Is it better to use whole or ground spices?
Whole spices will impart a fresher, brighter flavor, and many chefs would recommend using these over their ground versions if you can. However, ground and dried versions of the same spice tend to deepen and concentrate in flavor, so the decision is yours!
How do you properly store spices?
Store ground and dried spices in a waterproof, air-tight container with a lid. A jar or plastic tupperware tub will do just fine. Keep them in a cool, dark place like a kitchen cupboard.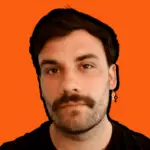 Cal Bannerman is a freelance writer, editor, and podcaster from the Scottish Borders. They are the creator of experimental queer storytelling podcast Stories from the Hearth, and find fulfillment in life through travelling, eating, reading, dancing, and conversation with friends