Last Updated on 4th August 2022 by Pauline Loughlin
Bacon stores beautifully in the freezer, staying fresh for months until you are finally ready to use it. A lot of times, I will buy bacon when I shop for groceries, with no intent of using it right away. Bacon doesn't have much of a shelf life when it is refrigerated, but it can last for a long time as frozen food.
Frozen bacon may not be something you are used to working with, so let me share with you how to cook frozen bacon and when you need to defrost it as well as when it can be used from frozen.
How Long Can Bacon Be Frozen?
Bacon can last anywhere from 1-3 months in the freezer, if stored properly, though some recommendations place it squarely at one month.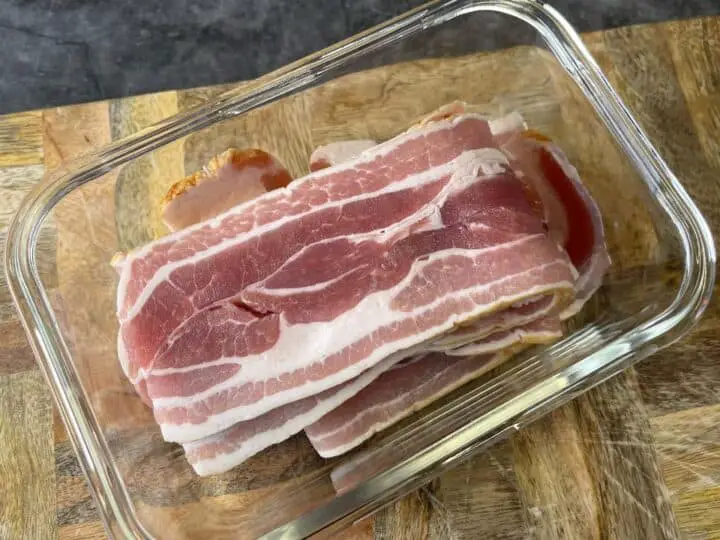 How long is frozen bacon good for? That depends on whether it was cooked beforehand or if it is still raw. Cooked bacon should only be stored in the freezer for a few weeks, tops. If it is raw, it can last a bit longer, but the longer you store bacon in the freezer, the less fresh it is likely to be.
How to Thaw Frozen Bacon
You are probably familiar with using fresh bacon, but how do you take frozen bacon and thaw it out so that it is ready to be used?
The simplest and best way is to just place the frozen bacon into the refrigerator overnight to thaw out on its own. It will take it about 5-6 hours to thaw this way.
For faster thawing, if you need it sooner than that, you can place a package of frozen bacon into a bowl of room temperature water and let it thaw in a matter of about 30 minutes.
If you are going to use all of the bacon once it thaws, you could defrost it in the microwave. Just place the entire package of bacon into the microwave on a microwave safe plate and set the microwave to defrost. In a few minutes, it should be thawed out completely.
Now you have a few methods for how to defrost frozen bacon, and while I recommend leaving the bacon in the fridge to thaw out, any of these options will work.
How to Cook Frozen Bacon in Oven
If you have frozen bacon you want to cook in the oven, you need to separate it before you cook it all the way through in there. If the pieces are not separated, then they won't brown on all sides evenly, and you will end up with some odd-looking bacon.
You can partially thaw out the bacon by putting it in the microwave for 30 seconds or so on defrost. You could also let the bacon thaw in the oven slightly as well.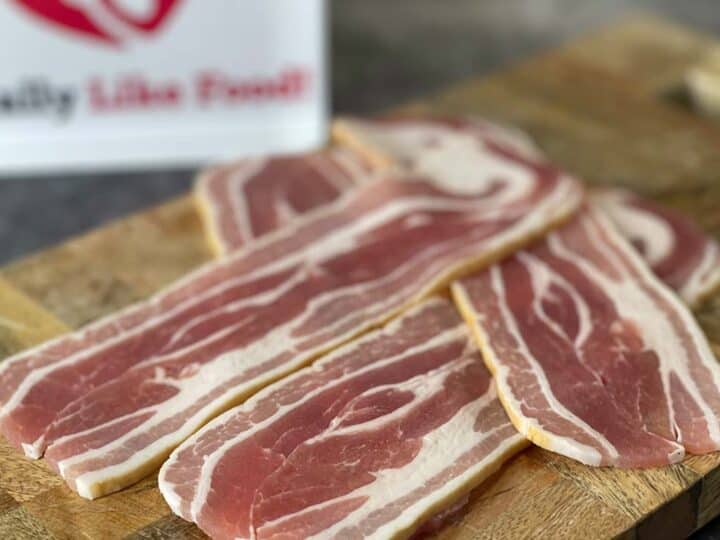 To partially thaw it in the oven and then cook it, you can heat up the oven to 400 degrees Fahrenheit. Once the oven has fully heated, you can place your bacon on a baking sheet in the oven for about 5-10 minutes.
The ice should melt by then, allowing you to separate the bacon pieces. Once you can separate the bacon, make a single layer of bacon and then let it finish cooking in the oven at 400 degrees for another 20-25 minutes. In total, the bacon should cook for 25-35 minutes. You will know it is done cooking when it is fully browned.
How to Cook Frozen Bacon in Air Fryer
Can you take a pack of frozen bacon and place it into the air fryer to cook or does it need to be separated first?
As with cooking in the oven, the bacon should be separated when cooking in the air fryer. You can defrost it for a short while in the microwave to get started, thawing it out enough to separate the pieces.
This also lets you thaw only the bacon you want to use. As the bacon is defrosting, you can heat up the air fryer to 400 degrees Fahrenheit.
Once your pieces of bacon are separated, you can place them into the air fryer. Only put them in there if the fryer has heated up all the way.
Cook the bacon for 10 minutes and then check on it. If you want it crispier, you can let it cook for another minute or two.
How to Cook Frozen Turkey Bacon
Turkey bacon tends to be a bit healthier and leaner than pork bacon. It has less fat on it, and you may wonder if it needs to be cooked any differently from pork bacon.
Even though the meat is slightly different, you can cook turkey bacon the same way you would cook pork bacon. They both cook identically, and you can cook them up in the oven or in the air fryer, but it needs to be slightly thawed first. Otherwise, you won't be able to separate the pieces and allow for even cooking.
Let me share with you a quick tip for how to bake frozen bacon of either kind. You can wrap the bacon in foil and place it on an oven rack to help it crisp.
This ensures proper airflow and gives you bacon that has a beautiful texture to it. Try that if you aren't perfectly happy with how the bacon turned out by just using a baking sheet.
How to Reheat Frozen Bacon
Once bacon has been cooked and then is frozen, it will not need to be cooked all over again. You just need to warm it up again to use it, but how do you do that?
The best method is to let it thaw first, using any of the methods I already gave you. Then, cook the bacon in the oven or air fryer for a fraction of the time it would normally need to.
In the air fryer at 400 degrees, the bacon can cook for about 3 minutes. In the oven, at the same temperature, cook it for about 7 minutes.
I'm Pauline, a retired patisserie chef, mother of four and now a full time food blogger! When i'm not cooking i love long walks, reading thriller novels and spending time with my grandkids. Head to my about me page to learn more about the woman behind the food! You can find my Facebook here