Last Updated on 26th August 2022 by Pauline Loughlin
There's nothing like biting into a piece of fried chicken. Something about tasting that juicy, tender meat underneath a satisfying crispy breading is simply unforgettable.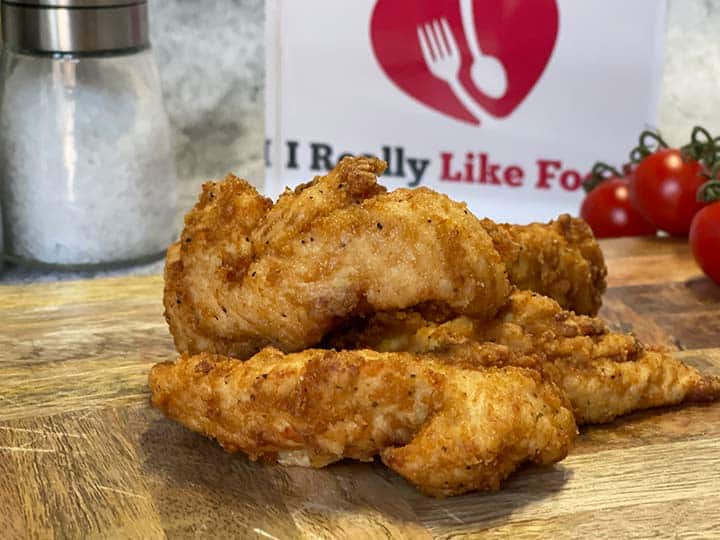 But what if the leftovers from last night's dinner are calling your name? Is munching down on a cold drumstick the only way to answer the invite? Absolutely not.
Sure, it's faster to just grab a piece from the fridge and eat it, but let's get real, nothing beats warm fried chicken!
Our site is packed with great guides to help chicken lovers with every from marinating chicken to how to bake chicken with parchment paper and the best way to cook frozen chicken wings. Be sure to check them out.
Today, we're looking at 10 ways to reheat fried chicken wings so you can learn how to reheat fried chicken without drying it out. We're also sharing tips and techniques on how to fried chicken so it stays crispy. Without further ado, let's get cooking (reheating)!
How to Reheat Fried Chicken In The Oven
The most preferred method when it comes to reheating fried chicken and keeping is definitely by using the oven. In fact, this is one of the best ways to reheat fried chicken without drying it out.
If you're planning on trying the oven method, you need to know how long to reheat fried chicken in the oven.
Generally speaking, this process should take you about 30 minutes. As a rule of thumb, thicker pieces will heat at a slower rate than smaller pieces. When the chicken pieces are warm all the way through and crispy on the outside, they're done.
Using an oven to reheat fried chicken can be a bit timely, but it's still pretty simple. Not to mention, once you get a taste of the warm, crispy fried chicken, you'll know it was well worth the wait.
How to Reheat Fried Chicken in the Microwave
If you're running on a tight schedule, microwaves can be your best friend. These appliances are the "go-to" kitchen tool when oven cooking is just not possible. Keep in mind, however, that the resulting texture won't be the same as when you use an oven.
While this is not the preferred method for professional chefs, us regular people love the speed and convenience of using a microwave. If you're opting for the microwave route, you should expect that the fried chicken will turn out soft and soggy compared to the crisp skin you can get when you use an oven.
How to Reheat Fried Chicken In An Air Fryer
Another efficient way to reheat reheat fried chicken in air fryer and you can also cook chicken thighs in an air fryer.
The main advantage of this method is that the air fryer significantly reduces the amount of oil you need for cooking while maintaining the crispness of the chicken on the outside and the juiciness of the meat on the inside — just like when it was first cooked.
Leftovers often taste dull with a soggy texture, especially if you use a microwave. However, it's a different story with an air fryer since your fried chicken will be nice and crispy.
How to Reheat Fried Chicken in a Toaster Oven
When it comes to the best method for reheating fried chicken you would only consider using a toaster if it was a last resort.
Toasters are not really meant for reheating food but since the introduction of the toaster food bags it's not as silly as it may sound.
You would need to have an ultra wide mouthed toaster and your chicken would need to fit neatly in the bag. If you get past that stage then it just may work.
If you have ever reheated chicken using a toaster then please we would love to hear from you.
How to Reheat Frozen Fried Chicken
You worked too hard to make some homemade fried chicken to just throw out the leftovers. Luckily, you can freeze the leftover pieces for later. To make sure you get the same finger-licking goodness when you reheat those pieces, here's what you should do. We also have a guide that covers how to cook frozen chicken wings.
How to Reheat Fried Chicken Using A Grill
If you're wondering how to reheat fried chicken tenders or how to reheat fried chicken steak, this method using a oven or a microwave.
How to Reheat Fried Chicken Using A Skillet
Using a skillet to reheat fried chicken is a great option as you add water to the skillet prior to adding the chicken which will help to keep the chicken moist and tender.
How to Reheat Fried Chicken in a Deep Fryer
Can you reheat chicken in a fryer? You can but the biggest challenge here is avoiding over cooking the chicken. You are essentially cooking the chicken twice. Reheating your leftover fried chicken in a deep fryer is an excellent way to restore its initial crispiness.
How to Reheat Kentucky Fried Chicken
There's no doubt that a homemade fried chicken dinner paired with a baked potato, sweet potato (how to peel the perfect sweet potato), or corn on the cob is a winner, but sometimes, you just got to hit the drive-thru.
If fast-food fried chicken leftovers are sitting in your fridge right now, you don't have to eat them cold. It's pretty easy to reheat Kentucky Fried Chicken or any other fried chicken from a fast-food chain since they generally serve similar types of meat.
Just follow any of the methods we mentioned above and you're good to go.
Tips for Reheating Fried Chicken
Always measure chicken's internal temperature with a meat thermometer.
Insert the thermometer in the fleshy part and never touch the bone.
Store the leftovers in a Tupperware container as it absorbs moisture.
Sauce or gravy on top of chicken leftovers can save the dish.
What to Avoid When Reheating Fried Chicken
We've talked about all the ways you can reheat the fried chicken, but now it's time to discuss what not to do when reheating fried chicken.
When you're figuring out how to reheat fried chicken you need to think about how you can maintain the flavour of the fried chicken while making sure it doesn't leave you sick.
According to food and health experts, the oven, the stove, and the microwave are among the safest ways to reheat the fried chicken.
Additionally, don't leave leftover food out for too long, and make sure you heat it well enough. You want to avoid landing in the "danger zone" temperature range, as designated by the USDA (United States Department of Agriculture). Within this range, bacteria can grow to dangerous levels that can cause various illnesses.
You should also consider how long you can keep the fried chicken in the fridge and decide whether or not the amount of leftovers is worth it.
Wrap Up
There you have it, 10 ways to reheat fried chicken that are easy to follow and provide satisfying results.
That being said, if we had to pick out the best way to reheat chicken without drying it out and still keep it crispy, we'd choose the oven-baking route.
Not only does oven-heating allow for through warming, but it's also one of the healthiest ways to get the job done.
Frequently Asked Questions About Reheating Fried Chicken
What is the best way to reheat fried chicken?
Based on the results from the methods above I would say that fried chicken tastes best when reheated either under the grill or deep fried.
How do you reheat fried chicken to make it crispy again?
The best way to keep your fried chicken crispy is to deep fry it in very hot oil. As long as the chicken is quite fresh and hasn't been left in the fridge for several days this can make your chicken as crispy as the day you bought it.
Can you reheat fried chicken the next day?
Fried chicken will be fine for 2-3 days in a sealed container in a fridge. However, the longer you leave it the less crispy it will taste when reheated. I suggest no more than 24 hours if you really want to make your leftover fried chicken crispy again.
References
How many times can you reheat food – https://www.highspeedtraining.co.uk/hub/how-many-times-can-you-reheat-food-safely/
Left overs and food safety – https://www.fsis.usda.gov/food-safety/safe-food-handling-and-preparation/food-safety-basics/leftovers-and-food-safety
I'm Pauline, a retired patisserie chef, mother of four and now a full time food blogger! When i'm not cooking i love long walks, reading thriller novels and spending time with my grandkids. Head to my about me page to learn more about the woman behind the food! You can find my Facebook here