Russians love their bread, and they have a special kind of bread that a lot of the world doesn't even know about. That's Russian black bread, which is really more brown than black, but that's not important. What is important is that this is a rich and flavourful bread that will definitely change up the way you use the bread after you bake it.
The black Russian bread recipe is typically made like a sourdough bread, and it sometimes incorporates coffee or caraway flavours for extra tastiness. There are tons of ways to make this bread, and while I will give you a single Russian black bread recipe authentic to the traditional method, there are lots of ways it could be made and lots of things you could add to it to flavour it or alter it.
CalmDo Bread Machine
15 programs with unique knob design, twist the knob, automatically make your favorite bread taste or other delicious food, including Basic Bread, French Bread, Whole-wheat Bread, Quick Bread, Sweet Bread, Sandwich, Gluten-free Bread, Mix. Even special menu functions for Yogurt, Dessert, Dough, Jam, Cake, Bake and DIY your Homemade Bread
We earn a commission if you click this link and make a purchase at no additional cost to you.
Russian bread is a hearty rye bread that is very filling and can often serve as a meal on its own, perfect for times when you need a cheap meal for the family. It is no surprise that this bread was very common among Russians during some of their economic depressions.
I want to share with you a traditional Russian black bread recipe that you can make yourself and bring a little bit of this culture into your kitchen and your home. If you make the bread right, just like the Russians do, then you will have a food that pairs very well with just about any kind of soup.
Smart Living Soup Maker, Stainless Steel
Perfect, gourmet Soup in under 30 minutes. Multiple servings from each batch saving time in the kitchen.
We earn a commission if you click this link and make a purchase at no additional cost to you.
This is a bread that is very high in fibre and can be pretty healthy for you. How dark the black bread gets depends on what you use in it and what ratio of ingredients you prefer. Some people make their black bread literally black, and there are plenty of recipes out there that show you how to do that, if you are interested.
Russian Black Bread Recipe
If you are making this bread the way it has been made in Russia for many years, it won't be complicated at all, using just a few key ingredients. You won't need a bread machine or bread maker either, as those would be luxuries most people could not afford around the time that black bread reached the peak of its popularity in Russia.
Bread Proofing Basket With Baking Tools
Bread proofing basket set includes all bread making supplies for making bread: round and oval basket, dough whisk, slashing scraper, silicone brush, steel bread knife and bread lame.
We earn a commission if you click this link and make a purchase at no additional cost to you.
The authentic Russian black bread recipe is not hard to make, and I want to show you how easy it is, even for less experienced chefs. My recipe has a few more ingredients than what Russians might have used many years ago, but it is still a traditional recipe, just refined by years of experience and identical to how the bread is made these days with better ingredients and better cooking techniques. It takes advantage of modern conveniences and cooking methods to give you the absolutely best bread you can get.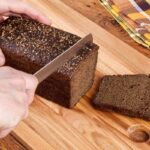 Print Recipe
Russian Black Bread Recipe
Ingredients
2

tbsp

of unsalted butter

1

pinch

of brown sugar

2 ¼

tsp

of active dry yeast

2

tbsp

of molasses

1 ¼

cup

of warm (but not hot) water

2

tbsp

of apple cider vinegar

2

tbsp

of cocoa powder

1

tbsp

of caraway seeds

½

cup

of wheat bran

1 ½

cup

of rye flour

½

tsp

of fennel seeds

2

tbsp

of ground coffee or expresso

1 ½ cup and 2 tablespoon of flour (all purpose, unbleached)

2

tsp

of salt
Instructions
Mix sugar, yeast, and warm water in a bowl. Mix until they dissolve and let the mixture stand for about 10 minutes, until it becomes foamy.

Warm up the molasses and butter together in a bowl, creaming them together until they become smooth. Add apple cider vinegar and let your mixture cook for a few minutes.

In another bowl, mix together the rye, 1 ½ cups of flour, cocoa powder, coffee, salt, fennel, caraway, and bran. Keep mixing until they combine smoothly.

Then, add in molasses and yeast to that flour mixture and combine until your mixture is smooth.

Create a dough from the mixture, adding flour as necessary to make a sticky but firm dough.

Rest your dough on a countertop or cutting board that has been lightly floured and knead it for abut 8 minutes. When you are finished, the dough should be springy yet firm. (You could also combine everything in a stand mixer using the dough hook and setting the speed to low for about 5 minutes)

From the dough into a ball and set it into a bowl that has been greased. Cover that bowl with a slightly damp towel and allow it to rise. This should take about an hour and a half to two hours.

Preheat the oven to 425 degrees Fahrenheit.

Take the towel off of the dough and sprinkle with caraway seeds and flour. Then cut an "X" shape across the top of the dough, cutting about an inch deep.

Bake your dough at 425 degrees Fahrenheit for 20 minutes. Then, reduce the heat to 350 degrees and cook for an additional 22 minutes. The loaf is done when it has a rich color and makes a hollow sound when you tap on it.

Take the bread out of the oven and allow it to cool for 10 miles on a wire rack. Then, slice into it and enjoy.
You can serve Russian black bread with butter, cheese, or any other topping you like. It has a rich flavour to it, so many people prefer to eat it with as few additions as possible. It is excellent when served with pasta, soup, or any meat you choose.
25-in-1 Bread Machine with Nonstick Ceramic Pot & Digital Touch Panel
Moosoo bread machine has 25 programs to choose from (gluten free, quick bread, whole wheat, french, jam, sweet bread, yogurt, etc.). Intuitive Digital Touch-pad Control is easy to use. 15-hour time delay function, 1-Hour Automatic Keep Warm, 10-15-minute Power Interruption Recovery allows for fresh bread anytime.
We earn a commission if you click this link and make a purchase at no additional cost to you.
Can You Make Russian Black Bread in a Bread Machine?
You can make this bread in a bread machine, if you wish, and it will be a lot simpler and faster. Your Russian black bread bread machine recipe will be just about the same as what I gave you above for making it by hand. The ingredients are identical, but the process of making it is much shorter and more condensed.
How do you make Russian black bread in a bread machine? Simply add all the ingredients into the machine as directed by the machine's instructions. Then, place the bread machine on the whole wheat regular crust setting. The bread will cook on its own, and you can take it out and set it to cool after it is done.
Hamilton Beach Classic Hand and Stand Mixer
A variety of attachments, including classic beaters, whisk, and dough hooks, add to its versatility. Six speeds and QuickBurst let you tailor your mixing for anything from perfectly fluffy frosting to bread or pasta dough.
We earn a commission if you click this link and make a purchase at no additional cost to you.
That's how simple the process of making Russian black bread is with a bread machine, so if you want to do it that way, you will save yourself a lot of work.
Some people make their Russian black bread with a variety of ingredients to make it darker or give it a different flavour. The molasses in the recipe I gave you is what makes the bread dark brown, but you can use packed brown sugar instead, which is really just a granular form of missiles. You can also change around the cocoa or coffee ingredients to fit your needs and change up the flavour to your liking.
Once you have made this bread, you may want to do some tweaking to the recipe to get it to taste a different way, and you can find all sorts of variation on this recipe I gave you, if you spend a little time searching on the web.