Last Updated on 25th July 2023 by
Well, hello there!
Fancy a delicious, meaty treat that makes you want to lick your fingers clean?
Then you're talking about ribs, one of the best comfort foods.
Before we start, let's tackle a bone of contention that often pops up in barbecue debates: Baby Back Vs Spare Ribs.
As a confessed carnivore and an Englishman hungry for great food, I must settle this matter.
What is the difference between Baby Back Ribs and Spare Ribs?
For people who don't know, ribs might all appear the same; however, you'll find differences.
The main difference lies in where they're located on the pig. Baby Back Ribs come from the top of the rib cage between the spine and the Spare Ribs, below the loin muscle. They're shorter, curved, and more meatier and leaner than Spare Ribs.
Spare Ribs are from the belly side of the rib cage, above the sternum (breast bone) and below the back ribs. They're flatter than Baby Backs and have more bone than meat, but don't let that fool you. The meat is incredibly flavourful and, when cooked right, very tender.
Baby Back Ribs
Often referred to as 'pork loin ribs' or 'back ribs,' Baby Back Ribs are popular in American barbecue culture. These ribs are tender, lean and cook relatively quickly due to their small size. They have a subtle, delicate flavour that pairs well with various seasonings and sauces.
Spare Ribs
Spare Ribs, also known as 'St. Louis Style Ribs,' are larger, meatier, and have a higher fat content. These ribs are all about flavour!
The extra fat renders down during the cooking process, basting the meat and making it incredibly succulent. The extra bone, cartilage, and connective tissue add a depth of flavour.
What to look for when buying ribs?
When buying ribs, you want a well-marbled cut, meaning the meat should have veins of fat running through it. The fat is where a lot of the flavour is. Also, the meat should be a vibrant pink colour, and the bones should be moist and not dry or cracked.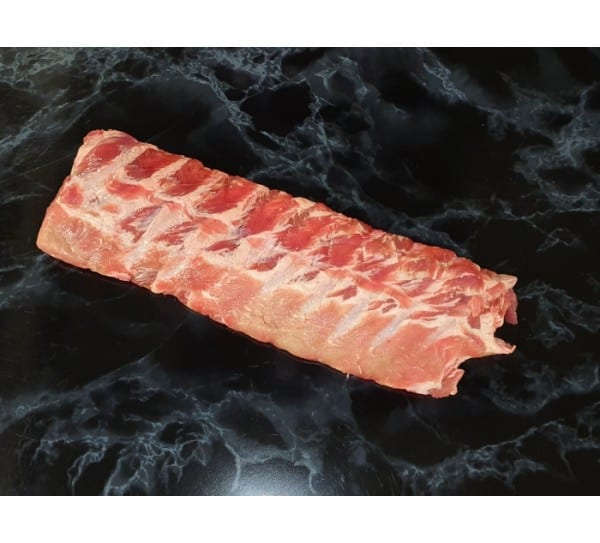 Can you substitute each type of rib?
You can substitute one rib type for another but remember they have different cooking times and flavours. Baby Backs cook faster and have a milder flavour, while Spare Ribs take longer to cook and pack a punch when it comes to taste.
How to prepare ribs for cooking
Prepping your ribs for cooking is relatively straightforward. Remove the membrane on the back of the ribs, don't be shy to season with your choice of dry rub or marinade, and let it sit for a few hours or even overnight to let those flavours sink into the meat.
Vegan alternatives
Vegan ribs, you ask? Why, yes, they exist!
Made from seitan or jackfruit and flavoured with smoky, tangy barbecue sauce, vegan ribs can be surprisingly tasty.
They make a delightful option for our plant-based mates or anyone keen to try something different.
Finishing Up
Whether you prefer Babyback or Spare ribs, remember that great ribs are all about the quality of the cut, the flavour of the seasoning, and the time you put into cooking them.
So, feel free to experiment and find your favourite.
FAQs About Babyback vs Spare Ribs
Can I use the same recipe for Baby Back Ribs and Spare Ribs?
Yes, you can. However, remember that they have different cooking times. Spare Ribs typically take longer to cook than Baby Backs due to their larger size.
How long should I marinate the ribs?
Marinating for at least a few hours is ideal. Letting them marinate overnight will ensure a more robust flavour if you can.
Should I cook ribs bone side up or down?
Generally, you should cook ribs bone side down. The bones act as a heat shield and help the meat cook evenly.
I hope this piece has been helpful. Knowing your ribs will set you up for some fantastic barbecues. Until next time, happy grilling!