Last Updated on 17th December 2021 by
Chili recipe without beans dates back to the 1700s. It is originally known as Texas chili, which doesn't have beans to get the rich taste of meat. However, nowadays, people make chili without beans if they have an allergy or don't like the beans' taste.
Another interesting fact about the chili recipe without beans is that since it doesn't have beans, it freezes well and can last up to two months. You can make it in batches and serve on busy days.
If you would like to serve your chili with a drink, then a beer or wine pairs better with the rich flavors of the chili. It balances out the flavor well without overpowering.
While this homemade recipe for chili without beans tastes great as it is, you can serve it with many side dishes to balance out the intense flavor. Pair it with a kale salad.
If you wonder how to make the best chili recipe without beans, I got you covered.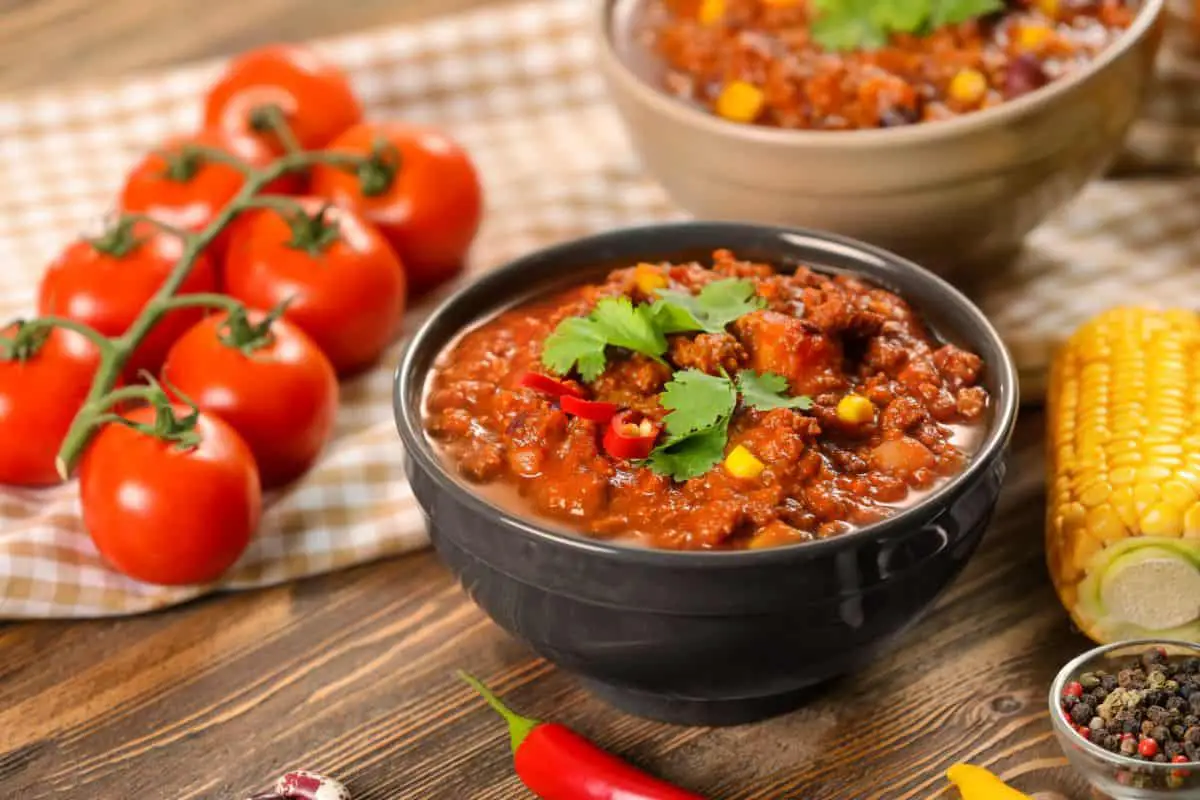 Chili Recipe Without Beans
Ingredients
Ingredients For The Chili:
1

tbsp

olive oil for sautéing

1

bay leaf

2

pounds

of lean ground or chunky beef/ turkey

2

tsp

of cumin

1

tsp

of paprika

2

tbsp

of chili powder

1

tsp

salt or per your taste

1

tsp

of black pepper

1

white onion,

finely diced

1

green bell pepper, finely diced

1

jalapeño,

seeded and finely diced

4

cloves minced garlic

1

can

of tomato paste,

about 6 ounces

2

tbsp

cornmeal

(optional)

1

can

use chunky fire-roasted tomato puree, about 28 ounces

(or diced tomatoes)

2

cups

of beef stock or a cup of beer.
Ingredients For The Toppings:
Grated cheddar cheese

Sliced scallions

Sour cream

Tortilla chips

Finely diced onion

Other toppings of your choice
Instructions
Start by placing a Dutch oven on the gas stove and set the flame to medium-high heat. Add one tablespoon of olive oil to it. I would recommend using light olive oil as the cooking process requires high heat.

Once the oil is hot enough, add ground beef to it. Season it with salt and pepper, and cook it until the color turns brown. Keep stirring and breaking the beef with the help of a spoon while cooking.

Once the beef is done, add in the onions, and stir it. Then add jalapeno, diced bell peppers, and minced garlic and cook it until the vegetables become soft.

Add the seasonings to the Dutch oven after the veggies are done. Add the chili powder, paprika, black pepper powder, cumin and cook for about one minute.

Add the tomato paste and combine thoroughly. Cook it for about three to four minutes while stirring it in between. Then add the tomato puree or chopped tomatoes and stir the mixture.

Add in the beef stock, and combine well with the beef and tomato mixture. Scrape off the bottom of the Dutch oven with the ladle to remove everything from the bottom of the pot.

Add the bay leaf and bring the mix to a boil.

Lower down the heat to maintain a steady simmer. Keep it like that for about thirty minutes. If you are using chunks of beef in the recipe, you can let it cook for as long as three to four hours. Just make sure to maintain the level of liquid in the pot not to burn the chili. It is okay to use water to maintain the extra liquid.

Once done, switch off the flame and remove the pot from the stove. Check the chili for salt and pepper and remove the bay leaf.
For Making Chili Recipe Without Beans Great
Since this recipe does not have any beans, the consistency might feel runny for you. If you like a better and thick consistency, try adding cornstarch with the tomato paste. The cornstarch gives more texture to the chili without changing the taste.
For garnishing the chili, you can never go overboard. The more toppings, the better. You can top the chili with chopped avocado, shredded lettuce, olives, or even hot sauce.
While chili is a standalone recipe, serving it with at least one side dish is preferable. Try serving it with a salad or some bread. Mac and cheese also make for a great side dish with chili without beans.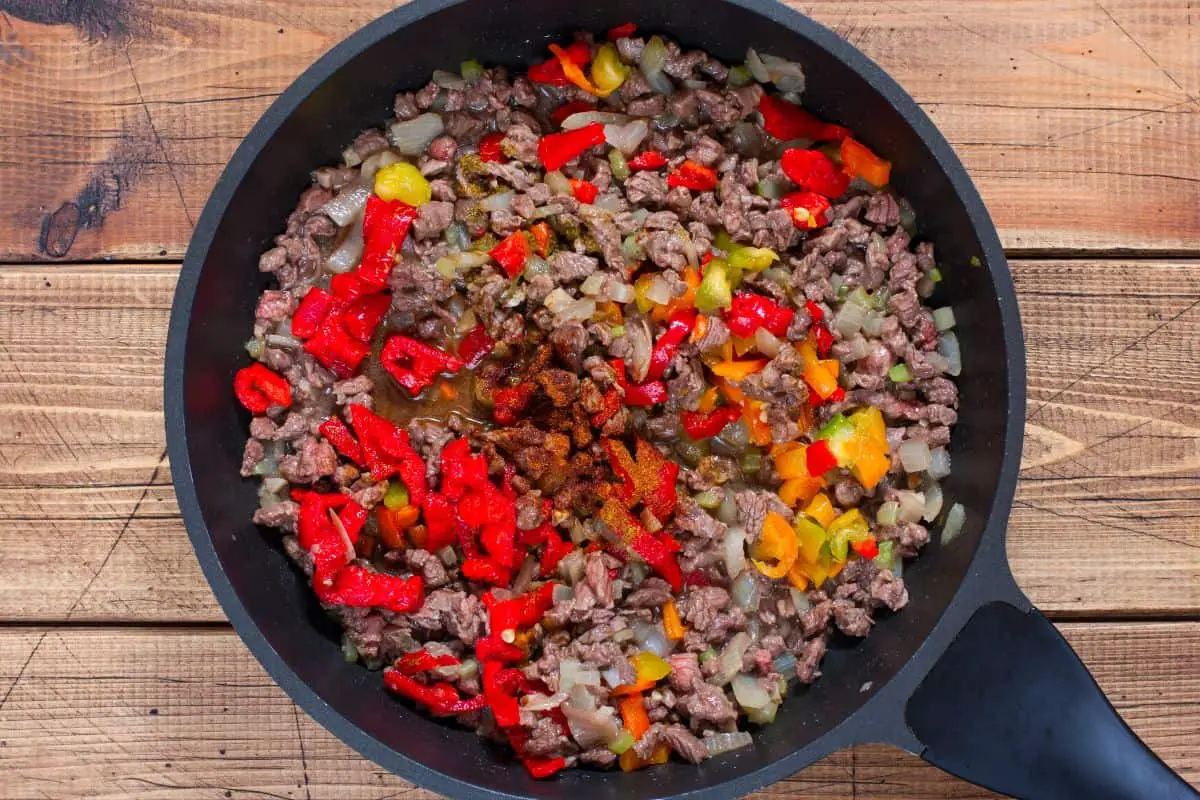 Turkey Chili Recipe Without Beans
Many people are allergic to red meat and need some variation to a classic red meat recipe. You can always make chili without ground beef. At the same time, you can easily switch the recipe mentioned above to a turkey chili just by replacing the beef with turkey. However, there is a specific way to make turkey chili to make it taste much better.
Start by sautéing the vegetables and then add the ground turkey and cook until brown. Once done, add all the seasonings and other ingredients mentioned in the above recipe. Apart from that, add four and a half ounces of canned green chilies chopped.
Instead of using beef broth, use chicken stock. Cook for 15 to 20 minutes, and you are done. Serve hot with your favorite toppings.
Chili Recipe Without Beans Or Tomatoes
Yes, you heard it right. You can make chili that satisfies your taste buds without adding beans or tomatoes to the recipe. This chili recipe is also known as cowboy chili or Texa red chili.
Start by sautéing the beef in a heavy bottom pan. Once the meat is browned, add the chopped onion and garlic and cook it for three to five minutes. Add in the chili powder, salt, black pepper powder, and cumin. Add two cups of water and let the mixture simmer for about three to four hours.
Keep stirring and checking the chili in between, and add more water if necessary. Just before turning off the heat, add five to six tablespoons of cornstarch to the chili. Cornstarch will add more texture to the dish. Serve hot with a side of sourdough bread or cornbread.
Chili Recipe Without Kidney Beans
The recipe mentioned above is a homemade chili recipe without beans. However, if you want to switch just kidney beans with something else, there are many substitutes for that. You can switch to black beans that have a very rich flavor.
Pinto beans are another great choice for substituting kidney beans. You can get it dried or canned or presoak it overnight and cook it for about two to three hours or until tender.
Red beans make for a great substitute for kidney beans. The texture and nutrients have a resemblance similar to kidney beans.
I'm Pauline, a retired patisserie chef, mother of four and now a full time food blogger! When i'm not cooking i love long walks, reading thriller novels and spending time with my grandkids. Head to my about me page to learn more about the woman behind the food! You can find my Facebook here