Last Updated on 22nd August 2022 by Pauline Loughlin
I have tried making and cooking meatballs a few different ways, and my consensus is that cooking them in the oven is the best way to cook them. I think it's the simplest method and offers the least hassle and mess.
Meatball Oven Cooking Guide
These are all important points for me, because when I cook, I keep a clean kitchen and don't want a bunch of cleanup to do afterwards. So without further ado let's find out how to cook meatballs in oven.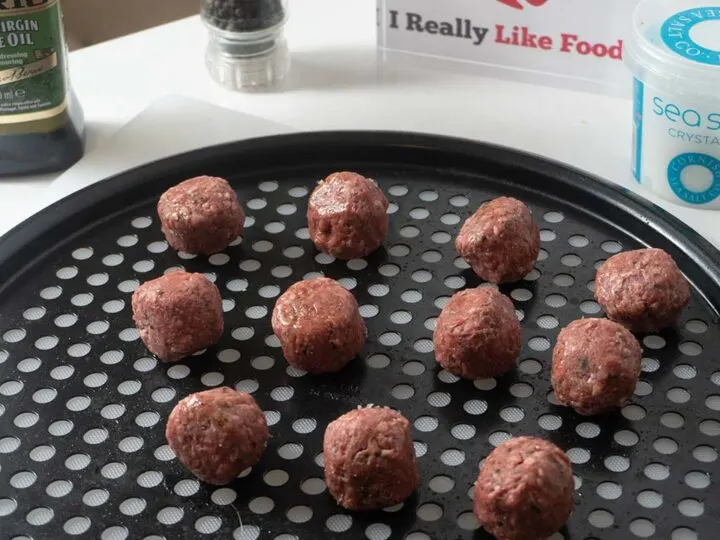 To keep bacterial levels low, store ground beef at 40 °F (4.4 °C) or below and use within 2 days, or freeze. To destroy harmful bacteria, cook ground beef to a safe minimum internal temperature of 160 °F (71.1 °C).

https://www.fsis.usda.gov/food-safety/safe-food-handling-and-preparation/meat/ground-beef-and-food-safety
I also like food that I can place into the oven and not have to worry about while I cook other foods to add into my meal.
How long to cook meatballs in the oven? The key to getting perfectly toasted meatballs is making sure you have the right temperature and the right cooking duration.
Of course, you also have to prep the meatballs in the right way. When all of these come together, you get perfectly cooked meatballs that taste delicious.
How Long to Cook Meatballs in Oven?
The length of time you should cook the meatballs will depend on a few different factors. I'm talking about how many meatballs you're cooking with, how well done you want them cooked, and how many trays of meatballs you have in the oven at once.
What about vegetarian meatballs?
Vegetarian meatball are a very different cooking method than ones made from meat, the cooking temperature and length of cooking with be vastly different from the meat version so ensure that you read the right guide for the right meatball. Make sense? You can find the vegetarian version meatballs here.
The thickness of the meatballs matters too
So, when you ask a question like how long do meatballs take to cook in the oven, the answer isn't always as straightforward as you might like.
If you're wondering how long to cook meatballs in oven at 350 degrees Fahrenheit, the length of time it will really depend on how large you made the meatballs. I roll them into balls of about an inch and a half each.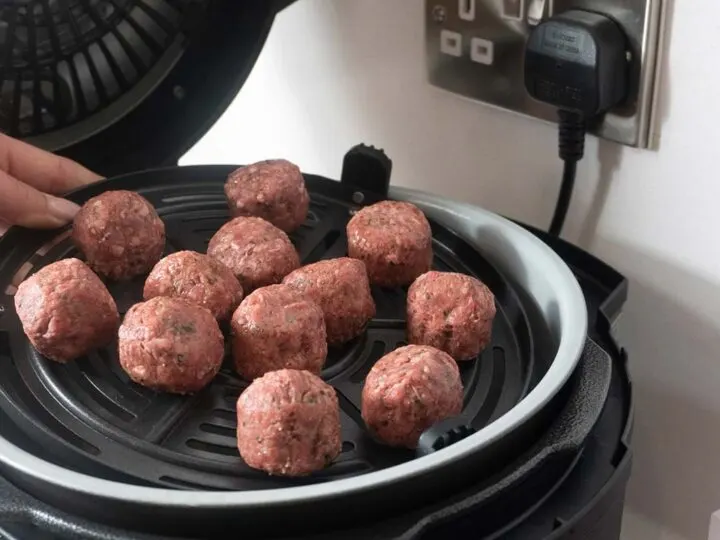 Then, I give them enough space on the parchment paper so that they can cook properly and thoroughly. The heat has to reach the entire meatball, so there needs to be a little space between each of the meatballs on the sheet.
If you do that, you can cook your meatballs at 350 degrees for 25 to 30 minutes. This should give you meatballs that are cooked evenly and are presently brown.
What About Meatballs That Are Frozen?
Yeah, you guessed it, if those meatballs are frozen you are going to need to adjust the cooking times. There are two methods:
1# Allow the meatballs to defrost
2# Cook them direct from frozen
If you allow them to defrost then please just refer to the standard cooking times below. If you decided to cook from frozen you can checkout our guide here on cooking meatballs from frozen.
How Long to Cook Turkey or Chicken Meatballs in Oven?
Let's say you're cooking some turkey meatballs. Is there a difference in cooking time compared to beef or pork meatballs? How long does it take to cook meatballs in the oven when they are made from turkey?
Actually, the kind of meat you use doesn't really make a difference in how long it takes for the meatballs to cook.
You can cook them at 350 degrees for about 30 minutes, or you can cook them at 400 degrees for 20 to 25 minutes. So, if you're wondering how long to cook pork meatballs in oven, you have your answer.
We have written a dedicated guide on cooking chicken meatballs, the cooking times will vary slightly so make sure you read this guide.
How Long to Cook Meatballs in Sauce in Oven?
Another question I've come across that I know some people have is how long to cook your meatballs if you make them with sauce on them.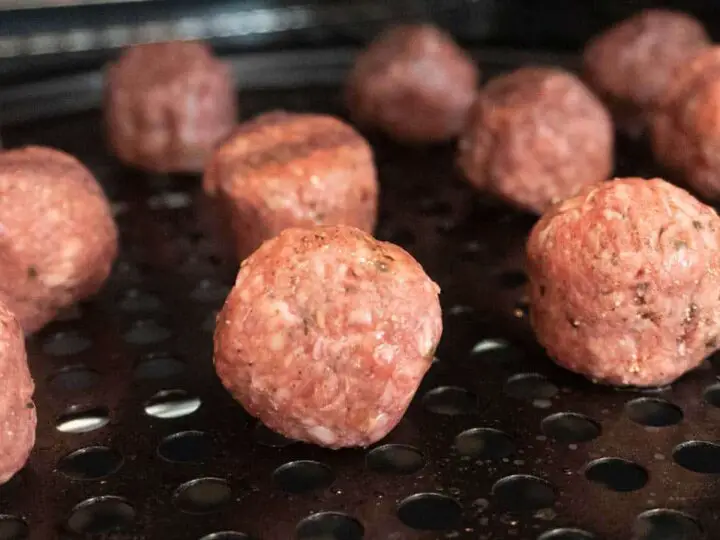 Does that affect how long it takes for them to cook? It really doesn't have much effect on the meat and how long it takes to cook.
The sauce makes the meat moister and tenderer, but you can still cook the meatballs for the same amount of time at the same temperature as you would so 400 degrees for 20-25mins is fine.
Whether you put sauce on the meatballs or not won't affect the duration or the temperature you cook at.
How Long to Cook Homemade Meatballs in Oven?
Meatballs you make from room temperature or thawed meat will take less time to cook the meatballs that come frozen. If you made your meatballs ahead of time and froze them for storage or you bought them frozen, this affects the cooking time and temperature you may need.
How long it takes to cook homemade meatballs that are not frozen will differ from those that are frozen.
How long to cook frozen meatballs in oven? As a rule, you bake your frozen meatballs for about 50% longer than you would meatballs that are thawed.
So, if you're wondering how long to cook meatballs in the oven at 350 degrees Fahrenheit, the duration changes depending on whether the meatballs are frozen or thawed out.
How Long to Cook Meatballs in Oven At 400?
This is another question you see quite often, and if you've been reading the entire article so far, you know I've already answered it. However, I want to give it its own space here , so I want to tell you how long you cook meatballs in the oven at 400 degrees Fahrenheit.
Of course, the higher the temperature of the oven, the less time you need to cook your meatballs for. At 350 degrees, you cook them for around 25 to 30 minutes. At 400 degrees Fahrenheit, you only need to cook them for 20 to 25 minutes.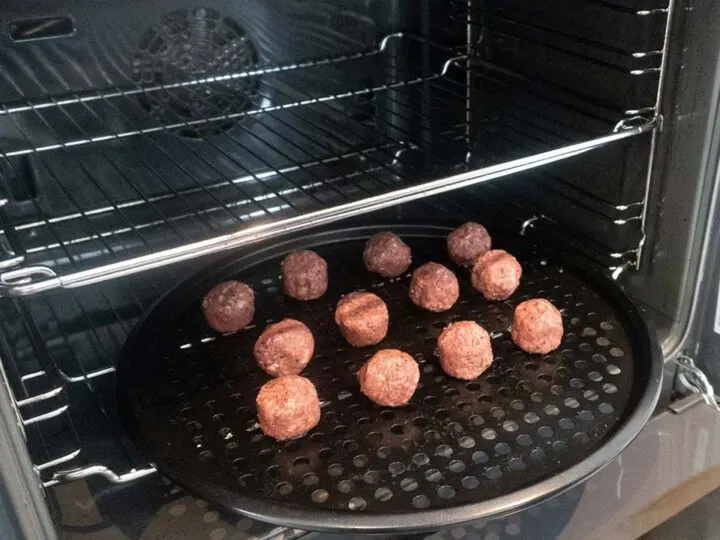 It's not a huge difference, but it may be enough to make you adjust your temperature slightly. Either way, your meatballs should come out tasting great and with the right texture no matter which of these temperatures you cook them, so long as you cook them for the right amount of time.
You can use these directions for any kind of meatballs here making. No matter what kind of recipe you're following or what kind of meat you're using, you now know the basic directions for how long to cook turkey meatballs in the oven or other kinds of meatballs. Be sure to adjust your cooking time slightly for fresh or frozen meatballs.
Make Sure Your Meatballs are Cooked All the Way Through
You want to make sure they're cooked all the way through, and you can test them once they come out. If they are soft and squishy when you press down on them, then they should be cooked all the way through.
If they fall apart when you push down, then they haven't cooked fully. Meatballs that are completely cooked should be brown on the outside, and when you cut them open, they should be brown on the inside as well.
I hope this answers all of your questions about how to cook meatballs, particularly about how long to cook them for. You do want to be careful about overcooking your meatballs, because that can dry them out.
Of course, undercooking the meatballs can prevent them from being cooked enough and can lead to food poisoning in some cases. Be sure you cook your meatballs enough, but watch the time and temperature so that you don't overcook them and dry them out.
Note: Not a fan of breadcrumbs in your meatballs? No, me neither, that's why I created this breadcrumb free meatballs version.
Frequently Asked Questions About Cooking Meatballs in the Oven
How long should you bake meatballs at 350?
Cooking temperature and duration will vary depending on the type of oven you use (fan assisted) and the size of the meatballs but approx 35-40 minutes should be fine.
What temperature should meatballs be cooked to?
Meatballs should have a core temperature of 165 Fahrenheit for a minimum of 30 seconds. You can use a probe or digital thermometer to test the temperature of your meatballs.
Do you cook meatballs in the oven , pan or air fryer?
This is down to personal choice but from our tests we believe that oven cooking or pan frying delivers the best texture and flavour.
How long to bake meatballs at 350, 375, 400, 425 and 450 Fahrenheit?
You can take a look at our meatball cooking table at the top of this post. It includes a guide to temperature and time for cooking meatballs in an oven.
References:
Meat Regulations Guidance (UK) – https://www.food.gov.uk/business-guidance/legal-requirements-for-meat-establishments
USDA Food Preparation Regulations (USA) – https://www.fsis.usda.gov/food-safety/safe-food-handling-and-preparation
I'm Pauline, a retired patisserie chef, mother of four and now a full time food blogger! When i'm not cooking i love long walks, reading thriller novels and spending time with my grandkids. Head to my about me page to learn more about the woman behind the food! You can find my Facebook here