Last Updated on 22nd April 2022 by Pauline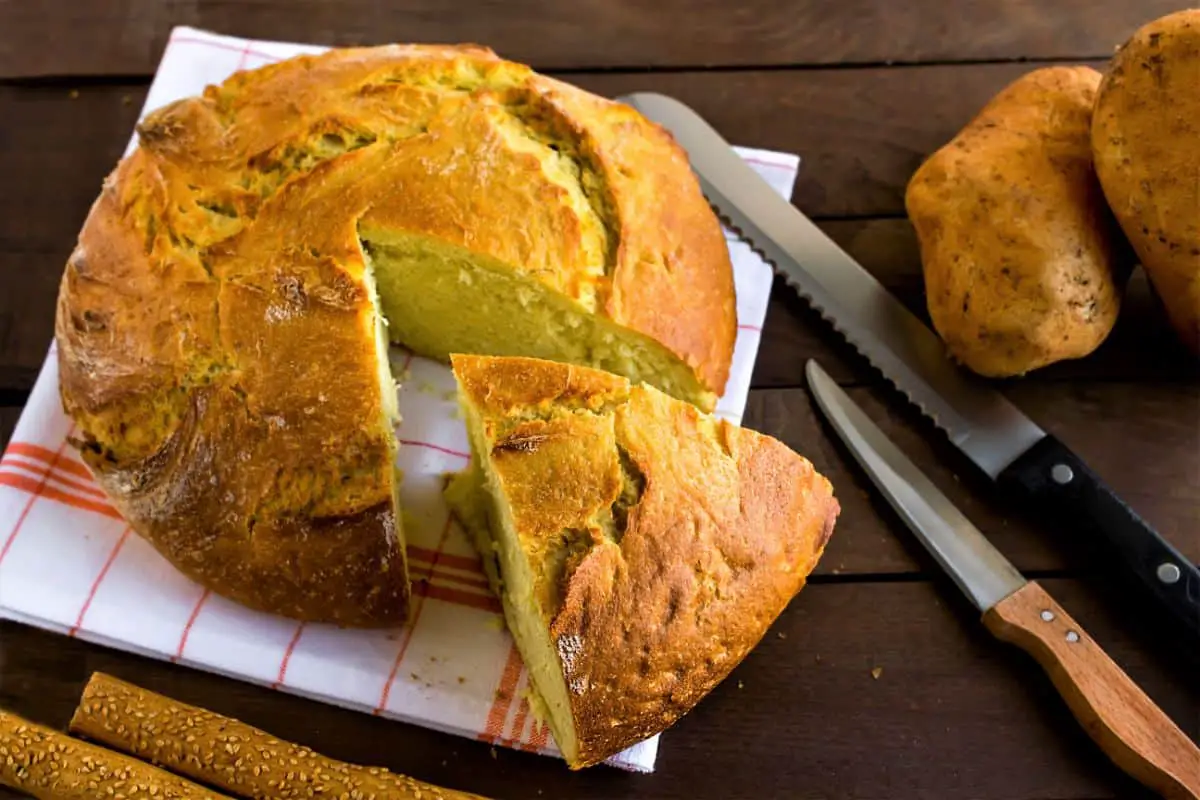 Do you have leftover mash potatoes? Please don't throw it. You can make lovely and fluffy potato bread with the help of these mashed potatoes.
The homemade potato bread is quite soft and is far better than grocery store potato bread. These bread are delicious to eat. They are far better than white bread. You can make sandwiches, slices of toast with the help of this potato bread.
Mothers can pack these potato bread in their kid's tiffin boxes. They will surely enjoy it.You can freeze the potato bread and use them whenever you like. The best part is making potato bread does not involve a lot of time.
In this article, I will discuss how to make potato bread in detail, which will help you in trying this recipe at home and enjoying it in breakfast or as an evening snack. I am sure that potato bread will repeat in your kitchen at least once a week.
Print Recipe
How to Make Potato Bread
Ingredients
2

Boil potatoes

6

cups

All-purpose Flour

2

tbsp

Sugar

2

tbsp

Yeast

Salt to taste

1.4

cups

Potato water

½

cup

Milk

4

tbsp

Butter
Instructions
Boil Potatoes

First, you need to peel two potatoes and cut them into small cubes. Then take a saucepan with some water. Try to use filter water while boiling potatoes. You are going to use this water later for making potato bread. Tap water has chemicals that can deteriorate the quality of your bread.

Now heat the water along with potatoes on low flame for about 10 to 15 minutes. Once the potatoes are fully cooked, remove the potatoes from the water and allow them to cool for 15 to 20 minutes. But don't throw the water. Now once the potato becomes cool, you need to mash them properly.

Prepare Dough

Take a bowl and add flour, sugar, salt, and yeast and stir it for one minute. Then add butter, milk, some potato water, and mash potatoes into the mixture. Now mix everything by paddle attachment for few minutes. You need to remember one thing: the dough needs to be tight and sticky. So, if your dough becomes too dry, then try to use some more potato water.

Knead The Dough

Now you need to knead your dough with a dough hook with minimum speed for at least 8 -10 minutes.

Place The Dough In Oily Bowl

Once your dough becomes smooth and silky, stop kneading and allow the dough to sit for 1 to 1.5 hours in an oily bowl. Try to cover the oily bowl with some cloth and keep it in a warm place. The dough will become double in size within this time.

Try To Punch Your Dough

Once you observe that your dough has become double in size, try to punch it and divide it into two equal parts. You need to knead each part of the dough on a surface with little flour. Try to give the shape of loaves to your dough.

Take Loaf Pans

Now take loaf pans and grease them slightly. Then place your loaf dough on the greased pan. Cover the pan and allow it to sit for 30 minutes. The dough will double in size

Try To Preheat Your Oven

Please try to preheat the oven to 350-degree Fahrenheit when the dough is resting for some time on grease loaf pans.

Bake Your Bread

Now, bake your bread in the oven till the top of your bread becomes golden yellow. It usually takes 30-35 minutes to bake the bread.

Remove The BreadNow remove the bread from the oven and allow it to cool for some time. Then you store it in an airtight container for making various items like a sandwich, or you can cut two halves and put butter on each half and enjoy as evening snacks. There are multiple ways of eating potato bread. You just have to use it according to your taste.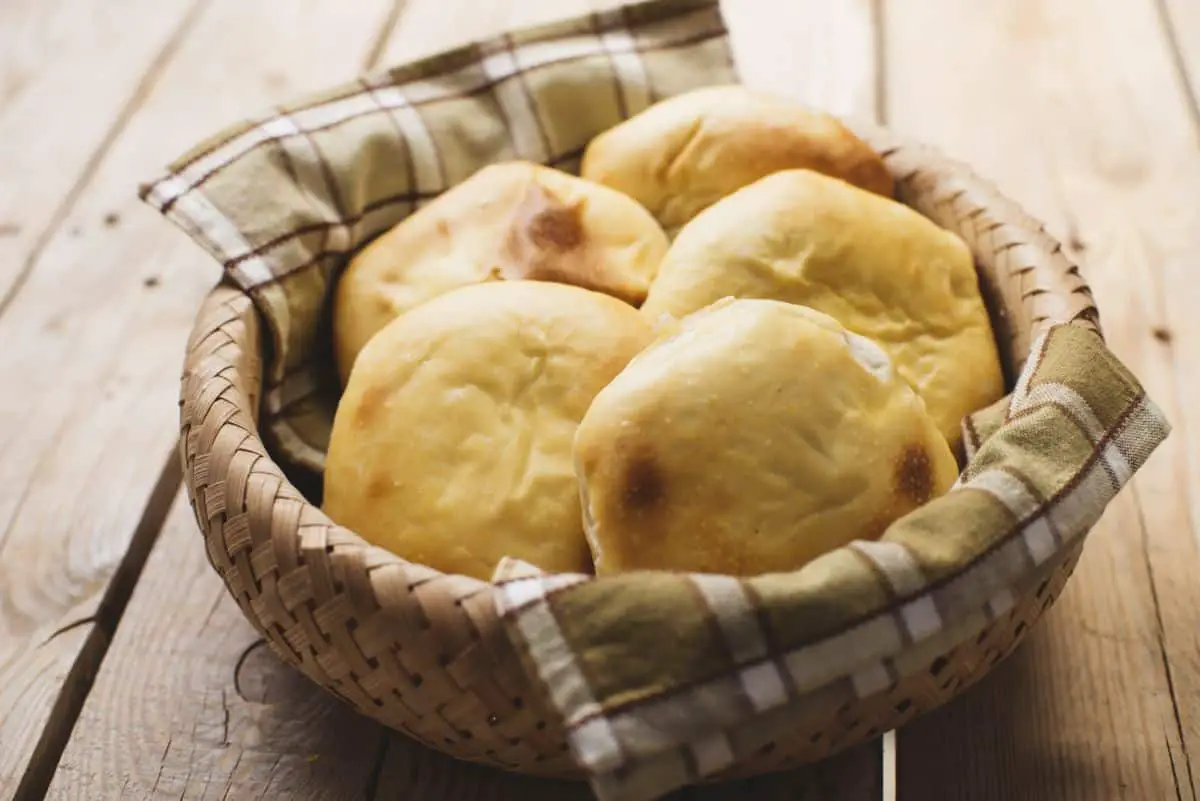 How To Make Sweet Potato Bread?
Ingredients
2

boil sweet potatoes

½

cup

Oil

½

cup

Raw milk

½

tsp

Vanilla

2

cups

Flour

1.4

cups

Sugar

2

tbsp

Baking soda

2

Eggs

Salt to taste
Instructions
Take a bowl with 3 cups of water. Put your raw peel on the sweet potato and allow it to microwave for 3-4 minutes.

Once it is adequately cooked, cut the sweet potatoes and mash them in a bowl with the help of a fork.

Add eggs, oil, raw milk, and vanilla essence into the mash sweet potato bowl and whisk for few minutes.

Take another bowl and put 2 cups of flour,1.4 cups of sugar, two tablespoons baking soda, and salt. Stir for two to three minutes.

Combine the dry mixture with the sweet potato mash bowl and whisk everything for 5 minutes.

Take a grease in the loaf pan and spread the mixture.

Allow it to bake for 3500F until the top of the bread becomes golden yellow. It will take almost 35 minutes.

Remove the pan and allow it to cool.

Your sweet potato bread is ready.
How To Make Sweet Potato Bread Pudding?
Ingredients
2

Boiled sweet potatoes

2

tbsp

Butter

7

cups

Bread

3

Eggs

1

cup

Sugar

½

cup

Maple syrup

1

tbsp

Molasses

2

tbsp

Vanilla extract

½

tbsp

Cinnamon

⅓

tbsp

Nutmegs

Salt to taste

2

cups

Cream

2

cups

Milk
Caramel Pecan Sauce
3

tbsp

Butter

½

cup

Pea can halves

1

cup

Brown sugar

1

cup

Cream
Instructions
First, you need to peel your sweet potatoes and boil them. Then allow it to cool.

Cut the bread into cubes.

Now grease a baking dish and place all the bread cubes in it.

Take a bowl and put in their eggs, maple syrup, sugar, molasses, vanilla extract, salt, cream, and milk, and whisk everything for a few minutes.

Once your sweet potato has become cool, mash them and put them in the egg bowl. Then again, whisk everything for three to four minutes.

Now pour the mixture into the bread.

All the bread should be coated with the mixture thoroughly.

Allow the mixture to coat in the bread for 20 minutes.

Bake it for one hour. Your sweet potato bread pudding is ready.

For making caramel pecan sauce, you need to take a pan and melt the butter. Then add the pecans to the butter and stir for a few minutes.

Then add brown sugar to it.

Allow the sugar to melt completely.

The mixture needs to be completely smooth.
Conclusion
You can easily make potato bread at home and serve your family members and guests. You need to follow the above procedure and try it at home.
Please share your experience with me after making the potato bread at home. You can even share your pictures. I would love to read about your experience and see your pictures.