Last Updated on 27th January 2023 by Pauline Loughlin
Ancient civilizations in Latin America have a special place for maize or corn. Most of the cultural ceremonies in those times had dishes made of corn significantly.
Tostadas are nothing but fried corn tortillas. To preserve the leftover tortillas, they are fried and stored to be used later. Tostada means nothing but toasted in the Spanish language.
This Mexican dish is easy to make and is all about using fresh ingredients. The best part about tostada is whichever meat we use. The ingredients are the same. It only differs in how we cook the meat and what salsa we use to make it better.
Tostada is all about using the base and topping it with different ingredients and sauces. It suits any occasion and tastes delicious, so make one today and fill it with your favorite toppings, and enjoy the meal.
How To Make Tostadas?
The following tostada recipe is quick and easy to make. It is one of the best side dishes during dinner.
Ingredients
10

Corn tortillas/Tostada shells

1

lb

cooked shredded chicken/beef/pork

1

can

can of Refried beans

¼

Diced onion

1

Avocado

Sour cream or salsa verde

Half head lettuce

finely chopped cheese

1

tbsp

chili powder

1 ½

of cumin powder

½

tbsp

salt

½

tbsp

of paprika

A quarter teaspoon of black pepper, oregano, and garlic powder(each)

Salsa verde or pico de gallo
Instructions
Let us cook chicken/ beef and onions. For this, take a skillet, add beef into it, and cook on medium heat. Break the beef into smaller pieces using a spoon and fry until it becomes brown. Remove the grease from the skillet, if any.

Add onions into the skillet and fry for two minutes. Now add chili powder, cumin powder, salt, and paprika into it and cook it for a few minutes until the raw smell goes.

Take the refried beans in a small skillet or a microwave bowl. Add one small scoop of sour cream into this and stir it continuously. Warm the mixture for a while.

It is time to assemble tostadas. For this, you can use corn tortillas and fry or bake them, or you can also use tostada shells.

To prepare the dish, start spreading a layer of refried beans mixture on the shell or tortillas. Top the tostada with a small spoon of beef, some lettuce, a little amount of cheese, salsa verde, avocado, sour cream, hot sauce, and salsa. Serve the dish hot.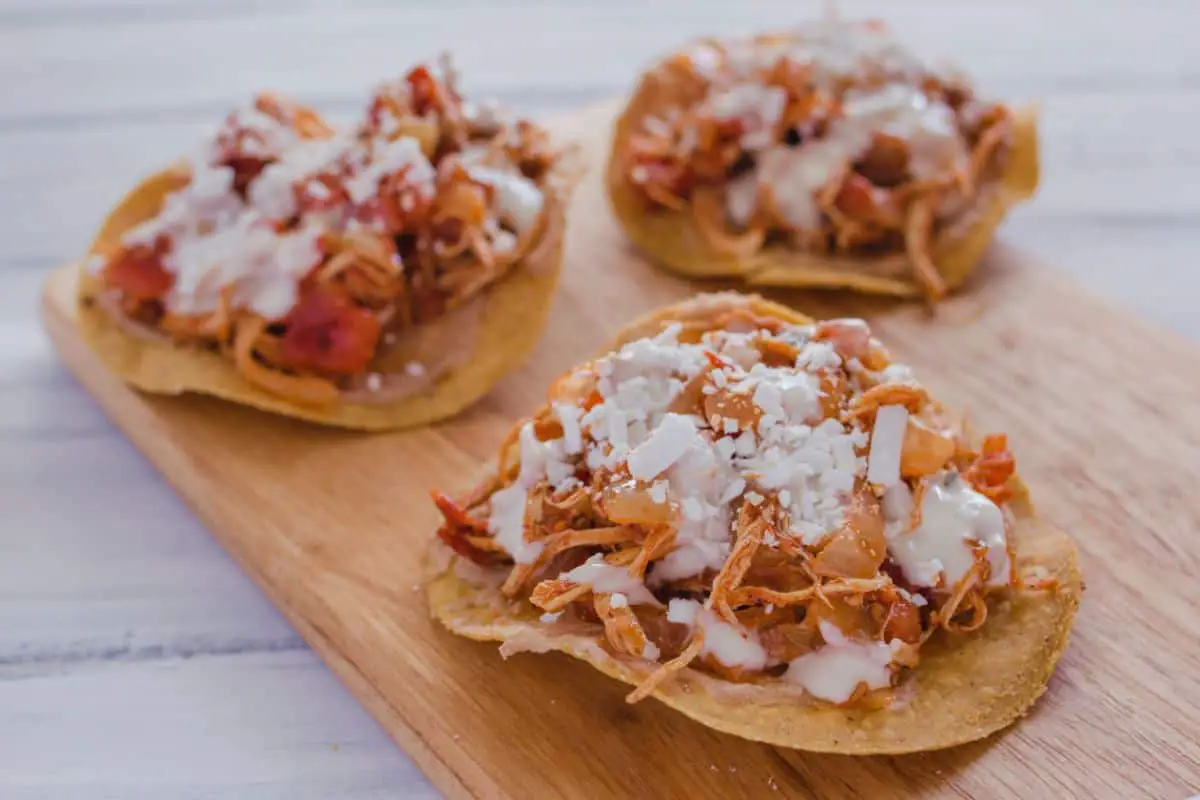 Tips For Making Tostada Recipe Great
The above recipe can be eaten later also. For this, you can prepare the beef and refried beans mixture and store them in the refrigerator separately. Reheat these and assemble the tostadas when you want to serve the dish.
If you make the recipe using corn tortillas, you can fry them by spraying oil on both sides. Place them on a greased pan and sprinkle a little salt. Bake these for five minutes at 400 degrees Fahrenheit. Flip the same and bake for ten minutes to make tortillas taste crispy. If you do not want to bake the tortillas, fry them on medium in a skillet filled with vegetable oil. Do this until the tortillas turn golden brown, and place the fried tortillas on paper towels to remove extra oil.
Doing any of the above steps will enhance the taste of tostadas when the recipe is made. Also, you can make the shells and store them for 48 hours in Ziploc bags to save the crispy texture.
How To Make Chicken Tostada?
This recipe is easy and can be made in twenty minutes. This chicken tostada is also healthy as we use baked tostadas to make this. To learn how to make them, you can see the tips that are mentioned above.
Start baking the tortillas in the oven while they are getting ready; we can start preparing the toppings. For this, let us mix avocado, cumin powder, 3/4 teaspoon salt, tomato, 1/4 cup of finely chopped cilantro, 15 ounces of lime juice, and red onion. Combine three diced tomatoes, four diced avocado, three tablespoons of finely chopped red onion, cilantro, one teaspoon cumin, one teaspoon chili powder, a little salt. You can also replace this with guacamole.
When this is ready, take the tostada, apply a layer of refried beans, and place some baked chicken breast pieces on it. Now top it with guacamole or veggie mixture, on this place, cheese, and cilantro. You can make the veggie mixture and store it in the refrigerator and use it when you want to make the tostada.
How To Make Tinga Tostadas?
Tinga tostadas are all about how the spices, salsas, onions are mixed and cooked with chicken. We do not use beans in this recipe. To make this tostada, we need one onion, chicken shredded into pieces, and a special sauce made using chipotles and tomatoes in adobo sauce.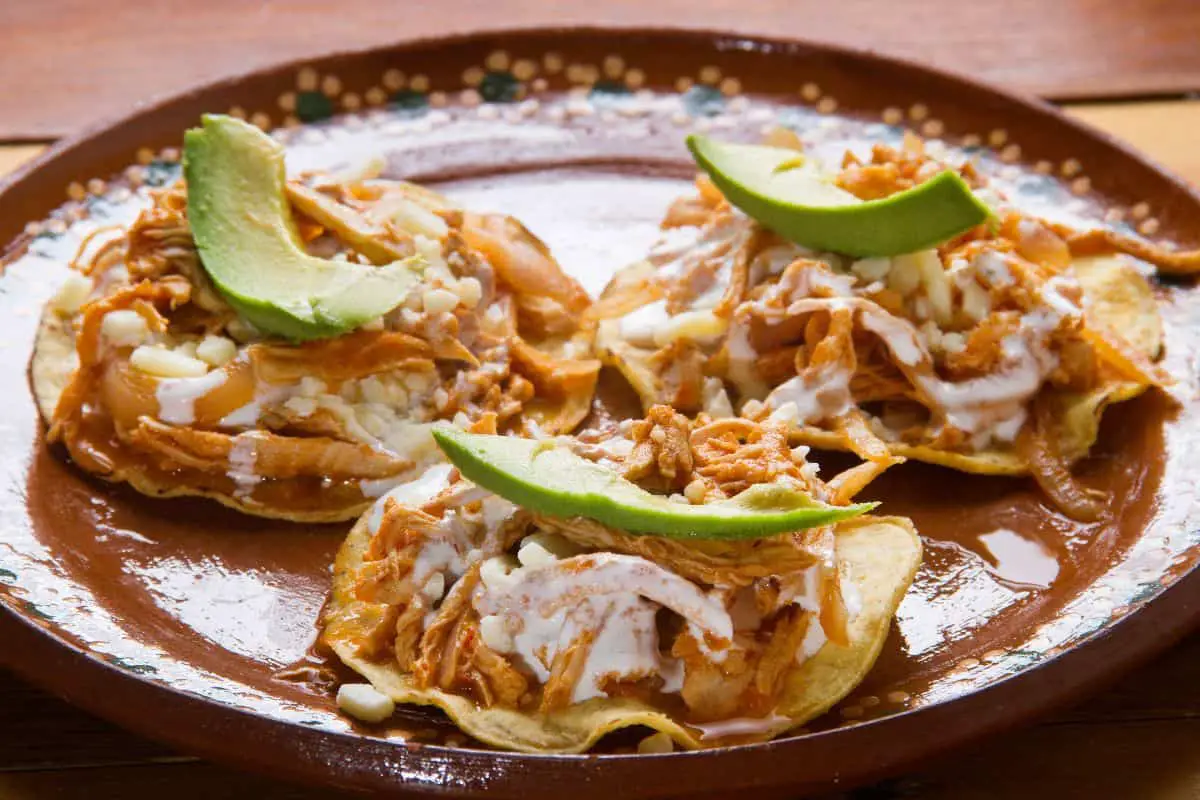 Take a skillet, add onion, fry it, and add chicken, chipotles, and tomatoes. Add some adobo sauce and mix all the ingredients in the skillet. To assemble the dish, take the tostada, place the chicken mixture and garnish the dish using some lettuce, cream, and cheese. As chipotles are added in adobo sauce, this brings a tangy and smoky flavor to the tinga tostadas making it delicious to eat.
How To Make Tostadas De Pollo?
To make the tostadas de Pollo, take corn tortillas and deep fry them to make them crispy. Now, fry two tsp of pork fat with one and a half cups of mashed beans and three tsp of finely sliced onions to get a solid mixture. Now start plating by placing the tortillas and spreading the beans mixture on it.
On this, add lettuce and cream, and grated cheese. Now top the mixture with cooked chicken(shredded). This tostadas de Pollo recipe is one of the easiest ones that will help us use the leftovers and make a tasty meal.
I'm Pauline, a retired patisserie chef, mother of four and now a full time food blogger! When i'm not cooking i love long walks, reading thriller novels and spending time with my grandkids. Head to my about me page to learn more about the woman behind the food! You can find my Facebook here