Last Updated on 17th December 2021 by
Sunflower seeds have been in the American culinary industry for over a century. More than a part of the meal it is eaten as a snack. The seeds are the main ingredients of many recipes and often find their place as a garnish on top of the dishes. They are often sprouted and eaten in salads.
The primary reason why sunflower seeds are so popular is because of their nutritional value. Studies prove that sunflower seeds are beneficial in lowering the risk of high blood pressure or any heart disease. They are also suitable for the immune system and boosting energy levels.
The sunflower seeds have a mild, nutty flavor. They can be consumed in their raw form, but their taste is enhanced if you roast them. Roasted seeds enhance the flavor of your dish as well. If you wish to pair the seeds with a drink, you can go for either tea, soda, Slurpee, or fruit juices.
Roasting the seeds is a simple procedure after which you can store them in an airtight container for almost 3 to 4 months. And it can be roasted with shells on or off. Read below to know how to roast sunflower seeds.
How to Roast Sunflower Seeds?
First, learn how to roast shelled sunflower seeds! The preparation time is 15 minutes, and the cooking time is 30 to 40 minutes. This recipe will also give you the answer to how to roast sunflower seeds in the oven.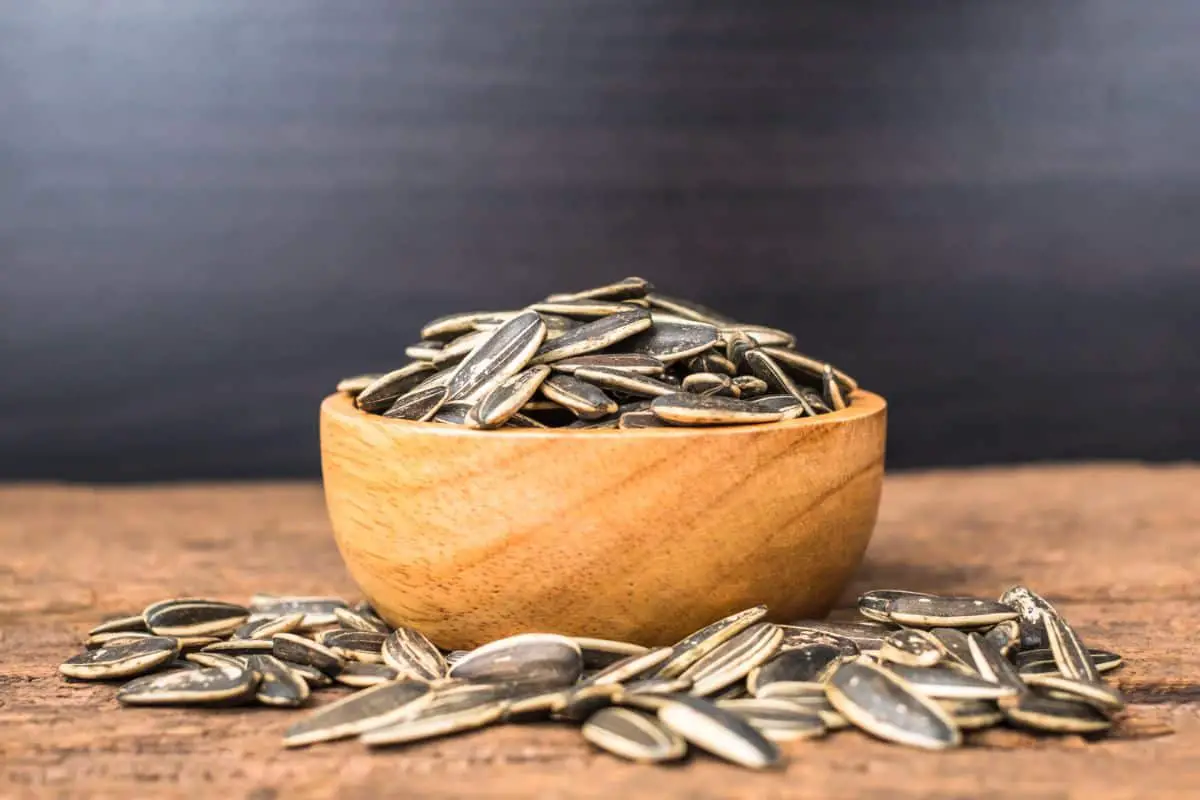 How to Roast Sunflower Seeds
Ingredients
1

cup

sunflower seeds

½

cup

of salt

Paper towel

Butter
Instructions
In a bowl, add the sunflower seeds and add water until all the seeds are fully submerged. The seeds will soak some water, and this is done to prevent the seeds from becoming too dry on roasting.

Now add salt to the bowl and stir well till the salt is dissolved completely. Leave the seeds soaked in salty water overnight. This will give the seeds a bit of a salty flavor upon roasting.

the next day, drain all the salty water and spread the seeds on the paper towel. Pat with another paper towel to get rid of most of the water.

now, preheat the oven at 300°F. Take a parchment-lined baking tray and spread the seeds evenly. Try not to overlap the seeds. This will ensure even roasting. Keep the tray in the oven for roasting at the same temperature for 30 to 40 minutes. Stir the seeds in between to ensure that they roast evenly on both sides.

After the seeds are roasted, you can either serve them immediately by adding some butter or cool and store them in an airtight jar for future use.
How To Roast Sunflower Seeds Without Shells?
Wash 1 cup of unshelled seeds under running water to remove any debris, shells, or plant matter—Preheat the oven to 300°F. Line a baking tray with parchment paper and roast the seeds for 30 to 40 minutes at the same temperature.
Avoid overlapping the seeds and occasionally stir to roast evenly from both sides. You can either sprinkle some salt, pepper, and melted butter, serve hot or cool it down, and store it in an airtight jar.
How To Roast Sunflower Seeds In A Pan?
The process of roasting the sunflower seeds in a pan is a little different than roasting in an oven. For roasting the seeds in a pan, you don't need to soak them in water overnight. All you need to do is take a pan and heat it at medium heat.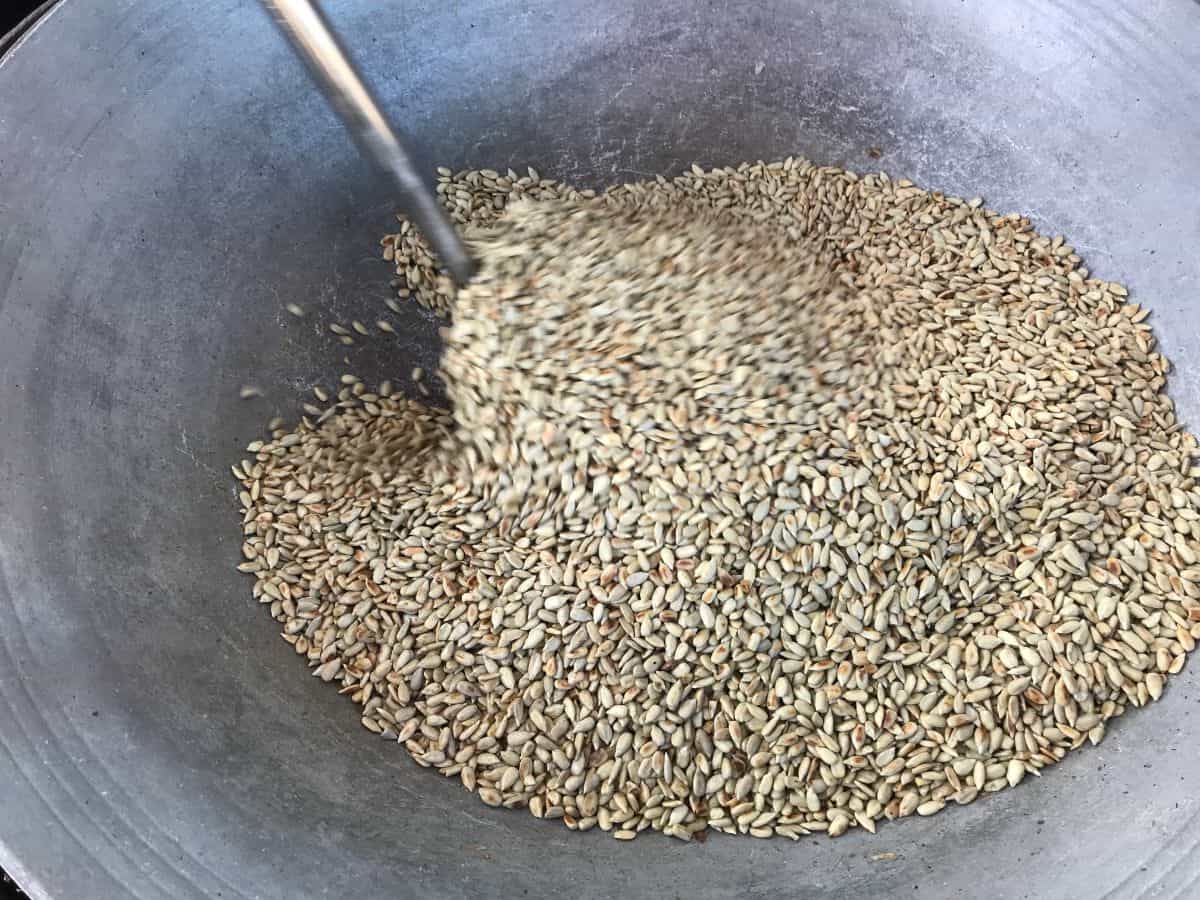 Now pour the seeds, roast the seeds for 10 to 15 minutes at medium heat, and keep stirring to avoid roasting or burning. Roast until the seeds have lightly browned and a sweet aroma fills the entire kitchen. After roasting, immediately cut off the heat and pour the seeds on a paper towel to avoid extra roasting.
How To Make Spicy Sunflower Seeds?
First, toss 1 cup of sunflower seeds in a frying pan to roast. Add two tablespoons of butter. This will help all the other spices to stick to the seeds.
Now add ¾ teaspoon of dried chili flakes, ½ teaspoon pepper powder, ½ teaspoon of cinnamon, one teaspoon of ground cumin, three tablespoons of brown sugar, a pinch of ground cloves, and one tablespoon chili powder, and finally 3/4 teaspoon of salt.
Toss and turn the entire mixture for almost 2 to 3 minutes. Take it out on a paper towel and store it after cooling completely.
How To Make Honey Roasted Sunflower Seeds?
The sweet and nutty flavor of honey and sunflower seeds blend perfectly and spice up any boring afternoon. This savory is easy to make. Melt three tablespoons of honey in a pan at low heat for not more than a minute. Add 1/2 teaspoon of salt and 1 ½ teaspoon of sunflower oil.
Toss in the roasted sunflower seeds, coat, and roast as usual for 3 to 4 minutes and serve hot or cool it down and store in an airtight container for your next camping or hiking trip.
How To Make Sweet Cinnamon Sunflower Seeds?
If you are a cinnamon lover, then this savory is just for you. All you need to do is toss some roasted sunflower seeds in ¼ teaspoon of cinnamon powder. Now add 1/4 teaspoon of artificial sweetener and ¼ teaspoon of coconut oil. Give a good shake, and your treat is ready to serve along with a glass of Coca-Cola.
Lettuce, Avocado, And Sunflower Seed Salad
This salad is perfect for a summer afternoon. It will surprise your taste buds and goes well with a glass of margarita. Add ½ cup olive oil, 1 ½ tablespoon balsamic vinegar, one tablespoon mayonnaise, one clove garlic (minced), 1 ½ tablespoon red wine vinegar, two heads Bibb lettuce (rinsed, dried, and torn), two avocados (peeled, pitted, and sliced) and ⅓ cup sunflower seeds in a big bowl. Season with pepper and salt. Taste and serve.
I'm Pauline, a retired patisserie chef, mother of four and now a full time food blogger! When i'm not cooking i love long walks, reading thriller novels and spending time with my grandkids. Head to my about me page to learn more about the woman behind the food! You can find my Facebook here