Last Updated on 17th December 2021 by
Duck confit (pronunciation: con-fee) is a French dish. Confit in French means food cooked slowly over a long period to preserve it. The process requires precision, and the result offers silky meat with crackling skin.
Traditionally the duck confit recipe took more than a day, but thanks to the instant era, now anyone can prepare it within 2 to 3 hours with simple techniques. The process requires submerging the duck legs in spices and other ingredients then cooking it until the meat is tender and falling off the bones.
An interesting thing about the duck confit recipe is that you can store it in the refrigerator for almost one month and heat it, and serve it with fresh salad whenever needed. If you wish to pair it with a drink, select either white wine or aged Chardonnay. The notes of these two drinks go great with duck confit. If it is a vegetable season, you can pair it with mashed potatoes, steamed green beans, or braised red cabbage.
So pick up your ladle and get ready to prepare one of the simplest duck confit recipes with me tonight!
Best Duck Confit Recipe
This is a simple confit duck leg recipe. Its preparation time is 30 minutes, cooking time is 3 hours and 20 minutes, and it serves four people.
Ingredients
4

duck legs

(with skin on and bone-in)

3

tbsp

salt

6

cups

duck fat

2

fresh bay leaves

1

garlic clove

(split in half)

3

round

slices of lemon

4

sprigs thyme

1

tsp

juniper berries (roasted and grounded)
Instructions
Prepare juniper salt by mixing salt and juniper. Line a tray with parchment paper, place duck legs, and cover them generously with juniper salt. Cover the tray with plastic wrap and let it rest overnight.

Now, the next day, when you are ready to prepare this confit duck recipe take the duck out of the refrigerator. Wash the juniper salt under running water and pat it dry. Prick the skin using a skewer or a paring knife.

Take the duck fat and melt it in a big heavy-bottomed pan over medium heat for 5 mins or until the deep-fry thermometer reads 200°. Now add duck leg and all other ingredients to the pan. Maintain a temperature of 200° and let the legs cook for 2 to 2 ½ hours until the meat is tender and falling off the bones.

After the duck is cooked, strain the fat using a sieve (don't throw it away, you could use it for other recipes like the duck confit salad recipe mentioned hereunder). Discard bay leaves and lemon slices. Now place the duck back in a small pot and pour all the fat again on top of it till the legs are covered with 1-inch fat. Cover it with a lid and let it chill. Your confit duck leg recipe is ready!

To serve, heat the oven at 400°. Take a lined aluminum tray and place the legs on it (skin side up). Cook until golden brown with crispy skin for almost 30 minutes. Your duck confit is ready to serve!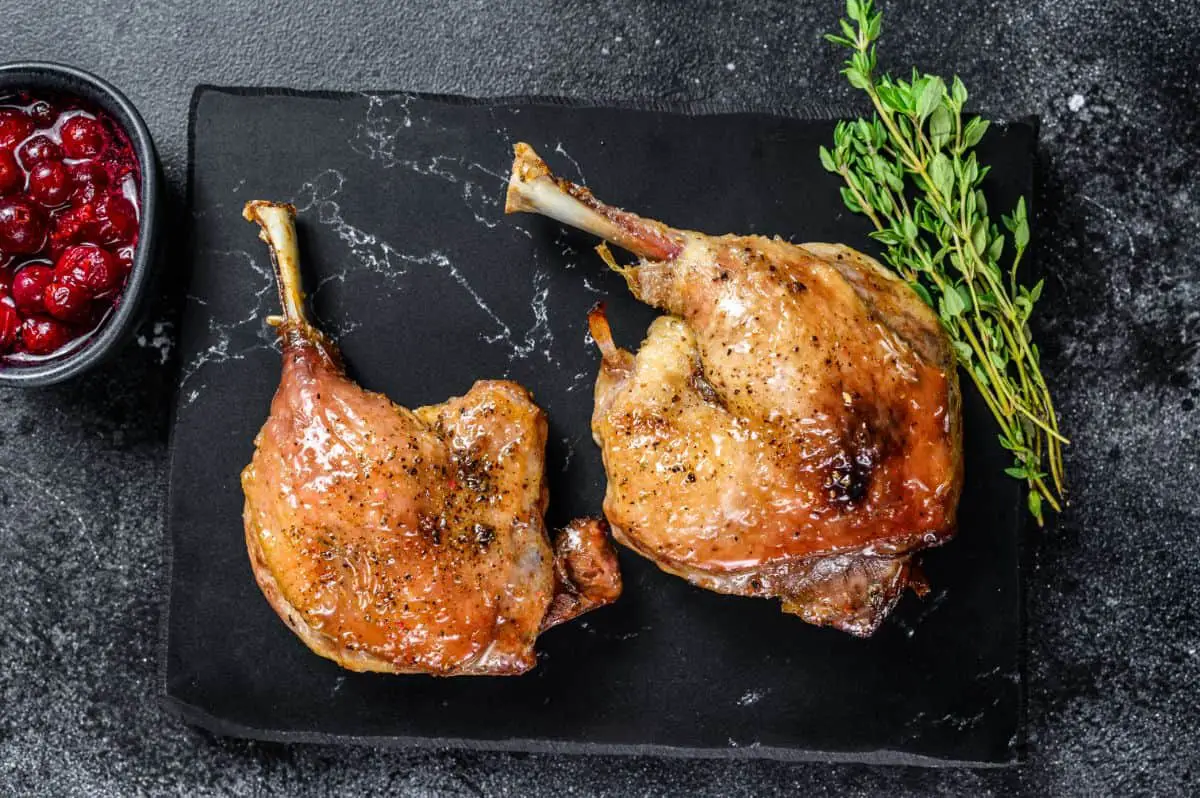 Tips For Making Duck Confit Recipe Great
The above recipe is a simple one. If you have some extra time, instead of just juniper salt, you can make a fine paste of shallots, onion, garlic, and parsley and cover the leg with it and let it rest overnight. The other steps shall remain the same.
For garnishing, just before serving the duck, you can add some parsley, lemon juice, and onion rings to serve it. You can also decorate the plate with the paste you prepared to store the duck overnight.
Duck Confit Taco Recipe
After step 5 mentioned above, remove the bone from the skin and cut it into thin strips. In a skillet, heat ½ cup chicken broth, three tablespoons soy sauce, and ½ teaspoon Chinese five-spice powder. Add duck strips and toss for 2 to 3 minutes.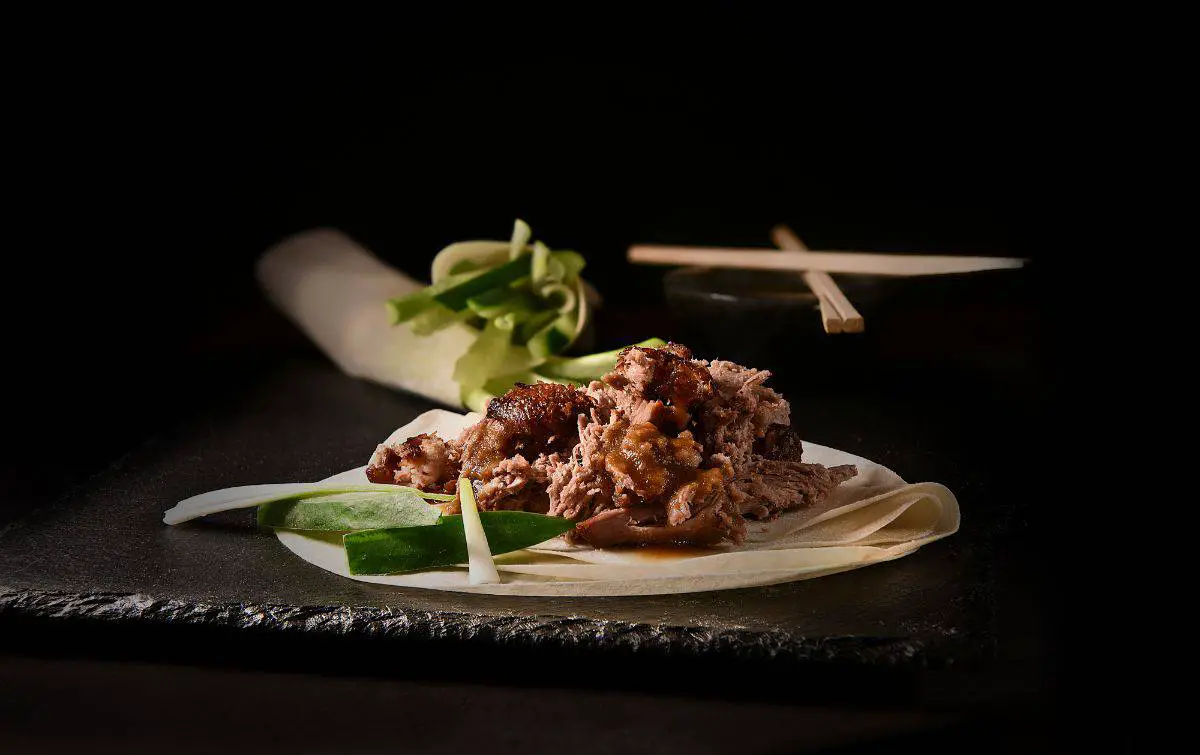 Now take a corn tortilla, top it with duck, cilantro, and some lemon juice. You can also add some already prepared salsa if you wish. Your duck confit taco is ready to serve with a glass of aged Chardonnay.
Duck Confit Salad Recipe
This recipe, too, begins after the 5th step of the duck confit recipe. Take 400 gms boiled potatoes, chop them into 1 cm cubes and toss in 2 tablespoons of duck fat preserved from the main duck confit recipe mentioned earlier in step 4. Now add two smashed garlic cloves. Do all this cooking in low heat: toss potatoes and garlic for 2 minutes.
Now take 200 grams of french beans and cook in simmering salted water for 5 mins then drain. After the beans are done, shred duck confit, and discard the bones.
Prepare the vinaigrette now. Take one eschalot, finely sliced, one tablespoon of sherry vinegar, one tablespoon of finely chopped parsley, chives, and one teaspoon of dijon mustard. Season the mixture and add two tablespoons of extra virgin olive oil and one tablespoon of walnut oil.
To serve, toss the beans, potatoes, and shredded duck confit in vinaigrette and serve with red wine.
Duck Confit Appetizer Recipe
I am preparing duck confit crostini with pickled cherries as a duck confit appetizer recipe. Take ¼ cup white wine vinegar, two tablespoons sugar, one teaspoon mustard seeds, one sprig of rosemary, ¼ tsp crushed red pepper flakes, ½ tsp salt, and ½ cup water. Mix the ingredients in a pan and bring to a boil at medium heat. Keep occasionally stirring till sugar and salt dissolve. Mix in ½ cup dried cherries and remove the mixture from heat. Let the mixture rest for 1 hour, which will help pickled mustard seeds.
Now take a few slices of bread, drizzle with olive oil, salt, and pepper and bake in a preheated oven until golden. Meanwhile, chop duck confit into very small pieces, add the cherry mixture and some pickling liquid, and stir well—taste and season with some pepper and salt.
Now spread bread toasts on a serving plate, spoon duck mixture on top of it, add scallions, pickle liquid, and your duck confit appetizer recipe is ready to serve.
I'm Pauline, a retired patisserie chef, mother of four and now a full time food blogger! When i'm not cooking i love long walks, reading thriller novels and spending time with my grandkids. Head to my about me page to learn more about the woman behind the food! You can find my Facebook here