Last Updated on 22nd December 2021 by Pauline
If you have a sweet tooth and have never heard of spumoni, then it's a real shame. But you most probably have as this Italian gelato is extremely popular. What's more, is that there's a National Spumoni Day celebrated in the US every year on the 21st of August and Canada on the 13th of November.
Spumoni is a delicious Italian ice cream made of layers of tasty ice cream, and in this article, we'll discuss the best spumoni ice cream recipe to help you prepare it at home. Keep on reading to learn more about this Italian gelato.
What is Spumoni Ice Cream Recipe?
Traditionally, spumoni is made of layers of nut or fruit-filled layers of ice cream, sometimes sitting on top of a delicious and airy sponge cake. In some cases, the cake is soaked in liquor to give this lightweight gelato a little kick.
This ice cream is usually made of three layers of ice cream stacked on top of each other. The different-coloured layers remind us of another famous ice cream, the Neapolitan ice cream, which is the Americanised version of this traditional Italian ice cream. While the Neapolitan ice cream always comes in three colours, pink, brown, and white, spumoni comes in more versatile combinations. It can be green, pink, and brown, or brown, pink, and green, depending on the flavours used to prepare it.
This Italian ice cream is a staple in Italian dinners and is usually served after a ravioli and braciole dinner. The most common flavours of spumoni are chocolate and vanilla, and the coloured layers can contain bits of cherries or pistachios. The ice cream can be mixed with whipped cream to give the ice cream its fluffy texture and taste.
Prepare the Spumoni Ice Cream Cake Recipe Using Easy Ingredients
Preparing a spumoni ice cream recipe from scratch is actually an easy job, as long as you've got all the ingredients ready. The added liquor makes this dessert the best choice for gatherings as it will provide the needed kick in a tasty and sweet dish that everyone will love.
In this section, you'll find the original recipe for authentic spumoni ice cream, prepared just like it's prepared in Italy, where this dessert comes from.
You probably think that this showstopper ice cream dessert is challenging to prepare, but you're wrong. The homemade spumoni ice cream recipe is pretty straightforward to prepare and doesn't take much time to get it ready before your event or party.
If you have been to the Old Spaghetti Factory restaurant growing up, you'll immediately recognise this gelato dessert, prepared according to the Old Spaghetti Factory spumoni ice cream recipe. With about 40 branches across the US, there's a chance you've tried this spumoni as a child or teen.
Our Italian spumoni ice cream recipe is the right dessert to serve on hot summer nights. Because the recipe is so versatile, you can skip the liquor to make a kid-friendly version of this ice cream that you can serve to the kids after spending a day splashing in the pool.
Easy Spumoni Ice Cream Recipe
Having a spumoni brings lots of memories, as there's a pretty good chance that you tasted it growing up. If not at an ice cream store, you might have enjoyed it at your first-grade friend's birthday party.
You can definitely go for store-bought ice cream, but we prefer preparing everything from scratch to enjoy this exceptional spumoni using the best ingredients. You'll only use basic vanilla and chocolate ice cream to prepare this dessert.
Pistachio Frozen Custard
This will be the first ingredient in your spumoni dessert. You can totally skip this step if one of your guests is allergic.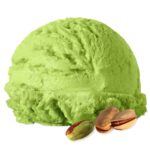 Print Recipe
Pistachio Frozen Custard
Ingredients
3

large

egg yolks.

¾

cup

of heavy cream.

¾

cup

of whole milk.

⅓

cup

of sugar.

½

tsp

salt.

½

tsp

vanilla extract.

¼

tsp

almond extract.

¼

cup

pistachios (coarsely chopped) and more for garnish.
Instructions
Beat the egg yolks for 3 minutes.

Heat the heavy cream, whole milk, sugar, salt, vanilla, and almond extracts on low heat but don't let it come to a boil.

Slowly pour the milk mixture into the egg yolks while whisking.

Cook this mixture thick and continuously stir until it covers your spoon.

Strain the mixture through a fine-mesh and put it in the fridge.

When the mixture is cool, transfer it into a plastic storage bag and get rid of all the air. Seal the bag and freeze.

Put the frozen custard and the pistachios in a blender and pulse until smooth.
Cherry Ice Cream
This ice cream will be filled with cherries to add a fruity flavour to your spumoni.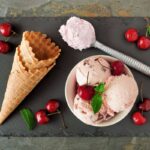 Print Recipe
Cherry Ice Cream
Ingredients
¾

cup

of cherries (pitted and halved).

2

tbsp

of sugar.

1

tsp

of cornstarch.

¼

tsp

of freshly squeezed lemon juice.

½

gallon

of vanilla ice cream.
Instructions
In a saucepan, heat the cherries, cornstarch, lemon juice, and sugar on high heat while stirring until it thickens.

Allow the mixture to cool, then fold it into the softened ice cream until it mixes perfectly.

Put it in the freezer to harden until you're ready to assemble the spumoni.
Spumoni Ice Cream
If you're in a hurry, you can use store-bought pistachio and cherry ice cream. Let the ice cream soften until it reaches a thick batter's consistency, then put in the food processor. With the pistachio ice cream, mix in the pistachios, and with the cherry ice cream, add the cherries.
Spumoni Ice Cream
Ingredients
1

pint

of pistachio ice cream.

1

cup

of cherry ice cream.

1

cup

of chocolate ice cream.

1

cup

of vanilla ice cream.

⅔

cup

of light rum.

50

cookies, meringues, or chocolate wafers.
Instructions
Let the ice cream melt a little until it resembles the texture of thick cake batter.

Mix the rum with the cherry ice cream or skip for a kid-friendly version.

Line a 9-inch pan with parchment paper and cover the bottom with one layer of the cookies. You can also use leftover sponge cake.

On top of the cookies, spread the cherry ice cream in an even layer.

Tap to make sure that there are no air pockets. Follow the same step with the pistachio ice cream and the chocolate ice cream. You can also add scoops of the three ice cream flavors and spread them with a spatula.

Cover the pan with plastic wrap and freeze until firm.

Remove the parchment paper from the bottom of the pan, and you'll have a block of the ice cream.

Cut the block into slices and serve with some pistachio on top.
Wrap Up
Of course, having a homemade spumoni ice cream recipe is more convenient and healthier than buying it from a store. Your recipe won't contain any additives, and you'll have total control over the ingredients to prepare the perfect spumoni for your event. So, next time you're hosting an event on a hot day, give our recipe a try, and you'll definitely impress everyone.