Last Updated on 6th July 2023 by
Dried mushrooms have a strong flavor to them and a meaty, chewy texture. This makes them ideal for adding to vegetarian dishes, as they can be substituted for meat in a variety of dishes. You can use mushrooms on your sandwiches, salads, pizza, pasta and more as a healthy vegan alternative to processed foods, meats and foods you want to avoid or that may just be very unhealthy.
Dried mushrooms are a big part of many Asian dishes, but you can use them in just about anything you are making, and we have some dried mushroom recipes to get you started. Once you look through our list, maybe you will see the potential that this fungus has and how you can use different kinds of mushrooms to create varied, tasty dishes that anyone can enjoy.
Mushroom Risotto and Goat Cheese
This is a tantalizing combination of tangy flavor, earthy porcini mushroom taste, and pleasantly mushy rice. If it sounds high class, it is meant to, but this is one of the dried porcini mushroom recipes that is surprisingly easy to make.
Take a cup of dried porcini mushrooms and put them in a with enough hot water to cover them. They can soak in some hot water and will plump up after about 20 minutes. Before you drain them, keep in mind that you will be saving the liquid they were soaking in.
Strain out the mushrooms and take the broth to simmer on the stovetop.
In a separate pan, take about 3 tablespoons of olive oil and simmer it over low heat. Add in some chopped onion and garlic (about one whole onion and five cloves of garlic). Cook until the onion starts to become translucent, which should just take a few minutes. Add in your mushrooms and two cups of arborio rice. Add a pinch of salt and then cook for about two minutes.
Then, take about half a cup of the broth that has been simmering and add it to the rice, stirring as it cooks. You can continue cooking until the broth disappears. Keep cooking the rice and add the rest of the broth about half a cup at a time. As soon as the broth is absorbed into the rice, you can add the next half cup until it is all gone.
The rice should cook for about 25 minutes, until it is tender. A good way to tell if it is done is to squish a piece between your fingers. If it is mushy, it has finished cooking.
Finally, add in some butter, black pepper and goat cheese. Your dried mushroom dish is ready to serve.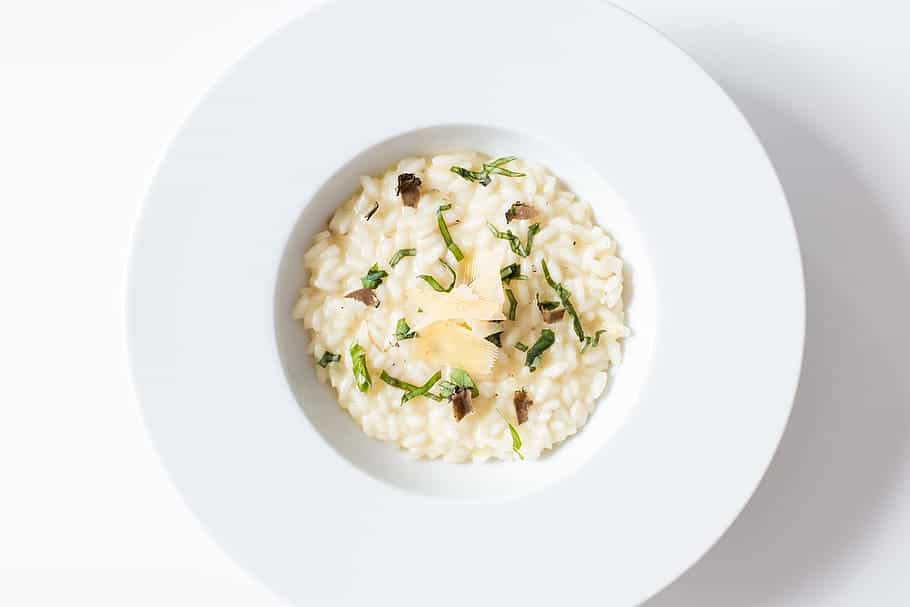 Spaghetti and Mushrooms
Try this vegetarian take on spaghetti and meatballs by using mushrooms in place of the meat. You'll find the meaty texture of shitake mushrooms a good replacement for plump meatballs. This is one of our favorite dried shitake mushroom recipes because it is so unexpected and yet so delicious.
You can start by rehydrating the mushrooms, which means placing them in a bowl of hot water for about 20 minutes. Drain the mushrooms but keep the broth. You'll use it for flavoring later on.
Next, boil the pasta in water and drain and rinse the spaghetti noodles after they are done cooking. Then add in your mushrooms, pour a little mushroom broth on the pasta and mushrooms and simmer for about two minutes. This will allow the broth to cook into the pasta and give it an earthy, mushroom flavor.
Then, drain off any excess broth and serve your spaghetti, topping with pasta sauce and grated cheese. You can add some parsley flakes for a garnish and some extra color. This is one of the simplest dried shiitake mushroom recipes you will find.
Marinated Grilled Oyster Mushrooms
Why hurt your health with a grill steak when you can get a lot of the same texture and meaty quality with tasty oyster mushrooms? If you are looking for dried oyster mushroom recipes, then we have a great one for you.
Just soak your mushrooms in some balsamic vinegar, soy sauce, garlic, black pepper, and rosemary. You can add some water if you need to in order to submerge the mushrooms. Cover and leave soaking for about 30 minutes. Then, you can drain your mushrooms but keep the broth (as usual).
Next, sauté the mushrooms on low heat in butter and a little of the broth you just made. You can keep on adding broth as it disappears and keep cooking until the mushrooms are done. They should have browned nicely once they are finished.
At this point, you won't have to do much to grill them. Just put them on the grill on each side for about a minute. This should blacken them slightly and give you some tasty mushrooms for your meal.
Sauteed Morel Mushrooms
These are tough ones to find in some areas of the country, but they are a delicacy in the Midwest and a highly treasured mushroom. We have one of the best and simplest dried morel mushroom recipes for you.
Just rehydrate the morel mushrooms in hot water for about 30 minutes. Then, add them to a frying pan and simmer on low heat in butter. You can add in thyme, shallots, garlic or other herbs and spices to bring out their flavor and add to their nutty, earthy taste.
Lobster Mushroom Macaroni Pie
This Caribbean dish uses an unconventional mushroom that most people don't know what to do with. Lobster mushrooms are nothing special, but they make for a great breadcrumb. If you are looking for dried lobster mushroom recipes and you want to try something a bit different, then give this a try.
To make your breadcrumbs, you take the dried lobster mushrooms and grind them into a powder. Add in some premade breadcrumbs and a pinch of the following- salt, pepper and paprika.
Then, preheat your oven to 350°F and start boiling some long macaroni noodles. You can grease a baking pan while they are cooking. How much of the noodles you cook will determine how big your pan needs to be. You should use a large cake pan if you cook the entire pack of macaroni noodles (which is usually 500g).
After your noodles are finished cooking (which takes about 20 minutes), you can drain and rinse them. Add them to a large bowl with three whole eggs and a cup of grated cheese. Mix in salt, and pepper to taste, and you can add in sauteed onions and garlic if you like for extra flavor and texture.
Mix all of this, and once everything is mixed thoroughly, pour it into the baking pan. You can add a layer of grated cheese on top and then spread your lobster mushroom bread crumbs evenly across the top. Bake for 20 minutes and enjoy!
Dried Mushroom Recipe Ideas
You don't have to make a whole new kind of food with your mushrooms. You can take a dish you already know and just add the right kind of mushroom to it in order to give it some added texture and flavor. Here are a few of our favorite ideas for dried mushroom recipes vegetarian cooks will love as well as some dried mushroom recipes Chinese restaurants often use.
Chanterelle Mushroom Stroganoff
Chanterelle mushrooms are quite special in that they don't taste like your typical mushroom. They have more of a fruity and peppery taste to them but share the same meaty texture as other mushrooms. One of our favorite chanterelle mushroom recipes is to simply add them to stroganoff. You take your typical stroganoff recipe and mix in some sautéed chanterelles, and you have a lovely meal that tastes differently from the classic dish.
Shiitake Chowder Soup
New England clam chowder is a classic, but what if you add in some shiitake mushrooms or replace the clam with mushroom? You get a similar texture with the mushrooms, and this is one of the simplest shiitake mushroom soup recipes you will find. Just sauté the shiitakes first and add them (drained) to the soup. Whether you are making chowder soup from the can or making it from scratch, the shiitakes elevate the dish and give it a new twist you may love.
Chinese Noodle Soup
Mushrooms pair nicely with any kind of noodles and most types of soup. Take your typical Chinese noodle soup, with celery, oyster sauce and soy sauce. Add in some portobello or shiitake mushrooms for what is one of the tastiest dried mushroom soup recipes.
Black Trumpet Pasta Alfredo
We are big fans of chicken alfredo, but it may not hurt to switch things up and try one of the dried black trumpet mushroom recipes with your alfredo next time. Just make your alfredo like you normally would and substitute the chicken for black trumpet mushrooms. Like the other dried mushroom recipes we have provided, you can rehydrate the mushrooms in hot water for about 20 minutes before cooking them up and adding them to your meal.
FAQs
How do dried mushrooms differ from fresh mushrooms in terms of flavor and texture?
Dried mushrooms have a more concentrated, robust flavor compared to their fresh counterparts. This makes them an excellent addition to dishes where you want a strong mushroom flavor. As for the texture, dried mushrooms become quite firm and chewy once dehydrated, but they soften upon rehydration and cooking, though they typically retain a bit more chewiness than fresh mushrooms.
What's the best way to rehydrate dried mushrooms before using them in a recipe?
To rehydrate dried mushrooms, soak them in hot water for about 20-30 minutes, or until they are soft and pliable. Make sure they are completely submerged in the water. Once rehydrated, drain them (but consider saving the soaking liquid, as it can add a lot of flavor to soups, sauces, and other dishes). Rinse the mushrooms under running water to remove any residual grit or dirt, and they are ready to use in your recipe.
Can I substitute dried mushrooms for fresh ones in my recipes, and if so, what's the conversion ratio?
Yes, you can substitute dried mushrooms for fresh in many recipes. As a rule of thumb, one ounce of dried mushrooms is roughly equivalent to eight ounces (or half a pound) of fresh mushrooms. However, keep in mind that the flavors are much more concentrated in dried mushrooms, so you may want to adjust the amount to taste.
I'm Pauline, a retired patisserie chef, mother of four and now a full time food blogger! When i'm not cooking i love long walks, reading thriller novels and spending time with my grandkids. Head to my about me page to learn more about the woman behind the food! You can find my Facebook here