Last Updated on 20th July 2022 by
Egg noodles cook very quickly and simply and can be turned into a wide range of different pasta dishes or stir fries. As easy as egg noodles are to cook, you want to be careful about overcooking them or not cooking them long enough.
If not cooked properly, egg noodles will have a bite or toughness to them, test after 4 mins and then continue for another 2 mins if they are not firm enough
If they don't get cooked all the way through, egg noodles with have a little bite or toughness to them. If they are overcooked, they may fall apart and won't hold up for your dish. So, how long should egg noodles be cooked for? I'll answer that as well as other questions you might have about cooking this kind of noodle.
If you are not a fan of eggs then you may want to try other other method of cooking noodles using butter.
How to Cook Egg Noodles
Let me start with a straightforward method for how to make egg noodles before I get into how long to cook them for. You always want to cook egg noodles in salted water. This helps them get soft and enhances their flavor. Without the proper cooking technique, the egg noodles will be overly bland.
You want to cook them in plenty of water, and the reason for that is to ensure that even after the noodles are in the water, the water's temperature will still be quite hot. If you don't use enough water, then adding a large pack of room temperature noodles can lower the overall temperature of the water and make it difficult for the noodles to cook properly.
What are the step to cooking egg noodles?
Take a pack of egg noodle ( 8 ounce)
Add water to a large pot and bring to boil
Add table spoon of salt
Heat the noodles for 5-6 mins
Drain and add a tablespoon of cooking oil to prevent clogging
To cook a pack of egg noodles, which is about 8 ounces, you should first heat up 2 quarts of water. Heat the water on high in a pot on the stove, making sure the pot is big enough to accommodate the water and the noodles. Add in a tablespoon of table salt or kosher salt to the water before you start heating it.
Once the water begins to boil, you can add in the noodles. Stir them around to make sure they get covered by the water, and don't bother to lower the heat at all.
You always want to cook egg noodles in salted water. This helps them get soft and enhances their flavor.
Heat the noodles in the water for 5 minutes. Then, you can drain out the noodles. They don't need to be rinsed if you are going to serve them hot. If they are meant to be served at room temperature or in a cold dish, then they should be rinsed. This keeps them from clumping and sticking together. You could alternatively add in a tablespoon of cooking oil and mix that around in the noodles to help lubricate them and prevent sticking.
Once the noodles are drained, though, you can add in your seasonings and garnishes, like butter, parsley, garlic, and whatever else.
How Long to Cook Egg Noodles?
If you cook egg noodles in a pot on the stove, your cooking time will be minimal. You need about 10 minutes for the water to heat up and start to boil and then another 5 for the noodles to cook once you put them in. Make sure the noodles are fully cooked, though, before you rinse them. You can do a bite test and see if they seem fully cooked or not. If not, just leave them to cook for a couple minutes longer.
How to Cook Egg Noodles in Instant Pot
There are other ways to cook egg noodles than using a cooking pot. The Instant Pot makes things pretty easy, and that's because it gives you a consistent cooking every time. You can checkout our guide to the best steamer baskets for Instants Pots on this post.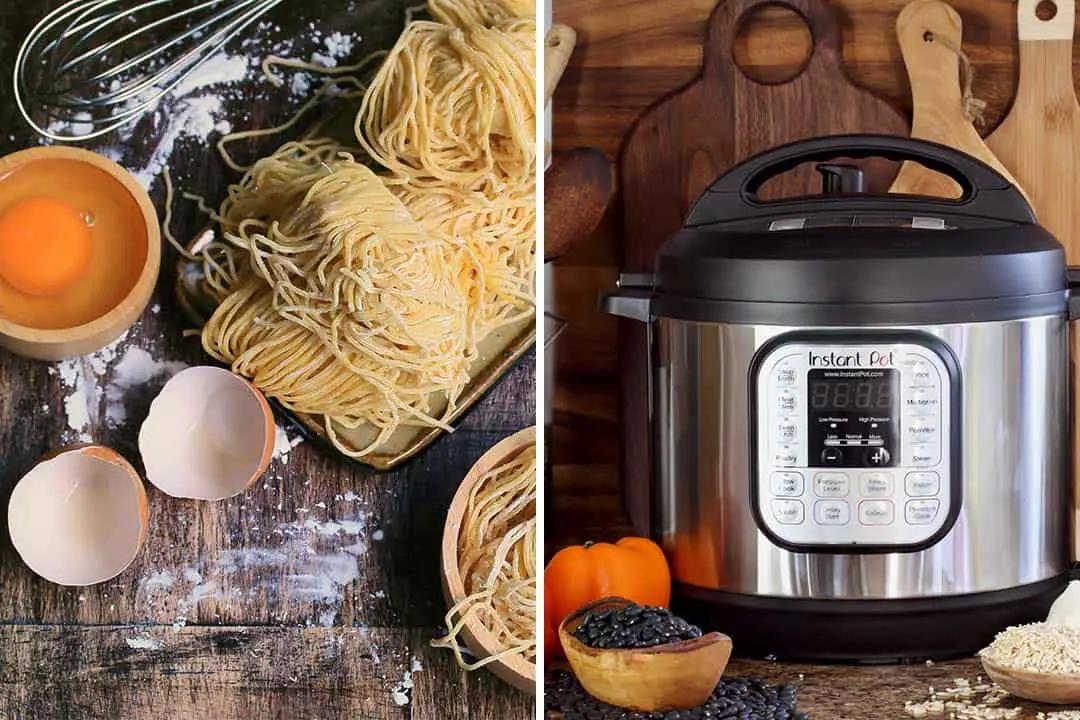 You won't have to check in on the noodles every so often to see if they are cooking the same as they did last time. The heat stays very consistent, so you can expect the same results each time.
Best method for cooking egg noodle in instant pot
Add two cups of water (470ml)
Add noodles to your Instant Pot
Give a star for a few seconds
Close the lid and seal the steam valve
Cook on high for 2 mins
Test the noodle when finish.
Leave to sit inside the Instant Pot if not quote ready
Start by putting the same 2 cups of water and 1/4 teaspoon of salt in the Instant Pot. Next, add the egg noodles and then stir everything together. This won't be enough water to submerge the noodles, but that's not a problem.
Close the lid and set the steam release valve to seal. Then, cook the noodles for 2 minutes using the high pressure setting. If the noodles aren't cooked enough for you and still have too much bite, then you can add another minute.
When the noodles are done cooking, use quick release and then take off the lid. Give the noodles a stir and check to see if they are cooked. You can let them rest in the pot for a little longer with the lid covering them if they need to cook slightly more.
This method for how to cook egg noodles in crock pot or Instant Pot is so simple that no one should have any trouble doing it.
How to Cook Frozen Egg Noodles in Instant Pot
You can cook frozen egg noodles using the Instant Pot. You don't have to let them thaw out first, so this helps to keep things really simple for you. You will need three cups of water and a pack of egg noodles, as well as ¼ teaspoon of salt.
Add all of these to the Instant Pot and don't bother to stir. All you have to do is press the noodles into the water to put them mostly under the water.
Then, put the Instant Pot on the high setting and pressure cook the noodles for 5 minutes. Once the noodles have finished cooking, you can use the natural release and let that do its thing for an additional 5 minutes. You will then need to do a controlled quick release. This allows the steam out in spurts, and it keeps the liquid from shooting up. Once the quick release is finished, you can open up the vent on the Instant Pot.
Your noodles should be fully cooked by that point, but you will want to test them, of course. Give them a little bite and cook them for a minute or two longer, if they need it.
How to Cook Egg Noodles in the Microwave
You can use the microwave to cook egg noodles as well, and this may be one of the simplest methods. Let me share with you my way of doing that.
You'll need a large microwave safe dish, like a casserole pan, and then you can add 1 ½ quarts of water to it. Cover that dish and heat on high for 5-7 minutes. That will start the water boiling. Then, add in salt, noodles, and just a teaspoon of cooking oil. Don't cover the dish back but cook the noodles in the microwave for 7 minutes on high. That should be enough to make the noodles tender.
Then, you will need to drain out the excess water, and you can rinse off your noodles if necessary. Remember that noodles that are to be served hot don't need to be rinsed, but if they are going into the fridge or if you are going to let cool to room temperature, you should rinse them off after they cook.
How to Reheat Egg Noodles
After the noodles have been cooked and you have some left over, you should let the leftovers cool down to room temperature before packing them away. You can store them in the fridge for 3-5 days until you are ready to use them again.
What's the bet way to reheat egg noodles so that they retain their proper texture and consistency?
The very best way is to slightly heat them in boiling hot water. Here is what you do:
Warm up a pot of water until it starts to boil. Then, place your noodles straight from the refrigerator into a colander. Dip that colander of noodles into the hot water and let the noodle sit there cooking for about 30 seconds. That should be all they need to warm back up, and any longer might not be good for them. Give them a stir, and if they are hot all the way through, then the noodles are good to go.
That's not the only method, and using the microwave to reheat is a bit simpler. You just need to put the noodles into a microwave safe container with a splash of water on top. Heat the noodles up in increments of 1 minute, checking them after each session.
The water is essential for getting your noodles reheated in a way that they won't be dry and bland. It helps to moisten them as they warm so that they come out almost as fresh and tasty as when you first cooked them.
You could also reheat them in the oven, which is a fairly simple method as well. Just preheat the oven to 350 degrees Fahrenheit and prepare the pasta in an oven-safe dish. Add in some pasta sauce to lubricate and then bake for 20 minutes. The noodles should come out not just warmed up but also soft.
The trick to warming up your egg noodles is that you want to make sure they stay soft, and reheating them without any water or other liquid is a bad idea. These methods give you some options and ensure that your egg noodles come out tasting like they should even as leftovers.
Frequently Asked Question on Cooking Egg Noodles
How do you know when egg noodles are done?
When egg noodles or perfectly cooked they should be soft to the bite. Remember that when noodles or taken off the heat they will continue cooking for a short period. Remove from the pan and rinse under cold water to prevent over cooking.
How long do egg noodles take to boil?
Egg noodles take approx 5-6 mins but may require a little bit longer according to taste.
I'm Pauline, a retired patisserie chef, mother of four and now a full time food blogger! When i'm not cooking i love long walks, reading thriller novels and spending time with my grandkids. Head to my about me page to learn more about the woman behind the food! You can find my Facebook here