Last Updated on 17th December 2021 by
As the name suggests, Italian subs stem from Italian culture. The Italian sub is traditionally a 12 inch long sandwich with meat and cheese fillings, which may or may not be toasted.
The invention of Italian subs or Italian sandwiches dates back to 1899 by Giovanni Amato. Giovanni Amato was an Italian baker in Portland. The sandwich was an easy and inexpensive meal for road construction workers. In recent times, the sandwich has evolved to be a common takeaway at most eating joints.
Today, the Italian sub sandwich has grown to be a popular picnic snack and a quick and easy breakfast item. However, the utility of this sandwich is not only limited to breakfast meals. Considering the amounts of meat and cheese that go into its preparation, it can also easily pass off as part of a heavy brunch or lunch menu.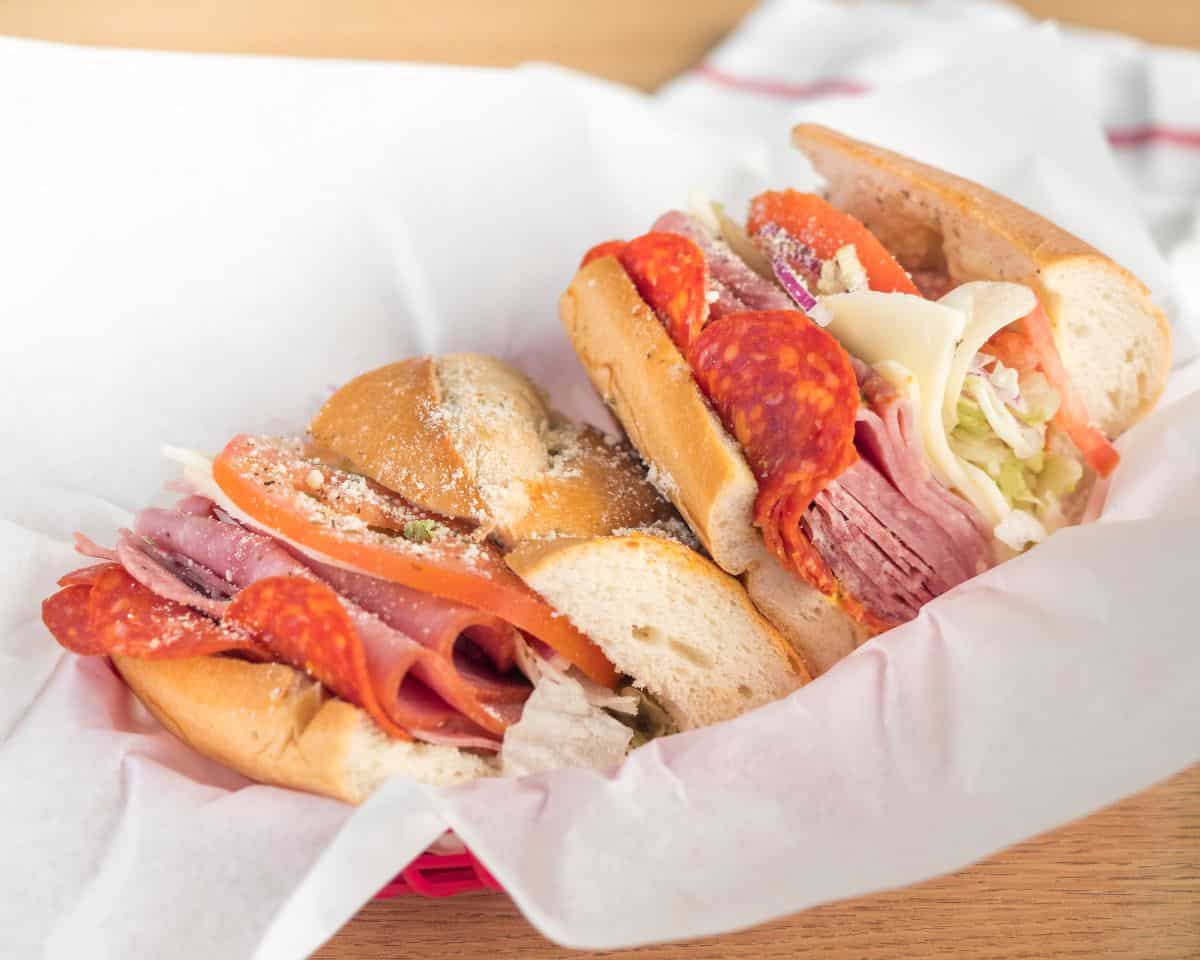 You can have the sandwich alone if you'd like it that way. Additionally, it also goes well with cold salads, coleslaw, chips, pretzels, and dips.
Although it would not be the traditional recipe, you can still add your creativity and put your cooking skills to the test with the sandwich. However, suppose you really want a taste of the actual sandwich that was formerly invented. In that case, you might want to follow the instructions to the T. There is no way that you can dislike the Italian sub sandwich if you take care in preparing it!
Read on for a step-by-step guide on how to make an authentic Italian sub.
How to Make An Italian Sub
Go through the below-mentioned ingredients and instructions to make an amazing Italian sub for yourself.
Ingredients
1

12-inches long loaf of Italian bread

½

thinly-sliced onion

5

tbsp

of vinegar (red wine)

5

tbsp

of olive oil

¼

pound

of deli-sliced provolone cheese

¼

pound

of deli-sliced mortadella

¼

pound

of deli-sliced boiled ham

¼

pound

of deli-sliced Genoa salami

¼

pound

of deli-sliced capicola

½

finally shredded iceberg lettuce (crisp lettuce!)

¼ to ½

cup

of sliced pickled pepperoncini (optional)

3

thinly-sliced tomatoes

1 ½

tsp

of dried oregano (for garnishing)

Salt and pepper (to taste)
Instructions
Soak the onions in ice-cold water for about 15 minutes. This helps in cutting down on the raw, sharp taste in onions and adds crispness.

Cut the bread into halves, lengthwise. Dig up a well-like structure in the bottom half.

In the well, drizzle two tablespoons of each of the vinegar and extra-virgin olive oil. Add pepper and salt according to taste.

Layer the meat and cheese as per your liking on the bottom half of your bread.

Drain the soaked onions in water. Pat the onions dry to ensure that you get rid of all water content.

Top the meat and cheese layers with lettuce, tomatoes, pepperoncini (optional), and onion.

Drizzle two tablespoons each of olive oil and vinegar.

Garnish with some oregano, and sprinkle some salt & pepper to taste.

On top of this, drizzle one tablespoon of olive oil and vinegar.

Wrapping up, garnish the sandwich or the upper half of the bread with remaining dried oregano for added taste.

Cut into four pieces (optional) and serve fresh!
Since this recipe contains bountiful deli-style ingredients, it also qualifies as a guide on how to make an Italian sub deli style.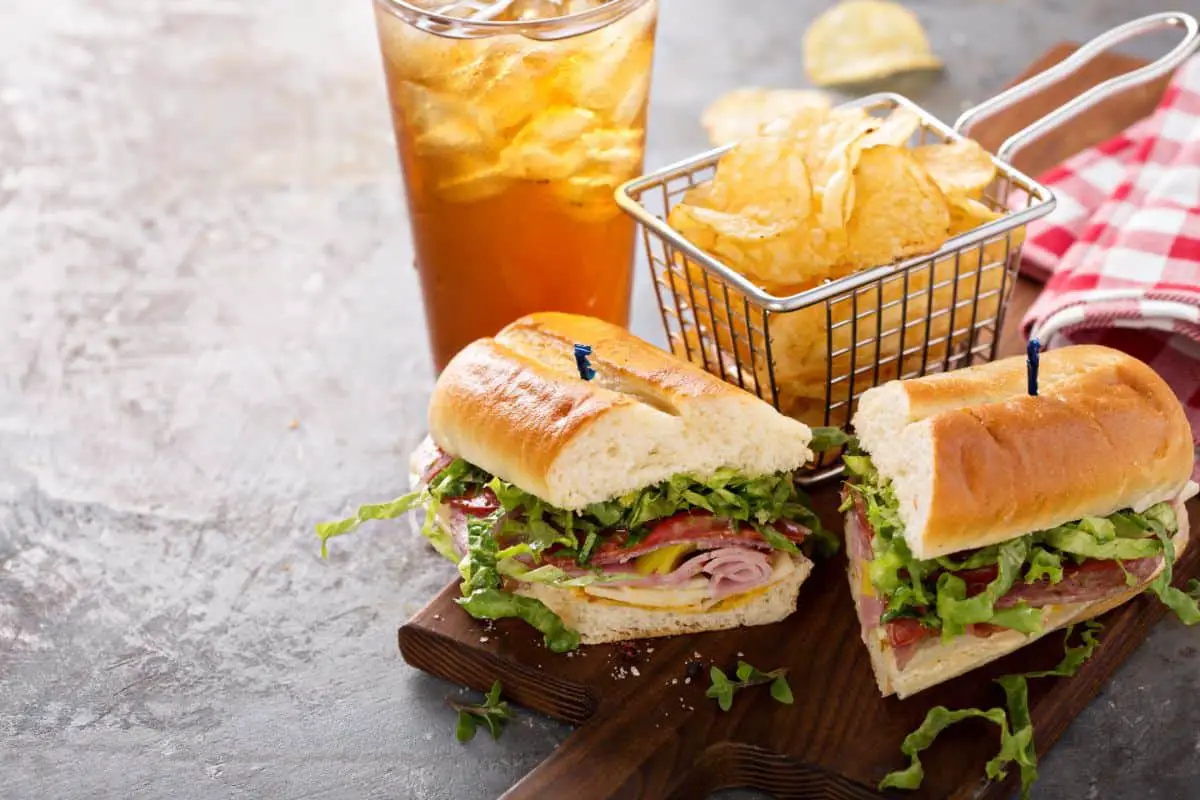 Tips on How To Make An Italian Sub Great
You may be averse to the idea of eating plain bread because of its raw dryness. In cases like this, ensure you use soft Italian bread for making your sandwich. Otherwise, you can also toast your bread before jumping to the preparation part.
As far as your ingredients go, you can switch the red wine vinegar for white wine vinegar too. To prevent your sandwich from getting soggy, you may toast your bread as mentioned above. Likewise, you can spread mayo, butter, or cream cheese on the bottom half of the bread as the base.
Make sure to dry all your ingredients rich in water content. These ingredients are cucumbers, pickles, tomatoes, and onions. You wouldn't want any of these ingredients to make your sandwich soggy, would you?
Or, if you are to consume your sandwich later in the day, you can go for roasted peppers instead of tomatoes. For the lettuce, you can try sliced fennel, spinach, or shredded cabbage, in the former's place.
Alternative Recipes
Italian subs are a popular snack and breakfast menu item, and rightly so. These sandwiches are not only tasty but also filling. As the ingredients are common and easy to find in almost every household, the preparation is quick. Because of this, the Italian sub is particularly inexpensive, whether you prepare it at home or pick it up from an eating joint.
However, if you consume these sandwiches frequently, you might want to be cautious about the calorie content of the sub sandwich.
Healthier options of the Italian sub sandwich can be opted for, depending on your nutritional requirements.
Tips On How To Make An Italian Sub Healthy
Instead of soft Italian bread, use wholegrain bread.
Cut down on the usage of vinegar and oil, and use mustard instead.
Use healthy greens abundantly to add to the nutrition contained in one sandwich.
The Italian sub sandwich that originated in Portland as a respite for road construction workers has now been welcomed into regular consumption patterns. This delicious sandwich is extremely easy to prepare and qualifies as a very feasible to-go snack.
Now that you know how to make an Italian sub at home, give yourself a treat!
I'm Pauline, a retired patisserie chef, mother of four and now a full time food blogger! When i'm not cooking i love long walks, reading thriller novels and spending time with my grandkids. Head to my about me page to learn more about the woman behind the food! You can find my Facebook here