Last Updated on 22nd April 2022 by
Portland, Maine, is the birthplace of an Italian sub sandwich. At the beginning of the 20th century, Giovanni Amato, a bread seller, started adding vegetables, meat, and cheese to his freshly baked bread at the request of dockworkers. That is how your favorite Italian sub sandwich came into existence.
Several facts make an Italian sub sandwich different from other sandwiches. It doesn't have any mustard, sauce, mayonnaise, or lettuce.
Originally, an Italian sub sandwich was made using salami, which gradually switched to boiled ham, which tastes as good as the original.
The best drinks you can pair with your Italian sub sandwich are Californian Chardonnay and Australian shiraz. A can of beer also tastes good on a weekday.
The best part about an Italian sub sandwich is that you can pair it with various side dishes to make an elaborate meal. It goes well with fries, chips. If you want to have something healthy, then you can pair it with a salad.
With this Italian sub sandwiches recipe, you are sorted for your weekend dinner.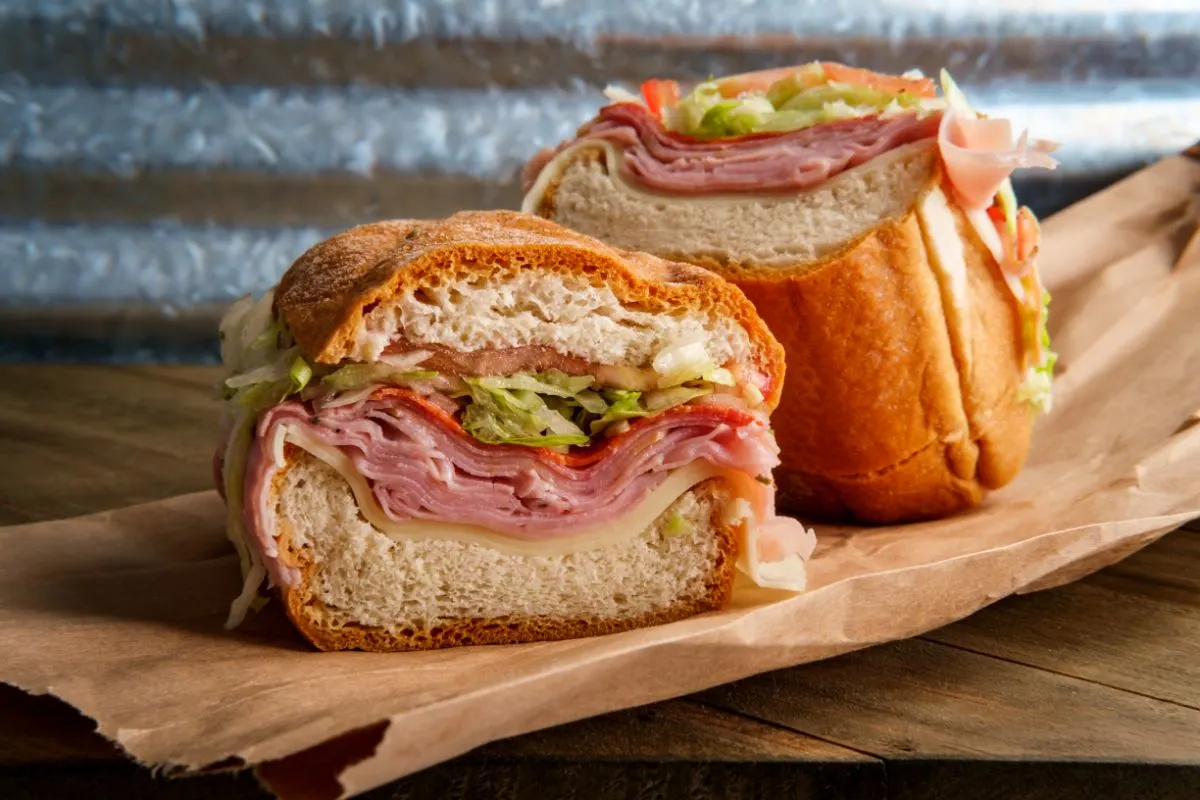 Italian Sub Sandwiches Recipe
Ingredients
Ingredients For The Italian Vinaigrette:
2

tbsp

of red wine vinegar

½

tbsp

Dijon mustard

½

tbsp

finely chopped parsley leaves

6

tbsp

of olive oil

½

tsp

finely chopped thyme leaves

Freshly ground black pepper

Kosher salt
Ingredients For The Italian Hoagie Sandwich:
1

Italian hoagie roll, take more if making for a crowd

⅓

cup

pickled cherry pepper spread

3

slices

of Genoa salami

3

slices

of mortadella

3

slices

of prosciutto di Parma/ Three deli-sliced boiled ham

3

slices

of provolone cheese

2

slices

of beefsteak tomato

½

tsp

chopped parsley leaves

¼

tsp

chopped oregano leaves

¼

tsp

chopped rosemary needles

2

tbsp

Italian vinaigrette

Sliced pickled pepperoncini

(optional)

Kosher salt and freshly ground black pepper, to taste
Instructions
Start by preparing the Italian vinaigrette first. Take a mixing bowl and add Dijon mustard, thyme leaves, parsley leaves, and red wine vinegar. Mix them.

Slowly pour the olive oil into the mix and keep whisking to emulsify it. Add in the salt and pepper according to your taste.

Now, you can move forward to assembling the sandwich. Take the hoagie roll and slice it lengthwise. Don't slice all the way through, as that would result in the stuffing falling out. Scoop out some of the bread from the top half to make more room for the stuffing.

Drizzle some of the Italian vinaigrette on the inside of the bread roll. Season it with salt and crushed pepper. Layer the salami on the bottom half. Then put mortadella, ham, or prosciutto followed by the provolone cheese slices. Top it off with the tomato slices.

Add the pepperoncini if using any, and sprinkle the parsley, oregano, and rosemary. Sprinkle some salt and pepper as per taste.

Drizzle some of the Italian vinaigrette on top and close the top half of the bread. Wrap the sandwich in butcher paper and slice it into two or four pieces. Your sandwich is ready to serve or eat immediately.
For Making Italian Sub Sandwiches Recipe Great
Sandwiches are something in which you can experiment a lot. You can get your favorite type of meat and add on to the sandwich. You don't need to stick to this particular recipe. Just maintain the proportions, and you are good to go.
Suppose you don't like any particular vegetable or seasoning—no need to worry. You can change the vegetables and the dressing as per your taste. I sometimes add onions and lettuce to add some crunch to this Italian sub sandwich, and it tastes incredible. Any pickled vegetable tastes great in this sandwich. You can also add banana peppers.
While a sandwich is a meal in itself, you can also serve it with different side dishes to make a proper elaborate meal. Macaroni salad, some light soup is some healthy side dish choices that you can go with. Some classic salted chips or french fries are the best side dishes to go with this Italian sub sandwich.
Italian Meatball Recipe For Sub Sandwiches
Italian meatball sub sandwich is a variation of the original sub sandwich recipe and a favorite in my home. This homemade meatball and meatball sauce recipe tastes amazing.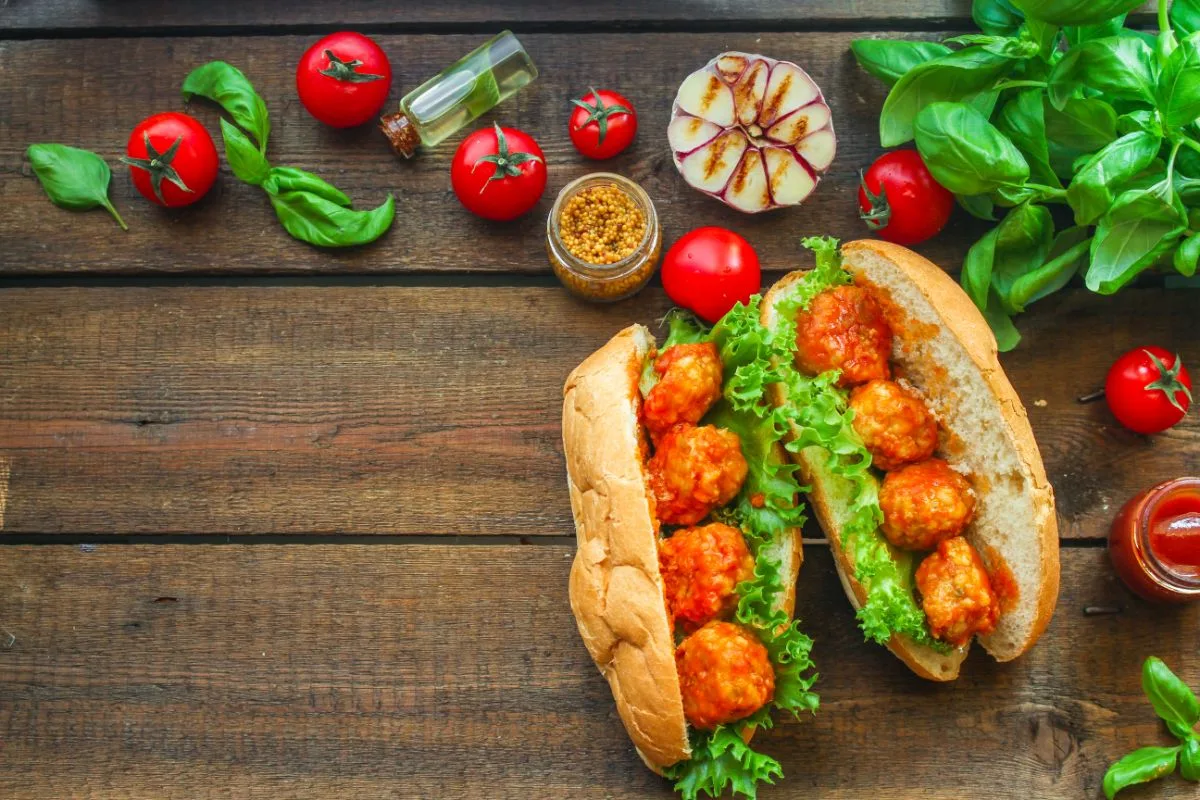 Start by adding one pound of lean ground beef and a half cup of breadcrumbs (Italian) to a bowl. Add salt per taste, some crushed black pepper, half teaspoon garlic powder, some minced parsley, red pepper flakes, dried basil, and oregano to the mix. Add one large beaten egg and use your hands to mix all the ingredients properly.
Make golf ball-sized balls of the meatball mixture and keep it aside. You can either deep fry the balls or bake them in an oven.
For frying, heat olive oil over medium-high heat, add the meatballs, and cook for about five to seven minutes. For baking, line a baking tray with parchment paper. Place the meatballs on top with the one-inch gap between them. Bake for about twenty minutes or until the meatballs are cooked.
Meanwhile, make the marinara sauce by adding one can of crushed tomatoes of about 28 ounces to a saucepan. Add one and half teaspoons of basil and oregano to it. Add one teaspoon sugar and half teaspoon garlic salt to it. Bring the mix to a boil and let it simmer for ten to fifteen minutes.
Once the meatballs are browned or baked, remove them from the oil and place them in the saucepan with marinara sauce. Let it cook on low to medium heat for about twenty minutes.
Now it is time to assemble the sandwich. Take a hoagie loaf and slice it in half without cutting all the way through. Spread some butter on the bread. Broil it in the oven until the butter is melted completely.
Spread the marinara sauce on the bread. Line it with the meatballs and cover it with a generous amount of mozzarella cheese. Place it back in the oven and cook for about two minutes or until the cheese is melted. Garnish it with fresh parsley and serve hot for better taste.
Baked Italian Sub Sandwiches Recipe
If someone ever asks you- what is better than cheese in a sandwich? Melted cheese would be the answer. While Italian sub sandwiches taste amazing, this baked Italian sub sandwiches recipe is another thing.
Start by slicing a hoagie roll lengthwise into half. Make sure that you don't slice it all the way through. Toast the bread into the oven for five minutes before you start layering all the fillings. After the bread is toasted, layer three slices of capicola, three slices of salami or ham, banana peppers, and top it off with provolone cheese.
Place the sandwiches on a pan and return to the oven. Bake it for about twenty minutes or till the cheese is melted. Remove from the oven and serve hot.
I'm Pauline, a retired patisserie chef, mother of four and now a full time food blogger! When i'm not cooking i love long walks, reading thriller novels and spending time with my grandkids. Head to my about me page to learn more about the woman behind the food! You can find my Facebook here