Last Updated on 23rd April 2022 by
Pronounced as Kah-bow-cha, this soup is one of the favorite soups in Japanese households. With green skin and an orange interior, kabocha is rich in sweet flavor, similar to sweet potatoes.
You can eat the soup for breakfast along with bread or a bowl of rice, and it is easy to cook kabocha squash when you pick a hard one.
The best part of this kabocha soup is storing it long-term for one year by freezing it. Also, if you are particular about making a fresh one, you can get one and store it in a dry, cool place for three months.
You can call the kabocha a superfood because it is a rich source of vitamins, anti-inflammatories, and radical-fighting antioxidants.
Don't miss the benefits of this kabocha soup, and add it to your breakfast table by trying one of our recipes today!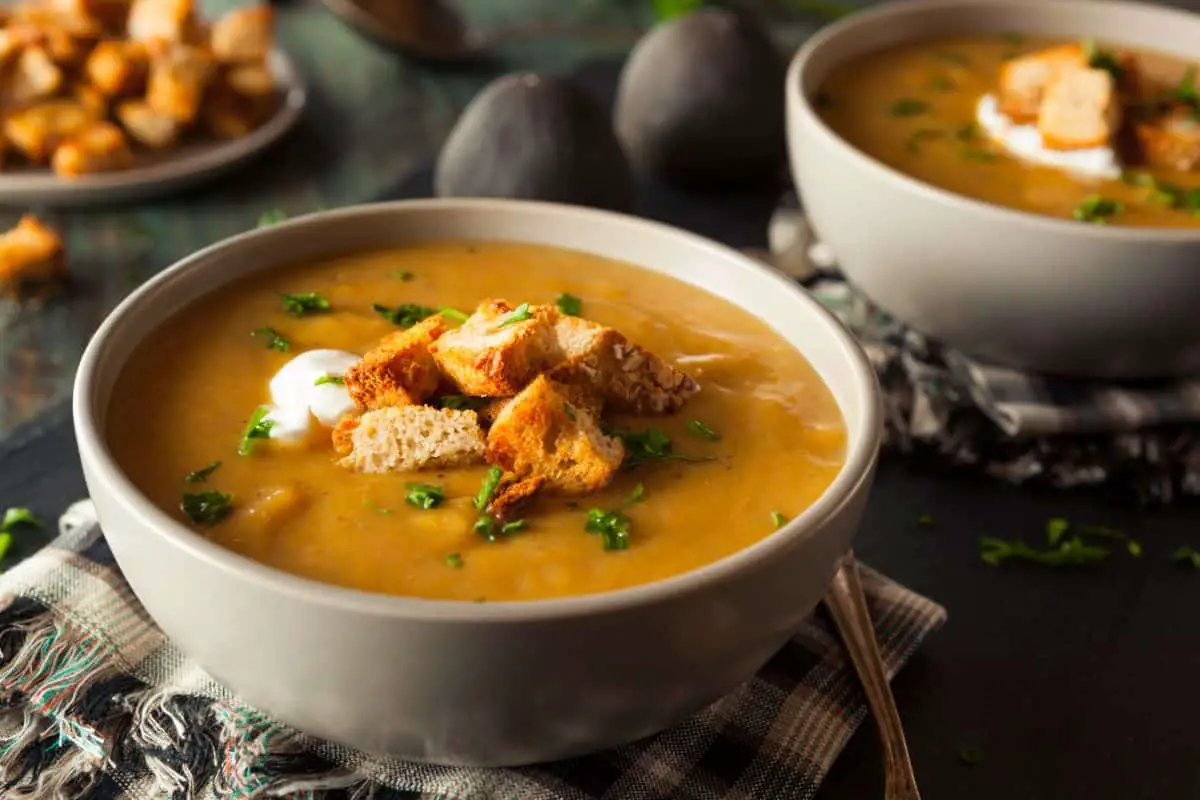 Kabocha Soup Recipe
This delicious kabocha soup recipe is easy to make and takes half an hour to get ready. The preparation time for the soup is ten minutes, and the cooking time is twenty minutes. In the end, you can serve it to six people.
Ingredients
3

tbsp

of butter

175

grams

of finely diced onions (one small)

120

grams

of finely diced carrots (one carrot)

700

grams

of peeled and sliced kabocha (a quarter of one large pumpkin)

5

cups

of vegetable stock

Salt

half cup of cream (heavy)

Parsley
Instructions
Take a large pot and add butter, onions, and carrots into it. Sauté them for five minutes or until they become tender and start turning brown.

Now, take the kabocha and add it to the pot. Sauté the kabocha pieces for two minutes.

Take the vegetable stock and add it to the pot and leave it to cook by closing the lid. Turn the heat to sim, cook kabocha soup for fifteen minutes, and turn the flame off when kabocha pieces are tender.

Shift the soup to a bowl and leave it to cool. When it cools down, shift it into a blender and make a puree of the soup.
Tips For Making Kabocha Soup Recipe Great
The above recipe is an easy one. To get the best flavors out of it, you must follow some tips. Waiting till carrots and onions become Maillard brown is better because this will give additional flavor to your soup.
You can also add little cream when serving as it will give a delicious mouthfeel when you eat the soup. You can also add chicken stock instead of vegetable stock, but chicken may not bring complementary flavors from the kabocha soup.
If you are a vegan, then you add coconut cream instead of normal cream. You can garnish the kabocha soup with herbs like basil, rosemary, or tarragon also. Adding toppings like croutons or pumpkin seeds which are toasted, will add a crunchy feel when you eat this kabocha soup.
Recipe For Curried Kabocha Squash Soup
To make curried kabocha squash soup, take a saucepan, add three tablespoons of olive oil and wait till it gets hot. Add two finely chopped garlic and shallots along with a pinch of salt and cook on moderately high heat and stir until shallots turn brown, which may take three minutes. To this, add kabocha cubes that are cut into three-quarter-inch sizes (cut from four-pound kabocha). Add a quarter teaspoon of crushed red pepper and ground cinnamon.
Also, add half a teaspoon of ground cumin and one tablespoon of curry powder and cook for three minutes. Take one quarter chicken stock, three tablespoons of lemon juice, two tablespoons of apple cider vinegar, and three cups of water and drop them into the saucepan. When the soup comes to a boil, simmer the heat and stir for twenty minutes or until squash turns tender.
Turn the flame off, let the soup cool, blend the soup into a puree, and shift it to the saucepan again. Turn the heat to low flame, add half a cup of cream and one tablespoon of Asian fish sauce into it and stir it for five minutes. Sprinkle some salt for taste and serve the soup hot after garnishing with chopped cilantro.
This soup, unlike the main one, uses chicken stock and Asian fish sauce. You can refrigerate the curried kabocha squash soup for three days and heat it before you consume it again.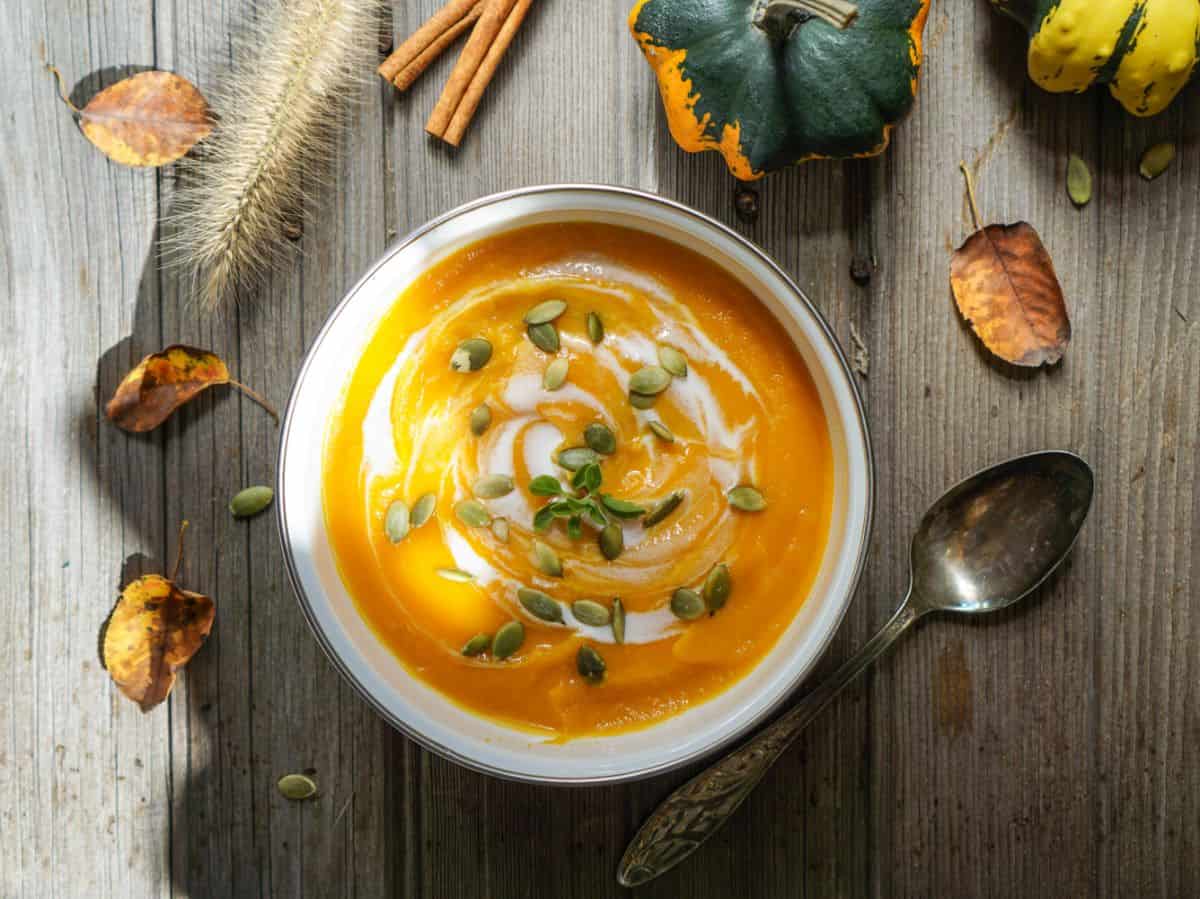 Chef Aj Kabocha Squash Soup Recipe
Take kabocha squash and place it in the instant pot with a rack. Fill the pot with water and cook squash for ten minutes at high pressure. Remove the squash from the pot, let it cool and cut it carefully and remove the seeds.
Now, in the pot, take a quarter cup of gluten-free oats, six garlic cloves, two teaspoons of smoked paprika, one teaspoon of curry powder, a quarter teaspoon of ginger, and turmeric. Also, add three cups of chopped onions and a little salt along with squash into the pot. Cook all these ingredients in the pot for five minutes on high pressure.
When the pressure completely gets released, add four cups of unsweetened almond milk and blend all these into a puree using an immersion blender. This Chef aj kabocha squash soup recipe is ready to be served. But if you are storing for another day, o add water or almond milk to thin the soup as it thickens when it cools.
If you have enough time, sauté the onions in the pot before you add the other ingredients. This will enhance the taste of the soup. Serve this soup over brown, black or red rice. Don't forget to garnish with smoked paprika and chopped chives before serving!
Kabocha Squash Soup Recipe Coconut Milk
Instructions
Take a baking dish, place a medium kabocha squash that is cut side down and add little water and place it in the oven that is preheated at 400º F. Roast it for forty minutes in the oven, then remove it, and once it cools, scoop all the flesh leaving the skin.

In a soup pot, heat oil, add chopped yellow onion and little salt and pepper and stir for three minutes. Now add three stalks of lemongrass, a quarter cup of ginger, and one tablespoon of minced garlic and cook for two minutes. To make the soup add four cups of squash, one kefir lime leaf, and the five cups of vegetable stock into the pot and heat it on sim for thirty minutes.
After thirty minutes:
Take the leaf of lime out and add the remaining mixture into a blender to get a puree.

Add this puree into the pot, heat over low to medium heat, add fourteen ounces of coconut milk (unsweetened) and turn the heat off after ten minutes.
I'm Pauline, a retired patisserie chef, mother of four and now a full time food blogger! When i'm not cooking i love long walks, reading thriller novels and spending time with my grandkids. Head to my about me page to learn more about the woman behind the food! You can find my Facebook here