A soup is both comfortable and nutritious. One can relish it as a starter and can pair it with any menu. However, celery in the soup adds feelings of umami and flavor to the soup. Celery has many health benefits, which makes it a popular food.
It possesses antioxidants that can improve your immunity and also reduces inflammation. It is rich in minerals and vitamins and has a low glycemic index. It can eliminate kidney problems, urinary tract infections, and bladder disorders. Well, here is the list of some of the recipes with cream of celery soup that can make your cuisine a little richer.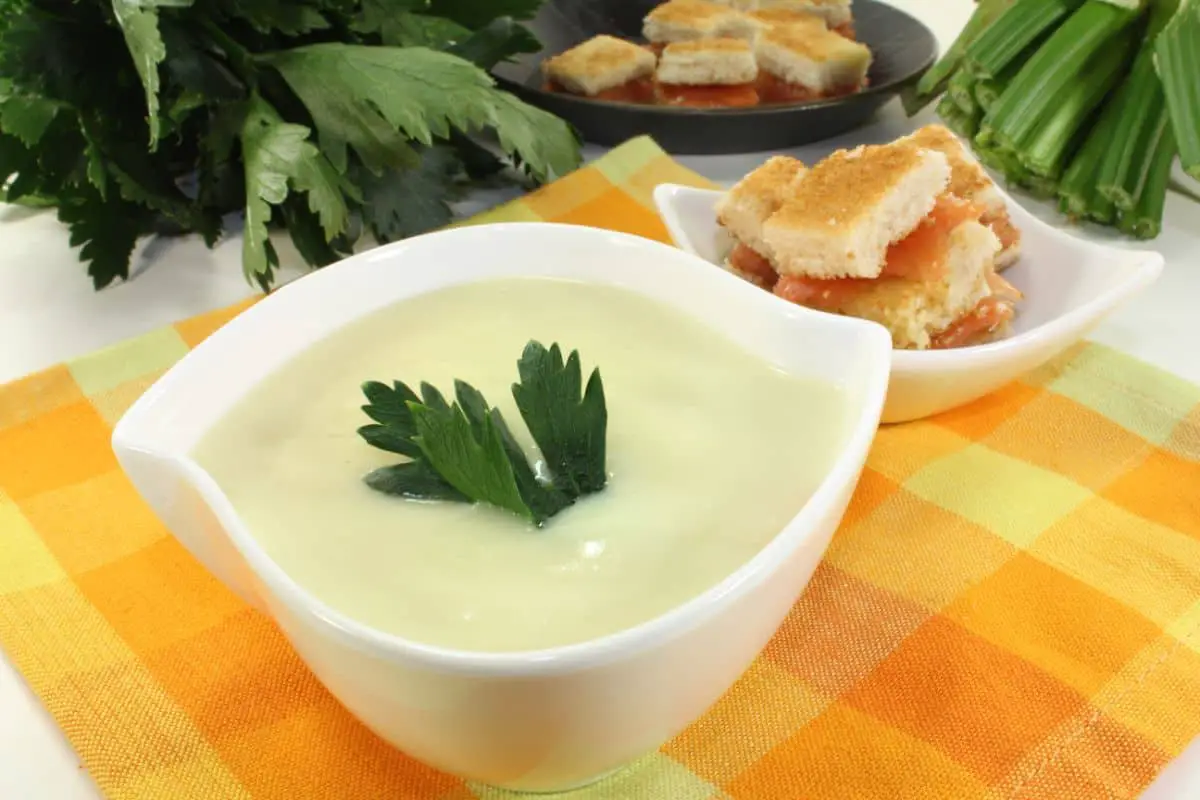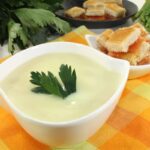 Print Recipe
Recipe Of Cream of Celery Soup
In this soup, you don't need flour and milk as usual to thicken the soup. But, it would help if you had potatoes to reduce the texture. If you are a vegan, this is the best thing you can have within a couple of minutes. You can use this fantastic and delicious soup with many things like chicken, pasta, rice, etc. 
The preparation time is just 5 minutes, and you can cook them in just 15 minutes. So have a look at this delicious recipe of cream of celery soup.
Ingredients
1

cup

celery

1

cup

potatoes

1

tbsp

butter

2

tbsp

dairy cream –

about 20% to 25% fat

1

garlic clove

2

pinch nutmeg powder

3

cups

water or vegetable stock 

salt

black pepper 

parsley leaves 

bread croutons
Instructions
First, melt butter in a pan.

Chop the celery and garlic and put them into it. 

Fry garlic and celery for 2 to 3 minutes on a low flame. Chop the potatoes and add them to it for some time. Then add some salt, pepper, and water to it. 

Cover the pan and wait for the potatoes to be cooked entirely. Once they are done, wait for the mixture to cool down. 

Once the soup is warm, blend the soup using an immersion blender until it becomes smooth. You can also use a jar of Blender instead.

Once it is blended properly, gently heat the soup. If you like a thin soup or your soup appears thick, you can add some water or veg stock to it. Well, this step is to maintain the consistency of the soup.

Once the soup is adequately heated, add some cream and Sprinkle nutmeg powder into it. Please turn off the flame and stir it well.

You can check the seasoning and add some black pepper salt according to your taste. You can also garnish the soup with parsley and bread croutons before serving.
Recipe of Cream of Celery Soup with Chicken
Its preparation time is 15 minutes, and cooking time is 45 minutes.
Ingredients
4

cups

celery

(diced)

4

cups

potato

(diced)

1

cup

homogenized milk

½

cup

sour cream

½

tsp

salt

A pinch of white pepper

Ten sprigs of celery leaves

4

cups

chicken broth

2

boneless, skinless chicken breasts

3

tbsp

salted butter

1

cup

onion(diced)

¼

tsp

 celery seed and 1 cup minced celery
Instructions
First of all, chop the celery and potatoes into 1-inch pieces.

Then add some chicken breast and chicken broth to the soup pot and boil it. 

Reduce the flame, cover it and let it heat for 25 to 30 minutes so that potatoes and chicken are nicely cooked.

Once they are adequately cooked, please take out the chicken pieces from it and let them cool for some time, and cut them into half-inch pieces. 

Then blend the soup using an immersion blender. 

Melt butter in a pan. Chop the onions in dice size and fry until it is translucent. Then add some celery seeds and minced celery and fry it for 5 minutes till it's fragrant and tender.

You can also sprinkle some dry Herbs in the soup. Well, this will add flavor to it and release volatile oils from it.
Notes
You can also use Campbell's cream in it. The recipe will not only taste amazing but will be finger-licking good.
Recipe With Cream Of Celery Soup And Pasta
In this, you can use Campbell's cream of celery soup. This combination of pasta with cream of celery soup will taste more delicious.
Ingredients
1

cup

broccoli

1

cup

vegetable juice

1

cup

condensed Campbell's cream of celery soup

2

cups

uncooked pasta

1

carrot

(sliced)

¼

tsp

black pepper

¼

tsp

garlic powder
Instructions
First of all, prepare the pasta.

Chop the Broccoli and carrots into pieces and put them in the pasta for the last 5 minutes of cooking time. 

Put the pasta in the colander to drain the liquid.

Once all the fluid is drained, put the pasta again in the pan.

Then add some soup, vegetable juice, garlic powder, and black pepper to the pan and cook it.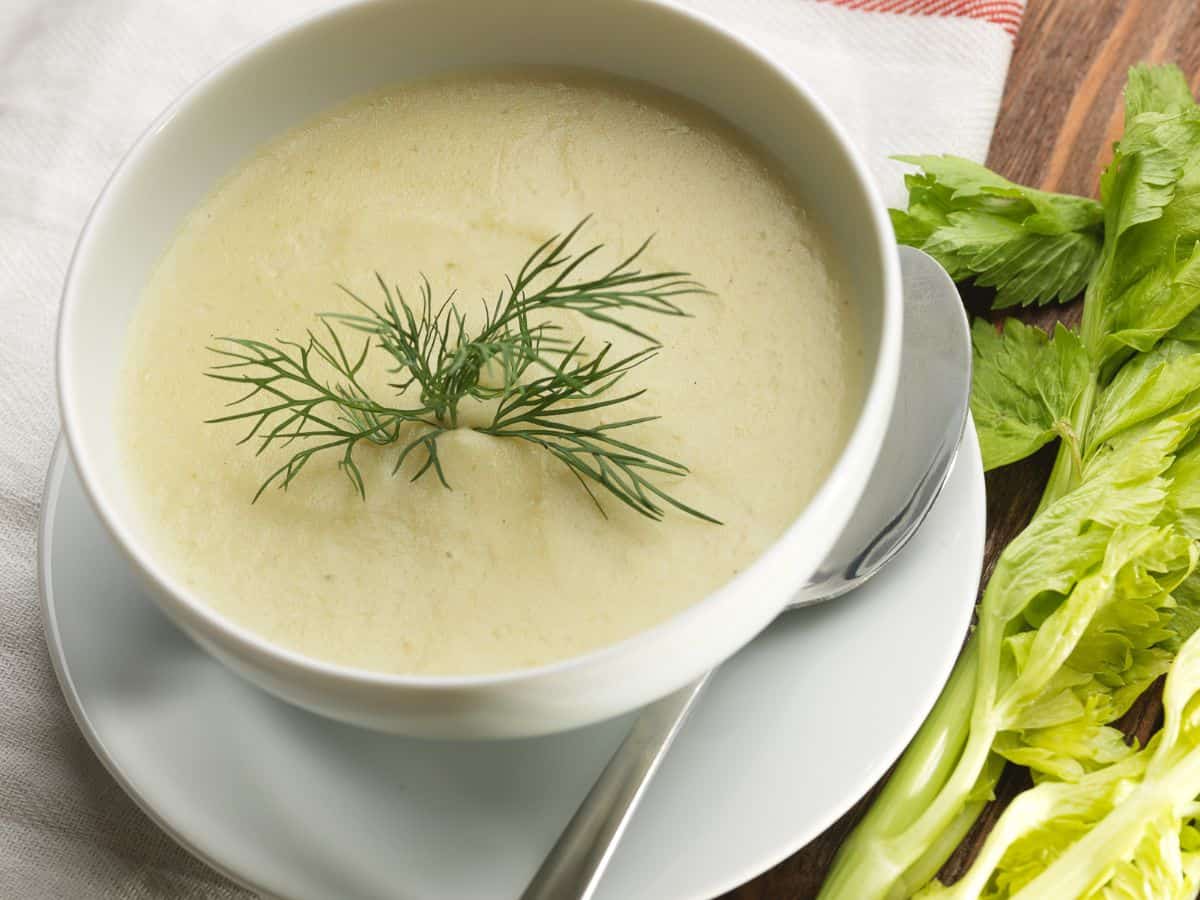 Recipe With Cream of Celery Soup and Rice
Ingredients
2

cups

chopped leek greens and root

3

celery stalks

( chopped)

celery leaves

Two bay leaves

Six parsley stalks

kosher salt

1 ½

quarts water

ingredients for soup as mentioned in the above recipe
Instructions
First, wash the celery stalks and leaves. Wash the leeks and chop it

Take some water in the pot and put all the ingredients in it and boil it over a medium to high flame.

When the stock starts boiling, reduce the flame to low and leave it for 25 minutes.

Strain it to remove the veggies from stock. Till then you can wash and chop all the vegetables for the soup.

Put some butter in a pan. Melt it, and put some vegetables and add a pinch of salt and cook it for 10 minutes over a medium flame.

Put the strain stocks and boil the soup. Simmer it for about 25 minutes until the vegetables are tender.

Let the soup cool for about 30 minutes and blend it with the immersion blender.

While serving, warm the soup and pour it around the scoop of rice in the bowl. You can also add some cream to it and garnish it with chopped celery leaves.
Recipe Of Cream Of Celery Soup With Chicken And Rice
Ingredients
1

tbsp

of canola oil

1

medium

carrot

(chopped)

1

 celery 

½

cup

onion

(chopped)

½

tsp

minced garlic

⅓

cup

uncooked rice

¾

tsp

dried basil

¼

tsp

 pepper

2

cans

chicken broth

3

tbsp

flour

( all-purpose)

1

can

of milk

(boiled)

2

cup

chicken breast

(cooked)
Instructions
Add oil to a pan and heat it over a medium-high flame.

Put chicken pieces into it and cook it until it looks brown.

Put some water, soup, pepper, and mustard in the skillet and boil it.

Reduce the flame to low heat till the chicken is cooked thoroughly. 

And now you can serve this soup with rice.
Try making these delicious, unique, and tasty cream of celery soup recipes at home, and let us know more about them. It would be a wonderful treat for your family and friends.