Last Updated on 17th December 2021 by
In New England, most of the fancy restaurants have baked cod with ritz crackers on their menu. Some of these restaurants also add seafood topping to their baked cod. If you want to make the baked cod with the ritz crackers recipe at home, let me assure you that you can effortlessly prepare this dish.
The formula of baked stuffed cod with Ritz crackers is simple and can be made quickly. Once you taste it, I can guarantee that the taste will stay in your memory for a long time.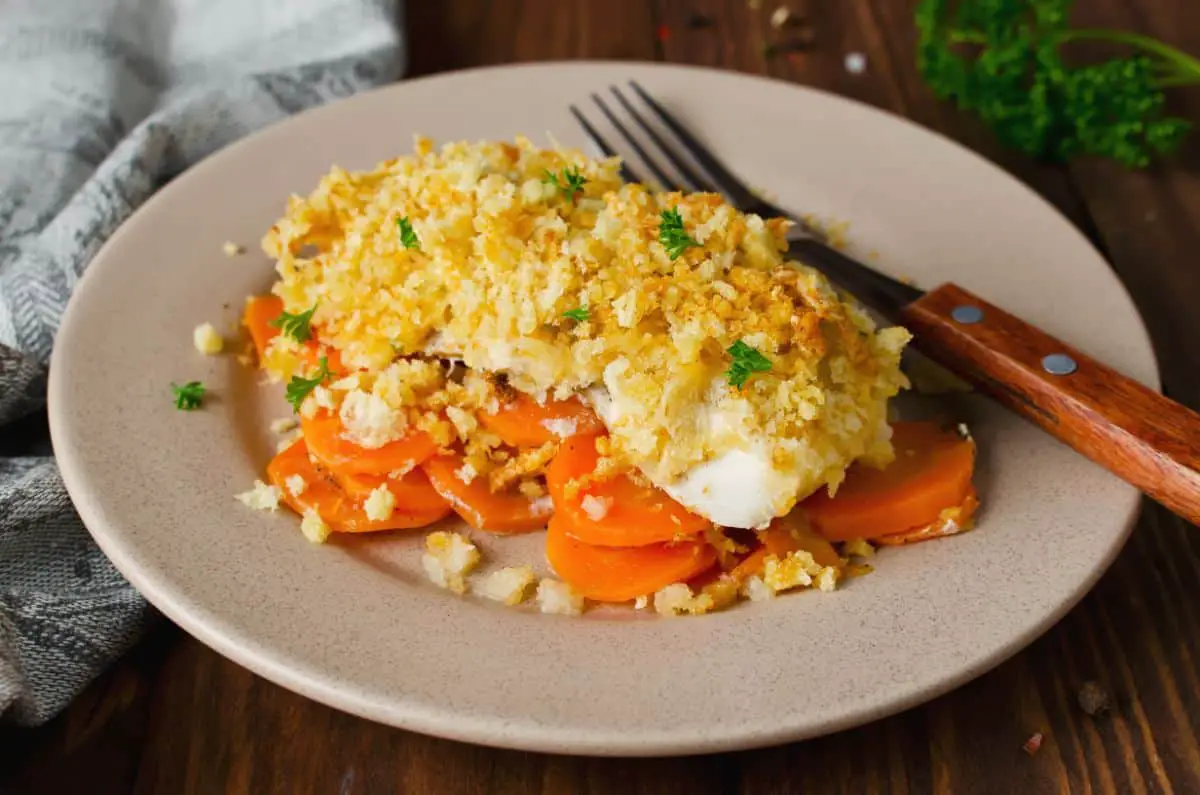 How To Make Baked Cod With Ritz Crackers
If you are learning how to cook, then baked cod or haddock with Ritz crackers is one of those fancy dishes that you can make for the guests when they come home for a meal. Now without any further adieu, let's look at how to prepare baked cod with butter and ritz crackers. You can prepare this dish within an hour. To prepare for the
New England baked cod with Ritz crackers and panko requires 15 to 20 minutes, and in the next 30 minutes, your dish will be ready to serve. The ingredients you will need to make this easy-baked cod with ritz crackers are mentioned below.
Ingredients
Cod fillets

Salt

Ritz crackers

Unsalted butter

Lemon

Parsley
Instructions
Still, thinking about how to bake cod? After reading this article, do not worry; you will know everything about the baked cod with the ritz crackers recipe.
It would help if you prepared the oven before baking the Codfish. To make the baked stuffed cod with Ritz crackers, preheat the microwave oven at 350 degrees to 400 degrees Fahrenheit.

Take a small baking pan and grease the pan with butter. Instead of butter, you can also use oil. At least you need to use five tablespoons full of butter.

After that, peel the skin off. After that, rinse the fillets of the fish with cold water. Then pat the fillets with your hands to dry them properly.

Next, remove the pin bones from the fillet to make it ideal for preparation.

Place the fish on the pan, and then sprinkle the salt all over the fillet according to your taste.

To process further, you need to melt the unsalted butter.

Take the packet of Ritz crackers. Crush them well and then place them in a bowl. Usually, in a container, you will find a total of 34 crackers.

After this, mix the melted butter and the crushed Ritz crackers thoroughly.

Rub the mixture all over the fillet or the pieces of fillet.

Press the fish fillet well to get the desired shape.

Finally, put the bowl in the microwave oven; as we mentioned earlier, the heat increases between 350 degrees Fahrenheit and 400 degrees Fahrenheit. Bake the fish for precisely 20 minutes.

Once you finish the baking process, serve the baked cod with ritz crackers with lemon and garnish the dish with finely chopped parsley. Spread the parsley all over the plate on which you serve the baked cod with butter and ritz crackers. This garnishing part is entirely optional.
Things To Remember While Making Baked Cod With Ritz Crackers
While buying the fish fillet from the market, make sure that it is fresh. You can also buy the fillet online.
The fish skin needs to be removed well. If a small portion of skin remains on the fillet, it may ruin the whole dish.
Greasing is an essential part. Grease every inch of the pan for better baking of the fillet of the fish.
Use nose pliers to remove the fish bones.
You can prepare the dish with a whole fish fillet, or you can also cut the fillet into several pieces.
If you take a thin fillet, then you will require less time to cook. Instead of that, if you take a very thick fish fillet, it will take longer than usual to cook.
Other than codfish, you can use any of the white-fleshed lean fish. Some of the fishes that you can use are Haddock, Pollock. There will be no difference in taste if you add any of these fishes instead of cod.
You can also mix garlic paste with the unsalted butter to add extra flavor to the baked cod with butter and ritz crackers.
Ensure that after baking, the fish comes out crispy, and you can check the crispness with the help of the visible brown coloration.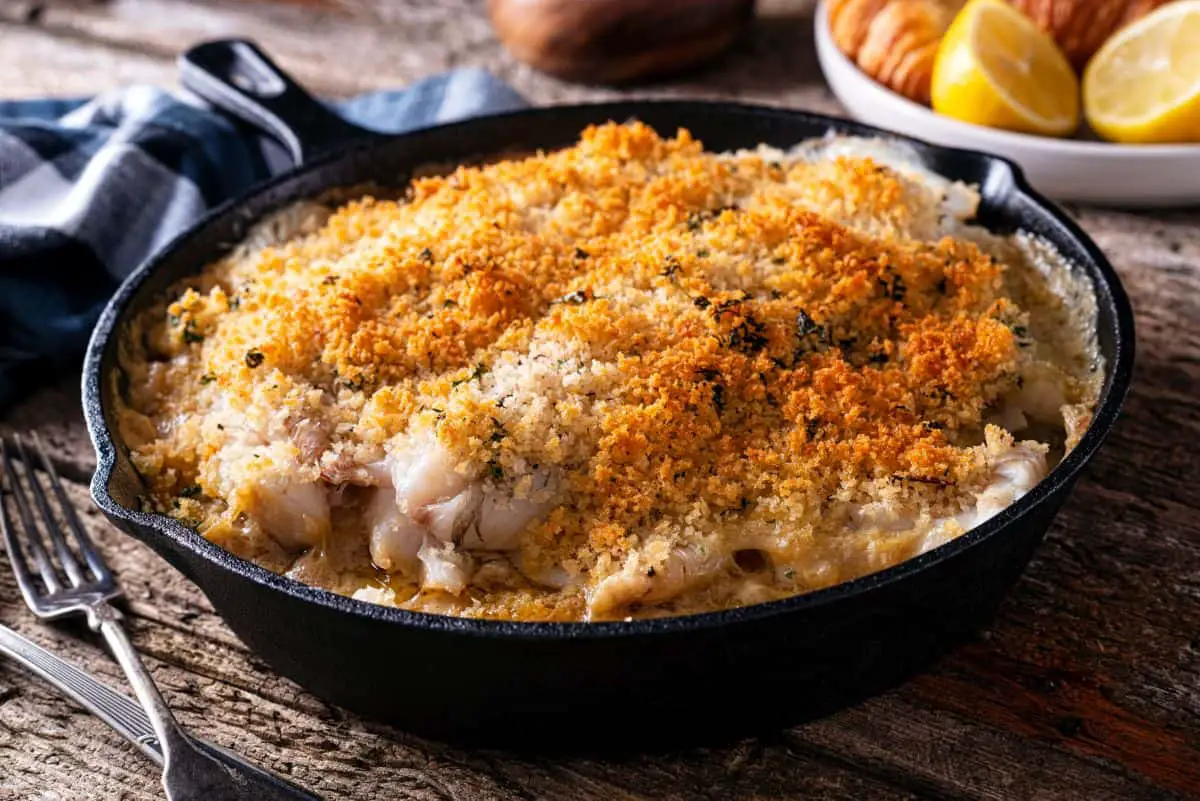 Nutritional Benefits That You Can Get From The Baked Cod With Ritz Crackers
After consuming a plate of baked cod with butter and ritz crackers, you will experience fullness in your stomach. There are several nutritional benefits of this dish, encouraging you to prepare this dish. In the following part, the nutritional benefits are mentioned.
You will gain a total of 12 g carbohydrates, 21 gm protein, and 10 g of unsaturated fat from a plate of baked cod with Ritz crackers.
After consuming this New Englandian recipe, you will gain approximately 236 kcal.
Other than that, you will also get a high amount of mineral nutrients such as Potassium (501mg) and Sodium (278 mg), Calcium (50 mg), Iron (1.4 mg), and a few others.
Several vitamins such as Vitamin A and Vitamin C are also present in high amounts.
Conclusion
As I mentioned in this article, the recipe of baked stuffed cod with Ritz crackers is quite versatile. You can add other stuffing with the fish.
This favorite recipe of many people in New England will soon become a favorite dish of your family members. You can consume it for lunch as well as dinner or when you wish to cast an impression on your guests.
I'm Pauline, a retired patisserie chef, mother of four and now a full time food blogger! When i'm not cooking i love long walks, reading thriller novels and spending time with my grandkids. Head to my about me page to learn more about the woman behind the food! You can find my Facebook here