Last Updated on 22nd April 2022 by
Ceviche has its origin in Peru, and people there love this dish due to its rawness. With the changing times, the dish has also evolved, and different versions of it are prepared in different parts of the world. It is popular in South and Latin America and other places like Mexico, Ecuador, Chile, and Colombia.
Shrimp Ceviche has diverse ingredients and can be cooked in versatile styles. You can make Ceviche with crab, shrimp, octopus, squid, flounder, and more. Read the article below and find out how to make shrimp ceviche at home using a few ingredients.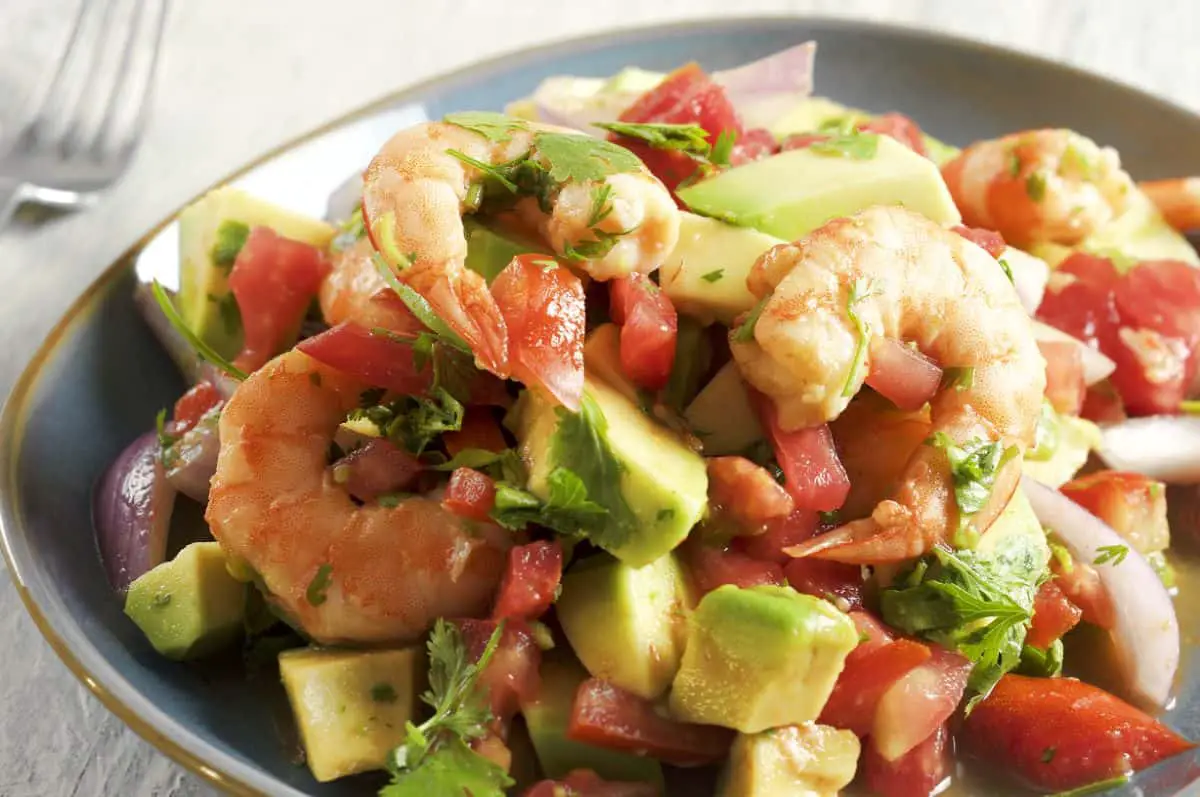 How To Make Ceviche With Shrimp?
Making Ceviche is simple, and it just requires a few ingredients as we are making the authentic style Ceviche with shrimp. It is a perfect appetizer and will satisfy your cravings for having Ceviche any time of the day. If you cook the shrimp raw, it will take a longer time; thus, it is better to poach the shrimp to speed up the cooking process.
Ingredients
One bowl cucumber diced

1

cup

diced tomatoes chopped

1

diced onion

1.5

tbsp

of salt

1

tsp

of pepper

2

quarts

of water

1

pound

peeled shrimp

1

tbsp

of parsley

1

tbsp

cilantro

1

lime
Instructions
In a medium saucepan, add 2 quarts of water and then add salt. Let it boil until the water comes to a temperature of 180 degrees. Now add deveined shrimp and allow them to cook till they turn opaque. For almost 2-3 minutes. The poaching method helps preserve the delicate taste and the texture of the shrimp. Boiling the shrimp makes it much safer to eat as it destroys any organism that can be harmful to us. All those who want to cook the shrimp in few minutes, if you are in a pinch of time, just use pre-cooked shrimp.

After 5 minutes, transfer the shrimp to a strainer and wash it with cold water to stop the cooking process. Now you need to chop the shrimp to get nice juicy bites of seafood while eating Ceviche shrimp.

Transfer the chopped shrimp into a large mixing bowl, add onions, cucumber, tomatoes, and parsley. Squeeze a lemon, add lemon zest, cilantro, pepper, salt, and give it a quick mix. Cover it with plastic wrap and keep it in the fridge for an hour or a half.

After 30 minutes, take off the plastic wrap, add diced avocado, and serve it chilled. The Ceviche shrimp is full of flavors, nutrients, and citrus notes. Serve it with something crunchy like a tortilla or potato chips or plantain chips or crackers, and you are good to go.
Notes
Note: If you want to have ceviche shrimp as a meal, take a few spoons of Ceviche and put it on a tostada, and serve it with a schezwan sauce.
Tips To Make Ceviche Shrimp Flavorful
It is better to poach the shrimp and cook it in boiling water for 2-4 minutes. Make sure you do not overcook them. Cook until it changes the color.
Cutting the shrimp or fish into small pieces will make the dish extra crunchy and tasty. All those who do not want to cut the shrimp can use smaller size shrimps.
Make the recipe of the Ceviche shrimp much beforehand, almost 5-8 hours before you think of serving it to friends and family. This will help bring out the maximum flavors of the dish.
As mentioned earlier, add avocado immediately before you want to serve the dish. Adding it beforehand will make it turn brown, and it will also lose its freshness.
The jalapeno adds pepperiness and makes the Ceviche spicy thus, to reduce its effects remove the seeds.
Ceviche is a highly versatile dish you can use various seafood like octopus, squid, fish, scallops, oysters, and more. Using different vegetables like bell peppers, green/red, and green onions while making Ceviche also enhances its flavor and makes it taste delicious.
For a sweet and spicy flavor, you can also add mangoes or pineapple. F using mangoes omit tomatoes.
Garnish it with crispy potatoes and even catechists to give it a nice crunch. You can serve it with tropical salads too.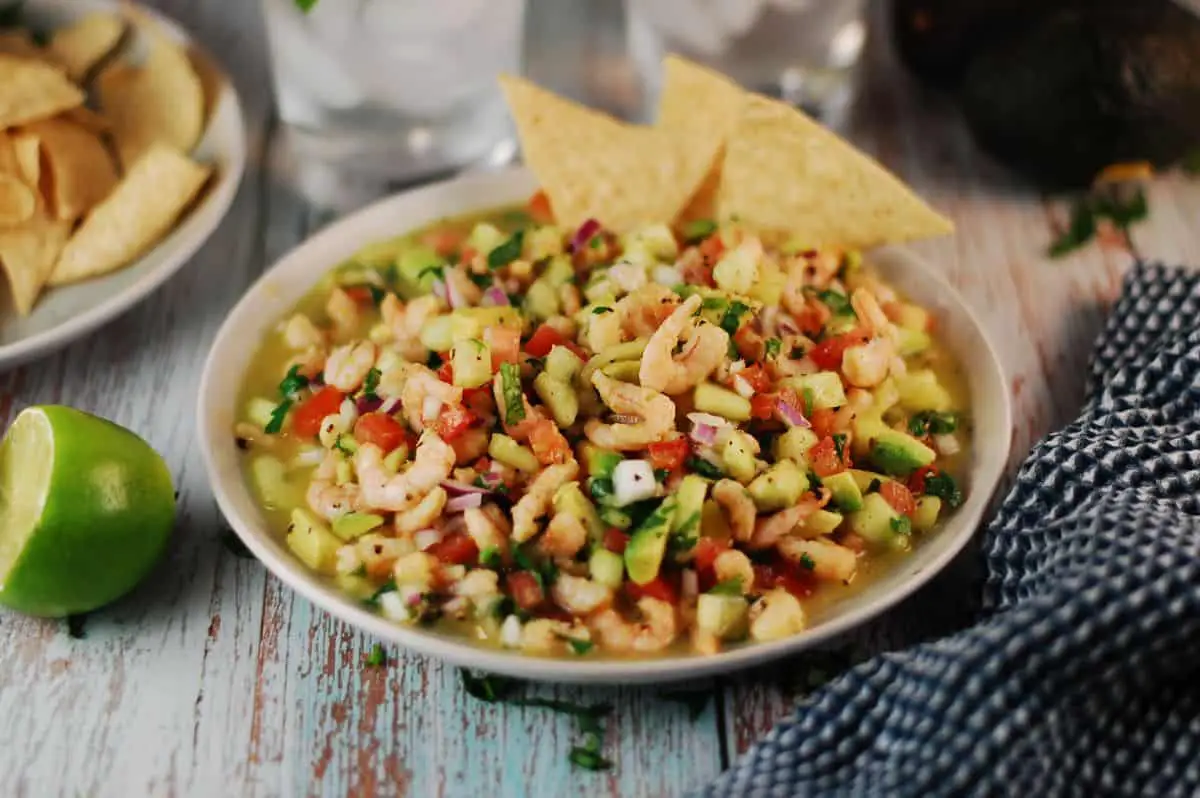 How To Make Ceviche With Shrimp And Crab?
Making Ceviche with Shrimp and Crab is pretty easy. For this, you need 2 pounds of shrimp, eight red tomatoes, one jalapeno, two red onions, one bunch of cilantro, 15 lemons, three avocados, two pieces of garlic, and half a red onion. One bowl of imitation crab is perfect for this dish. Peel the shrimp, add it to 4 cups of water, and add garlic and half an onion to it. Add a pinch of salt, and then let it boil.
In a large bowl, add two diced cucumbers, tomatoes, and onion. Add raw crab cut into pieces, in the same bowl, then add salt, boiled, cut shrimp, jalapeno, lemon juice, cilantro, and mix it all well. This is how to make Ceviche with shrimp and crab. It is simple yet a mouthwatering recipe when you have it chilled.
How To Make Ceviche With Shrimp Mexican Style?
Mexican style Ceviche with Shrimp will help bring out the flavors of the shrimp as soon as you soak it in the lime juice for at least 2-3 hours. Read the recipe below, and you will get to know how to make Mexican-style shrimp.
In a bowl, add one diced tomato, cucumber, onion, chopped parsley, green onions, and cilantro. Now add salt and pepper and mix everything well, and then cover it with plastic wrap. In another bowl, prepare fresh raw shrimp with one tablespoon of minced garlic and half a cup of lime juice. Make sure that the lime juice immerses the shrimp completely. Then cover the shrimp with plastic wrap to ensure there is no space for the air bubbles to form.
After almost one and half hours checking the shrimp, it must be soft and tender to touch. It will remove the chances of rawness from the shrimp.
Now add flavorful ingredients like salt to taste, pepper, cumin seeds grounded, ground coriander seeds, and mix it well. Transfer the shrimp mixture to the veggie bowl and mix it. Finally, add Jalapeno powder for that extra spicy taste. Instead of this, you can also add grounded red chilies or fresh 2-3 green chilies. This is how you can make Ceviche with shrimp, Mexican style.
I'm Pauline, a retired patisserie chef, mother of four and now a full time food blogger! When i'm not cooking i love long walks, reading thriller novels and spending time with my grandkids. Head to my about me page to learn more about the woman behind the food! You can find my Facebook here