Last Updated on 23rd April 2022 by
This classic meal, with different vegetables, traditionally sliced and fried lightly, which is loved by everyone. Anyone can enjoy this simple yet delicious dish with various veggies, corned beef, or ham. You can do it in a slow cooker or with different ingredients. This dish will make every member of the house gather and have a great time with each other.
In this article, I'll give you more than one way to make a New England boiled dinner recipe, an Irish-American dish made on St Patrick's Day.
How to make New England Boiled Dinner with ham
This recipe is served traditionally with boiled potato, cabbages, and carrots all in one pot. Some cook it separately to keep the pure ham stock to make other dishes with that stock.
This dish is excellent in cold places and where snow is expected, and it will be a perfect dish if you want something easy and needs less pinch in the pocket.
If you are confused about what kind of ham is required to make an amazing boiled dinner, then a good-quality boneless ham will be perfect for your dinner.
How to make New England Boiled Dinner with ham
Ingredients
8

pounds

of HamHam boneless

3

peeled

whole onion

8

large

potatoes should be peeled and sliced into halves.

1

whole

cabbage and freshly diced into pieces(medium size)

1

peeled carrot and slice in half

2-4

bay leaves

1

tsp

of black peppercorn

1

tsp

of whole mustard seeds

2-3

cup

Water
Instructions
Before you start with the veggies, you need to keep the ham inside a stockpot and cover it with cold water up to 2 inches from the ham. Then bring it on top of a stove and, using high heat, keep it till it gets into a boiling state which takes up to 45 minutes minimum.

After 45 minutes to 1 hour, turn down the flame to medium and let it boil for some more minutes, and drain it into half of all the water.

Refill it with water again up to 2 inches above the HamHam, and boil it again. The reason behind repeating the process is to make the HamHam less salty.

Another way you can make the HamHam less salty is to refrigerate it overnight by placing it in a pot with water. It needs to be changed many times before the actual cooking time.

Getting back to the pot on the heat, make sure the pot water with HamHam comes to a boil, turn the heat down to the medium level or high-medium level. However, it would be best if you made sure that the liquid is still boiling.

Now, add the peeled onions to the pot and cook it for half an hour( keep one thing in mind per pound of HamHam is equal to ½ hour cooking).

You need to add water slowly to the pot when you notice that the water is getting low. Later add the other ingredients one to two hours before the cooking is done.

Now keep this New England boiled dinner with ham in a beautiful ceramic bowl or large pot and enjoy this delicious and healthy meal with your loved ones.
As promised, allow me to present another recipe for a New England boiled dinner with corned beef and cabbage; sounds yummy!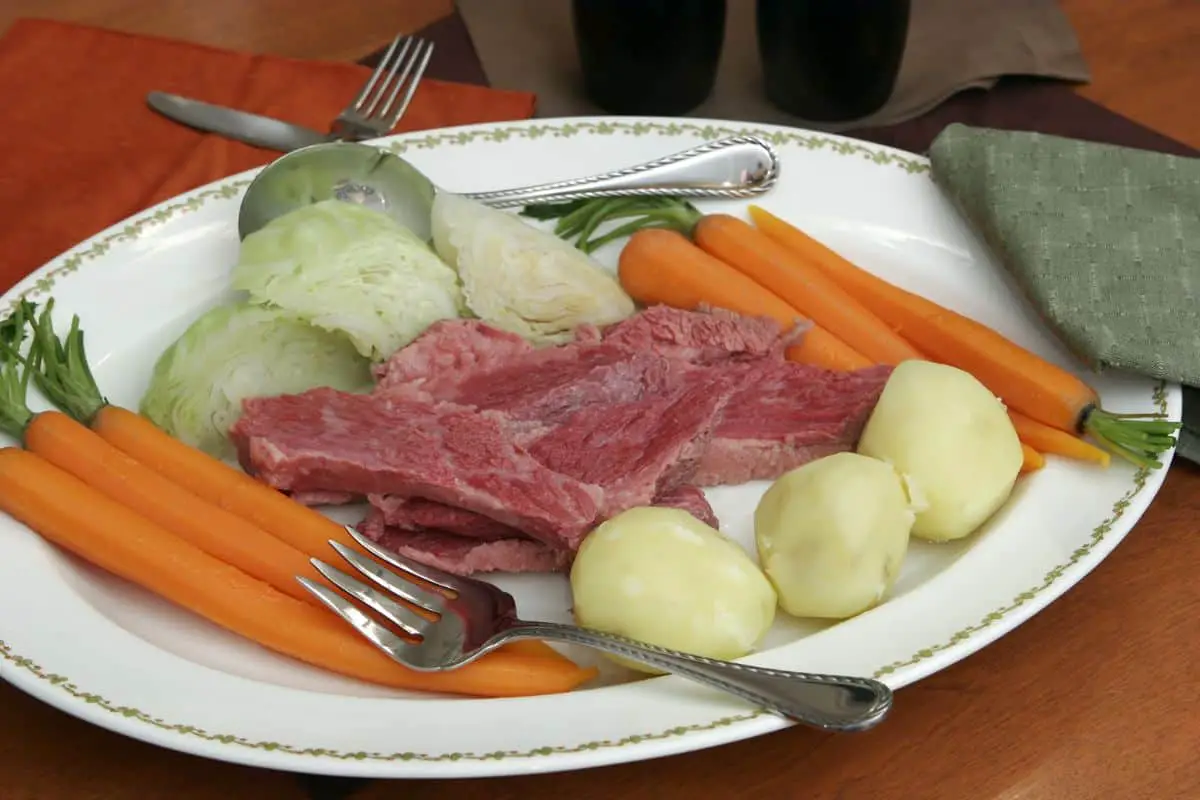 How to make New England boiled corned dinner beef with cabbage
This traditional dish includes many healthy vegetables that will surely turn a boring meal for your kids into something tasty. You can modify this dish with the items present in your house. So there is no need to rush to the grocery at the last minute to make this simple New England boiled corned dinner beef.
You can use carrots, potatoes, turnips, parsnips, and even beets to make this. If it is cooked properly, trust me it can be the best meal. All you need to do is make sure that all the ingredients are boiled and the spices are absorbed.
Before starting, the corned beef needs to be point cut, and you need to buy more as while cooking, some of the meat gets dissolved during boiling and trimming.
How to make New England boiled corned dinner beef with cabbage
Ingredients
10-12

pounds

of corned beef
For spice mixture
10-12

peppercorn

2-3

bay leaves

1

tsp

of mustard whole seeds

1

tsp

of coriander seeds

½

tsp

of spice berries(optional)

1

tsp

of grated ginger

1

small

cinnamon stick for exotic essence

½

tsp

of red chili flakes
Vegetables
Cabbage

Red potato cut in half

Onion peeled and cut into four dices

Turnip

(yellow or white)

Beet

(optional)
Instructions
While cooking the corned beef, the method is a little tricky compared to ham. You need to fill the pot with cold water, place the beef, and bring it to a boiling state.

Make sure to remove the foam while the water is boiling and cover it with a lid. Keep the level of the water steady by adding the water when the level is low.

After 3-3.5 hours, drain the water and keep the beef in a sheet tray. (you can cook the beef one day before, this makes the beef much softer, and later spices can get absorbed )

In that remaining stock, add the vegetables ( potato, turnip, cabbage, and others mentioned in the ingredients section). The main part is mixing all the species ( ginger, coriander mustard seeds, chili flakes, and others mentioned above) in a muslin or a cheesecloth and tying it in a stick or on a long spoon let it hang in the stock. This will make the whole stock flavored enough to make it delicious. Keep in mind to boil it for ten minutes and then remove it.

Add the corned beef on the top of the vegetables, cook it for 2-3 hours more until you notice that the vegetables are cooked properly. Put the lid on for 15 minutes and then serve it in a beautiful bowl.
Conclusion
DIfferent crockpots get heated up differently, so make sure before cooking the recipe. I hope this article helps you to achieve the tasty meal you are waiting for. Do let us know how it went!
I'm Pauline, a retired patisserie chef, mother of four and now a full time food blogger! When i'm not cooking i love long walks, reading thriller novels and spending time with my grandkids. Head to my about me page to learn more about the woman behind the food! You can find my Facebook here