Last Updated on 17th December 2021 by
The French onion soup is just incredible. The taste of beef broth sauteed with caramelized onions and topped up with cheese croutons will make your mouth water. The instant pot French onion soup is a good source of vitamin C, folate, potassium, and other nutrients. Onions have anti-inflammatory properties. So, when you suffer from the cold, you can have this soup. You will immediately feel better.
Well, you must have had French onion soup in restaurants. But you can easily make it at home and have the same taste as you had in a restaurant. You require 40-45 minutes to prepare this recipe in an instant pot.
The best part is you can prepare this recipe any time of the day. It will remain warm in the instant pot. Of course, you have to top it up with cheese during the serving time and put it in the oven until the cheese melts completely.
Below I will share my Instant pot French Onion Soup recipe so that you too can try this at home.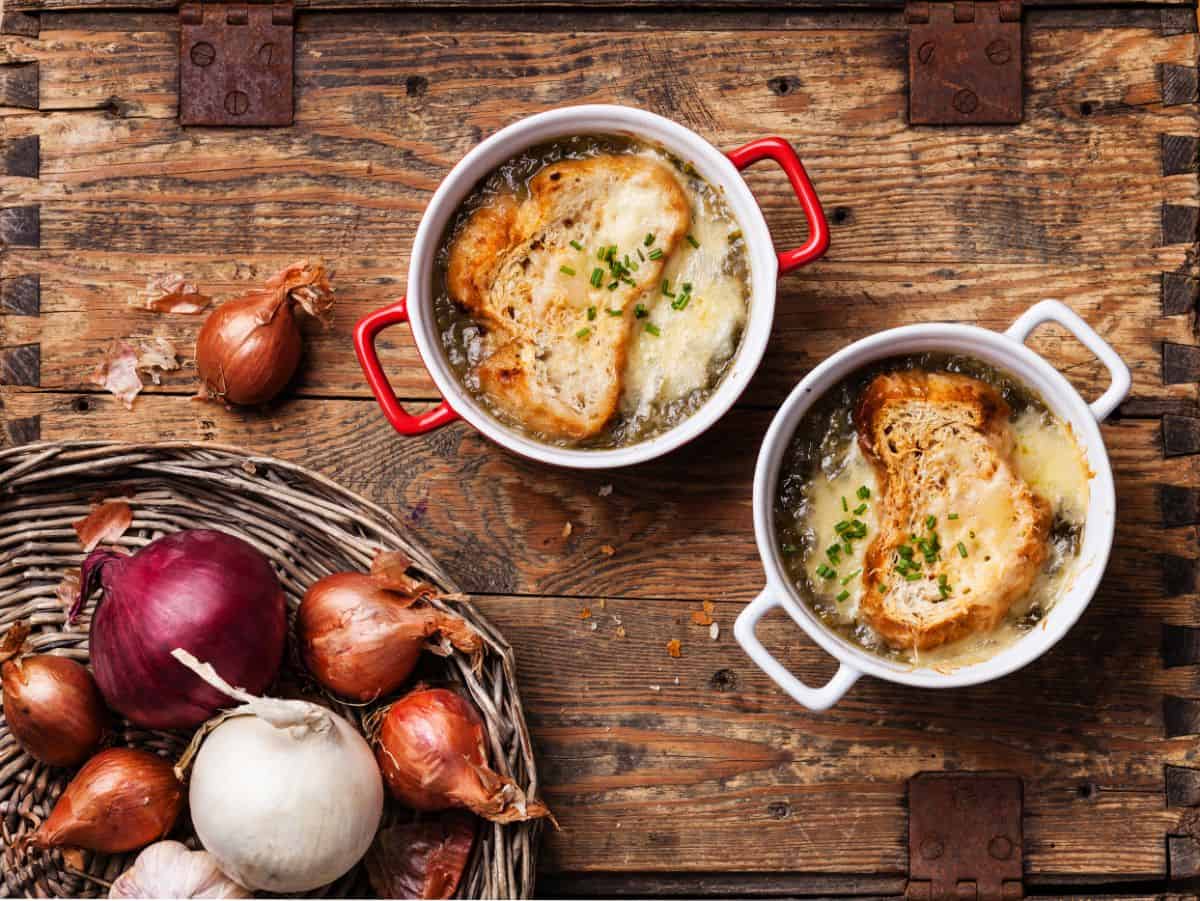 Pot French Onion Soup Recipe
Ingredients
4

Onions

3

tbsp

Butter

1

tbsp

Olive Oil

2

cloves

Garlic

1

Bayleaf

¾

cup

Redwine

4

cups

Beef Stock

Baguette

Worcestershire sauce

Gruyere cheese

Black Pepper

Salt to taste

Brown sugar

2

Sprigs thyme

½

cup

Brandy
Instructions
Saute

The first step is to saute the onions. But for this, you have to first add three tablespoons butter and one tablespoon oil to an instant pot and saute for a few seconds. The butter will melt after sauteing. Then add four sliced onions and two tablespoons of brown sugar to the pot. Next, you need to stir the onion slices until they turn brown. It requires a maximum of 10 to 15 minutes to turn onions into brown color.

You should always caramelize the onions when you are preparing a French onion soup recipe. Caramelized is a process in which the onion slices will turn brown. This process increases the taste of your soup.

Add Garlic And Bayleaf

Now add two cloves of garlic and one bay leaf in the instant pot and saute all together for two minutes.

Add RedWine, Beef Broth, And Brandy

Now it's time to add half a cup of brandy, three fourth cups of red wine, and four cups of warm beef broth to your instant pot. Stir them for one minute.

The beef broth is the main ingredient in French soup. It would be best if you never compromised on the quality of the beef broth. If you are using packaged beef broth, please check its quality before adding it to your soup. It would be best if you remembered that the quality of soup depends on the stock you use in soup.

Time To PressureCook

Add Worcestershire sauce, two sprigs of thyme, salt to taste, and half a teaspoon of black pepper. Then close the lid and pressure cook for 15 minutes. Allow the instant pot to release pressure naturally for 10 minutes, and then you can quickly release the pressure from the pot.

Open The Lid

Now open the lid of your instant pot. Then pour the soup with the help of a spoon in a soup bowl. On top of the soup, you can add gruyere cheese and one slice of baguette. It will increase the taste of your soup. If you are serving kids, then try to grate more cheese and add to the soup. Kids love to eat cheese along with the soup.

Place Soup Bowl In Oven

Now place the soup bowl in the oven for five minutes to broil. Once it broils, the cheese will melt and will turn golden brown.

Ready To Serve

Your soup is now ready to serve. Enjoy the fabulous instant pot French onion soup.
Best Instant Pot French Onion Soup
You can make the best instant pot French onion soup by making a few changes to the above procedure. Let me list it out here.
If you want more flavor in your French onion soup, add bone beef broth, or you may mix chicken and beef broth and add to your soup which will enhance the flavor.

If you are a vegetarian, then use vegetable stock in your soup.

You can use swiss cheese or provolone cheese on top of the soup before placing the bowl in the oven.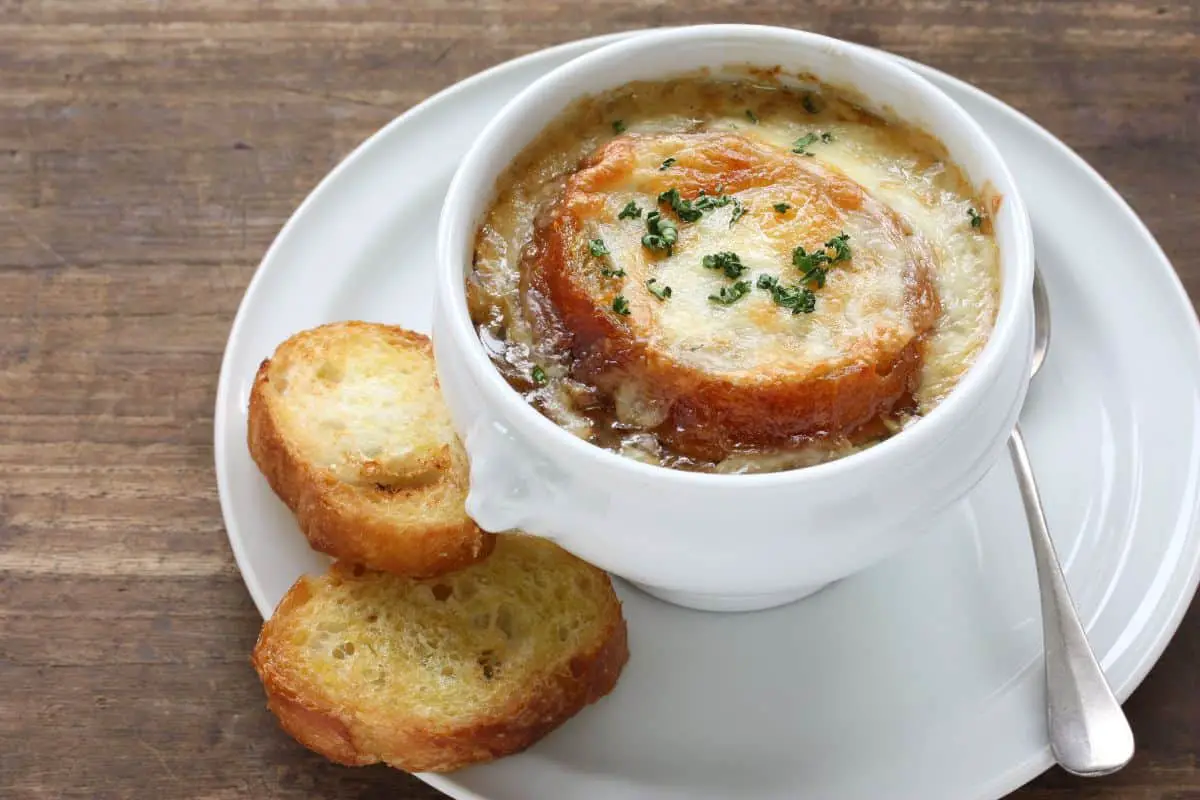 How To Make Vegan French Onion Soup Instant Pot?
Instructions
Peel brown onions and cut them into thin slices.

Add olive oil and ghee into the instant pot.

Press saute on your instant pot. The butter will melt.

Add sliced onion into the instant pot and stir it continuously. Don't allow it to burn.

Add brown sugar or crystal sugar.

Keep mixing until caramelized. It will take around 20 minutes.

Add white wine to the instant pot and continue stirring for another 2-3 minutes.

Add thyme and minced garlic to the pot and stir.

Add salt to taste, bay leaf, and black pepper.

Close the lid of the instant pot and pressure cook for 8 minutes.

Allow for natural release of pressure.

Open the lid and discard the bay leaf and thyme.

Toast the French Bread. A brad slice will also do

Pour the soup into a soup bowl with the help of a spoon.

Add bread and grated cheese to the soup bowl.

Place the soup bowl in the oven and allow it to broil for 3-5 minutes.

The cheese will melt and turn brown.
Why Should You Try French Onion Soup At Home?
#1. Kids favorite
If you have a kid, then they love to have cheese in their soup.
#2. Easy To make
You can prepare French onion soup within a few minutes in the instant pot.
#3. GIves Feeling Of Visiting France
We all love to go to France. But, unfortunately, everyone cannot go. Well, you can try French recipes at home.
The food in France is just delicious. You can make an instant pot French onion soup recipe at home and get the taste of French food without visiting France.
Conclusion
I hope you will try the instant pot French Onion soup recipe at home and serve your family members and guests. They will surely like it.
Please share your experience after trying this recipe at home. You may post photographs. I would love to read about your experience and see pictures.
I'm Pauline, a retired patisserie chef, mother of four and now a full time food blogger! When i'm not cooking i love long walks, reading thriller novels and spending time with my grandkids. Head to my about me page to learn more about the woman behind the food! You can find my Facebook here