Last Updated on 22nd April 2022 by
Meatloaf is the perfect combination of veggies, spices, bread crumbs, and meat. A sparkly red tomato sauce tops it all off. Meatloaf is not a new concept. According to legend, the dish traces its origins to the United States.
However, few versions of the legend claim that the dish has something to do with ancient Rome. Historically, around the turn of the twentieth century, the American Meatloaf's recipes first appeared.
One of the interesting aspects of the beef and pork meatloaf is that it can easily last for as many as three to four days when properly cooked and stored. Freezing in airtight containers can extend the shelf life even further.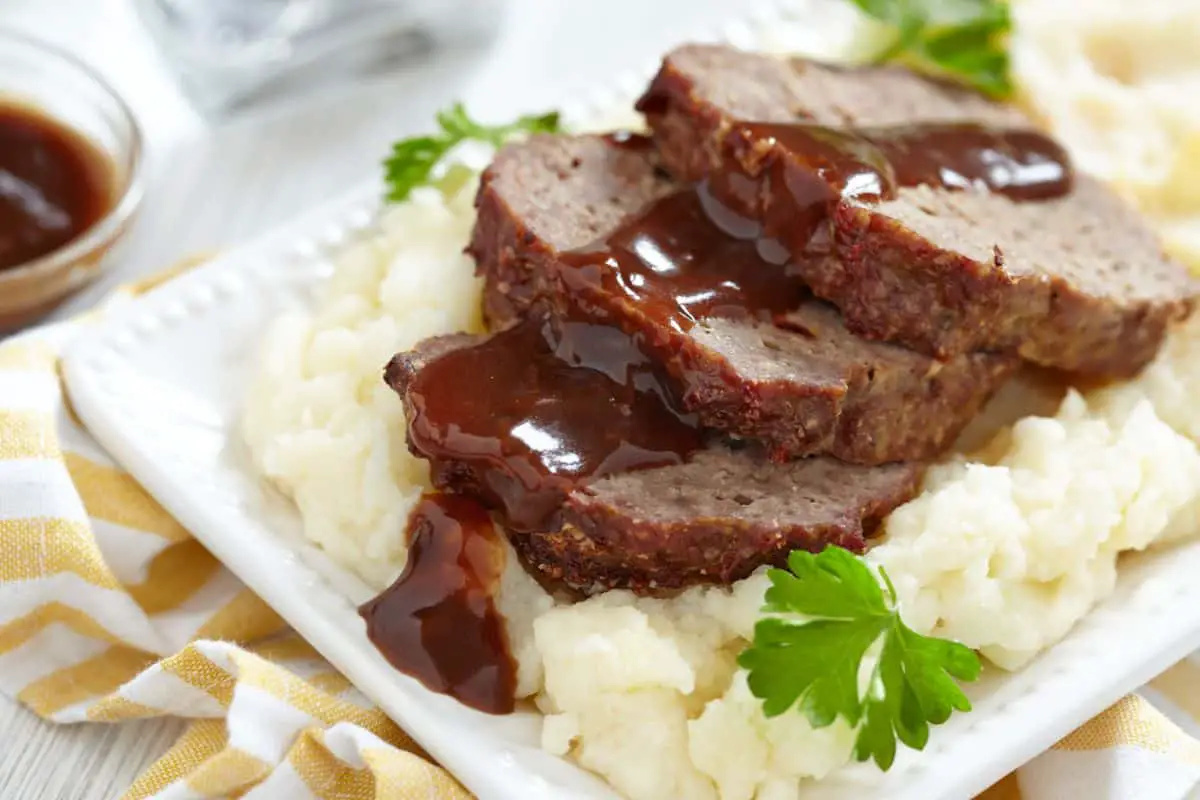 Please keep in mind; there is no one way to prepare the meatloaf. Based on your preferences and taste, you can switch ingredients however you please.
This classic beef and pork meatloaf recipe is complemented well by garlic bread, glazed carrots, mashed potatoes, mac and cheese, broccoli salad, and coleslaw salad.
Today we will look at a beef and pork meatloaf recipe and some meatloaf variations that include ground veal.
Easy Beef And Pork Meatloaf Recipe
This classic meatloaf recipe is a tried and tested favorite. Let us know more about it. This recipe demands 20 minutes of preparation time and 70 minutes to cook. It yields 5 to 6 servings. Let us look at the recipe now.
Ingredients
1

pound

Ground beef

1

pound

ground pork

½

cup

Chopped onions

1

cup

Dried Bread Crumbs

1

spoon

Worcestershire sauce

2

Eggs

½

tsp

Garlic Powder

1

tsp

salt

1

tsp

Pepper

½

tsp

Chilli powder

½

cup

ketchup

¼

tbsp

Light brown sugar

1 ½

tbps

Cider vinegar
Instructions
In a large bowl, add lean ground beef and pork. Now, introduce onions, bread crumbs, egg, ketchup, garlic powder, Worcestershire sauce, salt, and pepper. Mix all the ingredients well.

Prepare the loaf pan by spraying it with cooking spray. Put the mixture into a loaf pan and spread evenly. In case you're wondering, the recommended pan size is 5×9″. For those without a loaf pan or those who don't want to use one. There's no reason to worry. Likewise, we will take care of your needs as well. Line a baking sheet with aluminum foil. Create a loaf-like shape from the meatloaf mixture. That's all. It's that simple.

Now it is time for my favorite part- the sauce. Whisk cider vinegar, light brown sugar, and ketchup. Whisk, whisk until all the ingredients have fully combined. Pour this in the loaf pan over the loaf.

Time to send the pan into the oven! Bake the meatloaf uncovered at 350 degrees for about an hour. Now, check with a meat thermometer poked right into the center of the meatloaf. It should read about 150 degrees F. If it does, you are good to go.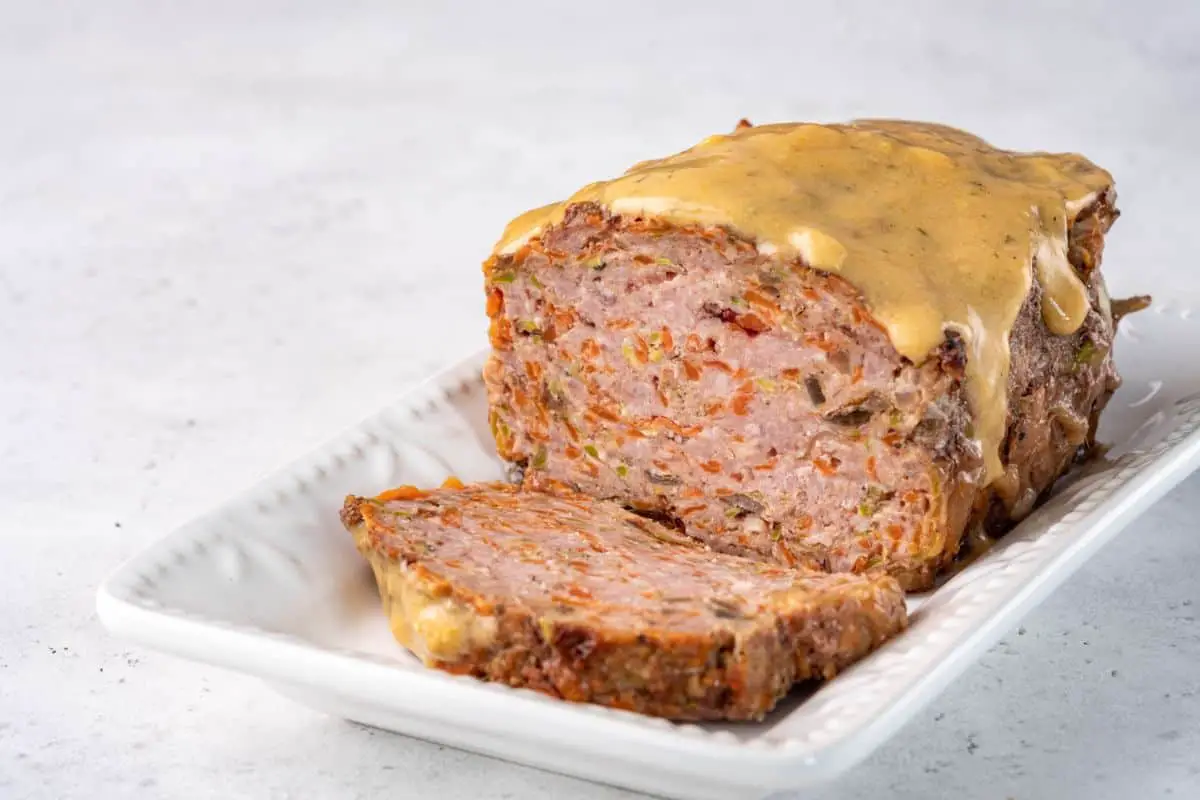 Tips For Making Beef And Pork Meatloaf Taste Great
It's all about the beef. Make sure to use lean ground beef. The taste is improved by it.
In step 1, I only instructed you to mix the ingredients well. But be careful not to overmix the meatloaf. Your next question would be, why? Well, over mixing can result in a dense loaf which is not so good to taste. Once your meatloaf has been removed from the oven, don't slice it immediately. A situation like this may lead to an utterly undesirable outcome. The meatloaf might fall apart. A meatloaf that is made with fewer bread crumbs will not hold well. As a result, it will fall off the plate. Give the meatloaf time to hold its shape.
Now that I have mentioned breadcrumbs, make sure you use fresh breadcrumbs. Binding the meatloaf is something they do better than anyone else.
You can follow or not follow this recommendation; it is your choice. There are a thousand recipes for meatloaf on the internet. Some recipes ask you to use such a variety of ingredients that the meatloaf tastes completely different. The only thing I am concerned about is that the meatloaf should actually taste like one. Hence, do not just blindly follow such recipes.
Ground Pork Meatloaf Recipe
These are the kind of meals that kids love. As is quite predictable from the name, you don't need beef or veal for this pork meatloaf recipe. From the previous recipe, omit the beef and use only the ground pork.
The subsequent steps must be exactly performed as described. Just in case you do not feel like whisking your own glaze, you can also use your favorite canned pasta sauce instead. It will accomplish the same task.
Some corners of the world also recommend adding green chile and chorizo to garnish the meatloaf. Depending on your preferences, you can either choose your garnish or use only the tomato glaze.
Meatloaf Recipe with Beef Pork and Veal
Here's another delicious recipe: Beef Veal Pork Meatloaf. Combine ground beef, pork, and veal. The veal adds additional texture and flavor to the dish. Heat some olive oil in a pan. Then add the chopped onions and chopped garlic and cook for five minutes, or until the color changes. Let this cool. Then, add eggs, milk, hot sauce, bread crumbs, thyme, parsley, salt, pepper, and ground pork, beef, and veal to the bowl. Ensure that the ingredients are thoroughly mixed. Continue the recipe as written from Step 3 onward. There you have it, another delicious meatloaf recipe.
Moreover, when meatloaf mixes are mentioned, you should know that they refer to meats such as beef, pork, and veal, which is what we're using in this recipe.
I'm Pauline, a retired patisserie chef, mother of four and now a full time food blogger! When i'm not cooking i love long walks, reading thriller novels and spending time with my grandkids. Head to my about me page to learn more about the woman behind the food! You can find my Facebook here