Last Updated on 21st April 2022 by
If you know about Mexican culture, you are familiar with this Mexican red hot sauce recipe. This recipe is created with dried spicy ancho chilies and can use other chilies famous in Mexican culture.
The best part, it is effortless to make. It just takes 30 minutes of your entire day. This incredible and tasteful dish can steal the hearts of your loved ones.
That is why I will share the recipe with you so that you can cook it quickly without any problems.
How To Make An Original Mexican Red Sauce Recipe At Home?
Now, there are various ways one can make this authentic Mexican red sauce recipe. Some of those items are the Mexican red enchilada sauce recipe, pork in red sauce Mexican recipe, and so much more. Before making those, we need to know how to make the authentic red chili sauce.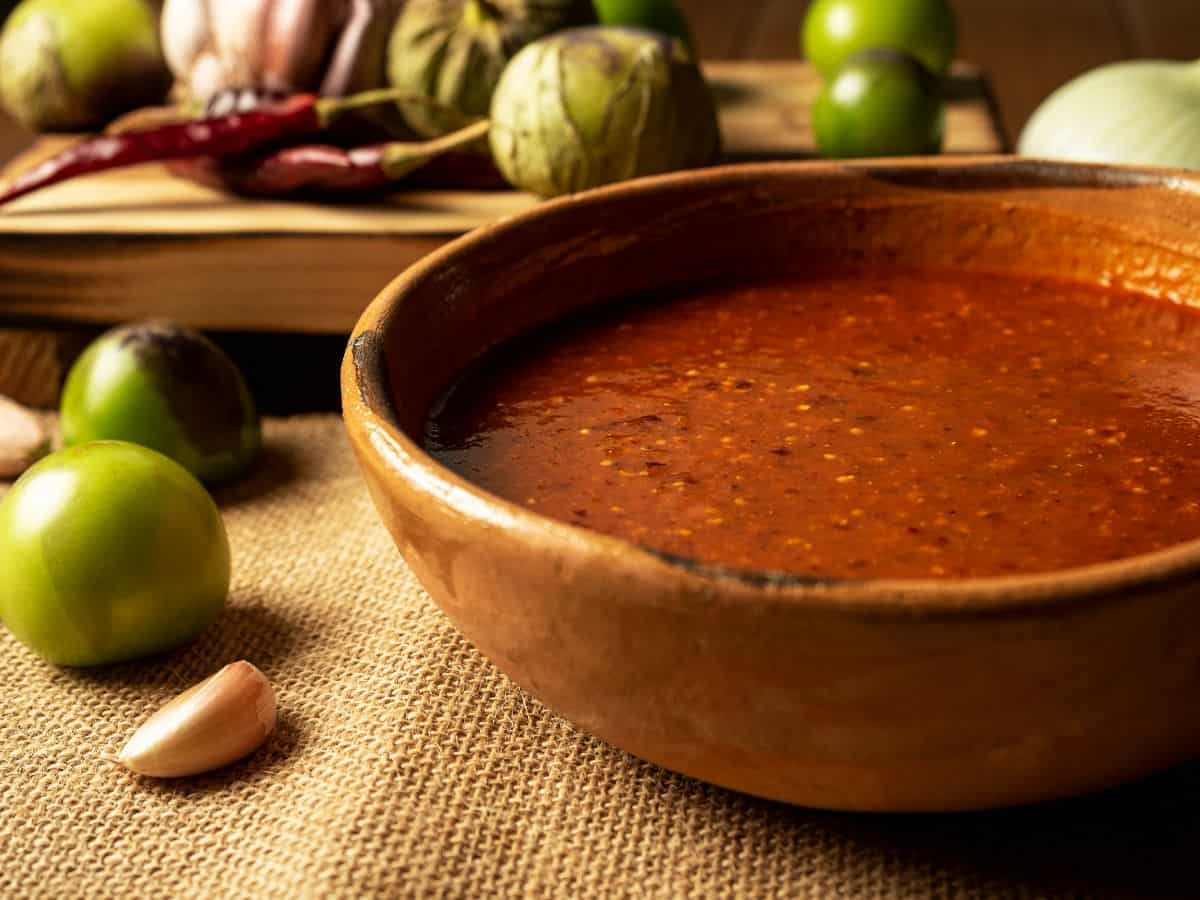 In Mexican culture, there are different ways to make this sauce with various types of chilies. But I will provide you with the instructions for the basic red chile sauce, which not only tastes a burst of flavor but is also quick to cook.
Original Mexican Red Sauce Recipe At Home Recipe
Equipment
Conical strainer

Pestle

Spoon or spatula

Mesh bag or muslin cloth(for better and thicker sauce)
Ingredients
Enchilada Chiles

Water(2-3 cups)

Garlic

Flour

Salt
Instructions
For making this delicious and mildly authentic Mexican red enchilada sauce recipe, you need to prepare the chilies first. All you need to do is tear the stem off, take out all the seeds, and take all the dried veins.

You need to make the chilies soft; for that, take a pot and fill it with water( you need to fill the pot till the chile gets soaked but not too much). Boil the water on a high heat flame, and after 2 minutes, bring the heat down to low and simmer it for 15-20 minutes till it gets soft.

After softening the chiles, you need them to cool before putting them in the blender. It will prevent the blender from building up steam which can cause accidents.

Take note: To be safe while you make the sauce is to work in batches not to overheat the blender.

The next step is to take your chilies, separate them into batches, and put them in the blender. Add water to half of the blender and mix it. Then add flour, garlic, and salt according to your preferences. Blend the mixture till you find it smooth enough to run through a filter.

Put the smooth mixture in a conical strainer or the mesh back (muslin cloth for better results). With the help of a spatula or spoon, push down the mix so that the smooth mixture passes the filter.

And your fantastic sauce is ready to serve with taco or burrito anyway you like; I can assure you the guests will love it!
How To Make The Recipe For Mexican Chicken In Red Sauce?
Sometimes you have to make meals for your guests as they come unexpectedly. And balancing between your guests and the work in the kitchen becomes quite a tough job.
I have a solution for this, Mexican chicken in red sauce recipe, which needs just six essential ingredients, so you don't have to rush to the grocery store.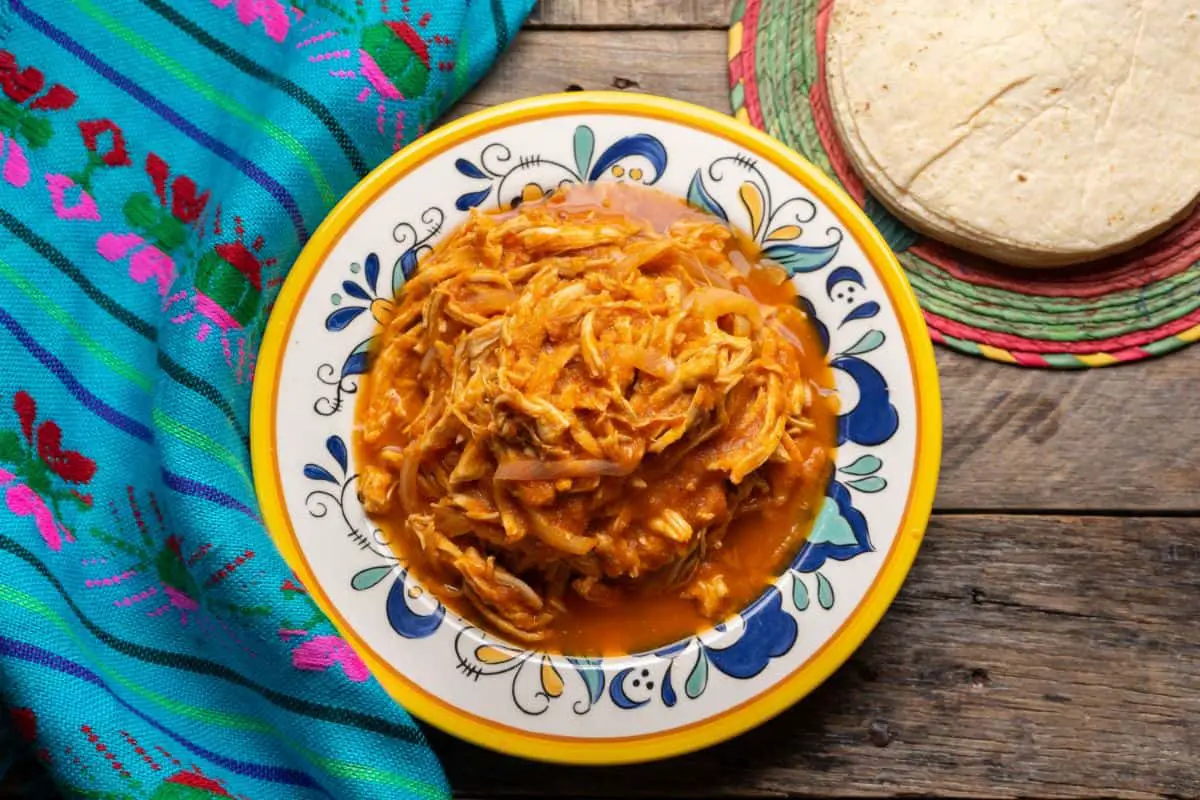 It is a winning meal as a starter or even as a main course. It influences Spanish, African, and Asian culture. You can also eat steamed rice and bread and use the leftover sauce mixture as a taco sauce or burrito sauce. So let's get started!
Mexican Chicken In Red Sauce Recipe
Ingredients
Boneless chicken breasts

Onions (white)

Large Tomatoes

Garlic pods according to taste

Chicken broth

Mexican Chiles

Salt according to taste
Instructions
As mentioned above, you need to do the same this time with chilies. Please take all the seeds out, dried out the veins, and soak them in the boiling water. Keep it aside after 15 minutes of boiling and let it be cool.

Take a pan, add some oil to it, and fry the boneless chicken until it gets a bit brown. After 3-4 minutes of frying, take the pieces out and cut them into long strips, and keep them at the side to cool down. This will helps the breast to absorb the spices later and gives a better taste.

Add the onions and tomatoes( before adding them, cut them into small dices or in halves) and cook them till you get a transparent texture of the onions. It means you can go for the next step, frying the tomatoes until the skin gets wrinkled.

Now take all the ingredients, put them in the blender, add garlic and soft chilies and make a smooth paste. Then take that mixture and strain in an oversized conical filter to get a fine blend. Add the chicken and the stock and mix it with the other ingredients until you get the puree's smooth texture.

You can also add some oil according to the taste and a touch of tomato and chili paste and a little more chicken stock if it remains. Make sure you make the pure thick enough to go with your rice or bread.

Before putting off the gas stove, seasoned it with oregano and green spring onions for garnishing. Serve it in a pot or rectangular serve plate for better presentation, and there you go!
Conclusion
Make sure you check the chiles properly before taking them home. I would recommend making the mixture a night before to get a spicy and tangy taste while cooking the meal. You can use different types of chilies other than Enchiladas, like tamales and Guajillos.
I hope this article helps you make the perfect meal for your family and guests, do give us feedback in the comment section about how it went!
I'm Pauline, a retired patisserie chef, mother of four and now a full time food blogger! When i'm not cooking i love long walks, reading thriller novels and spending time with my grandkids. Head to my about me page to learn more about the woman behind the food! You can find my Facebook here