Last Updated on 22nd June 2023 by
Beef hash gained popularity in Europe and the US after the second world war when rationing came into effect, and the meat was not available. The word "hash" is derived from the French word "Hacher," which means to chop. People created hash from chopped meat, onions, potatoes, and anything else that was available.
For the baby boomer generation, talking about the old-fashioned roast beef recipe can take many people back to their childhood memories. This dish will surely make you remember the stories your grandmother used to tell around the fire on those cold winter nights. It is also a dish that you can use when you need an easy-to-make, classic, and old-fashioned meal.
Today, I will share three recipes to make an old-fashioned roast beef hash that is sure to make your mouth water. First, we will discuss the recipe of old-fashioned roast beef with a recipe using leftover roast.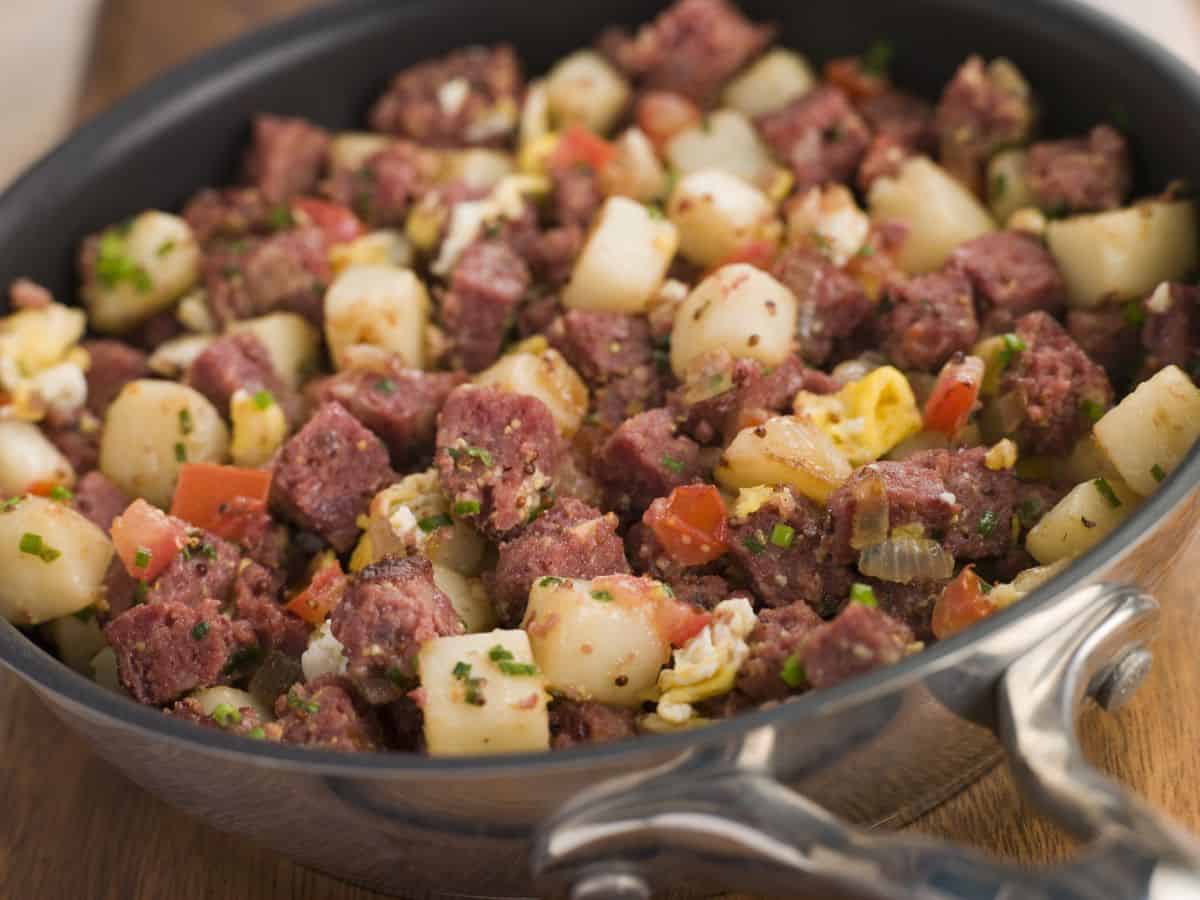 How To Make Old Fashioned Roasted Beef Hash Using Leftover Beef And Eggs
We can use leftover roasted beef to make this fast and easy recipe in minutes for breakfast in this recipe. You just need some vegetables to make the hash a little healthier and tastier. It is a very easy recipe.
With no more wasting of time, let's begin the preparation. Let us start with the ingredient.
Ingredients
Leftover roasted beef, shredded

½

cup

reduced beef broth

1

tbsp

cornstarch

1 Tbsp

tbsp

olive oil

2

medium

potatoes,

peeled and cubed

1

onion,

chopped

1

bell pepper,

chopped.

1

clove garlic,

minced

salt and pepper as per your taste
Instructions
Take a pan, put some oil and let it heat until it gets heated.

Add the peeled and cubed potatoes to it and saute them until they turn lightish brown.

Now, add the chopped onion and finely chopped and cubed bell pepper to it and saute.

In another pan, put the beef broth and add one tablespoon of cornstarch and mix it until it gets consistent and no lumps are left.

Boil the beef broth until it gets reduced to half.

Now, add the leftover roasted beef to the sauteed vegetables.

Add a minced clove of garlic followed by the boiled reduced beef broth with cornstarch.

Add salt and pepper according to taste.

Let it simmer until the leftover roasted beef soaks the salt.

Make a classic omelet and serve the old-fashioned roast beef hash with the eggs.
Notes
This is a very easy and classic recipe for a roast beef hash with eggs. Now, We will discuss another recipe of canned roast beef hash.
How To Make Canned Roast Beef Hash
The ingredients needed for this recipe are very few, making it a very easy recipe to make. The best part about this recipe is that it uses canned beef, which saves you from the hassle of marinating the beef.
Ingredients
1

can of Roast Beef Hash

1

tbsp

of butter

½

tsp

of salt

½

tsp

of ground black pepper

or any other spice you prefer
Instructions
Take a pan, add one tablespoon of butter to it and let it melt.

Once the butter melts, add the canned beef

Add half a tablespoon of salt and black pepper and mix it carefully.

Let the mixer simmer for the next four minutes on medium flame.
Now, it is time to share the last but not the least baked roast beef hash recipe.
How To Make Baked Roast Beef Hash
This recipe is for those who want a healthier roasted beef hash but do not wish to fry it and bake it. Here is a recipe of your choice made to taste just like the memories. Here we will discuss the recipe of baked, roasted beef hash. Let's start.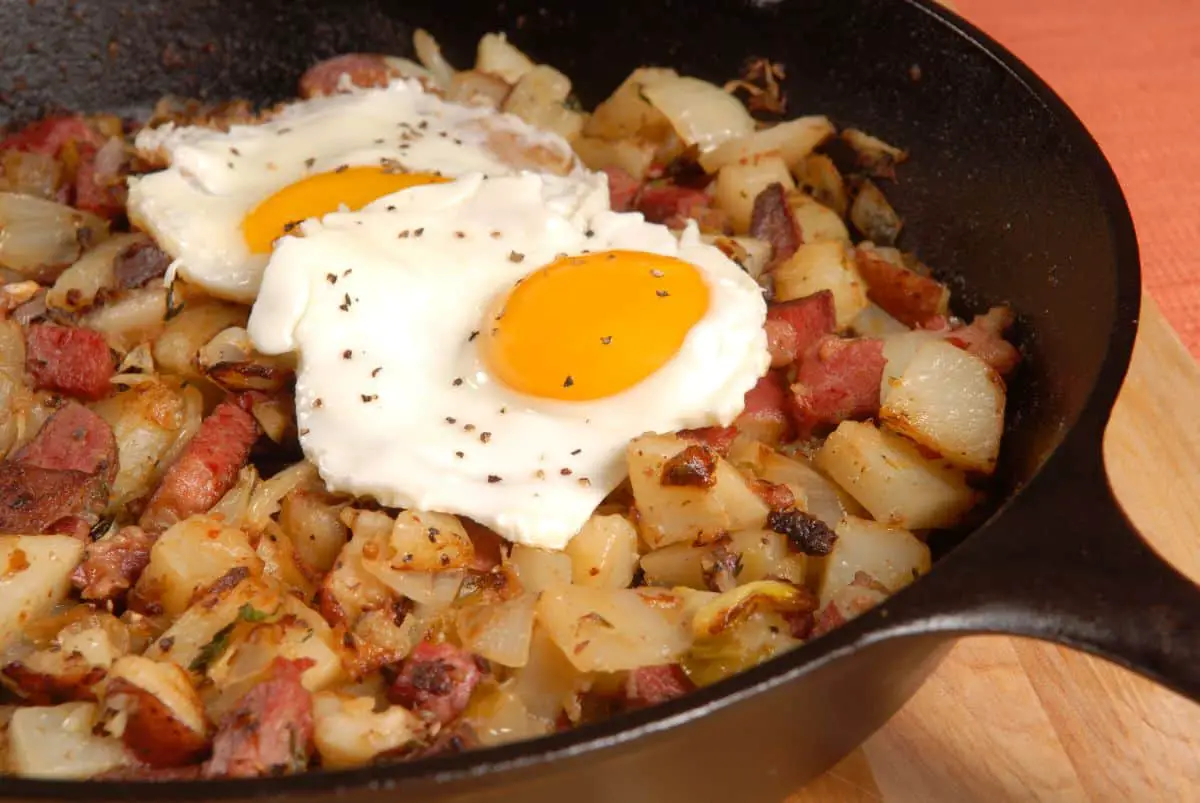 Baked Roast Beef Hash Recipe
Ingredients
2

large

baking potatoes

( peeled and chopped)

2

medium

onions

(finely chopped)

1

green bell pepper

(chopped)

2

ribs celery

3

cups

beef

(cooked, chopped)

1

tsp

dry mustard

1

tsp

salt

1

tsp

garlic powder

¼

tsp

ground thyme

1

cup

beef broth
Instructions
Turn the oven on and preheat it to 375 degrees.

Now, let's begin with greasing. Grease a two and a half quart shallow baking pan with butter.

In a bowl, add the chopped potatoes, onion, bell pepper, chopped beef, followed by all the spices.

Now add the beef broth and mix everything in the bowl well. Now pack the mixture into a cup and pack that in the greased baking pan.

Cover the baking pan with aluminum foil tightly and bake it for 30-45 minutes in the preheated oven.
Notes
Woohoo!! You have done a great job, and your tasty and hot-baked, roasted beef hash is ready. Enjoy it with tortilla or bread and also share this great recipe with others. Also, do not forget to let us know how wonderful it was or how easy it was for you to make!
Conclusion
We can conclude that it is very easy to make a roast beef hash with the least ingredients from these recipes. It can be made with leftover roasted beef or canned beef, and it can be easily clubbed with an omelet or a Tortilla or bread.
Roasted beef hash can be made by frying or baking, as shown in the above recipes. It's your call which method you use. With this said, there are some tips that you can follow to make your roasted beef hash even tastier. These tips are included below :
I hope you liked our recipes and will give us the chance to serve you some amazing recipes in the best ways. For more amazing recipes of this kind, stay tuned to our page!
Happy Cooking!
FAQs
What's the best cut of roast beef for making hash?
You can use any leftover roast beef to make hash, but cuts like chuck roast or round roast can be, particularly flavorful and tender. If you don't have leftovers and are making from scratch, a cheaper cut like chuck will do just fine, as you will cook it down and then fry it.
Can I prepare the Old Fashioned Roast Beef Hash ahead of time?
Yes, you can prepare roast beef hash ahead of time. You can cook the mixture of beef, potatoes, onions, and other vegetables, then let it cool and store it in the refrigerator. When you're ready to serve it, just reheat it on the stove until it's hot and crispy on the outside.
What can I serve with the Old Fashioned Roast Beef Hash for a complete meal?
Roast beef hash can be a complete meal in itself, but it's often served with eggs for breakfast or brunch. For dinner, you might want to serve it with a simple green salad and a side of crusty bread or rolls.
How can I adapt this roast beef hash recipe for different dietary needs or restrictions?
If you need to make the dish vegetarian, you can replace the beef with a plant-based substitute or add more hearty vegetables like mushrooms. For a lower-carb version, swap out the potatoes for diced cauliflower. If you're cooking for someone who's gluten-free, just make sure any broth or other added ingredients are gluten-free.
What's the best way to store and reheat leftover roast beef hash?
Store leftover roast beef hash in an airtight container in the refrigerator for up to 3-4 days. To reheat, you can use the microwave, but for best results, heat it up in a skillet over medium heat, which will help maintain the dish's crispy texture. If the hash has been frozen, thaw it in the refrigerator overnight before reheating.
I'm Pauline, a retired patisserie chef, mother of four and now a full time food blogger! When i'm not cooking i love long walks, reading thriller novels and spending time with my grandkids. Head to my about me page to learn more about the woman behind the food! You can find my Facebook here