Last Updated on 16th September 2022 by Pauline Loughlin
You can enjoy a variety of seafood today. But the origins of the crab bisque go back to the mid 20th century in Singapore. The first dish consisted of stir-fried crabs. The dish popped on the top 50 world's most delicious food charts in the world. And you know we are a big fan of soups and salads at I Really Like Food.
Some of the popular tv shows also showcased the authenticity of Crab bisque. Many restaurants include the dish in their cuisines. Lemonades, cocktails, mojitos, fruit drinks, blended scotch, and white wines go with the dish.
Best Crab Bisque Recipe Ever
Crab is the best possible dietary source of protein. Since it houses a high-quality protein, people of different ages can consume crab. The protein content inside a crab weighs as much as 100 grams of meat. It is deficient in connective tissues, which is why it is easily digested.
Like fish, crab does contain a high amount of omega-3 polyunsaturated acids. With a lower fat content, it is rich in vitamins and minerals as well. Crabs aid heart diseases and improve memory power.
One bowl of crab bisque contains selenium. It prevents any cell damage. 100 grams of crab meat contain selenium which is three times more than that of the fish and 12 times more than beef.
It contains a lot of Vitamin B12; Crabs have high vitamin consistency. The vitamins are extremely soluble in water. Thus, they are to be included in everyday meals. Crabmeat also has high mineral content. Minerals present in crabs are copper and phosphorus, which are 30 times more than that of cod and 56 times greater than salmon, fish, and beef.
For making a crazy fat loss crab dish, check out the best crab bisque recipe ever. With some simple and easy steps, you will have your bisque ready in minutes.
The key ingredients for the recipe are listed below.
Best Crab Bisque Recipe Ever
Ingredients
First, you need to make the stock for the recipe needs:
4 to 6

cups

Crab shells

1

chop

Carrot

1

Yellow onion

1

Celery stalk

chopped or diced

2

spring

Thyme

Coriander powder

10-15

whole

Peppercorns

1

Bay leaf

2

tbsp

Tomato sauce

½

cup

White wine

Parsley springs

2

tbsp

Salt
For the thick soup, you will need:
Unsalted butter – 2 tablespoons

¾

cup

White wine

¼

cup

White rice

2

tbsp

Roasted Garlic

(mashed)

1 ¼

pound

Dungeness Crab Meat (cooked)

½

tsp

Salt

⅛

tsp

Pepper

¼

cup

All-purpose flour

3

cups

Milk

1 ¼

cup

Heavy cream

2

tbsp

Tomato sauce

⅓

cup

Shallots

(chopped)

Oyster crackers
Instructions
Start by making the stock. For this, you will need to wash the shells to remove any dirt and debris. If you have larger pieces, then break them into smaller ones. The easiest way is to put the pieces in a ziplock bag and use a rolling pin to break them.

Preheat your oven to 400 degrees Fahrenheit. Take a large skillet. Add the shells and heat them inside the oven to extract more flavors of the crab.

You will need to cover the shells and simmer them for an hour. Transfer the shells in a large stockpot with an inch of water. Heat the shells on medium to high. If you spot bubbles of air rising to the surface, lower the heat to medium. Remember not to boil the water. Let it foam.

Now, add the carrots, onion, thyme, bay leaves, parsley, celery, tomato paste, wine, and peppercorns to the stock.

Simmer the stock on medium heat and then lower the heat to simmer for another 30 minutes. Some foam might develop at this stage. Skim off the extra foam.

Add salt and turn off the heat.

Separate the larger solids from the stock using a fine-meshed or spider meshed strainer. You have a bowl full of stock right before you for later use. Self-prepared stock adds some extra flavor to the bisque.

Now, in a 6-quart saucepan, melt the butter over a medium flame. Add the shallots. Cook them until they are light brown. This step will take about 5 to 6 minutes.

To this, pour wine, rice, stock, and tomato paste. Simmer the mixture for 25 minutes on medium heat and reduce the heat to continue. Remove the pan and set it aside to cool.

Add two-thirds of the meat to the soup and blend all of them in batches. Puree the soup evenly. Transfer it back to the pan.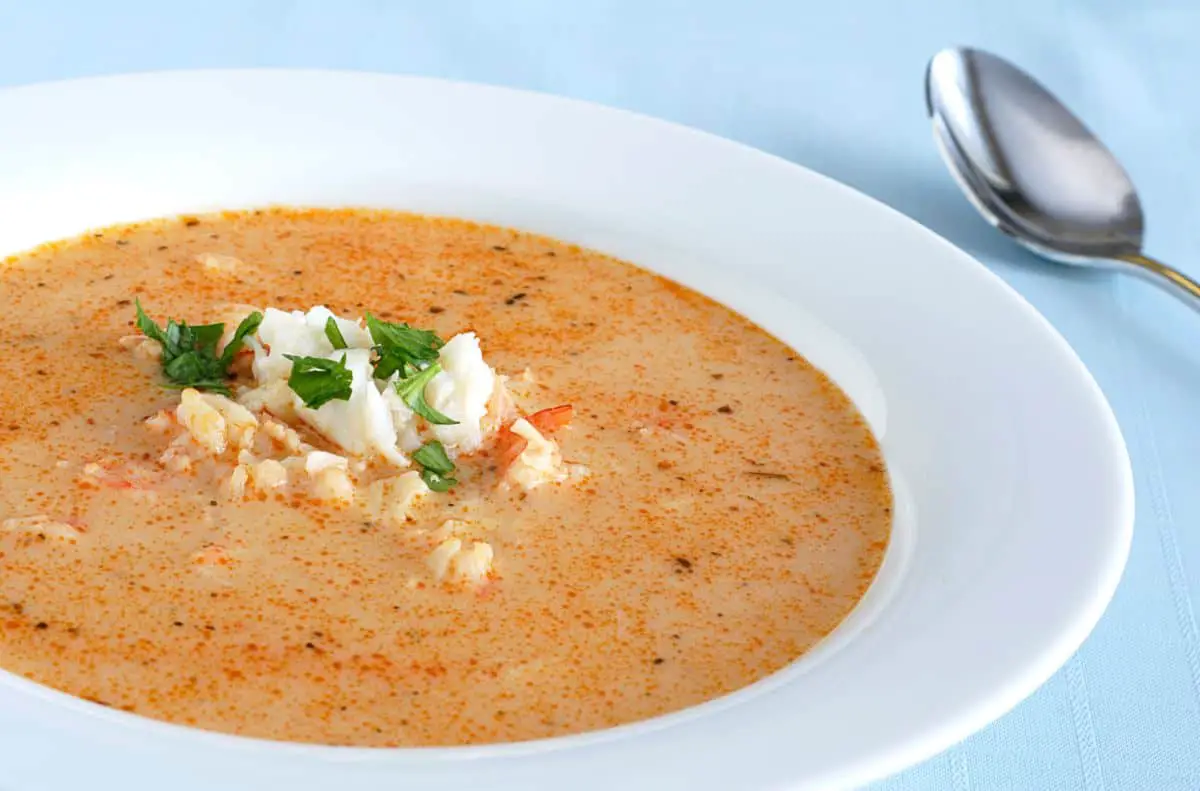 Tips For Making Crab Bisque Recipe Great
After your bisque is ready, add some oregano or pepper flakes to give it a classy look. You can also decorate the dish with three bay leaves by placing them at the center of the soup. You can also pair the dish with some oyster crackers. Oyster crackers make a good side dish.
You can also serve the bisque cold with some crusty French loaf bread slices. You can serve the dish with some salad for a light course meal for hotter months since the soup is rich. The salads balance your diet with the heavy soup. This makes your lunch and dinner easy and quick.
The total estimated time for the recipe is less than 45 minutes. If you want a heavy meal, You can add all-purpose flour to the soup while simmering and thickening it. Other dishes paired with the bisque are pasta, Crab cakes, beef, and some maple-glazed roasted turkey.
Alternative Recipes
There are many variations that you can include in the recipe. This article includes the best corn and crab bisque recipe ever.
Heat the oil in a saucepan or a Dutch oven. Add flour in batches, stirring the mixture until it becomes brown. Cook the vegetables and herbs until tender (4 minutes). Add corn, milk, cream, and bay leaves and simmer for 30 minutes. Your dish is ready to serve.
You can also add shrimp or lobster along with the crab pieces to enhance the taste of the seafood.
Enjoy your lunch and dinner with this restaurant-style low-fat seafood recipe at home.
I'm Pauline, a retired patisserie chef, mother of four and now a full time food blogger! When i'm not cooking i love long walks, reading thriller novels and spending time with my grandkids. Head to my about me page to learn more about the woman behind the food! You can find my Facebook here