Last Updated on 18th July 2023 by
In the face of many lifestyle diseases, eating healthy meals is the way out. But this does not mean you overlook delicious dishes. Soups and salads are the future.
There are many scrumptious foods out there that nutritionists recommend due to their nutrient value to the body. Such foods are essential and bolster your health and general well-being. A soup and salad lunch is a great way to fuel your day and if you are out on the street and looking for some street food soup then you may want to try searching for soup and salad near me.
What makes a soup appetizing and why the salad
Of course, soup and salad dishes can be eaten at any time of the day. You can enjoy them at lunch in a bid to improve your metabolism and also benefit from the fibre contents.
When opting for soup and salad dishes, have light accompaniments such as bread, scones, or a sandwich to keep you full and satisfied.
If you are trying to maintain a healthy diet, focus on salad and soup for your lunch, below are some of the dishes I recommend you try out.
#1 Chicken Noodle and Salad
If you are into Chinese food, then the chicken noodle and salad will impress you. It consists of a bowl of noodles and chicken soup with some pieces of skinless chicken.
For the salad, you can have lettuce and cherry tomatoes plus maybe some soy sauce for garnishing.
#2 Bean Soup and Potato Salad
For a vegetarian diet and getting the best nutrition, then a bowl of bean soup with a side of potato salad will do. Baked beans do the trick perfectly and for the potato salad, have some baked potato chips, lettuce or cabbage, and onion rings. Some lemon on juice on the salad can add a tangy taste as well.
Grab the recipe from https://www.tasteofhome.com/recipes/warm-green-bean-potato-salad/
#3 Smoked Beef Broth and Salsa
Smoked beef broth has a unique smoky taste that you can enjoy if you are into exotic meals. Top it up with a plate of freshly prepared salsa as salad comprising ripe tomatoes, onions, and parsley with soy sauce or lemon juice.
Also, include scorns or French fries for a complete meal.
#4 Kidney Bean, Guacamole Soup, and Salad Lunch Idea
Kidney bean soup is one of the most versatile soups that you can have in your bowl as it pairs perfectly with a variety of salads. Coupled with guacamole, another versatile salad, you are in for a culinary delight for your lunch.
Have buttered brown bread with it, and you are well satisfied after a healthy meal.
Grab this Kidney bean soup recipe from https://www.macheesmo.com/kidney-bean-soup/
#5 Fish Chowder With Spicy Salad
If you are a fan of seafood, then go for this creamy and fulfilling meal of fish chowder and spicy salad. For the cream in the chowder, coconut cream can do with some sesame seeds atop.
Have some chilies, garlic, beets, baby carrots and parsley for the spicy salad complete with Worcestershire or fish sauce. A little mustard can also do, depending on your tolerance for spices.
#6 Lobster Bisque With Lettuce and Tomato Salad
Another soup and salad lunch idea if you love seafood is the lobster bisque with lettuce and tomato salad. The bisque is the strained broth from the lobster and can have spices such as chilli or soy sauce to improve its taste.
Have fresh lettuce and tomatoes with coriander garnished with lemon juice. You can also grab our best crab bisque recipe.
#7 Black Sesame Soup With Steamed Kale
To tease your taste buds, you can have the black sesame soup with steamed kale for your lunch. It is a simple meal that can do for lunch or late breakfast.
The kale should be steamed a little and have some onion and tomato slices. The meal goes well with a cornbread accompaniment.
#8 Pig Trotter Soup with Bean Salad
If you love pork, the pig trotter soup is a suitable alternative for your lunch together with bean salad. Baked beans, some steamed French beans, and avocado complete the bean salad.
A bowl of rice or mashed potatoes can finish up this delightful soup and salad meal. You can choose a spicy bowl of trotter soup if you prefer it that way.
#9 Creamy Cauliflower Soup with Salsa
Creamy soups are very nutritious and satisfying at the same time. For such soups, a tangy salad is a proper accompaniment. In this case, salsa garnished generously with lemon juice does the trick.
Ensure the salsa is not overdone with too many ingredients or else it will be overwhelming. Some tomatoes and onions will do fine.
#10 Caramel Citrus Soup With Tropical Fruit Salad
The caramel citrus soup provides a tangy taste owing to the caramel and citrus components. It has some base from vegetable stock such as kale. The tropical fruit salad is an excellent way to complete the soup.
You can have some mango, pineapple, apples and some sour or plain yogurt dressing for this hearty meal.
#11 Mushroom Soup With Green Salad
Mushroom soup is one of the most underrated bowls form the kitchen that you need to try out. It is quite thick, especially when you add sour cream. Green salad is any salad with lettuce and is a suitable side dish for the soup.
Add some tomato slices to make the meal more delicious. Grab our Mushroom soup recipe here.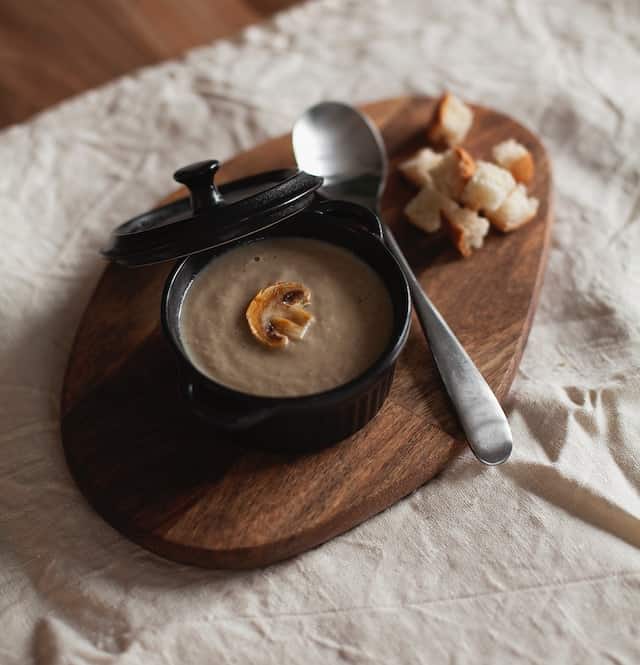 #12 Red Pepper Soup and Coleslaw
For a spicy meal lover, the red pepper soup and coleslaw is a culinary fairy tale. For the soup, either beef or vegetable stock can do with some chilies, pepper, and paprika.
Get shredded cabbage, lettuce and baby carrots for the coleslaw and top it up with generous amounts of mayonnaise.
#13 Tomato Soup, Walnut, and Blue Cheese Salad
Tomato soup is very nutritious and easy to prepare should you decide to make it by yourself. The walnut and blue cheese salad add a nutty flavor to the meal. The salad is a welcome dish, especially if you decide to have spicy tomato soup.
For sophistication, you can have some Swiss rolls and red wine to go with the meal.
#14 Chicken Soup with Avocado and Chilli Salad
Chicken soup is a known remedy for ailment such as common cold and is also very versatile when looking at potential backers in the salad bowl. One fit companion is the avocado and chilli salad.
Apart from avocado and chilies, add some crushed garlic and ginger, chilli sauce, and maybe some lemon juice.
#15 Smoked Fish Soup With Tuna Salad
If you have a soft spot for fish, then the smoked fish soup with tuna salad will warm your heart. The smoked fish soup comes with a unique and delicious aroma with a smooth hint of soothing smoke.
For the tuna salad, get some canned tuna and mix with onion rings, lemon juice, and lettuce.
#16 Thai Coconut Soup and Potato Salad
One of the most delicious soup and salad lunch options you can bank on is the Thai coconut soup. The creaminess goes in tandem with potato salad and sour yogurt or soy sauce as dressing.
It is quite a heavy meal when you look at the consistency of the coconut soup and is a good filler during your lunch break.
#17 Goat Pepper Soup and Mediterranean Salad
If you want a taste of the Mediterranean cuisine, then look no further than the goat pepper soup and Mediterranean salad. The pepper soup is from goat meat boiled for several hours till the meat detaches from the bone.
The salad consists of various ingredients such as red onion, olives, some olive oil as a dressing, cheese, and sun-dried tomato.
#18 Creamy Shrimp and Crab Bisque with Green Salad
The creamy shrimp and crab bisque soup is an excellent seafood-based dish with lots of nutrients at your disposal. You can equalise the rich, creamy bisque with a green salad, which as earlier indicated, cannot miss lettuce.
Add onions, cucumber, and cherry tomatoes to the salad and season with salt and pepper to taste.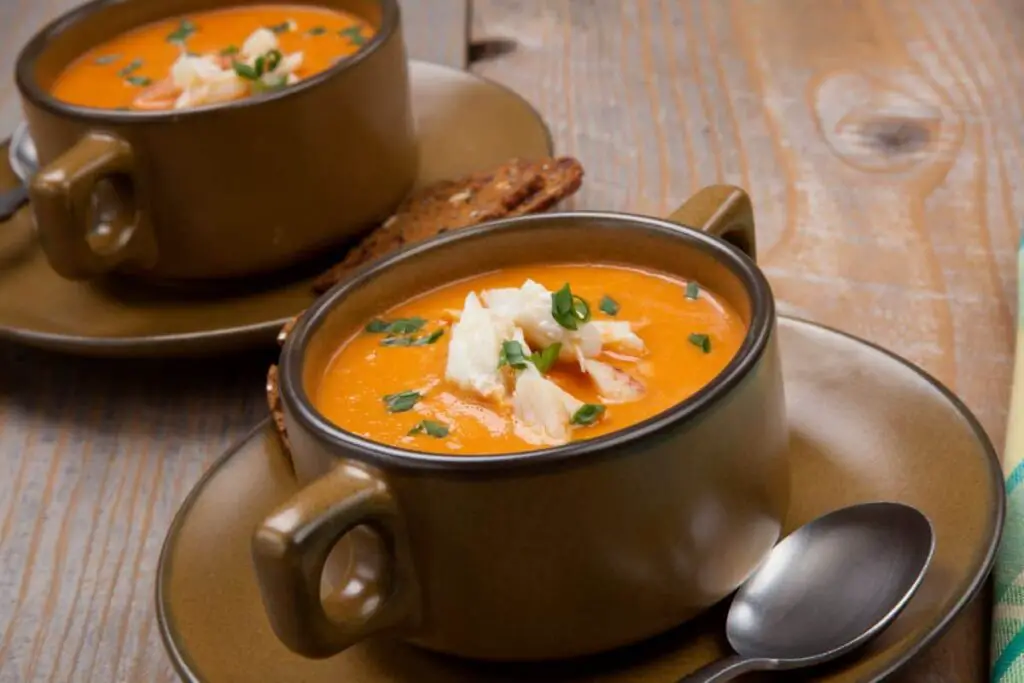 #19 Dry Aged Beef and Bone Broth with Meat Salad
Dry-aged beef and bone broth with meat salad is a suitable meal for any meat lover. The dry-aged meat can have butter and spices to make the taste more pronounced.
For the meat salad, have some sliced sausage and bologna, tomatoes, onions, cucumber, and lettuce then season with chilli powder and salt.
#20 Shrimp Chowder and Cappon Magro
Shrimp chowder and capon Magro is like a full-fledged meal that is Italian-inspired. The shrimp chowder contains chunks of the shrimp and vegetables with a bit of cream that makes it entirely consistent.
Cappon Magro is a combination of vegetables and seafood set in a pyramid and dressed in a creamy sauce or olive oil.
#21 Vegetable Soup and Cheese Slaw
You can also opt for vegetable soup and cheese slaw on an excellent soup and salad lunch adventure. The vegetable soup can be spinach, kale or cabbage soup with other recipes calling for the addition of Irish potatoes in the mixture or milk to make it creamy.
The cheese slaw consists of shredded cheese and shredded carrot dressed with mayonnaise. If you prefer you can roast your vegetables for your soup.
#22 Crab Bisque and Crab Louie
Crab bisque and crab Louie is an American-inspired seafood dish that you can have for lunch with friends. The crab Louie consists of crab meat, hard-boiled eggs, tomatoes, and cucumber. The dressing is a mix of mayonnaise, peppers and chilli sauce.
#23 Chicken and Kale Soup with Egg Salad
You can decide to go for poultry with the chicken and kale soup served with egg salad. Along with the kale, you can have bell peppers, parsley and cucumber to make the soup richer. For the egg salad, chop hard-boiled eggs and add chilli sauce, soy sauce, and mustard. Season with salt to taste.
#24 Pumpkin Soup With a Side Of Chicken Salad
If you want a nutritious and quick lunch, then you can have a bowl of pumpkin soup with chicken salad. Pumpkin soup is usually thick, and you may add some spices or coconut milk to make it creamy.
Chicken salad is easy to make so long as you have a pre-cooked chicken breast that you chop into fine pieces and mix with some lettuce and onions onto the plate.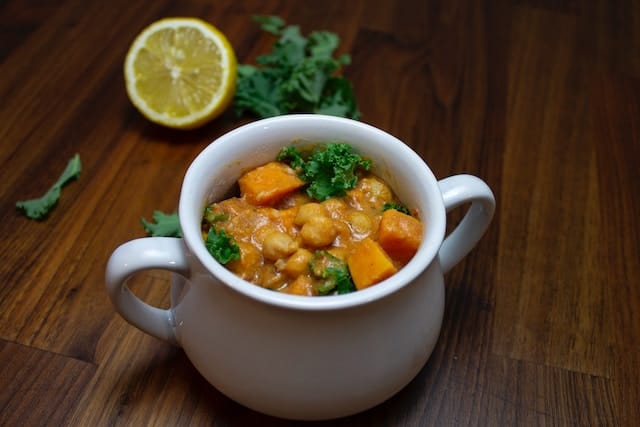 #25 Ramen Noodle Soup With Red Cabbage Salad
Noodle is a staple in East Asian cuisine and goes well with many salads, in this case, red cabbage salad. To have the best salad, have fresh red cabbage, chopped into thin strips.
Add some grated carrots, cucumber, and onions. For the dressing, mayonnaise can do or push the limits with red wine or vinegar.
#26 Indonesian Mutton Soup and Coconut Salad
The Indonesian mutton soup and coconut salad is part of the Javanese cuisine, a healthy and exotic meal. The salad is commonly known as Urap in Indonesia and is a mixture of steamed vegetables and spiced coconut as its dressing. Aside from mutton soup, you can also try chicken or beef depending on your preference.
#27 Beetroot Soup and Coleslaw
Beetroot is a very healthy vegetable boasting of nutrients such as magnesium, zinc, iron and many more hence its soup is very nutritious.
You can top it up with coleslaw, where you have grated carrots, cabbage, and mayonnaise as dressing. Brown or oatmeal bread is a fitting complement for this meal.
#28 Lentil and Sausage Soup with Bologna Salad
If you are the experimental type, then you can try out the lentil and sausage soup with bologna salad. It gives you a combination of flavours that will leave you amazed.
Mashup some bologna and add onion rings plus chopped cucumber for the salad. You can have a meal with buttered bread.
#29 Spicy Vegetable Soup and Green Salad
For a vegan diet, the spicy vegetable soup and green salad is a good deal. Kales, spinach, or collard greens with some spices such as chilli, bell pepper, coriander, and pepper add some twist to it.
Get lettuce, tomatoes and onions for your salad.
Combine tamarind and lemon juice for the tangy dressing.
#30 Curried Sweet Potato And Kale Soup With Steamed Kale Salad
Another vegan delight is the curried sweet potato and kale soup with steamed kale salad as an accompaniment. The soup has a mash of tastes that you will love if you are experimental.
Steam some kale and serve with onions and tomatoes.
Garnish with lemon juice or dress in sour cream.
Conclusion
A soup and salad lunch is a light and healthy way to have your meals during lunch break. It is a good option if you are watching your weight or simply trying to live a healthy lifestyle.
The good thing about such meals is that they are easy to prepare and do not require many ingredients.
I hope you enjoy my soup and salad recipes!
FAQs
Are soup and salad combinations enough to keep me full until dinner?
Absolutely! Soup and salad can indeed be filling if you include the right ingredients. A hearty soup loaded with vegetables, proteins, and complex carbohydrates, paired with a nutrient-dense salad can keep you satisfied until dinner. Plus, the high water content in soups and salads can help increase feelings of fullness.
What are some good pairings of soup and salad for a balanced meal?
The key to pairing soup and salad for a balanced meal is variety. For instance, you might pair a rich, creamy soup like a potato leek soup with a crisp, light salad like a cucumber and tomato salad. Or, if you have a spicy, hearty soup such as a chicken tortilla soup, you might want to pair it with a sweet and refreshing salad like a spinach and strawberry salad.
How can I add protein to my soup and salad lunch?
There are plenty of ways to add protein to your soup and salad lunch. For soups, you can add beans, lentils, chicken, beef, or tofu. For salads, consider topping them with grilled chicken, salmon, tuna, chickpeas, quinoa, or boiled eggs. Nuts and seeds are also a good source of protein that can be sprinkled on both salads and soups.
I'm Pauline, a retired patisserie chef, mother of four and now a full time food blogger! When i'm not cooking i love long walks, reading thriller novels and spending time with my grandkids. Head to my about me page to learn more about the woman behind the food! You can find my Facebook here