Last Updated on 31st May 2023 by
If you have used an Instant Pot before, you know how simple it makes meal-making. Any pressure cooker will be able to reproduce the same meals using similar recipes, so keep that in mind. You don't have to have an Instant Pot to pull off Instant Pot recipes like chicken alfredo Instant Pot with jar sauce.
The warm comfort of alfredo chicken is made super simple with this recipe, and we just love how quickly the meal can be put together. It's a meal that could take well over an hour to make, if you were roasting the chicken and cooking up the noodles in a pot on the stove. Making the alfredo sauce from scratch is a process in itself too, and that's all fine if you have lots of time on your hands.
Most of us don't have much time these days, though. On the average weeknight, we may have an hour to prepare and eat supper before housework, phone calls, and other responsibilities are required of us. There just isn't usually time for an elaborate dinner, so something like this that can be made in an Instant Pot is a boon.
It takes the stress out of dinner time and gives you more time for what you really want to do. Plus, it tastes amazing and is so simple to make that it is difficult to mess up.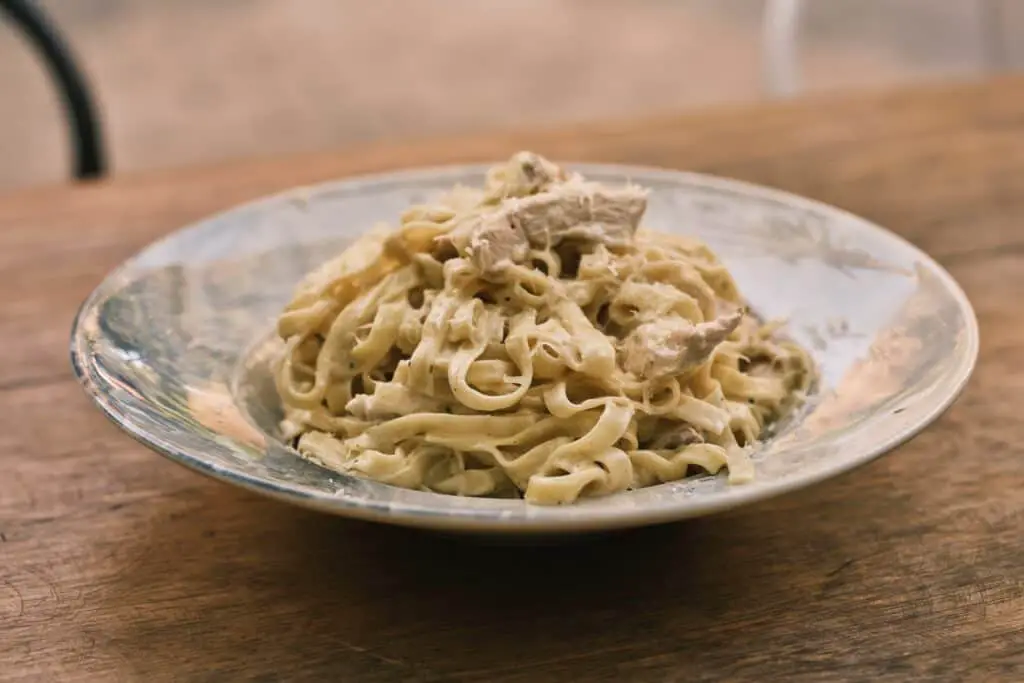 Have you ever tried to put together a challenging dinner and spent a lot of time on it only to have it burn or not taste right?
We have all been there, and it's very disappointing and frustrating. Still, you probably have to eat that disaster of a dinner because it may be all that you have cooked up at the time. It can take too long to cook up anything else, so dinner disaster ends up being the only thing on the menu.
With our recipe for Instant Pot chicken fettucine alfredo jar sauce, your dinner will be done in a flash and taste amazing- no fuss, no stress, and no hassle.
Recipe for Instant Pot Chicken Alfredo with Jar Sauce
Instant Pot Chicken Alfredo with Jar Sauce
The warm comfort of Alfredo chicken is made super simple with this recipe. It's a meal that could take well over an hour to make traditionally, but it can be ready in a flash with an Instant Pot. Plus, it tastes amazing and is so simple to make that it is difficult to mess up.
If you have dietary restrictions or just want to mix things up a bit, don't worry! This recipe is versatile and can accommodate a variety of tastes and needs.
Ingredients
2

boneless chicken breasts

2

tbsp

olive oil

2

cups

water

1

jar of alfredo sauce (Try brands like Classico or Bertolli for a robust flavour. If you're vegan or dairy-free, non-dairy alfredo sauces are available on the market.)

4

cloves of garlic

½

salt

8

ounces

dried fettuccine or linguine (For a gluten-free option, use gluten-free pasta.)

¼

cup

parsley flakes

⅓

cup

grated parmesan (Skip this if you're dairy-free or vegan.)
Instructions
Prepare your ingredients by cutting the chicken into strips and then dicing into cubes. Mince the garlic to prep it for cooking.

Start by turning on your Instant Pot and setting it to sauté. Then, add in the olive oil and chicken. Make sure the chicken is cut into small cubes for this recipe.

Cook these ingredients and give them a stir every so often to keep them from burning or sticking. The chicken should take about two or three minutes to cook thoroughly. It is finished when it starts to brown. Add in your garlic and salt and cook for about five more minutes. You are trying to cook all of the pink out of the chicken. Be sure to stir as you cook.

Now you can turn off the pressure cooker. Add half a cup of water to the food and make sure there are no pieces of food stuck to the bottom. Next, add in alfredo sauce and stir it thoroughly.

Then, break the fettuccine in half and let it rest on top of your chicken and other ingredients. You don't need to stir the food anymore after you do this.

Now you should take the remaining half cup of water and add it to the empty alfredo sauce jar. Cover the jar and shake gently to rinse the sauce off of the sides. Then you can pour that water into the pot. This helps ensure you don't miss out on any sauce and adds some extra flavour to your meal. Keep in mind that you are not stirring the food for now.

You should seal the Instant Pot at this point to cook your chicken alfredo Instant Pot with jar sauce. Change the setting to high pressure and cook for 8 minutes. It will take several minutes for the pressure cooker to reach that level of pressure and start cooking.

Once the cook time has finished, release the pressure, and then deactivate the pressure cooker. You can open it up then and add in the parmesan. It's okay to stirat this point, and you'll want to stir in the cheese. Then, cover the pressure cooker once more and allow the food to sit there for about three minutes. This melts the cheese and lets the sauce become thicker.

Serve your alfredo chicken straight from the pot, and garnish with parsley flakes.
Notes
Enjoy it as is, or pair it with a side of garlic bread and a green salad for a complete meal. If you're in the mood for wine, a crisp white like Pinot Grigio pairs nicely with the creamy Alfredo.
Variations on the Recipe
There are a few ways you can make this, and you can add or take our ingredients as you wish. It can be made completely without cheese, if you like. You can also add broccoli to it and make Instant Pot chicken broccoli alfredo with jar sauce.
Broccoli Alfredo
Add small-diced broccoli at the same time you add the noodles. This should make your broccoli tender and tasty, cooking it all the way through.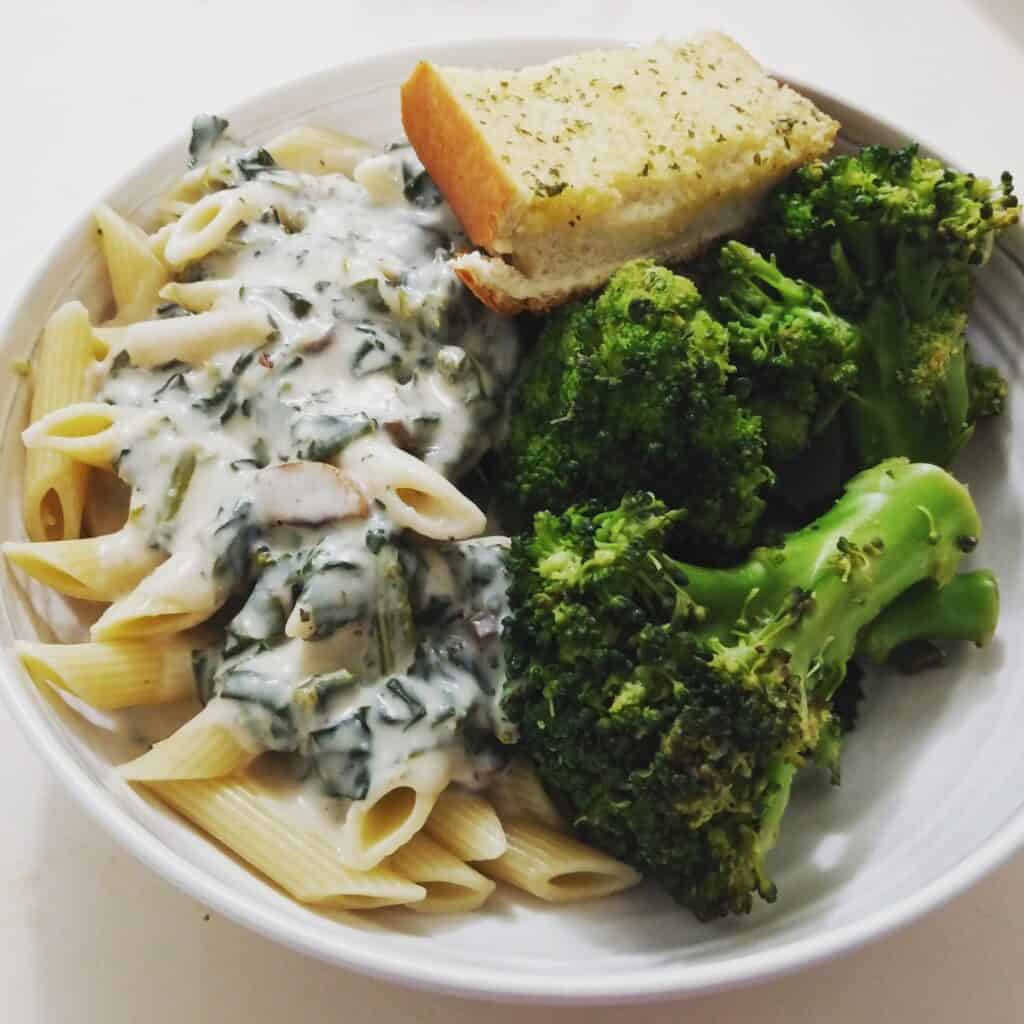 Frozen Chicken
If you're using frozen chicken, you need to thaw it out first. Do this by placing it in the fridge one or two days ahead of time. Or you can defrost the chicken in the microwave or rest it in a bowl of cold water.
Homemade Alfredo Sauce
If you have the time and feel up to the challenge, you can make your own alfredo sauce. This can be more flavorful, but keep in mind that it will significantly increase the prep time.
Cheese-Free
Prefer it without cheese? No problem! Simply omit the Parmesan.
We think most people who use an Instant Pot for their cooking are looking for quick meal ideas, and so that's why we recommend the canned alfredo sauce. It shouldn't offend most people's taste buds, but if the canned sauce you use tastes too bland or not quite right, try switching brands to get a different result.
You can also make chicken alfredo on your stove, cooking the chicken and linguine noodles separately, but it takes way longer to cook the chicken on the stovetop than it does in the Instant Pot. If you want to save yourself a step or two the day you make the dish, you can always make chicken ahead of time. Making enough for the week makes it easy to just toss some into the easy-to-prepare alfredo sauce and noodles.
Storing Leftovers
If you want to store your Instant Pot Chicken alfredo, you can keep it in the fridge for four days, if you keep it sealed in an airtight container.
We hope you enjoy this recipe! Please leave a comment below to share your experience, ask questions, or offer suggestions. We'd love to hear from you!
FAQs
How long does chicken take in an Instant Pot?
Whole chicken in an Instant Pot typically takes around 20-25 minutes per 500 grams on 'High' pressure, with a natural release. For chicken breasts, 6-8 minutes on 'High' with a quick release should suffice. Always check for doneness using a meat thermometer.
Why is my Instant Pot chicken rubbery?
If your Instant Pot chicken is rubbery, it may be overcooked. Overcooking can cause the proteins to contract, resulting in a tough texture. Ensure you're using the correct cooking times and releasing pressure appropriately to avoid this.
How long does it take to cook chicken breast in Instant Pot chart?
For chicken breasts in the Instant Pot: if they're fresh, cook for 6-8 minutes on 'High' pressure. For frozen, it's 10-12 minutes on 'High'. Both require a quick pressure release. Adjust times slightly for smaller or larger pieces, and always verify doneness.
Can you stack chicken in Instant Pot?
Yes, you can stack chicken in an Instant Pot. Just ensure pieces aren't too tightly packed, to allow steam circulation for even cooking. It's also important to adjust the cooking time if you're cooking a larger quantity of chicken.
Other Chicken Recipes You Might Like
I'm Pauline, a retired patisserie chef, mother of four and now a full time food blogger! When i'm not cooking i love long walks, reading thriller novels and spending time with my grandkids. Head to my about me page to learn more about the woman behind the food! You can find my Facebook here