Last Updated on 17th July 2023 by
The main breakfast dishes are protein-filled. You will need something less meaty to accompany it. There are plenty of easy breakfast sides that you can add to your breakfast. Some breakfast dishes have plenty of carbohydrates. Accompany such a dish with high protein or fruity side dish.
Bulk up your breakfast with this sweet, savoury, easy breakfast side.
Fried Apples
Everyone is familiar with apple pies. Fried apple tastes better than the apple pie filling. Fried apple is best served hot, with a scoop of your favourite ice cream.
The heavenly a juicy taste of apple pie will brighten up your gloomy morning. You will watch your kids enjoy the serials you thought they dislike.
They are easy to prepare. You only need a handful of ingredients, which include kosher salt: Cinnamon, butter, brown sugar, nutmeg, and slices apples.
Cook them in a skillet for five minutes over medium heat.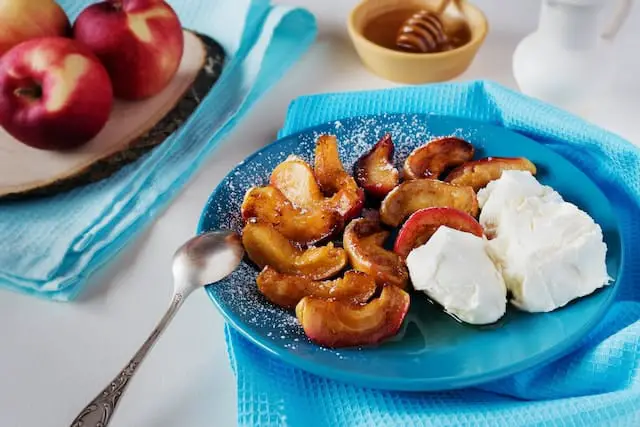 Grilled Pork
Your weeks' schedule is tight; you have survived on muffins, pancakes, and waffles for breakfast. Add some delicious grilled pork chop to your breakfast. Your body needs proteins.
You do not need to marinate the chops. But if you had an idea of what to take for breakfast, you can marinate overnight.
Choose one-inch-thick rib chops to achieve juicy grill without overcooking. Pork is delicate and cooks quicker than other types of meat.
You can brine your chops overnight; it makes the pork tender and tastier.
Grill your chops over medium heat for six minutes on each side. Serve hot with your breakfast cereals, pancakes, or muffins.
Sugar Cured Ham
Adding ham to your breakfast is a great way of achieving daily protein requirements. But do you have to take smoked ham every time? Now prepare some finger-licking sugar-cured ham for breakfast.
It is difficult to get the sugar-cured ham in the stores. Utilise the internet and learn how to cure your ham at home.
Sugar should comprise half of the sweetening agent to achieve sweet, sugar-cured ham; your children will enjoy this delicious ham in the morning. You will also love it.
Thick-Sliced Bacon
The standard bacon is very thin. They are delicate and are likely to lose shape while cooking. Choose thicker bacon for easier cook time. You can serve triple thick bacon with a fork and knife. You cannot achieve this with standard bacon.
Thick cut bacon is versatile. You can brush it with maple or top with praline while baking. Since bacon has a high-fat content, bake it in a rack to rid excess fat. You can grill triple-thick bacon over low heat.
Hash brown Casserole
Hash brown is the king of all potato casseroles. The shredded potatoes are creamy and yummy. Coat them in a rich and delicious sauce. A crust of hot cheese then covers everything in the bowl. The egg in the casserole recipe ensures smooth slicing and serving.
Hash brown Casserole bakes for around 45 minutes. Allow it to cool slightly before serving. The Casserole becomes firm as it cools.
You can have variations of hash brown casserole by using different spices, cheese, toppings, and onions.
Whole Wheat Waffle
I love waffles; you like them too. Everybody loves waffles!
In many instances, people buy frozen waffles in the stores. You can prepare healthy whole grain waffles at home.
You can play around with the seasoning keeping the main ingredients constant. For a healthier serving, substitute artificial ingredients with their natural equivalents.
Summer non-cook Oatmeal
You do not have to take a hot breakfast on a hot summer morning. Start your day with a bowl of cereals. Today, take your nutritious Oatmeal with milk and raisin. You can sprinkle some cinnamon or any other seasoning of your choice.
To achieve tender oats, mix the ingredients in the evening, keep then in the fridge and enjoy your bowl of chilled oats in the morning.
Whole Grain Berry Muffin
Start your day with a delicious whole grain muffin. Use whole grain flour to make healthy muffins at home. Top your muffin with strawberries, raspberries, blackberry- do not restrict yourself to one type of berry; mix different kinds and let them compete for recognition by your taste buds.
Add oats, flax seeds, and other grains to add on protein serving per muffin. Serve the muffin as a side to your savoury breakfast casserole.
Raspberry Lemon Scones
Who said scones must be the traditional wheat and butter? Exercise your creativity by adding some sweet raspberries. Prepare the ingredients as you would prepare traditional scones. Add your raspberry to the mixture. Bake and enjoy your naturally sweetened scones at home.
Light Asparagus Omelet
You are used to Spanish and French omelettes, which take forever to prepare? Omelettes are great, but have you tries asparagus omelet?
The asparagus flavour is so heavenly, and the mushroom gives you the energy to take you all morning. Do not take the plain pancakes. Add this easy to make an omelet to your breakfast dish.
Creamy Banana Smoothie
Back in college, I took smoothies for breakfast. They are easy and quick to make. College students take shortcut meals to cut on budget.
Before your children go to college and take smoothies for breakfast, serve them as a side for their balanced breakfast. It can act as a substitute for milk and juice.
Crepes
You need a lot of ingredients to make delicious pancakes. If you run out of supplies and you need to prepare a breakfast side that resembles a pancake, opt for crepes (French pancakes)
The main ingredients are wheat flour, eggs, and milk. Add powdered sugar and kosher salt to taste. The results are soft savoury crepes. Make the batter so smooth so that you can achieve thin and firm crepes. Do not make them as thick as pancakes. Thick crepes do not cook well inside.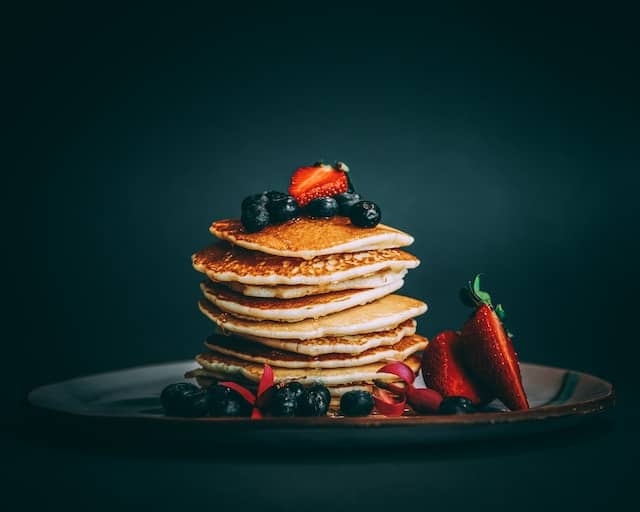 Light Fried Potatoes
Regular fried potatoes are high in calories. Lightly fried potatoes are a healthier option. The oil content in light fried potatoes is low; they are not dip fried.
The seasoning gives the potatoes a great taste.
Strawberry Rhubarb Sauce
Your pancakes have never been this sweet. Use this sauce as a topping for your pancakes or plain muffins. You can use it as a waffle or biscuit dip.
The sauce is so versatile; you can use it with yogurt, ice cream, and cakes.
Fibre One Parfait
Some days you prefer to take a light breakfast. You end up getting hungry one hour later. Do not completely do away with light breakfasts; take them alongside fibre one parfait.
The fruits, grains, and yogurt will keep your stomach filled for longer. You will also enjoy a chilled side to cool your hot morning.
The layers of parfait yogurt, fruits, and cereals are appealing to the eye. They trigger your appetite; hence, you will have your breakfast to satisfaction.
Potato Cakes
There are plenty of ways to have your potatoes. Making potato cakes is a great way to eat your leftover potatoes. Microwave heated potatoes are not delightful.
Add an egg or eggs to your mashed potatoes (depending on the potatoes available), add a little wheat flour. Whip the ingredients to make a smooth batter. You can add spices of your choice.
Cook the dollops of your potato batter in an oven. Flip the blobs to cook the other side.
Cheese Grit
Cheese had to find its way on this list. It is a staple food in many homes. Bake your grits with cheese, butter, paprika, and eggs. Prepare the ingredients and cook in a pan before you transfer to the oven. Bake for about two hours and serve while hot.
Caramelised Bacon
How about having some crispy sugar-coated bacon alongside your pancakes? Caramelised bacon offers a sweet protein alternative; you are used to salty and savoury bacon; it's good to have a change.
Standard bacon is the best to prepare crispy caramelised bacon. Thick slices will not cook well.
The crispy sweet bacon is so delightful; your guests will praise you for them. The sugar will help you achieve the daily calorie requirement with ease.
Beef Sausage Gravy
Your muffins, pancakes, waffles, and cakes will require some gravy as an accompaniment. In many instances, people take them with tea, coffee, milk, or juice, which makes it more of a snack than breakfast.
The gravy will give you enough proteins, vitamins, and minerals to boost your immunity and replenish the dying cells.
Tropical Banana Delight
Bananas are high in fibre. Start your day with some tropical banana delight as a side to your breakfast meal.
One serving of tropical banana delight contains a banana, macadamia nuts, and coconut as the main ingredients. You will get loads of nutrients from this side dish.
Bottom-line; Easy Breakfast Sides
The list above highlights some of the best easy breakfast sides you can have with your breakfast. They add an alternate taste that triggers your taste buds, adding nutrients to your meal. Try them, and your breakfasts will never be the same again.
FAQs
What are some quick and healthy breakfast sides I can make on a busy morning?
There are numerous quick and healthy breakfast sides you can prepare. Fresh fruits like berries, bananas, or a mixed fruit salad are simple and require no cooking. A hard-boiled egg is a great protein source that you can prepare in advance. Greek yogurt with a bit of honey and granola is another quick, healthy option. Toast with avocado or nut butter provides healthy fats and protein.
Can any of these breakfast sides be made ahead of time for convenience?
Yes, many breakfast sides can be prepared ahead of time. Hard-boiled eggs can be made and kept in the refrigerator for a quick grab-and-go side. Homemade granola or muffins can be prepared over the weekend for the upcoming week. You can also cut up fruit for a fruit salad and keep it in an airtight container in the fridge. Overnight oats are another great option that you prepare the night before.
What are some good breakfast sides to complement sweet dishes like pancakes or waffles?
When serving sweet main dishes like pancakes or waffles, it can be nice to have some savory or neutral sides to balance out the sweetness. Scrambled or fried eggs, bacon, or sausage are classic choices. For a healthier option, you might serve a side of Greek yogurt, a vegetable hash, or a simple green salad. A fruit salad can also be a great complement, especially if it includes some tart fruits like citrus or berries to cut through the sweetness of the main dish.
I'm Pauline, a retired patisserie chef, mother of four and now a full time food blogger! When i'm not cooking i love long walks, reading thriller novels and spending time with my grandkids. Head to my about me page to learn more about the woman behind the food! You can find my Facebook here