Last Updated on 17th December 2021 by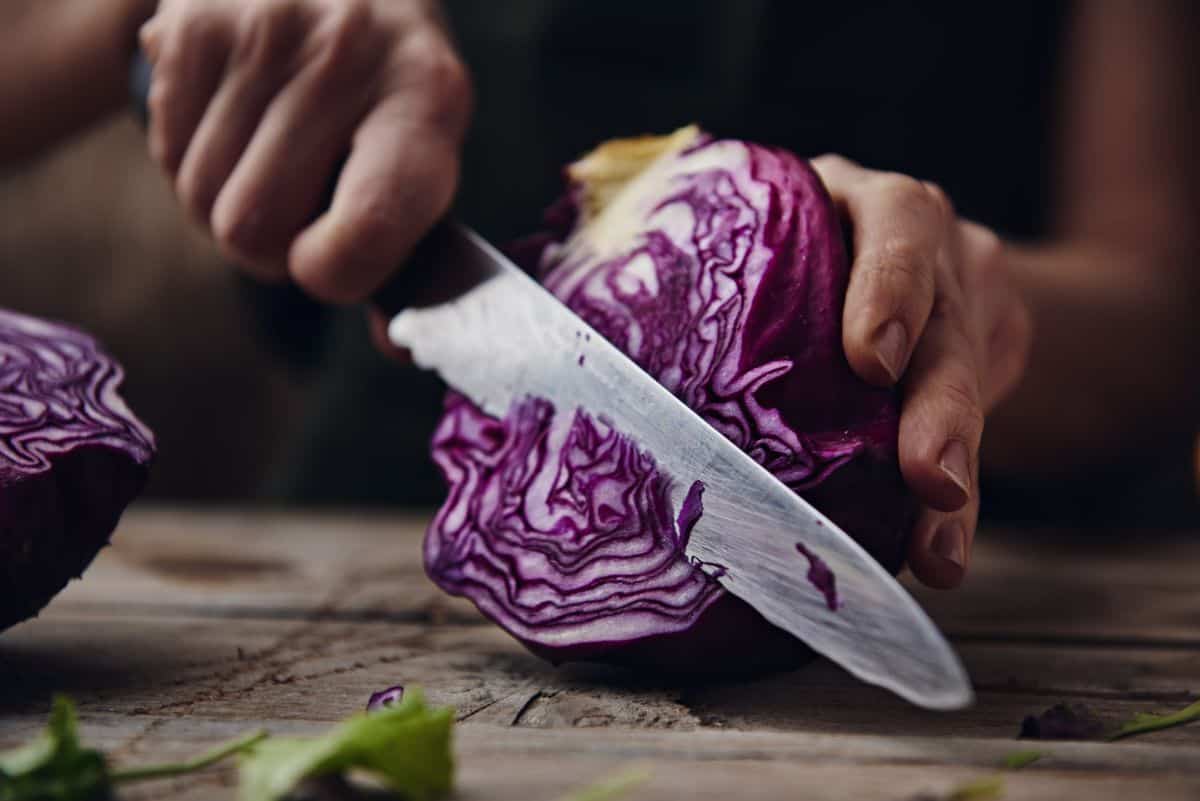 All those who have vitamin K deficiency and have weaker bones must have red cabbage in their daily diet. Did you know red cabbage helps build strong and healthy bones and has an ample amount of vitamin K? Yes, it's true it is a nutrient-dense vegetable widely consumed across the globe. Popularly known as purple cabbage as it has some amount of zinc, magnesium, and calcium too.
Are you aware that red cabbage comes from the same family as broccoli, kale, cauliflower, and green cabbage? Add red cabbage to your diet to improve the digestive system.
Red cabbage is high in fiber, making it easier to digest foods and keep your digestive system healthy. Thus, read the article below to learn some simple recipes that will help you learn how to cook red cabbage.
How To Cook Red Cabbage The German Way?
Ingredients
½

red cabbage

( sliced)

2

tbsp

of butter

1

onion

(thinly sliced)

1

green apple

(thinly sliced without peeling)

½

cup

Brown sugar

1

tbsp

Apple cider Vinegar

2-3

spoons

of water

Salt and pepper to taste.

2-3

cloves
Instructions
Take a pan, add butter to it and let it melt. Now, saute the onions until brown. Then add green apple and thinly sliced cabbage to the pan. Let the apple and the cabbage cook on low flame.

In the next step, add brown sugar, vinegar, and water to the cabbage. Mix everything well and let it cook till soft.

Finally, when you see the liquid coming out from the cabbage in the pan then, add salt, pepper, and cloves and give it a quick mix.

Put on the lid and turn the flame down. Let the cabbage simmer for 10 to 15 min.
Notes
Note: You can also make this recipe half on the stove till mixing salt, pepper, and cloves and then put it in the oven for about half an hour. After the cabbage is ready after the given time, you will see the apples and onions mixed with the cabbage.
The sweetness of the apple, the aroma of cloves, and the sweetness of brown sugar will help make the red cabbage in the German way taste yummier.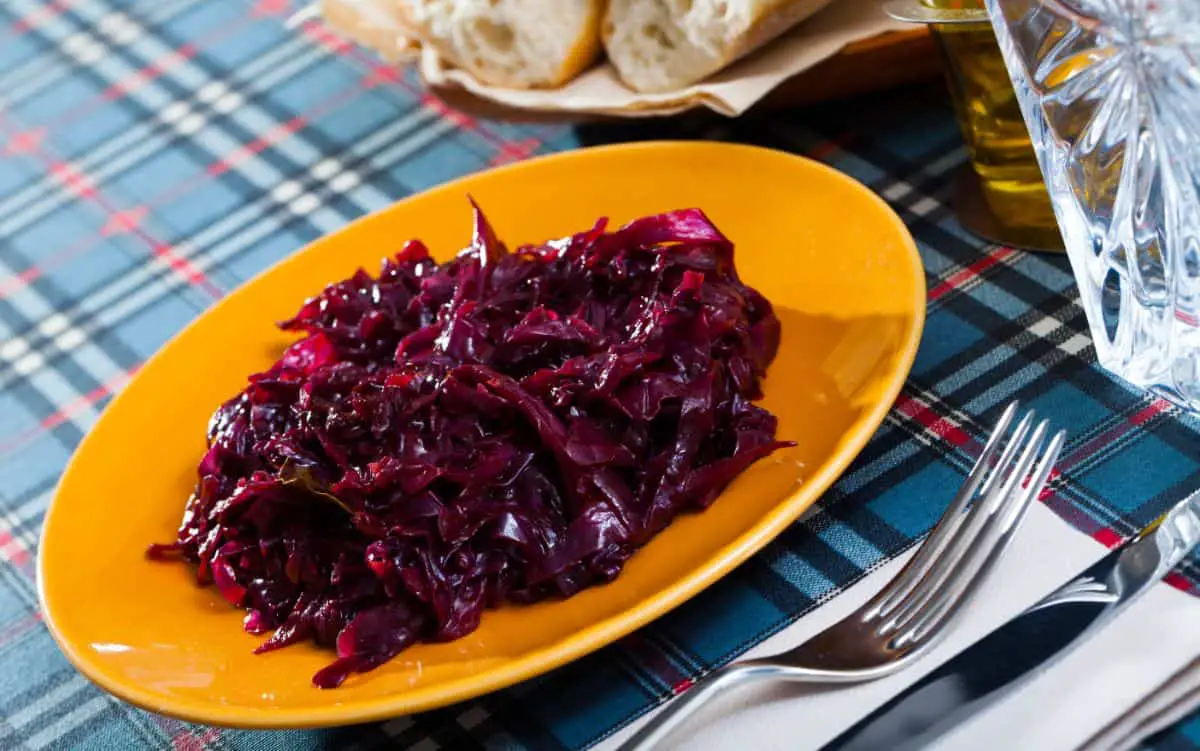 How To Cook Red Cabbage Healthy?
Healthy cooking of red cabbage is possible within a few minutes. Take 5-spoons of apple cider vinegar in a bowl, add 2 tsp of extra virgin olive oil, 1-spoon of honey, salt, and pepper and give it a nice mix. Take a cup of red cabbage and fennel and chop them finely. Shred one carrot and chop a small amount of celery and mix everything. Saute with the liquid mix made earlier. Take a circular plate, place fresh lettuce on one side of the plate and the other half with the healthy red cabbage coleslaw. Add one fresh Avocado to the plate and top up the dish with some fresh parsley, and you are good to go. It is one of the simplest and the tastiest ways to cook red cabbage healthy.
Tips Of Making Red Cabbage Taste Great
Red cabbage is a healthy veggie and has plenty of nutritional value. With its peppery taste, it is much denser than the green cabbage. It is known to improve eye health, helps manage ulcers, and support the immune system. If you are thinking of weight loss, this is one of the best veggies you can include in your regular diet.
Serve it as a salad that includes apple and onion and little butter. Toss everything together in the melted butter. Adding apple will give it a sweet taste, and salt, pepper, and vinegar will give it a nice spicy taste. Garnish red cabbage salad with crispy bacon, thyme, and rosemary. It tastes amazing. Have red cabbage
Ragu with pasta, sweet potatoes, and have a bowl of fresh soup to make your dinner filling. Adding mustard paste, pecan nuts, vinegar to any red cabbage salad will make it delicious. Making a red cabbage from a jar is also simple. Mix sweet corn, chopped onion, fresh lime juice, salt, and pepper with the red cabbage from a jar in a large bowl. Top it up with scallion and fresh cilantro, and you have a red cabbage from the jar. Coleslaw is ready in a few minutes.
How To Cook Red Cabbage For Roast Dinner?
Red Cabbage For Roast Dinner is an amazing dish, especially for Christmas evenings. It is the best dish with fennel seeds, balsamic vinegar, rosemary, bacon, and clementine.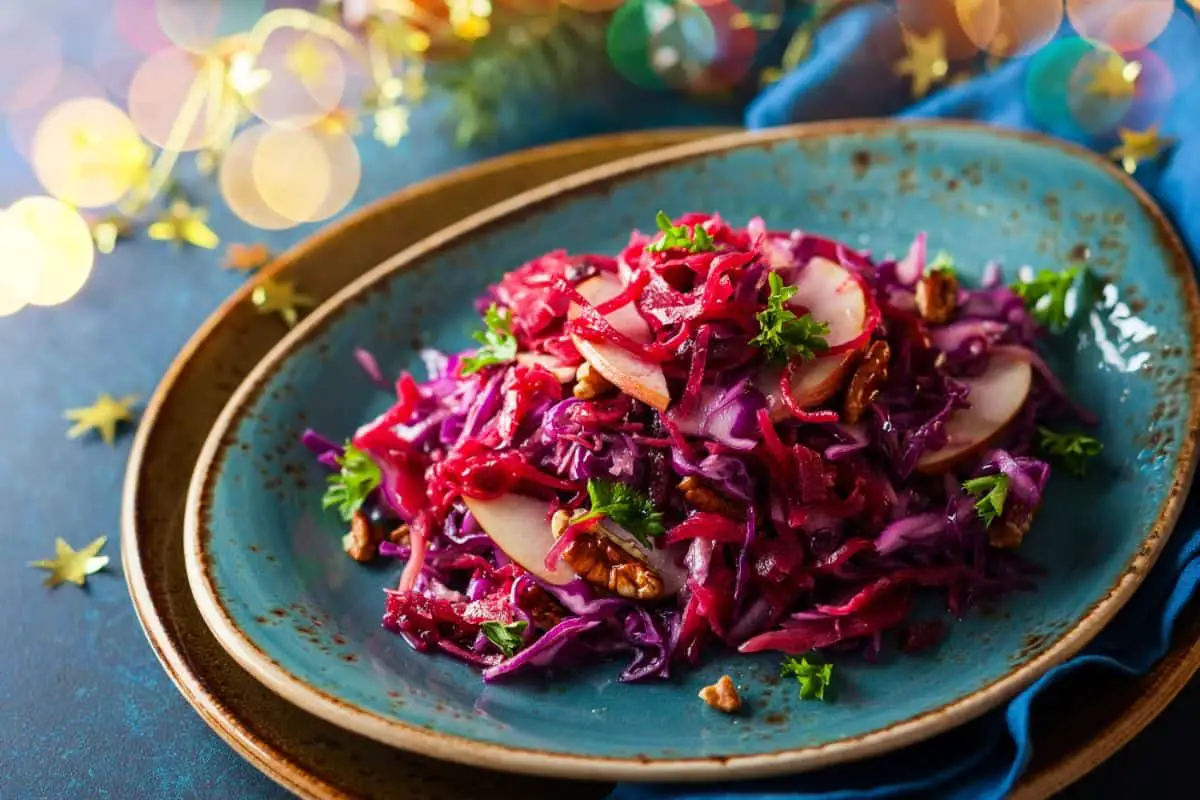 Method
Take a casserole, add a tbsp of olive oil to the pan and stir-fry a cup of bacon for the roast dish until golden brown. Let it render out its natural fat. After it turns golden in color, add 1-2 sprigs of rosemary for that extra flavor. Let it absorb the fat that comes out from the stir-fry bacon. Till the rosemary turns crispy, stir-fry the bacon.
Take a spoon and take out only the rosemary and the bacon from the casserole. Let the smoky fat of the bacon be in the pan itself. Add a tsp of fennel seeds as they have a dynamic flavor that adds an awesome taste to the cabbage roast.
Meanwhile, cut a pound of cabbage into thin slices, add it to the fennel seeds, and give it a quick mix. After the cabbage, cut two small apples and add them to the cabbage. This will give the dish a nice sweetness, and you will require less brown sugar.
Finally, add salt and pepper to taste, and the essential ingredient is the balsamic Vinegar. The sweetness of the apples and the sour taste of the vinegar will give the dish a balanced aroma and flavors. Let it simmer for 25 minutes on low flame.
After the given time, add the clementine for a nice Christmas flavor. It will make the dish sweeter and tastier. Stir it once and serve it on the plate. While serving the dish, add a little more butter and top the dish with smoky bacon and rosemary. You can serve this red cabbage roast for dinner to almost 7-10 people.
I'm Pauline, a retired patisserie chef, mother of four and now a full time food blogger! When i'm not cooking i love long walks, reading thriller novels and spending time with my grandkids. Head to my about me page to learn more about the woman behind the food! You can find my Facebook here