Last Updated on 17th July 2023 by
Ham is a popular meat choice for elaborate dinners to making simple ham sandwiches.
According to an online survey, ham sandwiches made it to the top five sandwiches of America with 69 percent votes.
A bone-in ham has more flavors and better texture than a boneless ham and thus a better choice for special holiday meals.
Oven Temperature 325°F - Internal Temperature when cooked 145°F
Not sure how to cook a bone in ham or how long to cook a ham (how to cook ham from frozen). Follow this article to know how to properly cook a bone in ham and several bone in ham recipes that you can make with it. We also have lots of other great ham inspired recipes to watch out for such as how to make honey glazed ham.
#1 How long to cook a Pre-Cooked Bone In Ham
While a pre-cooked ham is fully cooked, you still need to heat it to a certain temperature for using it in several dishes.
For a half ham which weighs around five to seven pounds, you would need to cook it for 18 to 24 minutes per pound. Set the temperature at 325°F and place the ham inside it on a tray. Cook until the internal temperature of the ham reaches about 140 degrees Fahrenheit.
If you get a whole ham weighing somewhere between 10 to 14 pounds, you need to cook it for 15 -18 minutes per pound at 325°F. Check the internal temperature by placing a food thermometer inside the ham and remove it once the temperature reaches 140 degrees.
#2 How long to cook an Uncooked Bone In Ham
For food safety, you need to cook an uncooked bone in ham until its internal temperature reaches 145°F.
For a half bone in ham roasting it for 22 to 25 minutes per pound at 325° F is required. For a whole bone in hams weighing anywhere between 10 to 14 pounds, you would need to cook it for 18 to 20 minutes per pound at 325°F.
If you a fan of uncured ham then we have a new guide on how to cook uncured ham for you to check out, it's really worth a visit.
#3 Glazed Bone In Ham
Glazed ham is one of the most common and easiest of meat cuts to prepare at festive periods, Thanksgiving or large family get togethers. The cooked meat also lasts a long time in the fridge and is great for serving up cold cuts.
#4 Cooking Bone In Ham In A Slow Cooker
For feeding a huge crowd, cooking a bone in ham in a slow cooker is one of the best methods. Slow cooking a bone in ham leaves the meat moist, juicier, and super soft.
Place one and a half cups of brown sugar in the bottom of a slow cooker. Place a cured bone-in ham of about eight pounds on top of the sugar layer with its flat side down. Rub about a half cup of brown sugar on the ham. Cover the cooker and set the heat on low, and let it cook for eight hours.
#5 Bone In Ham Sandwich
Nothing beats the easy classic country-style ham sandwich.
Take four whole wheat bread slices. Shred the bone in ham or cut into thin slices. Make the spread by mixing sour cream, mayonnaise, and garlic powder.
Spread it over two slices of bread. Layer tomato, cheese, ham, and lettuce over it and cover with the remaining bread. This is a great way to use the leftover ham from holiday dinner and also works well if made with our delicious ham steaks.
#6 Bone In Ham Cooked In Beer
Yes, you heard it right. Cooking a bone in ham in beer makes it more tender and flavourful. All you need are three ingredients- 1 bone-in ham of about ten pounds, half can of sliced pineapples (10 ounces), and a can of beer. So how to cook a bone-in ham for the juiciest taste.
Preheat the oven to 325 degrees Fahrenheit. Take a deep pan and grease it. Secure the pineapple rings on the ham using toothpicks and place them on the pan.
Pour the can of beer on the ham and cover the pan with a lid. Bake the ham for about eight to ten hours or until completely cooked. Remove the pineapple rings and let them sit for a while before slicing.
#7 Sugar Glazed Bone In Ham
Start by preheating the oven to 325 degrees Fahrenheit. Take one pre-cooked bone-in ham of about eight to ten pounds. Place it on a rack in a pan. Cut diamond patterns on the ham using a small sharp knife. Bake for about two hours.
Meanwhile, let's prepare the glaze.
You will need one cup of brown sugar, two teaspoons of mustard, and one to two tablespoons of apple cider vinegar for the glaze. Combine all of these ingredients into a bowl and whisk until it forms a paste.
Remove the ham from the oven and spread this paste over it evenly. Bake again for thirty minutes or until the thermometer reads 140 degrees.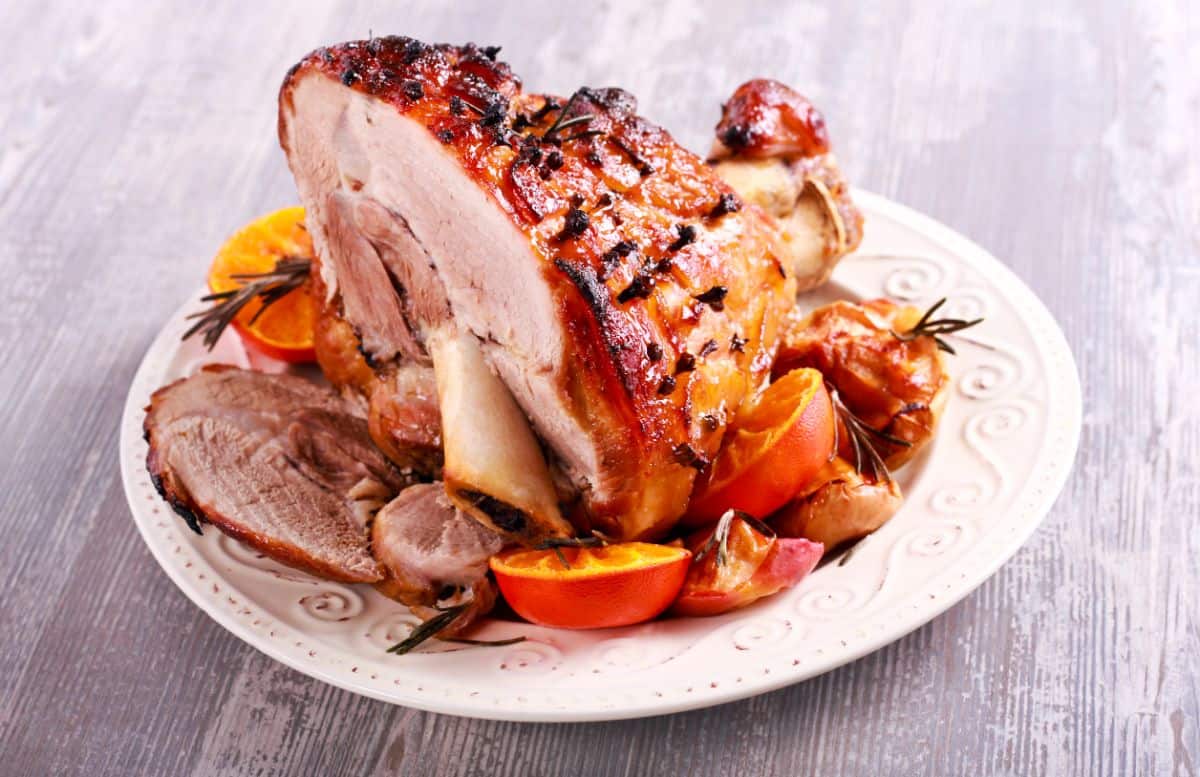 #8 How long to Smoking A Bone In Ham
While it may sound tough and time-consuming, smoking your ham is very easy if you know how to follow the instructions.
Take a half bone in the ham of about seven to eight pounds. Set up your smoker as per the instructions. Preheat it to 250 degrees Fahrenheit and then place the ham in it.
For every pound of ham, it takes about 20 minutes to smoke. So for a seven-pound ham, it will take about three to four hours.
The internal temperature of the ham should reach about 140 degrees. Keep pouring wood chips into the smoker at a fixed interval throughout the whole process. You can then chop up some of that ham and add it to a delicious soup, you can find that recipe here too.
Conclusion
Did you enjoy getting to know all these bone-in ham recipes? Ham is a very popular meat choice, but not knowing how long to cook bone in ham can ruin its taste.
Follow the steps mentioned above, and you won't ever have a problem cooking a bone in ham.
Let me know what you think of the recipes mentioned above and the process of how to cook bone in ham in the comments. Do consider sharing with others if you found the article helpful.
Frequently Asked Questions About Cooking Bone In Ham
How long to cook bone-in ham per pound
Aim for around 19 mins per pound for uncooked bone in ham.
How long does it take to cook a bone-in ham?
This depends on the size of the cut, our table above should give you an indication for total cooking times. A 10lb bone in would take around 3h 10mins to cook.
Do you cook a bone-in ham covered or uncovered?
This is a personal preference but I prefer to start the cooking process uncovered and then cover towards the end if the meat begins to burn before the internal temperature has reached 145°F
What should the temperature be for a cooked bone in ham
A bone in ham should be considered safely cooked when the internal temperature reaches a minimum of 145°F for at least 30 seconds.
References
Hams and Food Safety – https://www.fsis.usda.gov/food-safety/safe-food-handling-and-preparation/meat/hams-and-food-safety#9
How to glaze an ham – https://www.gordonramsay.com/gr/recipes/honey-glazed-ham/
I'm Pauline, a retired patisserie chef, mother of four and now a full time food blogger! When i'm not cooking i love long walks, reading thriller novels and spending time with my grandkids. Head to my about me page to learn more about the woman behind the food! You can find my Facebook here