Last Updated on 2nd August 2023 by
Medicine Balls and flu bomb recipes are essential during the colder months of the year!
Every winter as the cold creeps in, so do the stuffy noses and sniffles. My kids come home all bunged up and I know that soon enough the whole house will be plagued with another cold.
It's difficult to know what to drink when you have the flu as you don't want to make matters worse by drinking fizzy drinks when you have a sore throat for example!
This year I decided to concoct my own medicine ball recipe. Partly to soothe the poorly kids and partly to prevent it spreading to us! I'm not one for medication, i'd rather use natural cold and flu remedies that take medication.
Medicine balls or flu bombs as they are also known, have been a life saver in my house, as soon as i feel a cold coming on i rustle up a batch and give it to the whole family – they've grown to love it!
Making your own medicine ball at home is fairly easy, and there's a good chance that you already have most of the ingredients in your pantry.
If you find that you're missing an item and you're feeling too under the weather to head to a store, feel free to swap things out!
S.O.S Medicine Ball
This health elixir is designed to nip cold and flu symptoms in the bud.
Equipment
fine strainer (optional)

kettle or pot to boil water

Garlic press (or just crush with a large knife)
Ingredients
1

knob

ginger

grated

two

cloves

garlic

crushed

1/2

tsp

turmeric

1/2

tsp

cayenne powder

2

tbsp

apple cider vinegar

1

pinch

chilli flakes

to taste

1

sprinkle

black pepper

1

bunch

fresh spearmint leaves

2

tbsp

raw honey

1

cup

hot green tea
Instructions
Grate ginger and crush garlic cloves

Add ginger and garlic to green tea to brew and infuse

Stir in cayenne powder until fully dissolved

Add black pepper, chilli flakes, and fresh spearmint leaves

Leave to brew for up to five minutes

Feel free to strain out any remaining pulp
Nutrition
This recipe can be a little intimidating to some. Crushing up garlic and ginger with honey isn't always a winning combination, especially for kids- it can be quite pungent!
If you or your little tykes are reluctant to try out my S.O.S flu bomb, you can swap out the ingredients for preferred foods or add a teaspoon of sugar to make it sweeter!
Garlic may seem like a very unenjoyable addition to a hot drink, but you'd be surprised by the how garlic and lemons taste when mixed together – it's quite delicious!
If you need something to sweeter, a garlic and honey mixture with a squeeze of lemon may be better suited to you. Always opt for a Manuka honey as that is what has the healing properties.
Due to the major health benefits of eating garlic, it is sometimes advised for those who don't enjoy garlic to just eat raw garlic for colds.
A garlic clove is only small so could be consumed in one mouthful, rather than infusing your drink with it – you'll still receive the benefits but without having to endure the taste for a long period of time.
With so many self-proclaimed 'health gurus' promoting their essential oils and supplements, it can be tough to determine what your body is actually in need of when you're feeling rough. I thought I'd include a little list of the health benefits of my ingredients list.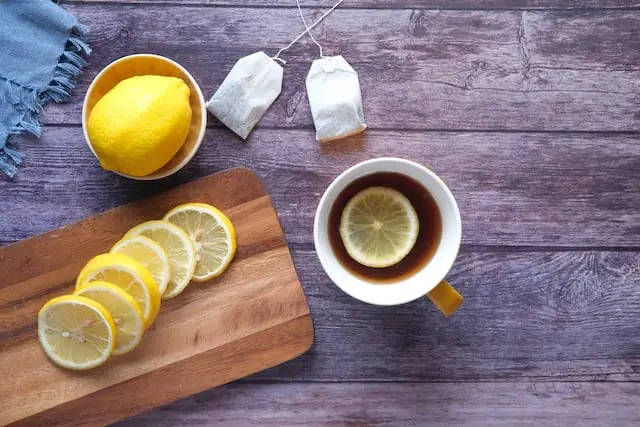 How to Make an Essential Oil Flu Bomb
Having a blocked nose is not only uncomfortable but can be extremely annoying – it can cause headaches, stop you going about your normal activities, cause dry skin and much more.
Essential oils can come in very helpful when you have a cold or the flu. A vaporiser is an excellent and inexpensive investment for when you or the kids are unwell. Add some peppermint oil to the vaporiser and it will help with congestion as well as sore throats.
My husband often suffers with chest colds so we purchased some eucalyptus oil, cinnamon oil and rosemary oil. These three essential oils for chest colds work a treat! We change them throughout the day so he doesn't get bored of the same scent!
Vaporisers can also be used to enhance sleep, add some lavender oil and place beside your bed and you are more likely to fall asleep faster and stay asleep longer. Vaporisers and essential oils are mostly child-friendly but be sure to always check the labels!
*Tip – Essential oils are often in pure form, you have to dilute them in water before using.
Flu-Fighting Ingredients and Their Benefits
These handy cold bomb ingredients will enhance your health and help to fight off winter flu. But what are the benefits?
Green Tea is full of antioxidants that help to fight off viral infections, soothes sore throats and gives you an energy boost.
Garlic is full of antioxidants to stimulate immune system to work harder, can reduce cholesterol and improve heart health. Using garlic for colds is commonly advised as it not only helps you recover faster, it increases your immune system to prevent you becoming ill again.
Ginger has anti-inflammatory benefits to reduce cold and flu symptoms.
Stock broth soothes sore throats and is high in sodium to draw fluids into the body.
Turmeric is an antioxidant and has anti-inflammatory effects.
Cayenne lowers body temperature by stimulating sweat glands and reduces congestion by stimulating mucous membranes of the nose and sinuses.
Lemon is naturally high in vitamin C (did you know garlic is all high in vitamin c?!) and eases sore throat symptoms, which is why it is great in a flu bomb or hot water if you have a sore throat!
Apple cider vinegar is a probiotic with an immune boosting effect and is acidic enough to thin mucous in the throat, easing congestion and coughs.
Honey soothes the throat and has antibacterial properties.
Spearmint is rich in antioxidants and can loosen congestion. Spearmint is a great essential oil for flu!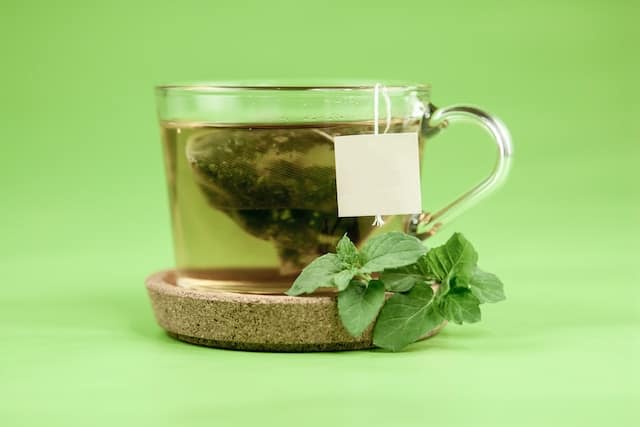 When to Take a Flu Bomb
A flu bomb or cold bomb is helpful when you feel the symptoms of flu might be coming on. Make sure you're aware of flu symptoms so you can spot it early when it reaches your kids or you!
People who catch the flu may only experience some of the symptoms above, or you may have a mixture of pains and fatigue.
How Often Can You Take a Flu Bomb
As Flu Bombs don't have any prescription medicines in them, you can drink as many as you like! However drinking excessive amounts of some of the ingredients in a flu bomb, such as cayenne pepper, it can lead to other issues such as stomach upset. So try to enjoy a flu bomb every 3-4 hours to reduce symptoms.
Starbucks Medicine Ball: Winter Warrior or Waste of Money?
For some, the idea of making a flu bomb at home derives from hearing about the Starbucks version. Starbucks originally had their flu remedy as an item on the secret menu, but it was so popular that they made it permanent. You might have heard people refer to it as the 'Cold Buster' or the 'Medicine Ball'.
What Is the Starbucks Medicine Ball?
The Starbucks medicine bomb is made up of hot water, steamed lemonade, Teavana jade citrus mint tea, peach tranquility herbal tea, honey and optional peppermint syrup. I'd avoid the optional syrup when making your cold bomb.
This Starbucks version of the flu bomb isn't all bad; the honey and green tea are included in my own recipe after all. However, the steamed lemonade and peppermint syrup are potentially going to do you more harm than good. If you're feeling particularly low energy, you might benefit from from the glucose boost.
FAQs
What is a Medicine Ball or Flu Bomb?
A Medicine Ball or Flu Bomb is a homemade remedy for cold and flu symptoms, consisting of natural ingredients known for their health benefits. These typically include green tea, garlic, ginger, broth, turmeric, cayenne, lemon, apple cider vinegar, honey, and spearmint. These ingredients are brewed together into a hot drink which can be consumed to help alleviate symptoms and boost your immune system.
How does a homemade Medicine Ball differ from the Starbucks version?
The homemade Medicine Ball or Flu Bomb has more health beneficial ingredients and avoids any potentially harmful additives. The Starbucks version includes hot water, steamed lemonade, Teavana jade citrus mint tea, peach tranquility herbal tea, honey, and optional peppermint syrup. The homemade version includes additional ingredients such as garlic, ginger, broth, turmeric, cayenne, apple cider vinegar, and spearmint, which are known for their health benefits.
How often can you consume a Medicine Ball or Flu Bomb?
Since Flu Bombs don't contain any prescription medicines, you can technically consume them as often as you like. However, consuming excessive amounts of certain ingredients, like cayenne pepper, could lead to other issues like stomach upset. As a guideline, it's recommended to enjoy a flu bomb every 3-4 hours to help reduce symptoms.
I'm Pauline, a retired patisserie chef, mother of four and now a full time food blogger! When i'm not cooking i love long walks, reading thriller novels and spending time with my grandkids. Head to my about me page to learn more about the woman behind the food! You can find my Facebook here