Last Updated on 3rd February 2023 by Pauline Loughlin
Are you suffering from blood sugar? If yes, adding rye bread or rye to your daily diet will help reduce your blood sugar levels. It acts as a dietary fiber that helps improve the digestive system. Rye itself is an excellent source of vitamin A, magnesium, calcium, protein, and more.
Rye flakes are a rich source of antioxidants that help improve heart health and also helps in weight loss.
Rye came to the United States through the migrants from Europe. It has been there since the 12th century and is used for making whisky and bread. It is one of the most widely grown crops in the Northern European plains and popular in Germany.
Read the article below and get the detailed recipe for making dark rye bread at home.
Dark Rye Bread Recipe At Home
Dark rye bread is a mixture of all-purpose flour and rye flour. It is simple to prepare and rich in nutrients.
Ingredients
3

cups

sifted all-purpose flour

2 ¼

tsp

active dry yeast

¼

cup

of cocoa powder

1

tbsp

of caraway seeds

2

cups

of water

⅓

cup

molasses

2

tbsp

of butter

1

tbsp

of white sugar

1

tbsp

of salt

3.5

cups

of rye flou
Instructions
In a large bowl, add all-purpose flour, yeast, cocoa, caraway seeds, and blend everything well.

In a pan, add butter, sugar, salt, water, and molasses, let it all heat up and stir it from time to time. After everything mixes well, add this warm mixture to the dry flour mixture. Take an electric beater and beat the flour mixture for a minute or two at low speed and then at high speed for three minutes.

Now, make a soft dough with your hands and put it on a floured surface. Knead it well and let it rest for 20 minutes. After the given time, punch the dough and divide it into two halves. Give it the shape of a round loaf.

Now, grease an 8-inch pie plate and transfer the loaf to the plate. Then brush the loaf with butter or cooking oil and slash the loaf 3-4 times from the top.
Recipes For Making Rye Bread Taste Yummy
Different ways to make an open face sandwich using Dark rye bread cucumbers
Recipe 1: Beet Rye Toast
Take a slice of rye bread, spread beet hummus on top of it, layer some cucumber on it, cut olives, sprinkle salt and pepper. Shred some cheese of your choice, and you are good to gobble beet rye toast. It is the most creamy, salty, and crunchy rye toast ever.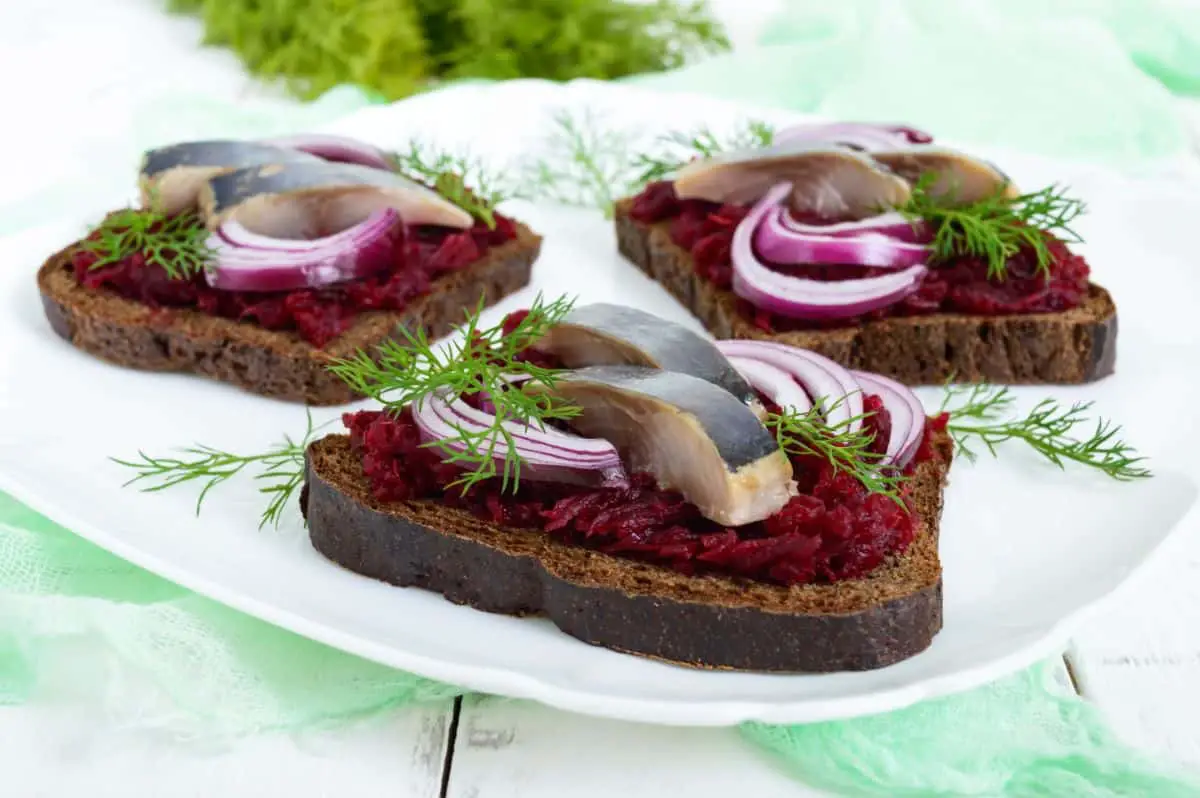 Recipe2: Smoked Salmon Toast
Take a slice of German rye bread and add cream cheese, sliced cucumber, onions of any shape, smoked salmon and pepper, and salt with a dash of dill. It is an ideal breakfast recipe.
Recipe 3: Valentine Toast
Take a slice of toasted Swedish Rye Bread, spread some tahini/sesame butter, and on top of that, add sliced strawberries. Now, sprinkle some cinnamon, a good amount of honey, and add chopped almonds for a crunch. It is a perfect breakfast for a valentine breakfast.
German Dark Rye Bread Recipe?
For the German Dark Rye Bread recipe, you need a sourdough as it is not sweet, so do not use sugar.
The process of making sourdough will help you make German Rye Bread. In three days, you will get your homemade sourdough, with which you will be able to make the German dark rye bread at home whenever you want.
Day 1 to 3 (Making sourdough)
Take 50 gms of flour and 50 ml of warm water, mix it well and cover it with a plate and leave it for the day. The next day takes the day one mixture and add 50 gm of flour and warm water to it and mix everything. Let it rest for 24 hours.
Day three, when you look at the mixture of day 2, you will notice bubbles, and the dough mixture will start smelling sour. On day 3, add 100 gm of flour to the same mixture and 100 ml of water and mix it all after stirring it. Cover it with a clean wrap and keep it aside for another 24 hours.
You can put this mixture in a glass jar, store it in the fridge, and use it when making bread. Bakers in Germany do this for making authentic, mouthwatering loaves of bread.
Making German Rye Bread With Sourdough
Pre-preparation:
The day before you want to make bread, you need to make pre-bread. Take 265 gm of rye flour in a bowl, and then you need to add 280 ml of lukewarm water and 70 gms of the sourdough mix. Stir the mixture so that everything combines well and let it sit for 24 hours in a warm place.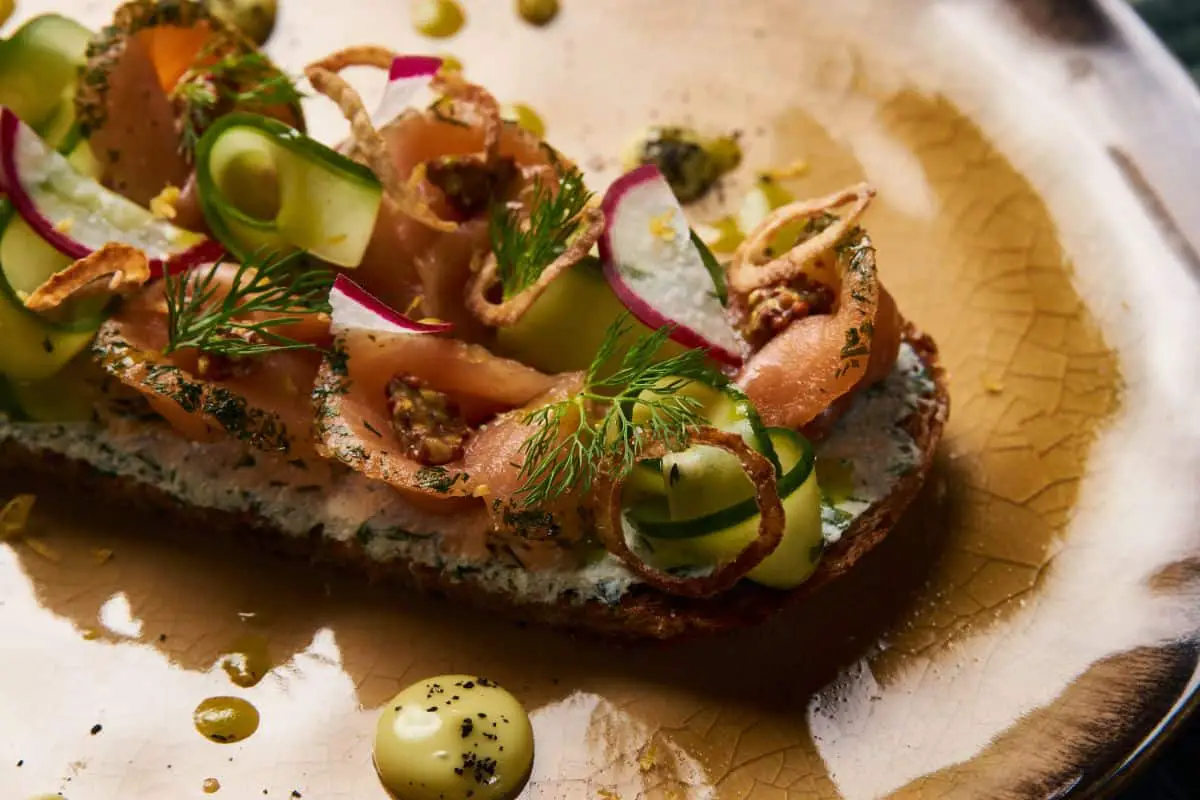 Main preparation
Take the sourdough that you kept in the warm place for 24 hours, as it will look foamy. In a bowl, add 260 gm of all-purpose flour and an equal amount of rye flour. Take 230 ml of water and add 10 gm of yeast to it and let it rise a little. And add it to the flour mixture and then add salt, which is almost 50 grams.
Use a blender and blend the flour mixture once, and then add all of the sourdough (made while pre-preparation), give it a quick blend, and you are good to go. Dust the kitchen counter with flour and knead the dough by the folding method to incorporate air and set nicely.
Now, dust a bread tray and make sure the flat surface of the bread below and cut the upper surface with a knife two to three cuts. Preheat the oven to 465 degrees Fahrenheit and place the tray in the oven for 1.5 hours. And after half an hour, reduce the temperature to 275 degrees and let it rise to the given time and till it turns golden brown. Your German Rye bread is ready to be served.
Notes:
To enhance the flavor, you can add bread spice to the flour mixture by almost 1tsp.
Remember not to cut the bread when hot. Give it time to rest and reach room temperature.
I'm Pauline, a retired patisserie chef, mother of four and now a full time food blogger! When i'm not cooking i love long walks, reading thriller novels and spending time with my grandkids. Head to my about me page to learn more about the woman behind the food! You can find my Facebook here