Last Updated on 17th December 2021 by
How to make grape juice is a question that can have many answers. Also, there is nothing better than a well-made grape juice prepared with the precision that you can relish afterward. Grape juice has many benefits for the human body, such as reducing the danger of blood clots, preventing any damage to your heart's vessels, and assisting in maintaining a healthy blood pressure quotient. Also, grapes are a naturally good source of Vitamin A, C, B6, and even folic acid.
Do you want to prepare grape juice for your family but aren't sure how? Well, there are many simple methods to do so. Let me share my recipe for how to make grape juice at home. Let us walk through some of the perfect yet easy ways to do so.
How To Make Grape Juice With A Juicer
Though you can easily get bottled grape juice, nothing can compare to grape juice prepared naturally at home. Many people look forward to visiting a vineyard during the fall season to pick their favorite grapes and make their juice from them.
After all, many different varieties of grapes are available that can help you prepare a delicious natural grape juice. The need remains to learn the art of how to make grape juice with a juicer. A juicer takes away the hard work out of the process and produces fabulous results.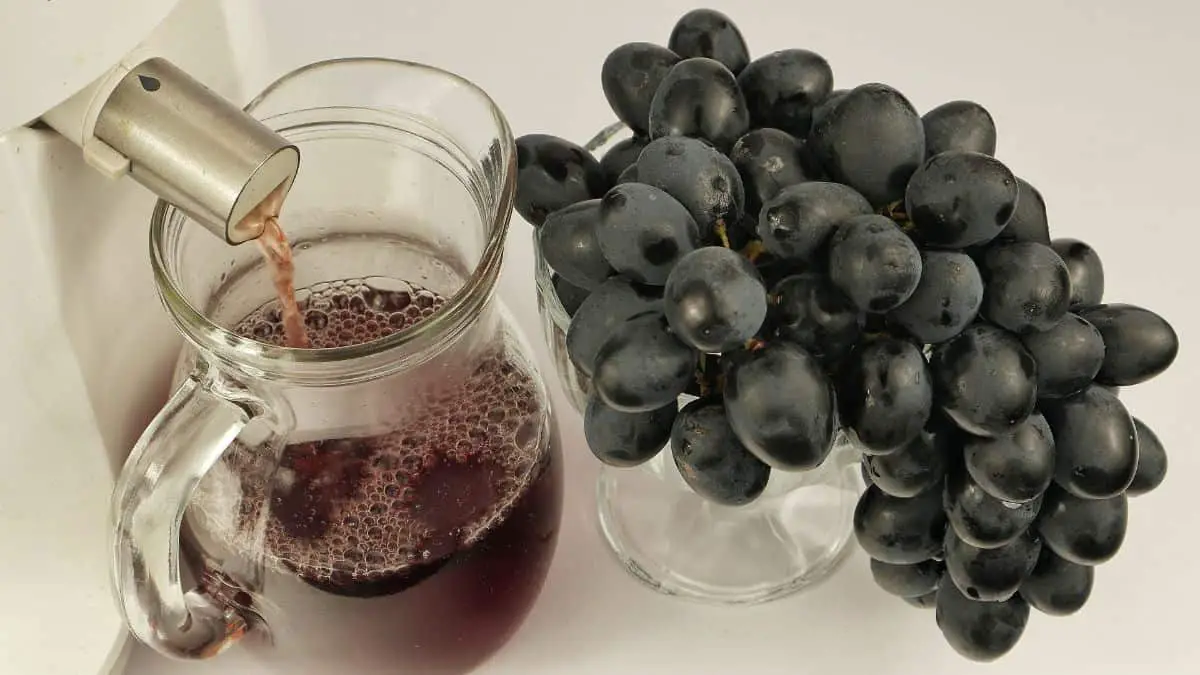 You need to wash the grapes and process them in the juicer. An alternative to the juicer is a steam juicer made up of a bottom pot containing boiling water. It also includes a second pot that helps the steam rise in the juicer through a cone.
The second pot includes the grapes, and when the mist rises from the bottom pot, you get grape juice in the top pot.
How To Make Grape Juice With A Blender
The steps of how to make grape juice with a blender are easy and do not require much effort. Also, blended grapes taste much better than processed grapes in a juicer. Here are the steps on how to make grape juice using a blender:
Instructions
Wash the selected grapes and make sure to take them off the vines. Also, make sure that these grapes are clean.

After washing the grapes, place the water in your blender along with sugar.

Blend the grapes to prepare a smoothie. You can run blender cycles as long as there are no clumps.
There can be some amount of pulp or skin of grapes remaining in your juice. However, this is a better way to drink this juice as this means that you do not lose the grapes' nutrients. But many kids do not like their juice to have pulp, and thus, you can strain the juice, making use of a filter.
The homemade grape juice can last for about five to seven days in the refrigerator. The reason is that this homemade juice does not contain much processed sugar. However, keep the juice chilled so that you can easily consume it for some days, after which the juice may begin to ferment.
How To Make Homemade Wine From Grape Juice
How amazing would it be if you can make your wine at home? Well, there is an easy method to do so by making use of grape juice. Now, the question is, why prepare your wine when you can get a wine bottle from the market?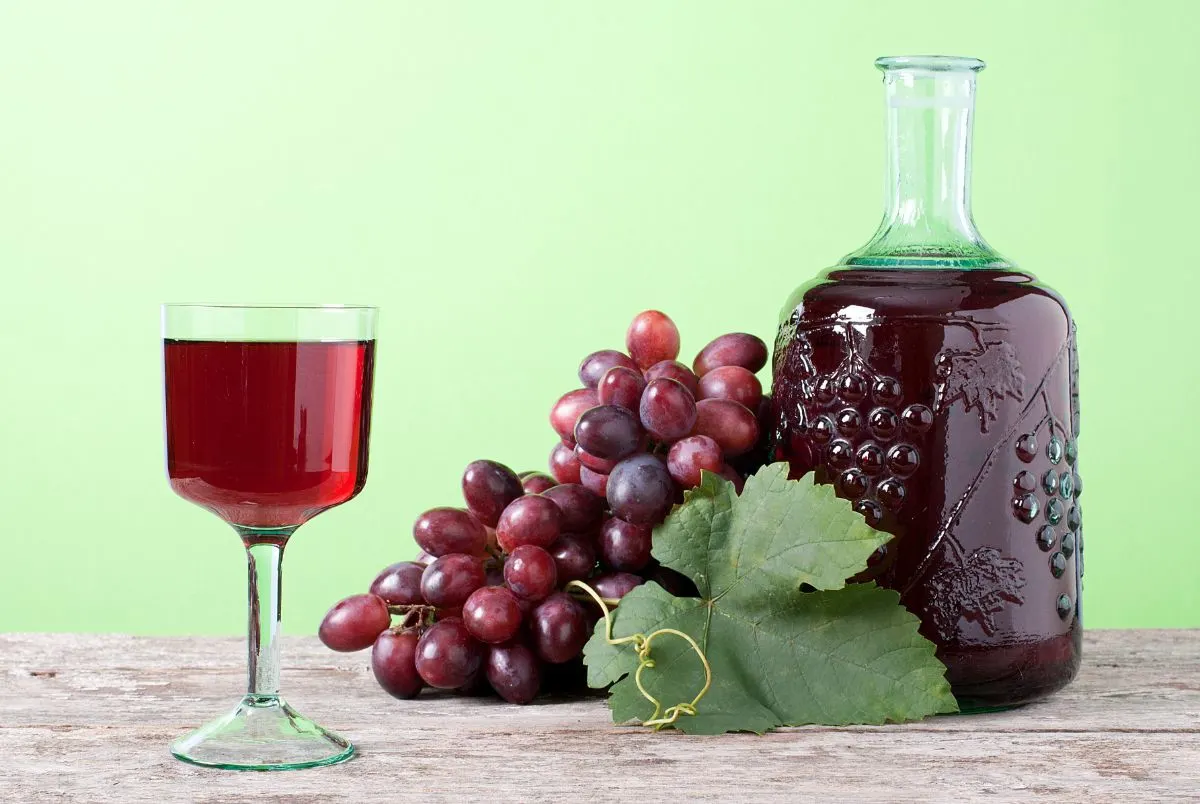 Well, when you prepare homemade wine, it gives you a wholesome and surprisingly good result. Also, it fills your kitchen with creative fragrances. Here are the steps on how to make wine with grape juice:
Homemade Wine From Grape Juice
Ingredients
A plastic funnel;

A drinking water container;

Grape juice prepared at home;

500 grams of sugar;

A sachet of wine yeast.
Ensure that you use only wine yeast as you cannot use any form of yeast to make the wine. A baking yeast will ferment for sure, but it will also stop fermenting soon, and you can get an oversweet wine with a bready smell.
Preparation Steps
Instructions
Ensure that the grape juice is not chilled, and you keep it at room temperature only. If the grape juice is in the fridge, keep them out for at least four to five hours outside the refrigerator.

Now, pour half of the grapes into the empty bottle and add one teaspoon of wine yeast to it. Shake the mixture, and then leave the bottle in a warm place for the rest of the day.

Now, prepare the sugar syrup by pouring the sugar into the empty coke bottle. You can make use of the plastic funnel for doing so.

Also, pour boiled water into the sugar until your bottle is half full. Shake the bottle properly but remember not to add the wine yet.

By now, your wine would have fermented well. You can add grape juice and sugar syrup to the five-liter bottle.

In ten days, your wine will be ready.
How To Make Concord Grape Juice
Many grape lovers often search the Internet for steps on how to make concord grape juice. With September, Concord grape season is quite evident in California. To prepare this grape juice, you need four to eight pounds of freshly picked concord grapes.
Place these grapes in water and rinse them individually. Make sure to discard the unripe grapes to prepare a flawless juice. Now, using a potato masher, mash these grapes to get the juice. Now, cook the grapes into a large stockpot.
Stir occasionally to prevent the grapes from getting stuck to the bottom of the pan. Strain the grape mixture once it cools down.
I'm Pauline, a retired patisserie chef, mother of four and now a full time food blogger! When i'm not cooking i love long walks, reading thriller novels and spending time with my grandkids. Head to my about me page to learn more about the woman behind the food! You can find my Facebook here