Last Updated on 2nd February 2023 by Pauline Loughlin
Hamburger has been an extremely popular dish since 1758. The history of the dish remains unclear. But many claim that they have spotted the recipe in Hannah Glasse's book, the art of cookery made plain and easy.
In her book, she mentioned "Hamburg Sausage" as the first recipe served with toasted bread. Later on, the Americans came up with many variants of the recipe. It varied from country to country.
The dish holds a lot of benefits and many essential nutrients. A lot of Americans prefer white wines, red wines, blended scotch, Champagne, beers, soda, and fruit drinks with the dish. You can also take Slurpees along with your hamburger.
Hamburger Macaroni Casserole Recipe
The hamburger macaroni and cheese casserole recipe holds a lot of health benefits. It contains essential nutrients such as proteins, carbohydrates, and fats, helping to release a lot of energy.
It also contains other nutrients such as L-carnitine and Glutathione. L-carnitine is an amino acid, and Glutathione is an antioxidant.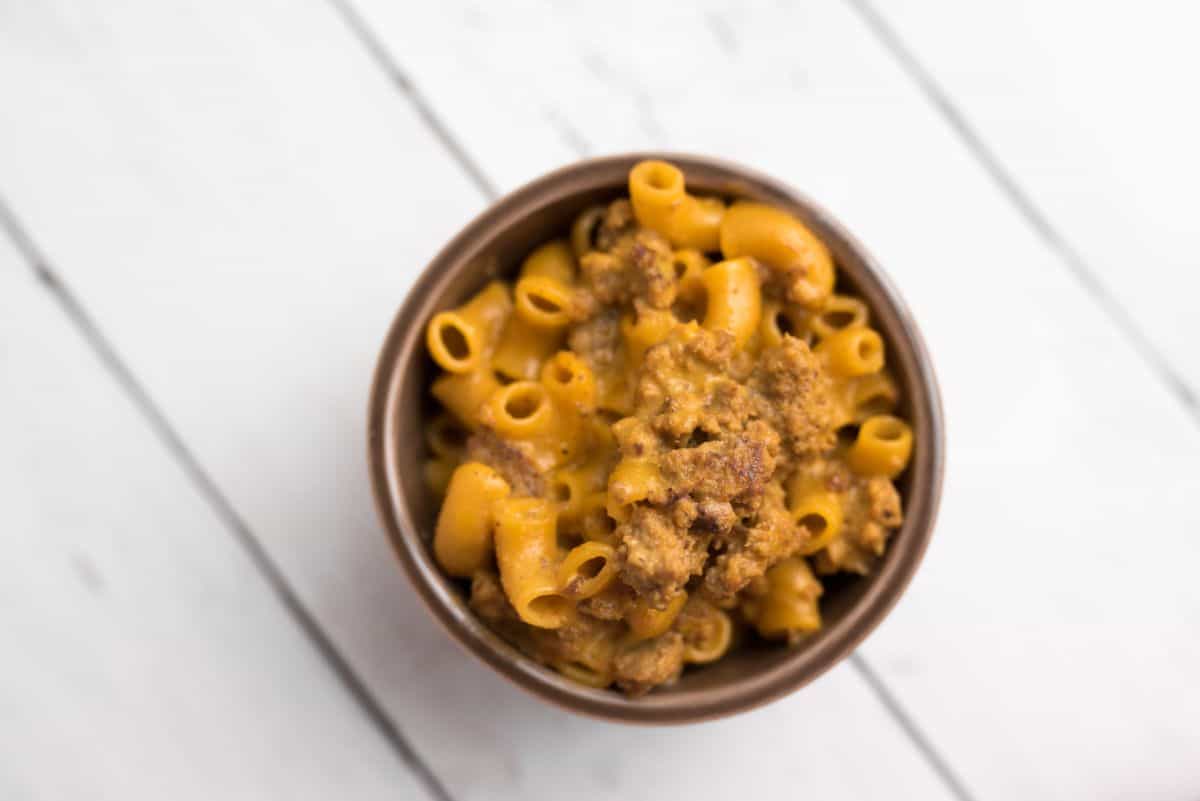 Hamburger macaroni and cheese casserole contains major health benefits and aids heart diseases. It helps in weight gaining as well. Rich in minerals, the dish fills up your tummy and is easily digested. The recipe is simple and easy to follow. With so many carbohydrates, one can consume hamburgers not more than once a day.
Hamburger Macaroni Casserole Recipe
Follow the recipe for a cheesy hamburger macaroni casserole. You will need the following ingredients for the recipe.
Ingredients
8

ounces

Elbow Macaroni

1+½

pound

Ground beef

1

Medium Onion

chopped

2

tbsp

Olive oil

1

Green bell pepper chopped

3

Garlic cloves

minced

1

tsp

Salt

¼

tsp

Pepper

2

cups

Cheddar cheese

shredded

32

ounces

Spaghetti sauce

3

tbsp

Tomato paste

1

Rib celery

chopped

¼

tsp

Garlic powder

2

tbsp

Sour cream

Oregano
Instructions
Take a large skillet full of water and add salt and dried macaroni. Add one tablespoon of salt for 2 quarts of water. Boil the macaroni in the salted water and cook it as per package instructions.

Meanwhile, take a large skillet and grease it with olive oil. Preheat the skillet. Then add ground beef. Cook until the color turns to brown on high heat. Do not stir frequently. Brown the beef but do not overcook.

Once the beef is brown, add the onions and toss them with the beef until they are soft to touch.

Prepare the seasoning mixture. Mix celery, salt, pepper, minced garlic, pepper, and oregano into a bowl. Empty the bowl on the cooking beef. Stir for 4 to 5 minutes to combine the ingredients properly.

At this point, add the tomato sauce and the spaghetti sauce into the skillet and combine. Simmer the mixture for 5 minutes.

Do not forget to drain the water after you have cooked the pasta. Add half of the cooked pasta into the skillet and stir. Cook all the ingredients properly. You will find the dish aromatic after cooking.

Preheat your oven to 350 degrees. Take your 9 x 9 casserole dish and grease the pan with a cooking spray.

Transfer the beef and macaroni mixture to the baking dish. Layer it with the remaining macaroni. Load it with more cheese and bake for 20 to 25 minutes. Your baking time may differ depending on your oven. Therefore, bake until the cheese melts and the volume of the mixture has risen. Your dish is ready.
Tips For Making Hamburger Macaroni Casserole Recipe Great
After you have prepared the casserole, take out the dish from the oven and put it aside. Add oregano, salt, and pepper as per requirement. You can prepare both spicy and non-spicy mayonnaise dips on the side. You can also serve it with tomato sauce and spaghetti sauce.
You can also prepare cream of mushroom soup as a side dish.
All you need to do is heat butter in a saucepan and add cooked mushrooms covered with flour into the dish. Pour some wine and add seasonings into the mixture. Cook it for 5 to 6 minutes and add sour cream, salt, and pepper. Simmer the mixture for 10 to 15 minutes. Your hamburger macaroni casserole with cream of mushroom soup is ready.
Red wine, Shivas, Jack Daniels, Champagne, and cocktails go well with the dish. A chilled beer goes well with the dish.
Alternative Recipes
An alternative for this recipe is to make a Mexican macaroni hamburger casserole. You can make a few changes to the aforementioned ingredients of the recipe.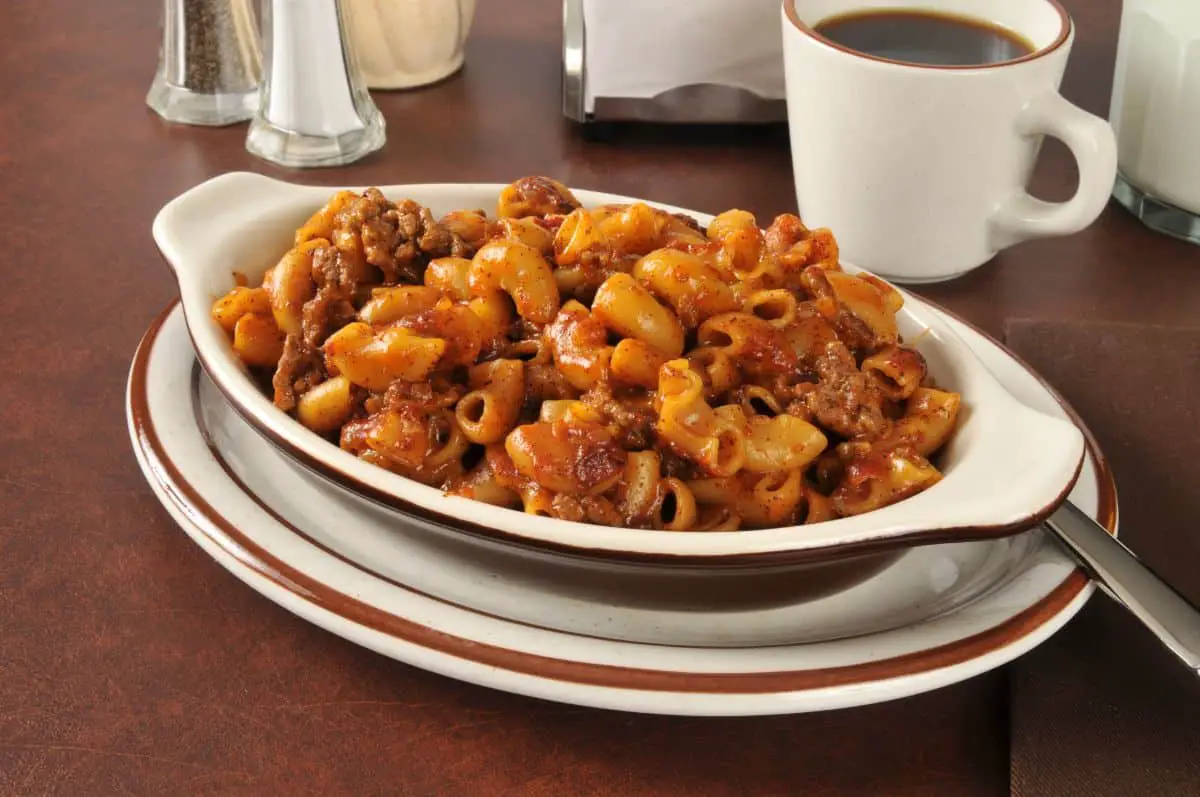 All you have to do is mix one tablespoon of cumin seeds and two teaspoons full of chili powder in a bowl. Add salt and pepper as per taste. Add oregano to the mixture. Combine all the ingredients evenly. Do not add too much salt and pepper. Add them to the hamburger while it is cooking. Add some ground parsley. Serve with stewed tomato, lettuce, and salsa.
If you do not have these items, then you can use dried Onion to garnish the casserole. For this, you will have to add more onion powder. You can use garlic powder if you do not have garlic cloves. You can also increase the consistency of the sauce by adding flour or cornstarch.
Another alternative to the recipe is to make an instant cheesy hamburger casserole. Mix garlic powder, onion powder, oregano, Italian seasoning, salt, and pepper in a bowl. Add cooked beef into a large skillet and saute it. Transfer all the ingredients to a baking dish and top it with cheese. Oven your hamburger and macaroni for 30 minutes. Your dish is ready.
Wrap Up
A few changes here and there, and you have your own instant hamburger macaroni recipe ready,
Feeling depressed? The hamburger casserole dish is going to lift your mood. The recipe is easy to follow as you have all the ingredients available.
I'm Pauline, a retired patisserie chef, mother of four and now a full time food blogger! When i'm not cooking i love long walks, reading thriller novels and spending time with my grandkids. Head to my about me page to learn more about the woman behind the food! You can find my Facebook here