Last Updated on 21st April 2022 by Pauline
If you want to turn rice into a dessert, rice pudding is the way to go. It's healthy and comforting, and so easy to make that you can cook it up in the microwave. It doesn't have to be a dessert, but I think that's what most people know this dish as.
Rice pudding is often made as a leftover dish, taking what is left from a meal with rice and mixing it with a few ingredients from the refrigerator to make a portion of rice pudding.
If you have a bit of rice left in your fridge that you aren't sure what to do with and you don't feel like having it with your dinner, try turning it into rice pudding using a simple microwave rice pudding recipe I have for you.
There are tons of recipes for rice pudding, and since it is served just about everywhere in the world, there are going to be a lot of local versions no matter where you go.
The rice pudding made in China, for example, will be different from rice pudding form India. The Indian one tends to be spicier, clashing with the sweetness to create a very interesting dish but probably not one that most people reading visiting this site are going to be familiar with.
Let's stick with the old fashioned rice pudding microwave recipe here that most people in the West know of. Microwave rice pudding recipes are typically made using short grain rice, but you could even use basmati for it if you wanted to. It just wouldn't be the traditional way to make it.
Any short-grained rice will work for this dish, but there is actually a special kind of rice known as pudding rice that is ideal. It's shorter and rounder than your typical rice grain, and when you cook it, it becomes perfectly creamy so that it works very well for rice pudding.
Rice Pudding Microwave Recipe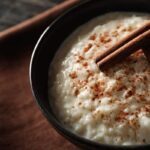 Print Recipe
Rice Pudding Microwave Recipe
Ingredients
3

eggs

2

cups

rice

cooked

⅓

sugar

2

cups

milk

½

cup

raisins

¼

tsp

salt

¼

tsp

cinnamon

1

tsp

vanilla extract
Instructions
Beat the eggs for about 30 seconds.

Mix together eggs, sugar, milk, and salt in a microwavable bowl.

Add in raisins, rice, and vanilla, stirring them together.

In the microwave, cook uncovered for 8-10 minutes. Open the microwave and stir every two minutes.

Garnish with cinnamon (nutmeg works as well). Let cool and do not stir in your garnish.
You can serve microwave rice pudding hot or allow it to chill in the fridge for about 30 minutes before serving cold.
How Long to Cook Rice for Pudding?
The recipe calls for cooked rice to be used, but how do you cook the rice for this dish and can you make microwave rice pudding with uncooked rice?
First of all, your rice always needs to be cooked before you make this dish. The recipe calls for microwave rice pudding with cooked rice because you can't cook the rice with the other ingredients used here. They would have to be cooked separately from one another.
If you are making rice from scratch in order to make rice pudding in microwave, then put a pot of water on the stove and turn on medium heat until it boils. You should have a cup and a half of water for every cup of rice. Once the water boils, then you can add your rice and cover the pot, turning the heat down to low.
Let the rice cook for about 20 minutes, if you are using about three cups of rice. Check it occasionally to see if it is done cooking, as heating intensity may vary from one stove to another.
You don't want this rice to dry out. Once the water has cooked out of the rice, it is done. You do not need to drain or wash it. You can add salt to your rice while it is cooking to enhance the flavour.
Most people don't make up fresh rice for this dish and will just make rice pudding with leftover rice microwave-style. If you want to make a lot of rice pudding, though, it would make sense to whip up a fresh batch of rice and use that.
Traditionally, you would make microwave rice pudding with leftover rice, but there is nothing wrong with making the rice up just to create this dish.
Making Microwave Rice Pudding for One
What if you don't feel like sharing your rice pudding and you want a smaller portion size and an individual recipe?
This is good to have if you are needing a late night snack for just yourself and don't want to have any rice pudding left for the next day. You can make what is called mug rice pudding in microwave, and it's just as simple and fast as the recipe up above.
Print Recipe
Making Microwave Rice Pudding for One
Ingredients
1

egg

1 ½

cup

cooked rice

1

tsp

vanilla extract

¾

cup

whole milk

½

tsp

cinnamon

⅓

cup

sugar

A pinch of salt
Instructions
For this microwave rice pudding single serving recipe, you start by mixing your egg in a bowl until it is fluffy.

Add in milk, salt, cinnamon, sugar and vanilla extract to your egg and whisk together.

Add in the cooked rice and stir together.

Divide your mixture between two microwaveable mugs.

Microwave for 3 minutes. How big your mug is and the power of your microwave will cause cooking times to vary. You may want to cook for just 30 seconds at a time.

Remove mugs from microwave and set them out to cool.

Top with cinnamon, nutmeg, whipped topping, or raisins.
Now you know how to microwave rice pudding with leftover rice and make rice for yourself. As you can see, this is a really quick and easy dish, as long as you have some rice made up. Next time you have some leftover rice, you will have something interesting to make from it.