Last Updated on 17th December 2021 by
Thinking of a meal which is very easy to make and can be done in 20 minutes? Then this is the right place for you; in between this hectic lifestyle, the stir fry beef marinade recipe is ideal for you!
This meal is filled with healthy vegetables and stir fried beef, which is just flavorful and delicious for you and your loved ones.
This article will talk about how to make the recipe for beef stir fry marinade with different ingredients.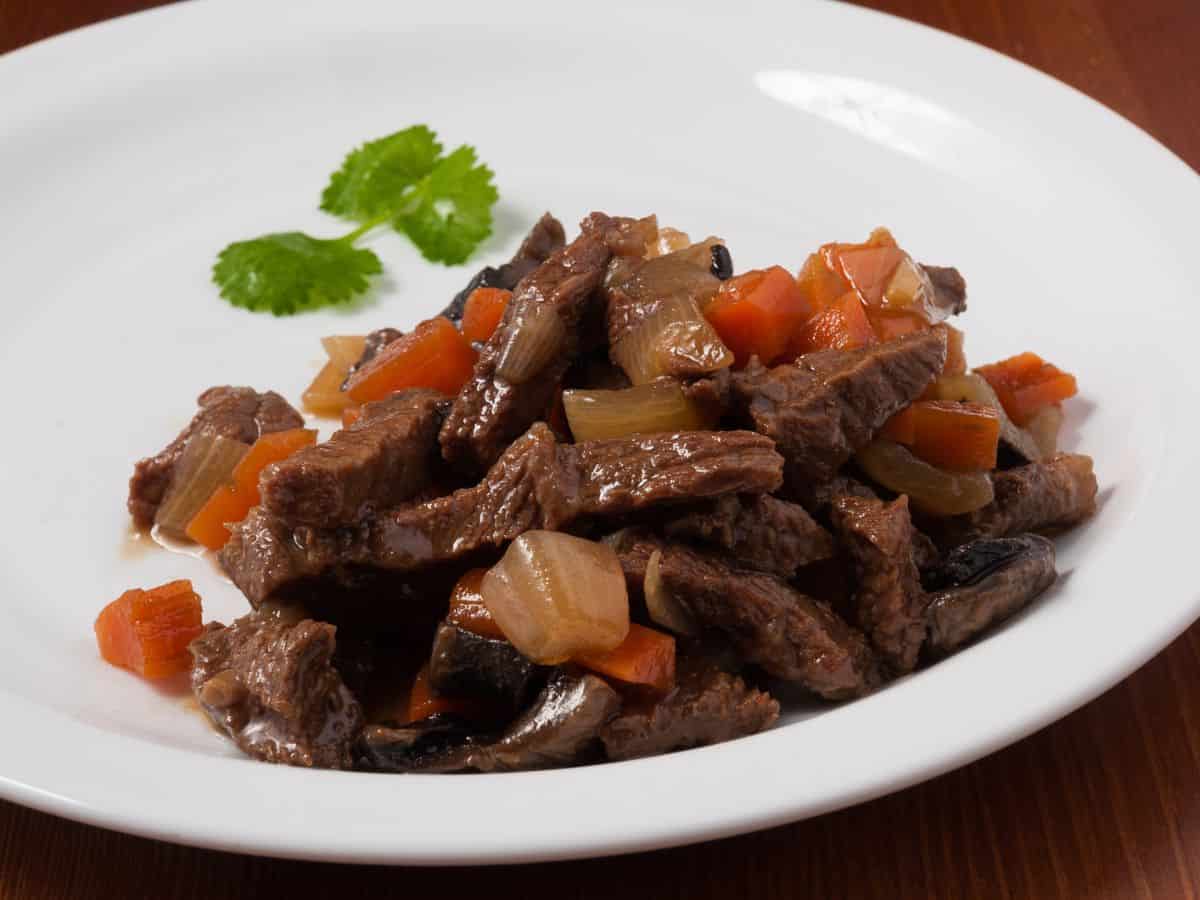 How to Make The Best Beef Stir Fry At home?
There are many types of Beef Stir Fry one can make, stir-fried beef with oyster sauce, beef with Chinese green beans, or with black bean sauce, and so much more. This meal can be made in just one pan and is ideal for both weekend meals and fantastic for a midweek meal.
So let us jump into the ingredients you need and the steps you will follow to attain this delicious meal. The best part is that it takes a short time to make the dish and serve.
The Best Beef Stir Fry At home Recipe
Ingredients
Sliced Beef Strips

Carrots

Onion

Bell peppers

Scallions

Sesame oil

Brown sugar

Soda bicarbonate

Garlic

Salt and pepper

Ginger

Oyster sauce

Cornstarch

Chilli flakes

Vegetable oil
Instructions
Before making the beef stir fry, you need to first tenderize the beef with baking soda or sodium bicarbonate. Then you need to mix the beef strips with some baking soda with the help of the tongs or with your hands and keep it in the refrigerator for 30-45 minutes. After that, rinse the beef well and drain the water extracted from the meat and dry it with paper towel.

This process is known as velveting the beef, this helps the meat become more tender, and allows for spices to absorb better

Pour the sauce in a bowl, add some water (two tablespoons), and add some cornstarch. This makes the sauce thicker and will make the entire meal taste better. Just make sure to mix the cornstarch and water separately so that no lumps form.

This step is for marinating the beef strips.

You need ⅓ of the sauce prepared earlier to mix in with the beef. Once mixed, store it in an airtight container, and then put it in the refrigerator for a minimum of 30 minutes or overnight for better results.

Note: In some cases, if you want, you can keep the beef strips for upto three months! This process makes the beef strips more tender to give you a fantastic experience.

Use a pan and add some oil. You can use a wok as well if you are comfortable with that. Once the oil is hot, add some garlic and ginger and fry until they turn light brown. Take the marinated beef, put it in the pan, and cook it until the texture and color changes to light brown and the meat is slightly undercooked. We don't want it to be fully cooked.

Now add the other vegetables and the remaining cornstarch and cook for more than 20 minutes. Now add some rice vinegar and the remaining sauce, cook it for 30 minutes more.
Notes
Your stir fry beef marinade is ready; before serving, add some sesame seeds, and your meal is ready to rock!
How to Make Beef Marinade Chinese Stir Fry?
You must be wondering what else we can make with almost the same ingredients? Well, I have the answer! This meal is a bit modified but still tastes better than anything. This is my personal favorite which does not contain preservatives like in restaurants and still manages to make quite an impression on the guests. Let's dive into this recipe marinade for beef stir fry (Chinese)
.
Beef Marinade Chinese Stir Fry Recipe
Ingredients
Sirloin or you can make it with typical ground beef.

Oyster sauce

Dark soya sauce

light soya sauce

White sugar

Salt

Black pepper

Vegetable of your choice

Garlic, ginger, and onion
Instructions
Before making the dish, you need to cut the beef into small strips.

Gather all the ingredients in a large bowl and add some light soya sauce and cornstarch. Add the beef slices to the mixture and keep it for at least 20 minutes. If you want to make it more tender, then I recommend that you keep it overnight.

To make the sauce:

Take a small bowl, add some dark sauce, light remaining soya sauce, sugar, and mix them well until the sugar dissolves.

Collect all the ingredients, use a pan or a wok and add some oil. When the oil is hot enough, add the beef and cook until it becomes light brown. Remove it from the pan and dry with paper towel.

Clean the pan, and drain the remaining juice that was in the pan before. Add 2-3 tablespoons of oil again and when it is hot enough, add some garlic and ginger and cook lightly. Take the onions and cook until it becomes light brown. Add the remaining juice and add vegetables of your choice.

Here is a little trick: push all the ingredients to the side, turn the flame a little high, add the sauce mixture, and stir it well with the vegetables. After 15 minutes, add the beef strips and mix again until it gets thoroughly cooked.
Notes
Now serve it hot on a beautiful bowl with a side of rice for the best dinner meal!
Conclusion
I hope this article helps you make the perfect Beef Stir Fry Marinade dish that is delicious for your family and guests. So did you try the recipe at home? Do let us know how it went!
I'm Pauline, a retired patisserie chef, mother of four and now a full time food blogger! When i'm not cooking i love long walks, reading thriller novels and spending time with my grandkids. Head to my about me page to learn more about the woman behind the food! You can find my Facebook here