Last Updated on 23rd April 2022 by Pauline
Giblet gravy is super delicious. It is a gravy where you can use the meat of any bird. Mainly people use giblets of chicken or turkey.
People of any group will love the gravy. I think you have eaten giblet gravy most of the time in restaurants. But you can make it easily at home which will not take so much time. You can make this gravy any month of the year. The aroma is just mind-blowing, and You can serve it as a side dish for lunch or dinner.
So, in this article, I will share how to make giblet gravy in detail so that you can make this recipe at home and serve your family members and guests. They are just going to love it. I am sure giblet gravy is going to rotate in your kitchen within a few days.
What Do You Understand By Giblet?
Giblet mainly comprises of heart, liver, gizzard, and neck of the bird. People usually make giblet gravy from chicken or turkey. But the popular one is turkey giblets because the giblet pieces are large. So you find more meat in it which you can put in the gravy to make it more delicious.
Ingredients To Make Giblet Gravy With Eggs
Let me list out the ingredients which you need while making giblet gravy.
Ingredients
Giblets(liver, gizzard, neck of turkey)

2

tbsp

Butter

2

Onion

½

Celery

½

cup

Carrot

1

tbsp

Minced garlic

1

Bayleaf

2

Boiled eggs

3

tbsp

Flour

5

cups

Water

Salt to taste

½

tbsp

Black pepper

1

tbsp

Thyme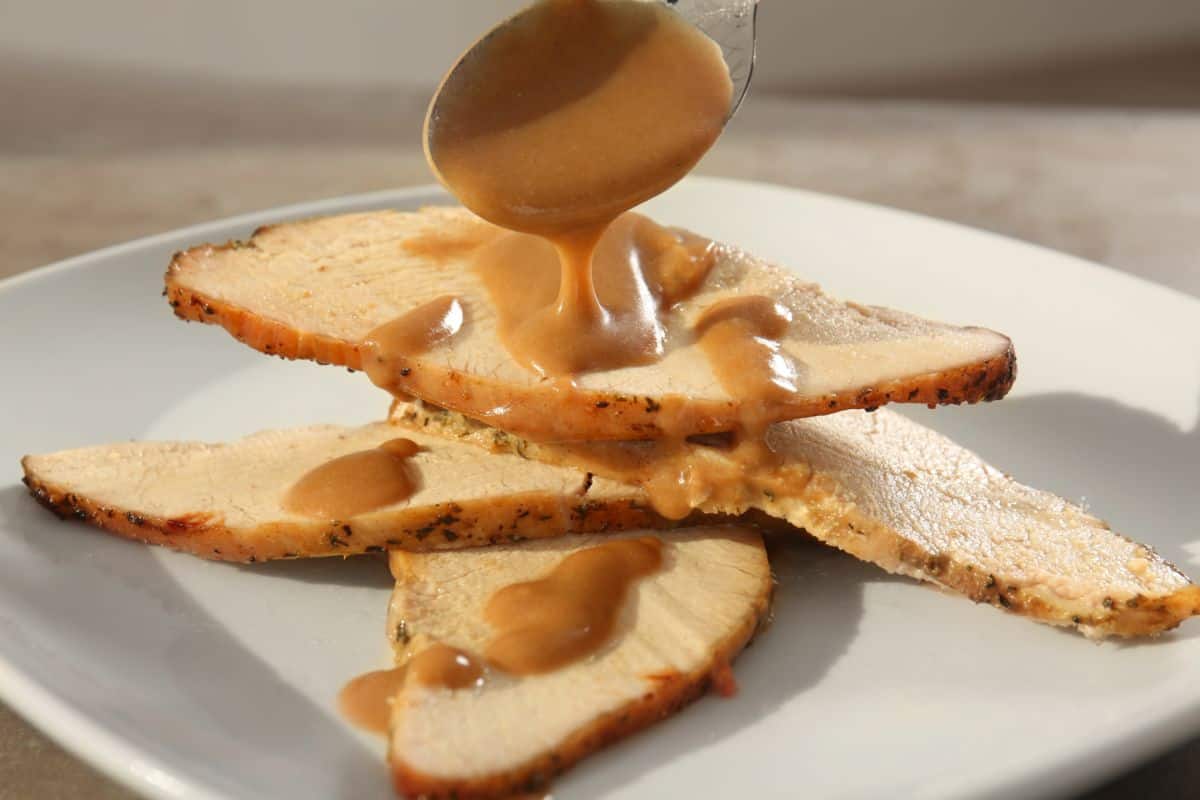 How To Make Giblet Gravy With Eggs?
Instructions
Fry The Giblets

Take a pan and put two tablespoons of butter. Then fry the giblets until both sides of the giblet turn brown.

Add Veggies

Now add onion slices to the pan. Fry till the onion becomes soft. Then add half a cup of diced carrot and celery to the pan. Stir everything at least for three to four minutes.

Add Garlic

Now add minced garlic to the pan and saute for another one minute.

Add Water

You need to add one bay leaf and thyme to the pan and then stir for some seconds. Then add five cups of water to the pan and simmer for at least two hours. You should partially close the lid of the pan during simmering.

Strain The Mixture

The neck of the turkey takes a lot of time to cook. After two hours, you will check the tenderness of the giblets. Now, if all the giblets are adequately cooked, it's time to strain the mixture. Now keep the turkey stock aside.

Cut The Giblets

Separate giblets from the mixture and try to chop them into small pieces. No one wants to have a large piece while having the gravy.

Add Flour On Pan

After chopping the giblets, you need to move to the pan. First, scrape off the pan. You will see a lot of fat. Try to remove some of the fat if possible. Then add some flour to the pan and stir for a few minutes until it turns brownish. Please don't go away from the pan as it may burn the flour and hamper the taste of your giblet gravy.

Add Giblets And Turkey Stock

Now it's time to add chopped giblets and turkey stock to the pan. Stir it continuously till the gravy becomes thick. It will take around two to three minutes.

Add Salt and Black Pepper

You need to salt according to your taste and half a tablespoon of black pepper into the gravy.

Add Boiled Eggs

Now cut the boiled eggs into small pieces with the help of a knife and add to the gravy.

Serve Hot

Now serve the giblet gravy on a plate.
How To Make Chicken Giblet Gravy?
To make chicken giblet gravy, you have to follow the same procedure, but you have to add chicken giblets in place of turkey giblets.
Print Recipe
How To Make Giblet Gravy Without Giblets?
We can make giblet gravy without adding giblets. Now for this, we need the following ingredients like
Instructions
Take a saucepan and add chicken broth or turkey broth and allow it to boil.

Add onion slices, minced garlic, salt, and half tablespoon black pepper to the broth. Stir it and allow it to simmer for at least five minutes.

Now take one-fourth cup water and mix it with three tablespoon flour. Mix it with a spoon continuously so that there will be no lumps.

Once you mix, add it to the saucepan. Stir continuously.

You need to stir till your gravy becomes thick.

Once the gravy is thick, cut the boiled egg and add to the gravy.
Frequently Asked Questions
#1. How can I make my giblet gravy more interesting?
#2. What should I do if my giblet gravy is too thick?
Add some more chicken or turkey broth to the gravy and stir it. It will become thin.
Conclusion
Giblet gravy tastes just excellent. The aroma of giblets and eggs can attract any nonvegetarian to have gravy. The best part is the giblet gravy takes very little time to prepare. You need to follow the procedure as described above and cook giblet gravy in your kitchen. In my opinion, bachelors can also try this recipe and serve their family members or friends.
Anyways please do share your experience after trying giblet gravy at home. You may share pictures also. I would read your experience and see the pictures.