Last Updated on 23rd April 2022 by
I love cooking and recently bought a grill. As a vegetarian, I grill most of the vegetables on the grill and enjoy their smoky flavors. In this process, I have tried making grilled tomatoes using the grill, which came out delicious and mouth-watering. I didn't stop there and tried to add some flavors and tried new methods. Below, I have given some recipes and tips on how to grill tomatoes right! Do read and try today!
How to Grill Tomatoes?
To grill tomatoes, take two ripe tomatoes and cut them in half. As the flavor of pulp and seeds will be lost during the grill, remove them slowly using your fingers. Season these tomatoes with little salt and pepper.
Now preheat the grill for direct grilling on high heat or place a grill grate or grill basket. Using olive oil, brush on the cut side of the tomato and the grill.
Now, place the cut side on the grill—Cook for four minutes by closing the grill and check in between. With the help of a metal spatula, lift the grilled tomatoes and take them into a serving plate.
See that the cut side of the tomato faces up in the plate and drizzle little salt, pepper, and oil on it. Garnish the tomatoes with basil leaves that are thinly sliced.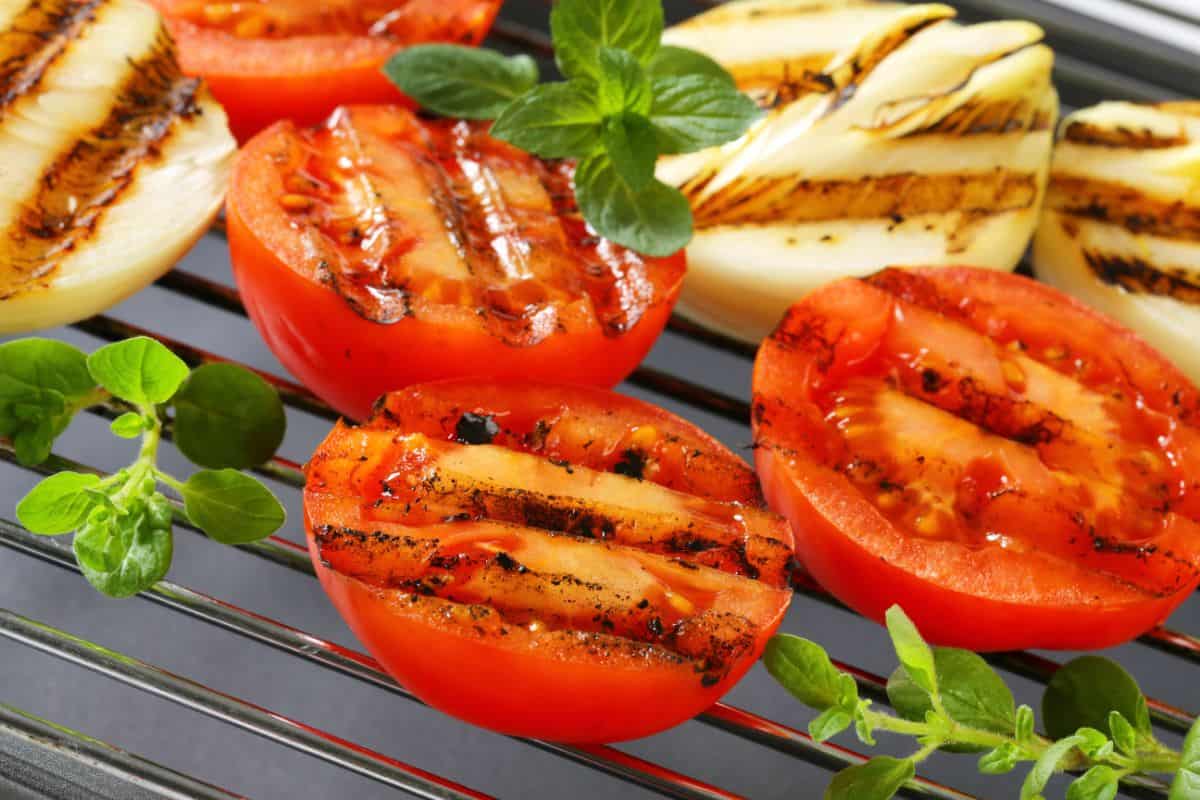 Tips To Make Grilled Tomatoes Right
Instructions
Choose tomatoes that are firm and ripe as they will fall off during the grilling.

To slice basil leaves, roll them like a cigar and slice them crosswise. This will give you thinly sliced ones.

Rather than direct grilling, a grill basket will make it easy to grill better.
How Long Does It Take To Grill Tomatoes?
Like the above recipe, cut the tomatoes in half, remove the pulp and seeds of three tomatoes and take them into a bowl. In the bowl, add forty grams olive oil, four grams salt and pepper, balsamic vinegar, and a bay leaf (sliced into thin pieces).
Using a fork or spoon and smash these ingredients and keep them aside. Turn the grill on medium heat, place the wire rack on top, and apply some oil. Now place the tomatoes with their skin-side up. Adjust the heat in between to avoid burning.
After five minutes, you can see the tomato color-changing bit black, indicating that it is time to flip. Now flip the tomato and add the pulpy ingredient mixture into it. Close the grill using a lid and leave them to cook for five minutes or until you get the desired color for the grilled tomatoes.
Tips To Make The Grilled Tomatoes Better
Instructions
Sprinkle some sugar when you add the pulpy mixture to the tomato to give a sweet flavor to the grilled tomatoes.

Before serving, add some cheese to enhance the taste of these grilled tomatoes.

Sprinkling some salt on the grill before placing the tomatoes will prevent the sticking of tomatoes.
How To Fire Roast Tomatoes On The Grill?
You can roast tomatoes on the grill and also in the oven.
Before you start the recipe, set the grill to high heat at 450°F or preheat your oven at 450°F. Now take two pounds of Roma tomatoes, wash and slice them lengthwise. Now sprinkle some salt, pepper, and olive oil on them.
If you are using the grill pan, brush some oil and spread the cut side tomatoes. Grill on both sides for five minutes each, check if they are nicely done, and serve them. But in the case of the oven, you will have to roast for 45 minutes or until the tomatoes go black as per your taste.
Now remove these from the oven, let them cool, and you can store it in a jar with olive oil and refrigerate them for future use. If you want to add Italian flavor to these roasted tomatoes, add twenty garlic cloves and rosemary sprigs on a parchment-lined baking sheet.
Lay the tomatoes on this and sprinkle some salt and pepper, and either grill or use an oven to roast these tomatoes. In Mexican flavor, add one teaspoon of chili powder and Mexican oregano and roast the tomatoes in any of the above methods.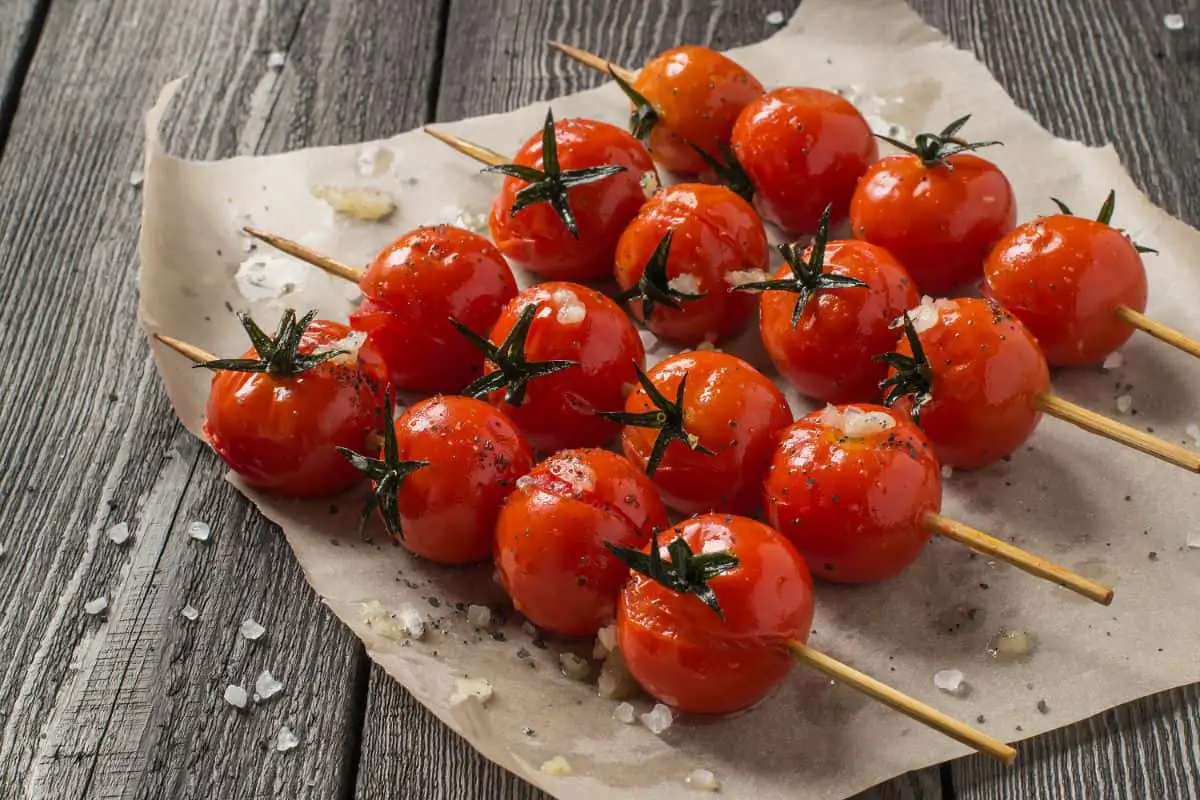 How To Grill Green Tomatoes?
Take a grill and set heat to medium-high. Clean the grill and brush it with oil. With the help of a food processor, mix a quarter cup mayonnaise, a quarter cup of basil leaves, one small minced garlic, one tablespoon of lemon juice, and run it until you get finely chopped basil and to get a saucy texture to add some water if needed.
Now cut some green tomatoes into thick slices of half-inch size. Brush some vegetable oil on these and sprinkle some salt and pepper. Grill these slices on two sides for three minutes until they soften or get charred. Once done, shift them into a serving plate, add some basil sauce over them, and enjoy your grilled green tomatoes!
How To Roast Tomatoes In A Pan?
Take a large saucepan to roast these tomatoes, as all the tomatoes must spread in a single layer. Now, add three tablespoons of olive oil and set the pan to medium heat. Add two finely minced garlic cloves and cook for thirty seconds and avoid burning the garlic.
Next, add two pints of grape or cherry tomatoes along with two tablespoons of finely chopped basil, parsley, thyme, and rosemary each. Now turn the heat to low, add salt and pepper, cook for seven minutes and continue stirring in between to roast the tomatoes evenly. Continue this until tomatoes turn soft or lose firmness. Turn the heat off once soft and garnish with more basil and parsley and serve the pan-roasted tomatoes hot.
Conclusion
If you are looking for something delicious as a side dish when you have a family bbq, you must try grilled tomatoes. Also, tomatoes are a source of vitamin C and are antioxidants helping us be healthy. The above recipes are simple and less time taking. So do try the above recipes by learning how to make grilled tomatoes and enjoy your bbq meal.
I'm Pauline, a retired patisserie chef, mother of four and now a full time food blogger! When i'm not cooking i love long walks, reading thriller novels and spending time with my grandkids. Head to my about me page to learn more about the woman behind the food! You can find my Facebook here