Last Updated on 22nd April 2022 by
Do you have high cholesterol levels? If yes, drinking homemade tomato juice will be highly beneficial. Drinking fresh tomato juice every day will help destroy bad cholesterol in the body. Its high content of vitamin C and B3 helps stabilize cholesterol. Tomato juice helps make different recipes that enhance the flavor of a dish. You can make Gazpacho, Mexican rice, tomato salad, sausages, meatball gravy, and much more.
Read the article below to find out how to make homemade tomato juice using simple steps.
How To Make Homemade Tomato Juice Using Fresh Tomatoes?
Making homemade tomato juice using fresh tomatoes is very simple. It acts as an immunity booster, helps detoxify the body, and also regularizes digestion. Tomato juice energizes the body due to its high content of vitamin C and B3.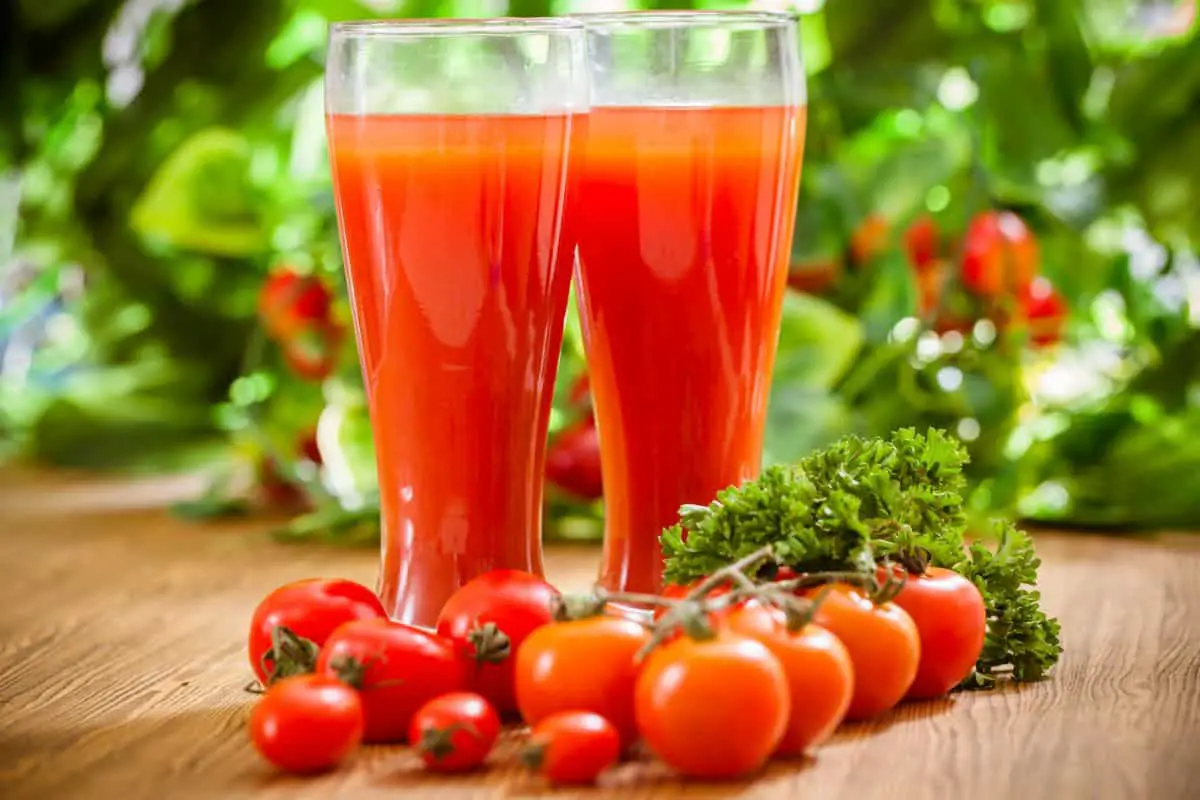 Fresh Tomato Juice Recipe
Instructions
Take half a dozen ripe tomatoes and remove the black stem part. Add a liter of water to the pot and let it boil. Add tomatoes to the pot and let it boil until the skin peels off. After the skin of the tomatoes starts coming out, immerse them in cold water and peel off all the skin and blend it in the mixer jar until you get a nice thick puree.

Strain the mix to get rid of the seeds. Then add one glass of cold water, salt, and sugar according to taste. You can also add pepper and black salt/rock salt to enhance the flavor. Squeeze half a lemon, mix it well and serve it cold.
How To Make Homemade Tomato Juice For Canning?
Tomato juice can be canned quickly at home and stored in the fridge for several weeks and months. One of the simplest ways of making homemade tomato juice for canning is by using a juicer mixer. This helps save time and is very convenient to use. Anyone can use it easily. You need to add the fruit, press it with a push rod, and the juice comes out automatically when you switch on the mixer. There are no seeds and skin as it is pure juice that you get in the bowl.
Take two dozen tomatoes, wash them, check for any bad spots and remove the black stem. Keep adding the tomatoes into the mixer and use the pushrod to push down the tomatoes and collect fresh juice in the pot. In a low flame, let the juice simmer for ten minutes until it turns beet red. It needs to get cooked so that it develops a nice flavor and texture.
Add a teaspoon of salt to a glass jar and pour the juice, and close the lid. One last step is left as you need to give the tomatoes a hot water bath in a large pot. Make sure the water is boiling and keep the jars in it for 40 minutes. After the given time, lift the jar with a jar lifter and let it cool down to room temperature. The fresh tomato juice for caning is ready. Store it in the fridge and use it as per your requirement.
How To Make Homemade V8 Tomato Juice?
If you are ready to make a fresh juice that is highly nutritious and acts as an energy booster, make homemade tomato V8 juice. Let's read more to get to know the simplest way of making V8 at home.
You will need Tomatoes, spinach, beetroot, carrots, celery, and parsley. Cut six large tomatoes into four parts and put them into the juicer. Make sure the quantity of tomatoes is more than other veggies. This will make the juice more savory and rich. Strain it in a large glass bowl. This will make the juice smoother.
Now add 2-3 springs of celery, a bunch of parsley, a few leaves of spinach and 2-3 carrots, and one beetroot. Strain everything well and add it to the glass bowl. V8 has many greens rich in minerals and reds, which give a lot of iron, and potassium, and the tomatoes are rich in vitamin C and B3.
After straining the juice, pour it into a glass jar or bottle and sip it. The homemade Tomato V8 juice is very filling, and after drinking it, you will feel full of energy. This is the easiest method to make this juice at home.
Homemade V8 Tomato Juice: How To Make And Freeze It
For making V8, you can use 2onions, 1dozen tomatoes, two bay leaves, black pepper, two green, and two red peppers, basil, 1 tbsp sugar, salt, 1 tsp radish sauce, and ½ lemon juice. Wash all the veggies and chop everything into small pieces.
Add the chopped veggies into a blender, add radish sauce, lemon juice, sugar, pepper and blend it into a smooth paste. Transfer it into a pot and add bay leaves. Let the mixture simmer at low flame for 30 minutes. Meanwhile, wash the glass bottles with warm bottles and let them dry on a towel.
After the given time, strain the juice. Pour the juice into the glass jars and leave half an inch from the top. To enhance the flavor of the juice, add garlic salt into each can and stir the juice with a skewer.
Cover the jars with the lid and put them into boiling water to give the jars a nice hot water bath. Let the jars boil for half an hour and cover the lid of the pot for better results. After the given time, take out the jars from the hot water bath and let them cool down to room temperature.
After the jars cool, press the lid to make sure that the lid does not open easily. Now store it in the fridge for 12 months to almost 18 months from the date of packing. This is how you make homemade v8 tomato juice and freeze it.
Conclusion
I hope the article above is simple to understand and helps you make homemade tomato juice. It is fresh, tasty, Savory, and full of nutrition. One to two glasses of tomato juice every day will give a quick boost of energy. It will make you feel full and will help improve your digestive system. I hope all the recipes listed above prove to be very useful for you when preparing to make homemade tomato juice or V8 juice.
I'm Pauline, a retired patisserie chef, mother of four and now a full time food blogger! When i'm not cooking i love long walks, reading thriller novels and spending time with my grandkids. Head to my about me page to learn more about the woman behind the food! You can find my Facebook here